If you've been planning on paying a visit to the Aran Islands, where the locals chat as gaeilge and historic significance oozes throughout, we've got some inside knowledge that'll help you navigate the ancient rocky landscapes of Inis Mór, Inis Meáin and Inis Oírr...
GAZE DOWN FROM DÚN AONGHASA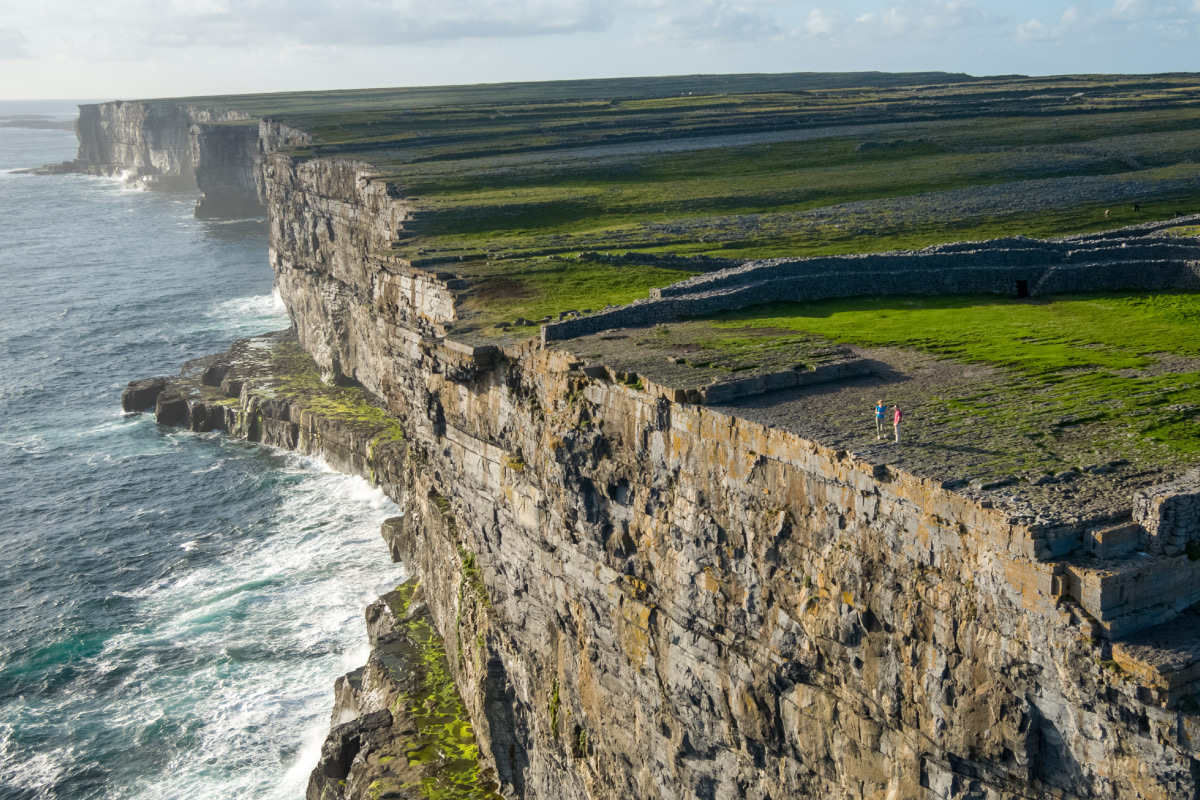 Upon landing in Inis Mór, most visitors choose to hop straight onto a rented bike and peddle their way as far as Dún Aonghasa. Not only will you be taking in lungfuls of fresh air as you cycle along, you'll also enjoy the eclectic array of sights along the way. Poised atop the cliff's edge just about 100 meters above the Atlantic, the site consists of a series of semi-circular stone walls enclosing an area of 50 meters. Having been subject to the perils of the sea since 1100 BC, it's like nothing you've ever seen before and we can assure you that the view from the top will fill your soul.
HEAR THE CRASH OF WAVES AT THE WORMHOLE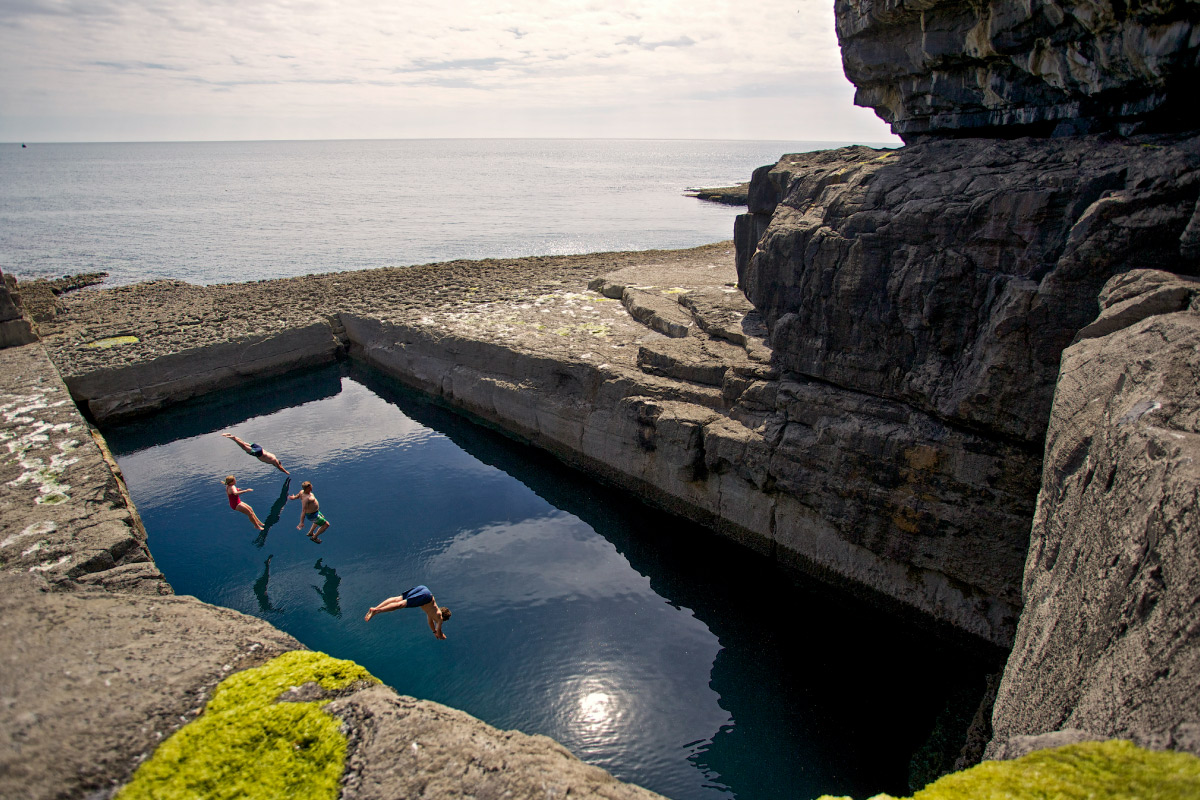 Just about 1.6km south of Dún Aonghasa, you'll find another of the island's most spectacular attractions. Officially known as Poll na bPeist, Inis Mór's Wormhole is a naturally formed rectangular limestone pool into which the sea splashes, creating quite the scene. Nothing short of phenomenal, we would recommend that you patiently wait for the waves to gather enough strength to crash directly into the wormhole so that you can be mesmerised by the peaceful cycle of filling, overflowing and draining. Incredibly serene, the rhythm of the tide will give you goosebumps.
BASK IN THE BEAUTY OF NATURE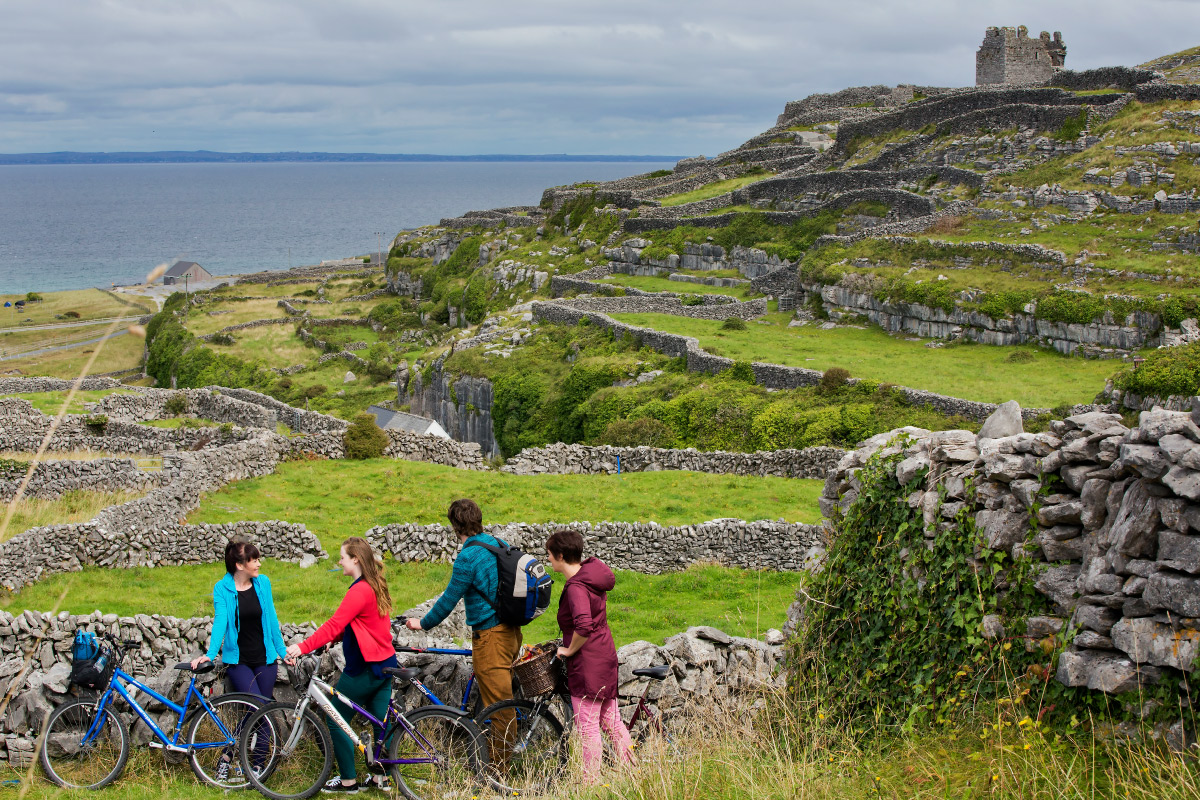 There's something so completely restorative about the undisturbed landscape of all three islands that seems to clear your mind of all worries. From stone walls creating a patchwork of green fields to the chorus of birds welcoming in a new day, there is beauty to be found at every turn. Whether it's sunshine or raindrops on your skin, sand or grass beneath your feet, it's a very special feeling to be so at one with nature and so far removed from the chaos of city life. Did we mention there are even seals to be found? There's a whole colony of merry mammals barking away on Inis Mór and a variety of rare birds for all you bird watchers to catch a glimpse of.

STOP BY THE PLASSEY SHIPWRECK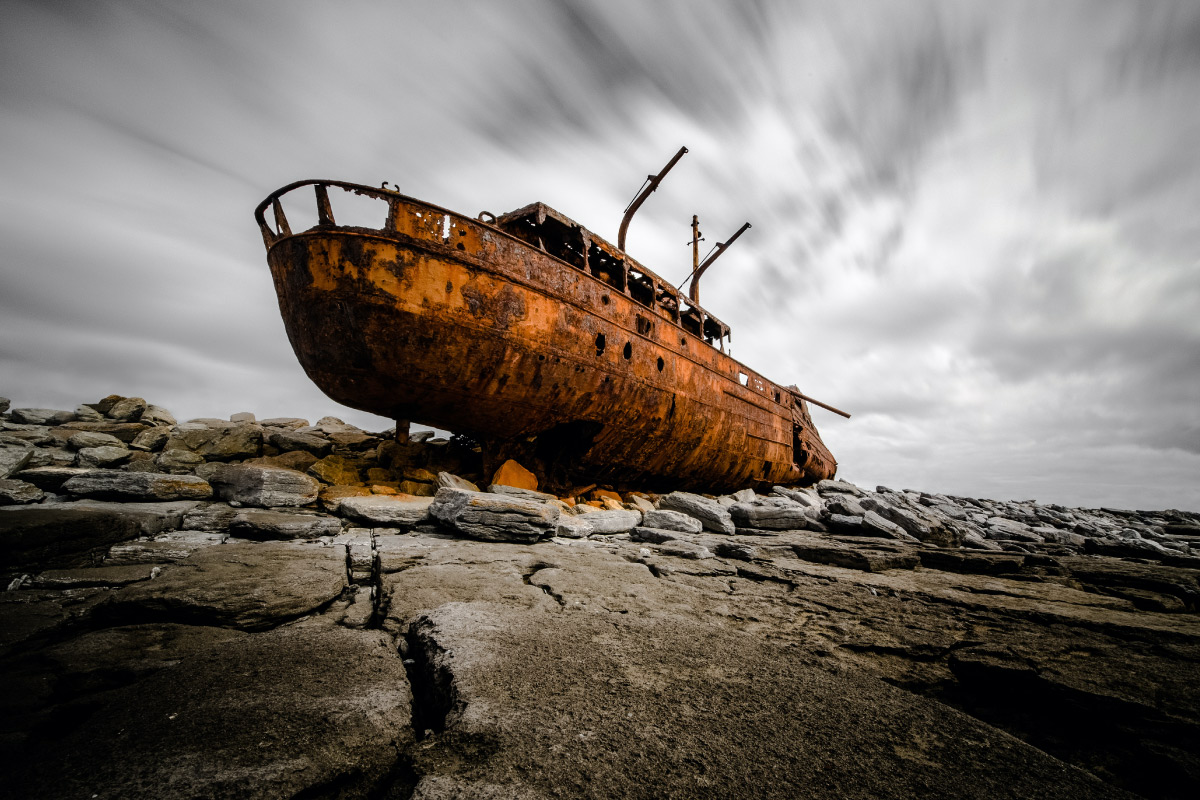 Ingrained in the minds of many through its appearance in the opening credits of Fr Ted, the Plassey Shipwreck is one Inis Oírr attraction that you've got to see for yourself. One stormy night in 1960, the ship veered off its course and smashed into a rock and a flare was launched to alert emergency assistance. Today, 60 years later, the shipwreck has become a beloved landmark amongst the community and draws a crowd with its spectacular vantage point, from which you can see the coastline of Clare.
TAKE A SEAT AT SYNGE'S CHAIR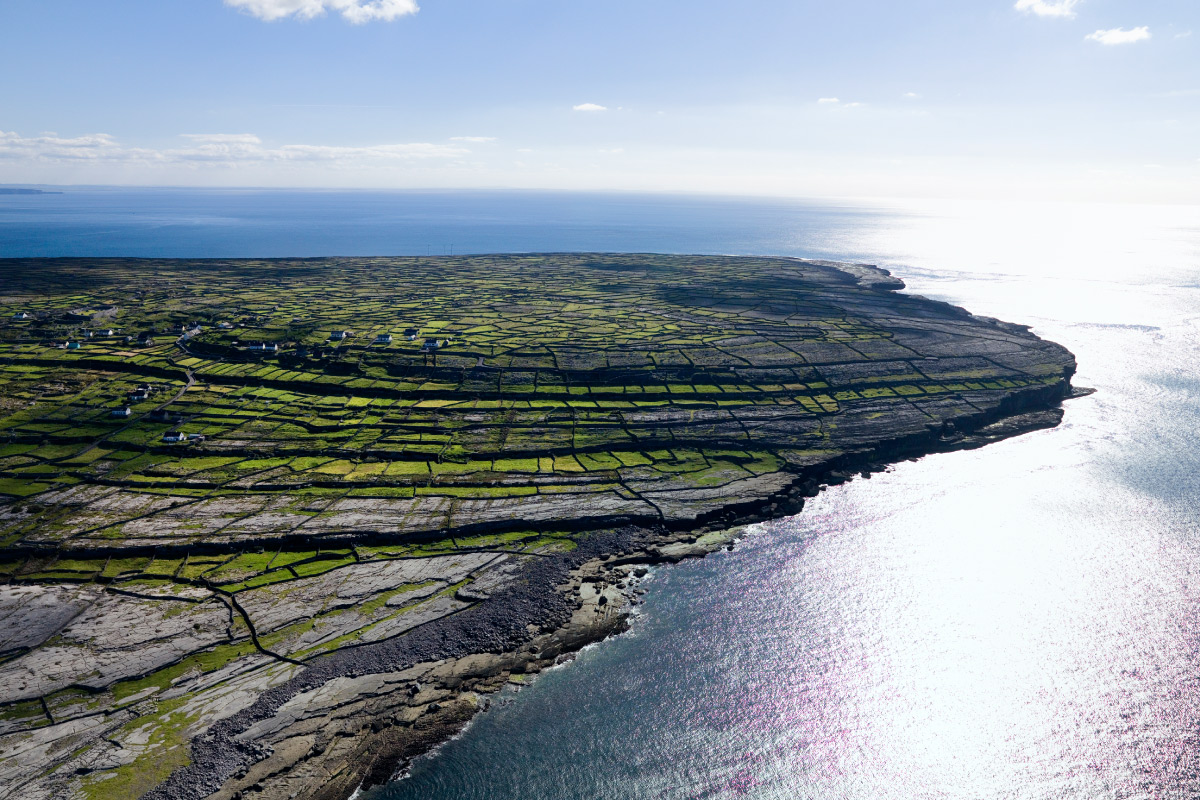 For those who are unfamiliar with JM Synge, he was an Irish write to whom Inis Meáin owes much of its cultural significance. A resident of the island between 1898 and 1902, Sygne was inspired by his surrounds when penning his noteworthy play 'The Playboy of the Western World' from the vantage point that would become known as Synge's Chair. This spot offers superb views and a peaceful stillness, so while you're passing through make sure to do as Synge did and rest those weary bones. A bit of deep breathing against the backdrop of rushing waves might just awaken something hidden deep within.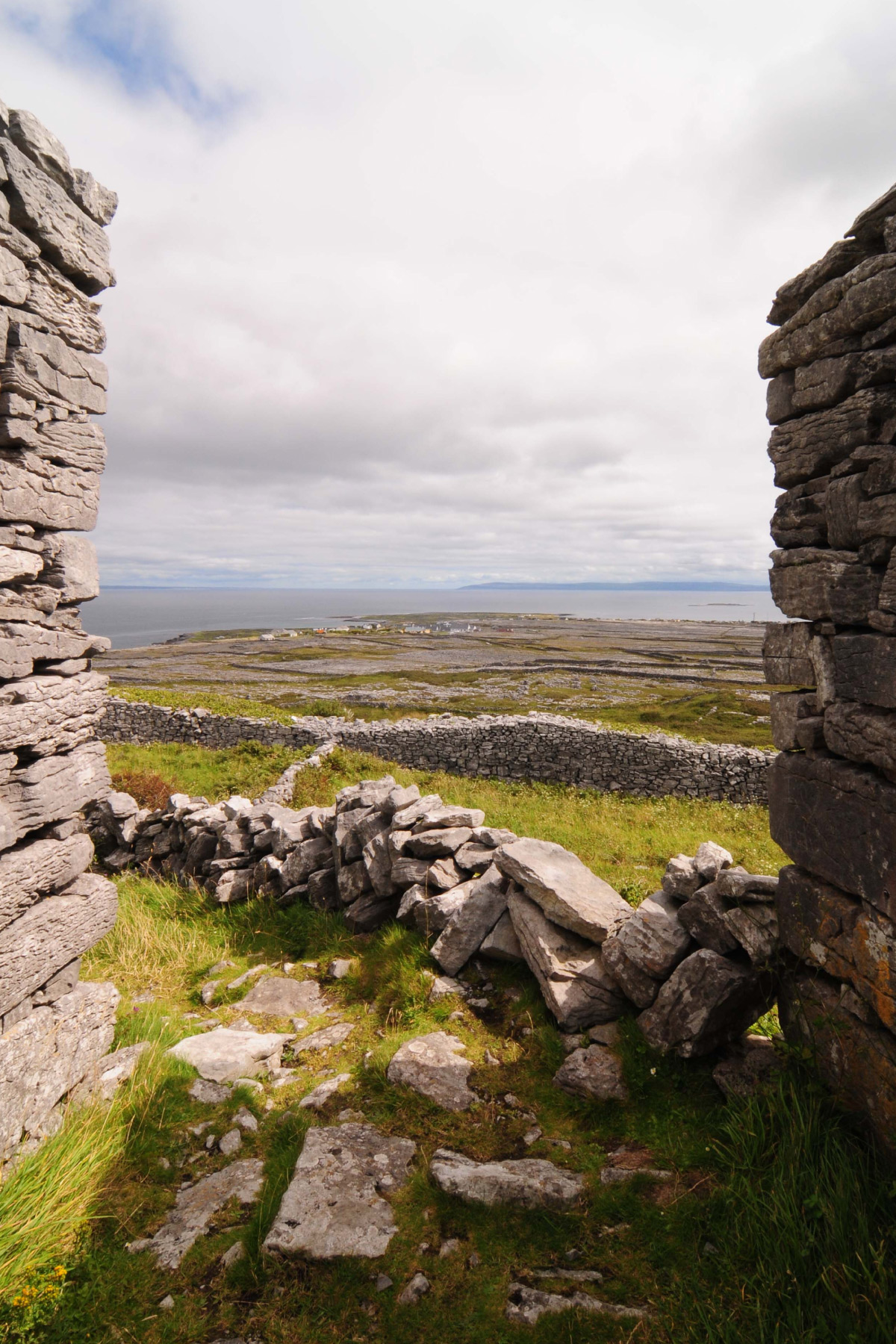 Aran Islands, Galway | © Boyd Challenger
Published on Updated on