In Flow: Inspiring New Show by That's Life
The team behind Club Gardenia – a hugely impressive, all-inclusive, interactive art installation and music festival that took place in The Black Box – are back with an inspiring new project.
That's Life now presents In Flow as part of this year's Galway Jazz Festival programme. Over the last two years, highly-acclaimed jazz musician, Aengus Hackett, has been working intensely alongside five adults with intellectual disabilities to compose original music and develop a new approach towards improvisation in the creation of music. Hackett explains: "The basic concept with this project is to explore improvisation and use it as a tool to make music together within a group."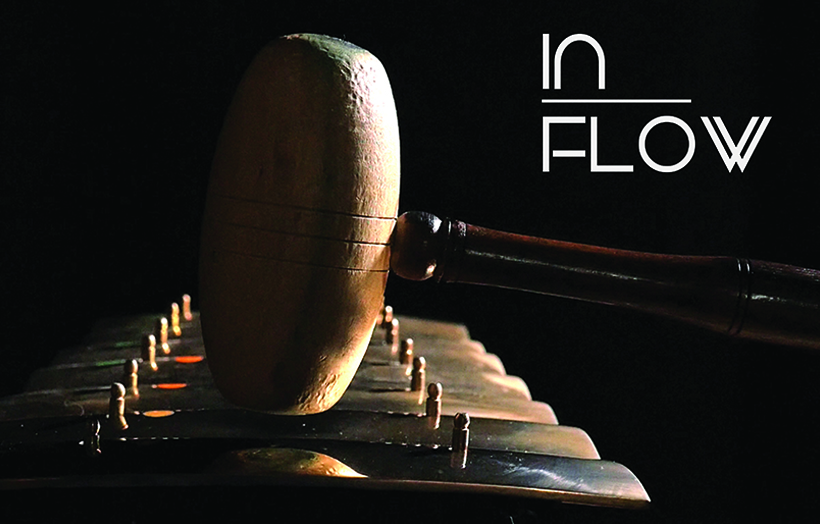 The ensemble have employed the Gamelan (an Indonesian orchestra consisting of percussion-like instruments) to learn music, improv and teamwork. Andrew Madec, Music Leader for That's Life, says "it became clear early on that we were going to be using our Gamelan ensemble to deliver this project because of its accessible nature and its beautiful sound."
Through these workshops, the In Flow team have composed 1 hour of original music which they will showcase during a three night run in Nun's Island Theatre during Galway Jazz Festival, starting on Wednesday October 2nd at 7.30pm. Initial reviews of their music, and the whole experience, have been hugely positive as you can see from the short teaser video below.
This project, which is truly unique within the world of Arts and Disability, has been documented over the last two years by AMW Visual, a local film production company. A short-film about the project will be screened prior to the performance on each night. Live visual projections will augment the music, resulting in a dynamic and truly immersive show.
A vitally important factor in producing the special sound of In Flow is the electronic processing of the acoustic instruments and so the ensemble includes producer Simon Kenny and, one of Ireland's leading jazz drummers, Matthew Jacobson. These highly experienced artists, along with Hackett, are leaders in their individual fields and have made the perfect partners for Roisín Higgins, Damien Quinn, Lorraine Mahon, Áine Nolan and Mary Connolly. Roisín Higgins, one of the participants, says: "The project is absolutely fantastic! I find the gamelan extremely interesting. I love playing different instruments but the gamelan is more of a challenge and it's really exciting. I love learning how to do new things."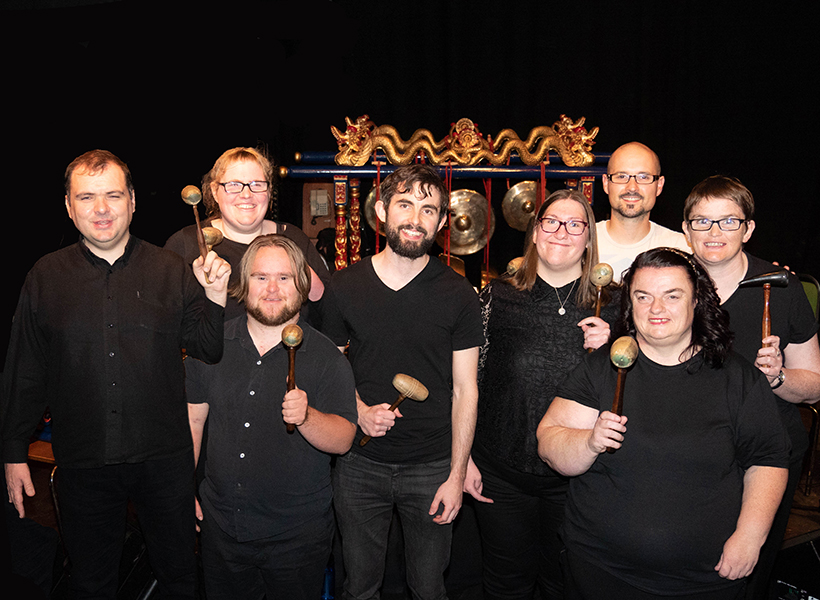 The "In Flow" ensemble. From Left to Right: Damien Quinn, Lorraine McMahon, Fionn Cromby-Angus,Aengus hackett, Aine Nolan, Andrew Madec, Roisin Higgins

Tickets for In Flow are just €10 which is fantastic value for an evening of multidisciplinary art and entertainment in one of the city's most beautiful venues. Book your ticket HERE

In Flow is supported by both Arts Council Ireland and That's Life. That's Life is an award-winning arts programme of the Brothers of Charity Services which offers people with intellectual disability opportunities to discover and realise their artistic potential through working with established artists within the community. That's Life previously organised Club Gardenia, which garnered a lot of praise locally. You can read more about that event, which was covered on This is Galway, HERE.