Struggling to find the motivation to cook dinner? Take the evening off and explore Galway's diverse and exciting choices of takeaway grub with Just Eat.
Take a moment to find your new favourite restaurant offering delicious dishes that can be delivered right to your door. Just Eat makes it easier than ever as you can order through their app or online. With so much choice it can be difficult to decide, so we've rounded up a list of the best takeaways from around Galway that are sure to delight your taste buds.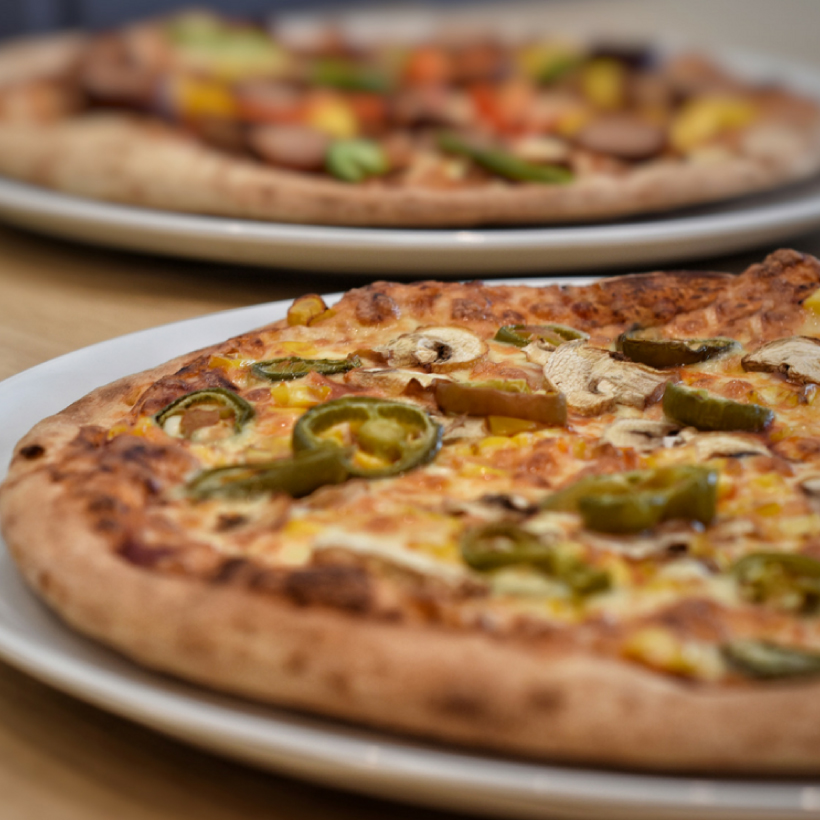 PERFECT PIZZA
MIZZONI'S PIZZA
Crispy pizza bases with fluffy crusts that just ooze cheese, topped off with a yummy range of the finest ingredients, are some of the reasons Mizzoni's is known for its Authentic Italian Pizza. Sample their Hot and Spicy Pizza, which comes with spicy beef, pepperoni, onions, jalapeno and creamy mozzarella cheese, paired with some delicious sides such as Garlic Bread, Wedges or Loaded Fries to finish off your meal perfectly.
Eyre Square // ORDER HERE
MONA LISA
Thin, crispy base, lathered with zingy tomato sauce, cooked to perfection and covered with delectable toppings! This place has a reputation as being one of the most authentic Italian restaurants around, so you know they do a good pizza! Test out Mona Lisa's Sarda Pizza served with salsiccia, red onion and melted parmesan cheese, washed down with a cold can of Menabrea beer that is filled to the brim with citrus, bitter tones and floral, fruity undertones...  you won't be disappointed.
17 William St West // ORDER HERE
VIBRANT VEGGIE OPTIONS
FRESHII
Freshii provides nutritious meal choices to keep the people of Galway energised and upbeat. As well as salads, you'll find hearty veggie burritos that will fill you up for the day. The Khao San Burrito is packed with yummy, healthy treats such as brown rice, spinach, mushrooms, cabbage, carrots, almonds, edamame beans and peanut sauce. If you're craving something sweeter, sip away on one of their juicy smoothies, which includes refreshing frozen yogurt. This is good food in every way.
Cross St Lower // ORDER HERE
GREENS & CO.
Greens and Co. is an inviting, modern plant-based eatery that serves only the highest of quality vegan goodness. Their Tofish and Chips is always an evening favourite, the seaweed marinated tofu battered with nori, crispy kale, mushy peas and tartare sauce, perfectly paired with a bottle of rich red Merlot will cheer up any evening. Their whole menu is fantastic for the veggies of Galway, and it's so tasty that the carnivores won't even miss the meat!
4 Henry St // ORDER HERE
BÓTOWN BURGERS
Craving a juicy burger but trying to avoid eating too much meat? A Nó Bó Burger and side of loaded veggie fries from BóTown Burgers is what every night in needs. A  rich patty made from smoked mushroom, spinach, kidney beans and oats, sitting on a cushion of rocket, tomatoes, slaw and guacamole, served with some hand cut veggie fries seasoned with smoked paprika salt, washed down with one of their tasty IPAs, our tummies are rumbling just thinking about it.
57 Lower Dominick St // ORDER HERE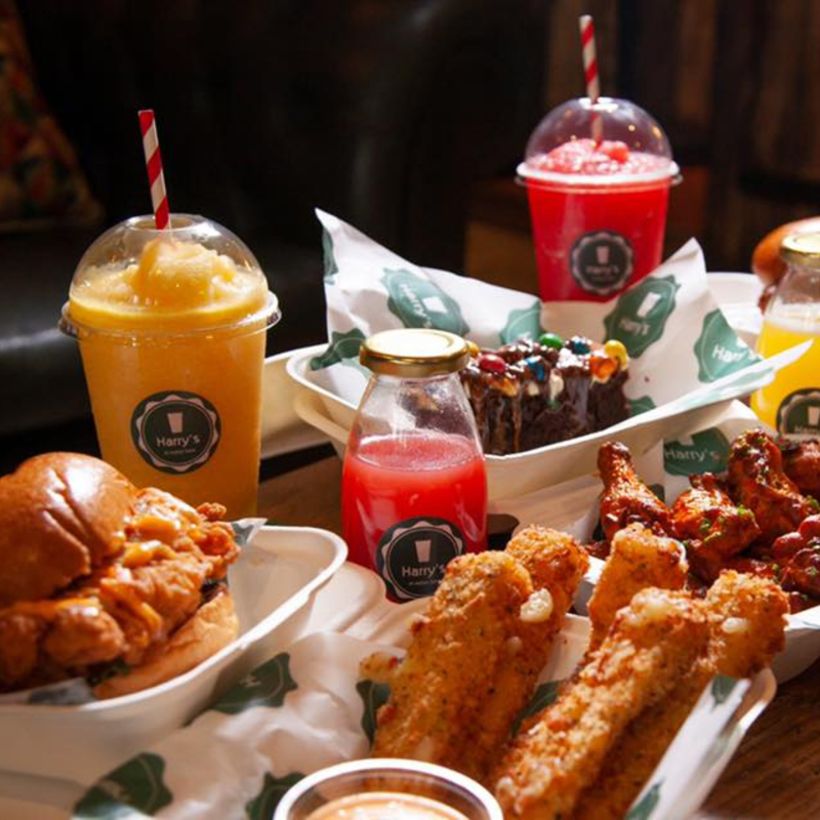 GLORIOUS PUB GRUB
HARRY'S BAR
Simply open up the Just Eat app and you could soon be tucking into crispy-outside-gooey-inside Mac N' Cheese Balls followed up with a firey Spicebag, which includes crispy chicken, peppers, onions, chips, spring onions, spice salt and rich curry sauce. Finish off a hard days work with a delicious meal and a cocktail from Harry's Bar. Serving up their incredible cocktails in takeaway bottles, you can enjoy a Sour Appletini or an Electric Blue Long Island for the comfort of home.
77 Bohermore // ORDER HERE
CARIBOU
With a fun take on traditional bar food, Caribou's menu is packed with proper tasty stuff! You'll find cauliflower wings, big juicy burgers and everything in between. Try their Barbacoa Beef Tacos, this exquisite 24hr slow cooked beef bonanza, served with tortilla chips and mango and charred pineapples salsa, mint and cucumber guacamole, coriander and lime. Accompanied by a smooth glass or two of their cool Chardonnay makes for the perfect Caribou evening at home.
31 Woodquay // ORDER HERE 
SLIDERS BAR & GRILL
The soul food masters at Sliders Bar & Grill bring you an extensive American-style menu featuring Buttermilk Chicken 'n' Waffles, Wings, Ribs and their very own signature Sliders. Have a fun evening in with one their sharing boxes. The Trendy Box consists of jalapeno poppers, veggie sliders, buffalo cauliflower wings, mac and cheese bites, naked fries with ranch dip and tzatziki mayo. Finish off your evening meal with the lock down box, which is 6 cocktail bottles of your choice.
8 Quay St // ORDER HERE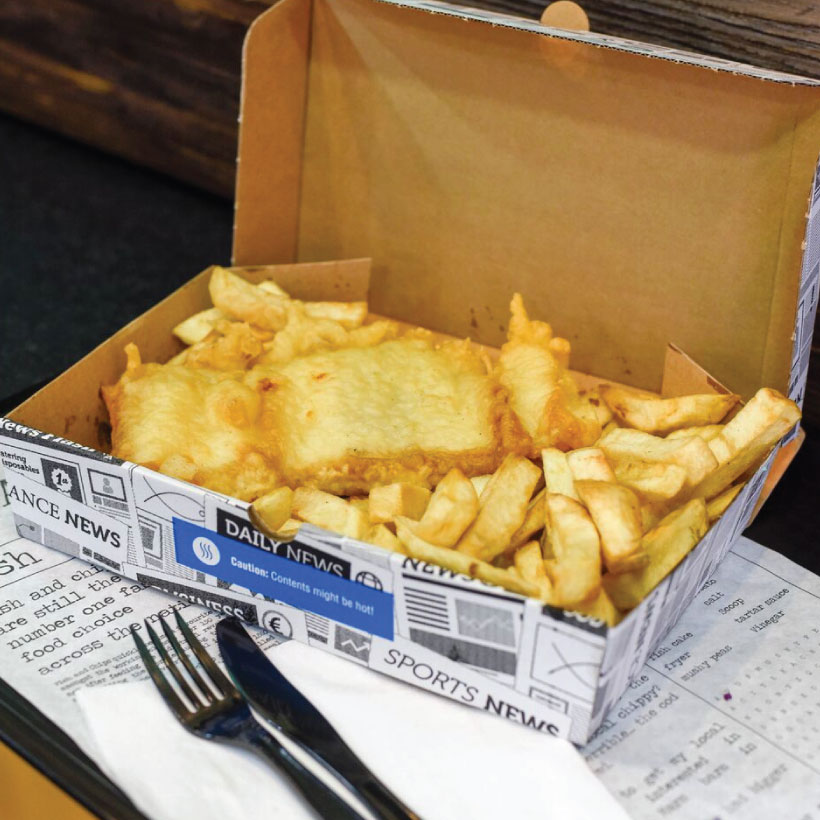 THE CLASSICS
VINNIE'S TAKEAWAY
At this iconic Galway chipper, you'll find all your takeaway classics: loaded chips, gourmet wraps, pizzas, goujons, chicken snack boxes, hot subs and more. Try the Fillet Steak Wrap with fresh strips of beef fillet dressed with mixed leaves, peppers, red onions, Ballymaloe relish and garlic sauce. Whether you're looking for a cheeky takeaway meal or a late-night feed of chips and chicken burgers, Vinnie's is ideal for you.
17 Dominick St Upper // ORDER HERE
GIOVANNI'S 
Their traditional fish and chips, served up right in newspaper, is a big favourite here at This is Galway HQ, so it was no surprise to us when Giovanni's fries were voted Best Chips in Galway by our followers during lockdown. Ever tried bacon cheese curry chips? How about Doner garlic chili chips? Well, now you can. Their tasty chips are a perfect solution to any late night cravings.
4 Dominick St Upper // ORDER HERE 
BOOJUM
Fresh and affordable food, made with authentic ingredients and recipes, it's no wonder that Boojum has become the go to place for thousands of Galway students down through the years. Homemade Mexican food served up in a casual burrito bar. Discover the delicious offerings which include burritos, fajitas, tacos and salads tailored by you, to suit your tastes. Choose from a variety of succulent marinated meats, or flavourful vegetarian & vegan options, and spice up your your meal with our fresh, home made salsas and sauces.
Unit 1 Spanish Parade // ORDER HERE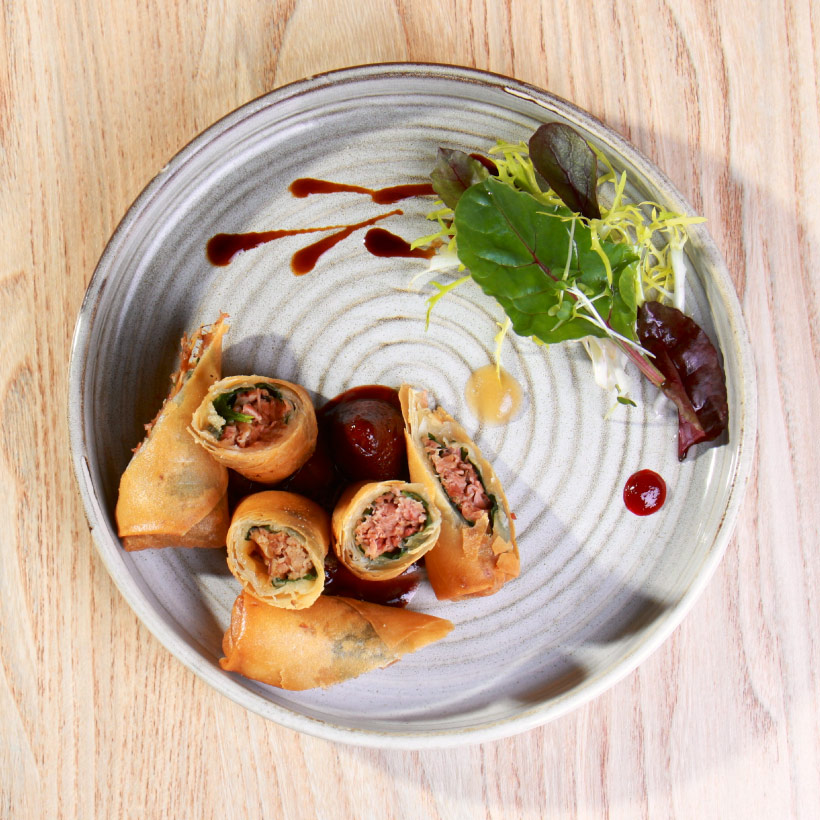 TASTE THE WORLD
KHOW THAI
Heat from chillis and curry pastes, saltiness from fish sauce, sourness from tamarind and limes, and sweetness from palm sugar are just some of the features in the delicious dishes at Khow Thai. Indulge yourself on the tasty choices available, every meal is a delicious combination of flavours, which are brought together in perfect balance and delivered fresh to you by Just Eat.
Liosbaun Industrial Estate // ORDER HERE 
OSTERIA ITALIANA DA SIMONE
Authentic Italian dishes with rich sauces and fresh flvours. Osteria Italiana da Simone is a gem in Galway city centre. Owner Simone cooks up each dish with expertise and care. Enjoy a taste of Italy from one of his fresh pastas, the Tortelloni Ai Porcini is filled with porcini mushrooms, crispy pancetta and lathered in a sundried tomato cream sauce. Follow up your mains with a delicious homemade desserts, the Panna Cotta is served with caramel sauce that is mouth-wateringly good.
3 St. Francis St // ORDER HERE
HIGH CAFÉ
Experience a taste of Morocco at the High Café. Traditional couscous served with root vegetables, Moroccan spiced chips. Slowly cooked Moroccan stews with light spices and fresh herbs served with house made pita bread. We could go on! Each generously portioned dish is packed with fabulous flavours. If you've never sampled Moroccan foods and are looking for your next foodie adventure, High Café is just the spot for you.
2 High St // ORDER HERE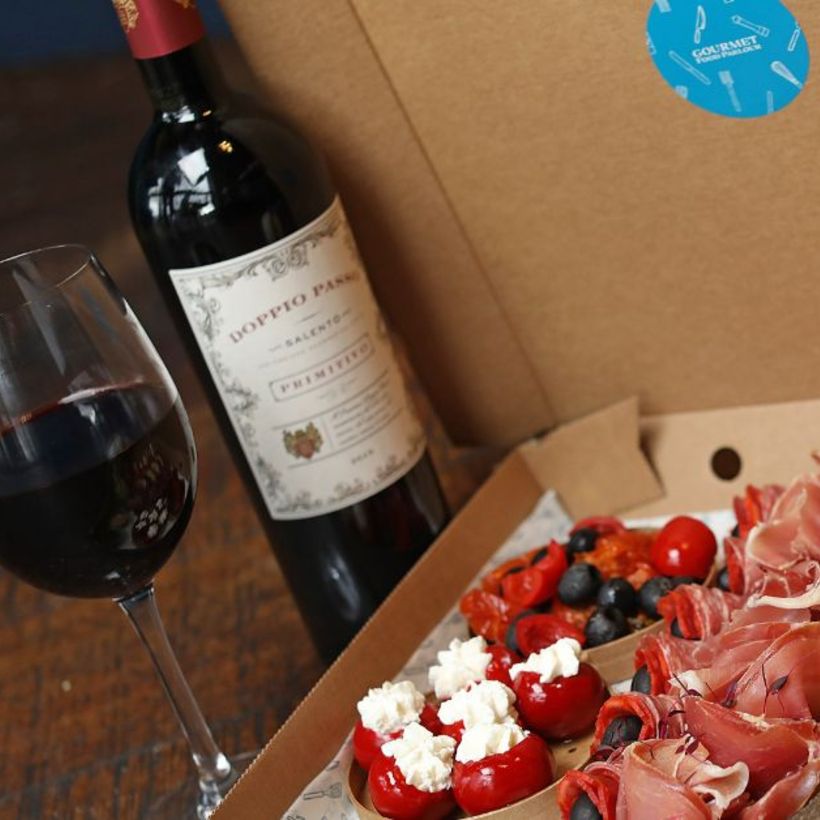 ROMANTIC NIGHT IN
GOURMET FOOD PARLOUR
If you're looking for a romantic, yummy date night at home you've got to check out Gourmet Food Parlour's new romantic meals for two. Get two starters, two mains and a bottle of house wine. Or enjoy a gorgeous Charcuterie Box packed with cured meats and cheeses, olives, sun-dried tomatoes, stuffed peppers, crackers, pesto, hummus and rustic breads with a bottle of wine. Take the pressure out of cooking up a fancy meal and cozy up together with these fantastic goodies.
14 Lenaboy Gardens Salthill // ORDER HERE 
WHOLLY COW
Cuddle up for a lovey-dovey night in with a scrumptious meal deal for two from Wholly Cow. Tuck into the burger bundle for two, which includes your choice of two scrumptious burgers, two drinks and home made chips. Their signature flavour combines a range of Irish cheeses and fresh, local, seasonable vegetables. They put exceptional care into every dish they cook up as everything is made on the premises, right down to the relishes and pickles. Spend a lovely evening dining in with your special somebody with divine foods to share.
Unit 2 An Grianan Geal Newcastle Rd // ORDER HERE
Just Eat is Ireland's leading online food ordering and delivery app. Discover, explore and enjoy a diverse and exciting choice of restaurants and cuisines from around the world, all available on the Just Eat app. So whether you are ordering breakfast, lunch or dinner to your door, Just Eat has 2,700 restaurants and 40 cuisines around Ireland to choose from.
Just Eat has teamed up with This is Galway to showcase the wide variety of cuisines available for delivery in Galway straight to your door! From Thai to Italian and everything in between, Just Eat offers a wide range of cuisines you can order on the Just Eat app in a few easy steps!