After a year without all the usual festivities, let's make Halloween 2021 one for the books! With the go ahead for most of our favourite Samhain traditions, it's time to dress up like our favourite freaky ghouls and boogie the night away to terrifying tunes. Check out our list below to discover some spooky ways to celebrate your Halloween.
FIENDISH FUN AND GHOULISH GAMES
These Halloween antics are safe, fun, cheap and are guaranteed to put a smile on faces young and old. The streets of Galway feel a lil empty without the annual Macnas parade, but there's loads of fun to be had in locations all across the county!
If you're feeling brave enough to take on a spooky treasure hunt, Brigit's Garden may be just the spot for you. Get into the Halloween spirit by testing your courage when you come face to face against the mummy in the Crannóg and the coffin in the Stone Chamber.. Tap here to discover everything you need to know.
Take the kiddies on a spooky Orienteering sessions for children aged 4+ this Halloween at Wildlands. Explore the wild woodlands and magical fairy trail, keeping your eyes peeled for the Troll Bridge, Fairy Houses, the Moycullen Mummy, Wicked Witch of Wildlands and more… Whispers of circus themed interactive performances on Halloween day are brewing - a line up a few acrobats, fire breathers and stilt walkers to give you one hell of a Halloween performance!
Adding a bit of femme fatale to the season, Pálás Galway are celebrating the very best horror films by women filmmakers with Samhain na mBan. Ranging from Ida Lupino's 1953 The Hitch-Hiker to Coralie Fargeat's 2018 Revenge, and of course Mary Harron's cult classic American Psycho – there's something here to satiate every horror fan's appetite.
Escape to Slieve Aughty Centre during the spookiest time of year for their Howl-O-Ween Festival 2021. With ghosts and goblins galore, haunted houses, tricks and treats, scary stories, horses and ponies to pet and ride, arts and crafts and a Halloween Evening Kids Disco Party, it's fun for the whole family! Find out more here or head on out to the West to enjoy a more traditional Samhain at Kylemore Abbey and learn about the origins of barmbrack, colcannon, and turnip (not pumpkin) carving and perhaps pick up a few new Halloween game ideas or make a wish at the wishing tree. With more events to be added closer to the time, stay up to date on the latest here.
Looking for something to scare the bejesus out of you (or someone else) this Halloween? VR World Galway's collection of horror theme games are sure to terrify even the bravest of competitors. Plunge yourself into a world of nightmares and fear, and discover just how frightening Virtual Reality can really be. Discover all the terrors that can be found during the Halloween season at VR World Galway here.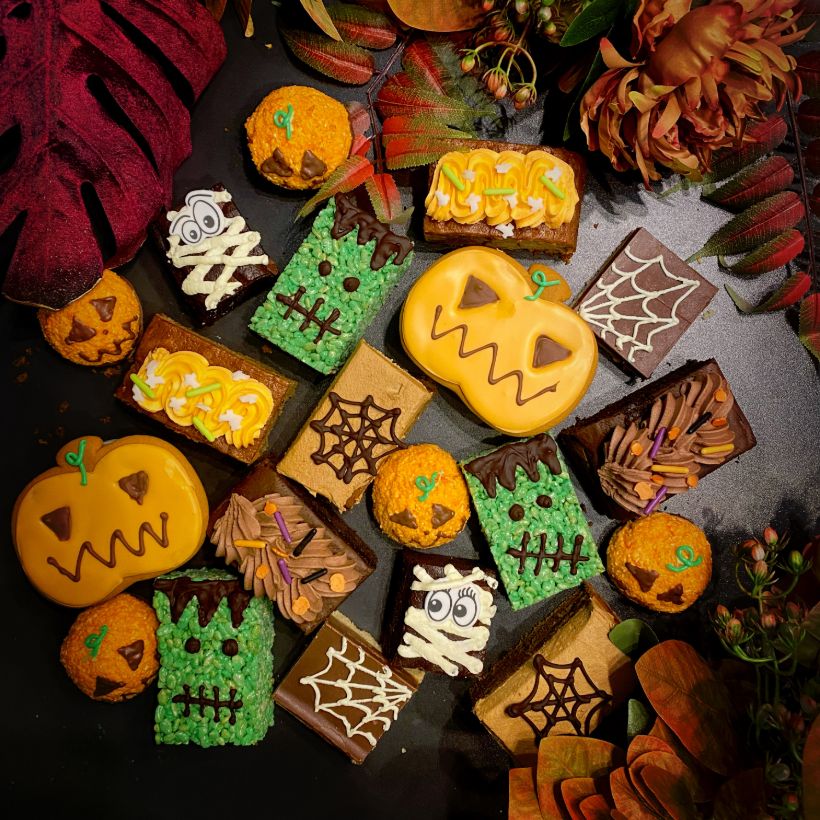 TRICKY TREATS
Lets face it, the best thing about Halloween is all the terrifyingly tasty treats you get to stuff into your face! Keeping it Halloween-themed means you don't have to feel guilty about splurging for one night. Roots Café & Bistro have out done themselves with their new selection of themed Halloween treats such as the mummy brownies, Frankenstein rice krispie squares and spider web coffee cake - they're too spookalicious to miss out on so pop in to get them before they're gone.

If you're looking to enjoy the traditional Halloween treats, head straight to Aunty Nellie's Sweet Shop for delicious goodies such as their fudge, liquorice, bon bons, sours and more. Pop into them at their High Street store or rummage through their selection of sweets online and have all your favourites delivered straight to your door. And, of course, when it comes to a Traditional Halloween, you can't forget the Barmbrack! If you pick up an Irish-baked Barmbrack from McCambridges it will be about so much more than "who finds the ring". These fluffy, light, fruity and sticky sweet breads are so divine you might even forget to get married!
Taking a trip out to Doughnut Delight is always a treat, their freshly baked donuts are absolutely divine, and the cookies and pastries never fail to catch our eye. Put together your own box packed with all your favourites in time for all your Halloween celebrations. Check out more of our go to donut destinations here..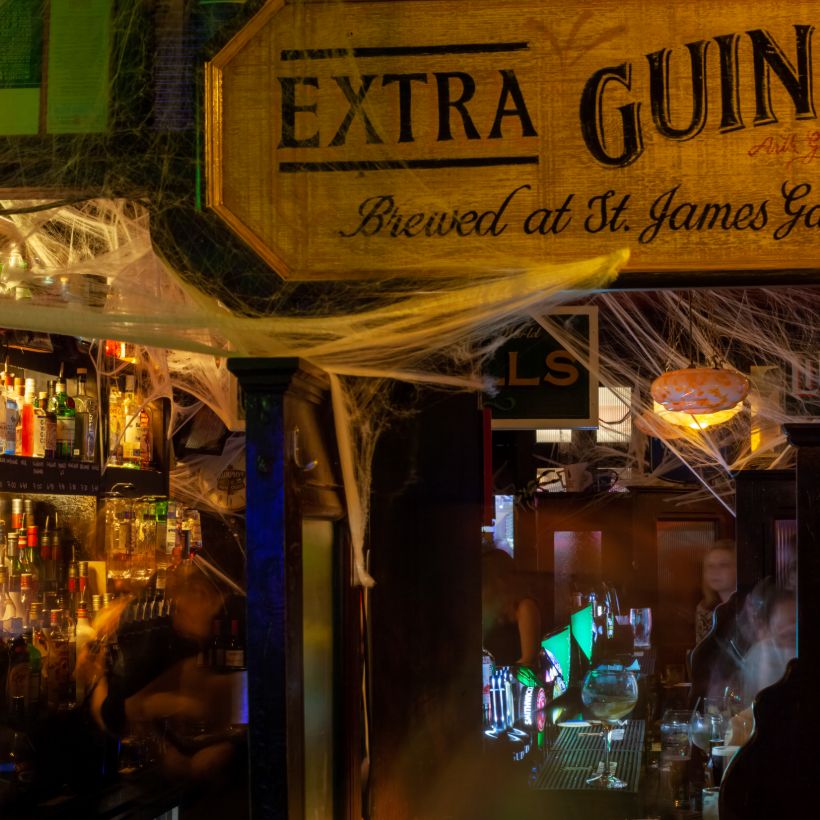 PHENOMENAL PARTIES AND EVENTFUL ESCAPES
Samhain is an old Celtic festival that rings in the changing of the season and the end of the Harvest, so it feels fitting to party up a storm and make the most of the night, especially with the final easing of restrictions happening the week before! John Keoghs Gastropub in Galway's Westend have proven time and time again that they know how to throw a seriously great party. Get your own private party room located just off the main bar with your own live music, gourmet, made to order finger food options and of course full access to the bar. Book here and have yourself a frightfully good night.
Or.. why not get away from it all and enjoy a nice spooktacular family break at Clifden Station House Hotel, with ghost stories around the campfire and spooky crafts, there's plenty to keep the whole family entertained this Halloween while you go sightseeing in Connemara. Book your Halloween Break here.
MONSTROUS MANIA AT HOME
For a more peaceful activity, a Horror or Sci-Fi novel from Charlie Byrne's Bookshop makes for perfect reading this weekend. Check out their stunning collection here and find yourself in the midst of a spooky Samhain tale.
Pop in to Ernies and you'll find pumpkins bigger than your head, perfectly smooth and orange and ready to be turned into a scary silhouette. While you're there, grab the monkey nuts and the apples and get ready to go bobbin' for a few euros. All that competition can make for hungry work, so make sure you have the Just Eat app open on the phone and ready to order some glorious grub direct to your door. Can't decide what to order? Check out our favourites here.
More in the mood to do the Monster Mash at home? Our playlist of Spooky Sounds will get you dancing like a spooky scary skeleton. Listen here and start throwing some scarily good shapes to Ghostbusters, Thriller, Psycho Killer and more. No dance session is complete without a few boozy drinks and with Harry's Bar bringing the craic with their freshly-made cocktails and food you're all set for an incredible night in. Ready to be collected from their doors, call them on 085 8621840 or order online on their website and drop by to collect your goodies.