Now more than ever it's important to treat yourself in the comfort of your own home. Find some of the best Galway eateries outside the city still open, busily preparing all their tasty goodies for you to drop by and collect.
While these lovely eateries are closed for dining-in for now, the great news is that there is nothing to stop you from treating yourself to a delicious meal to go!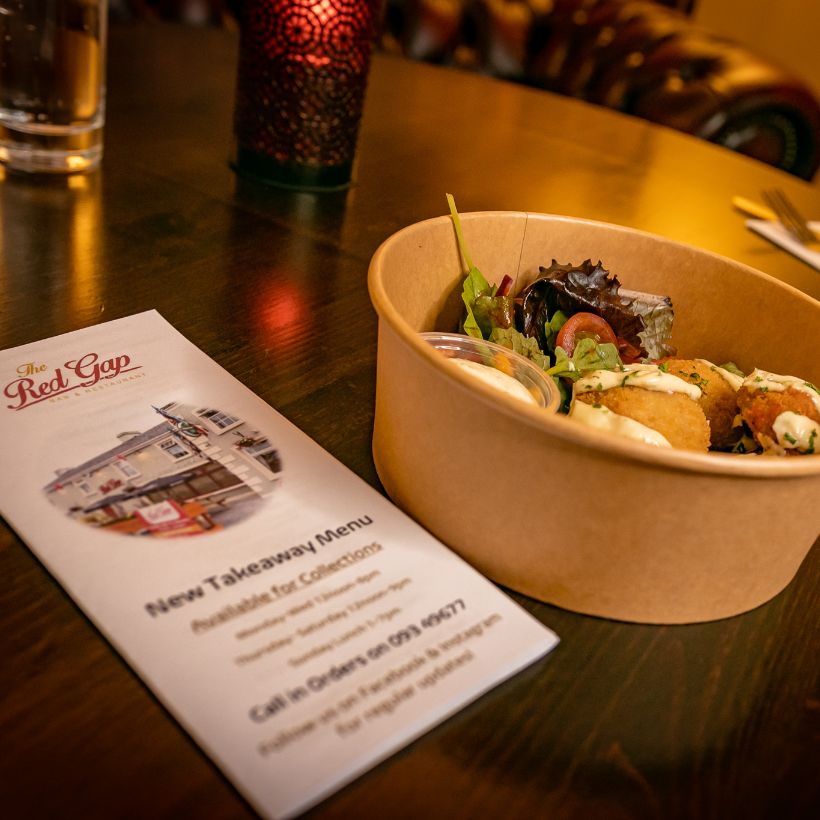 THE RED GAP BAR & RESTAURANT
The traditional bar and restaurant, The Red Gap are serving up their new takeaway menu with all your favourite freshly prepared wholesome foods that makes them so popular. Enjoy from the comfort of your home a steak perfectly cooked to your taste, crispy freshly made onion rings, fresh mushrooms, delicious chips and pepper sauce. Give their expert staff a call to order and come by to collect your delicious dish.
Tuam // Thurs-Sat 3pm-9pm, Sun 12pm-7pm, // 093 49677 // ORDER HERE  //
BASILICO RESTAURANT
Back open for takeaways, check out Basilico's fantastic takeaway menu and enjoy all your fresh, homemade and organic Italian favourites right at home. Now serving scrumptious special takeaway deals and takeaway pints, give them a call to order and go collect your fantastic dish to enjoy a fab night in, check an eye out for updates on the online ordering system which will be coming back soon. If you enjoy cooking with your family, they are also offering their new pasta kit for 2 and the popular pizza kit for 4 people.
Oranmore // All week 4pm-9pm, // 091 483 693 // ORDER HERE
BARCELLA CAFÉ
Still serving all the same mouth-watering meals as before, with tasty sambos, soups and salads all available on their seven day menu. They also have some freshly baked gooey Nutella donuts available to help get you through the day. While you can't hang about, take your time to savour each scrumptious mouthful at home. If you're in a rush give them a call in advance and they'll have your order ready and waiting to go.
Barna // Mon-Fri 8.30am-5pm, Sat 9am-5pm, Sun 9.30am-5pm, // 091 590 556 // ORDER HERE  //
GIGAS DINERGRILL
Need a night away from cooking and cleaning? Then get in contact with Gigas Dinergrill to order a delicious chicken box meal for an evening of pure bliss or spice up your day with their flavour-filled spice box. Call them in advance and pop round to collect all your evening treats. Take the stress out of your evening and order in a foodie feast from Gigas.
Clarinbridge // Mon-Thurs 4pm-9pm, Fri-Sun 2pm-9pm, // 091 777 888 // ORDER HERE //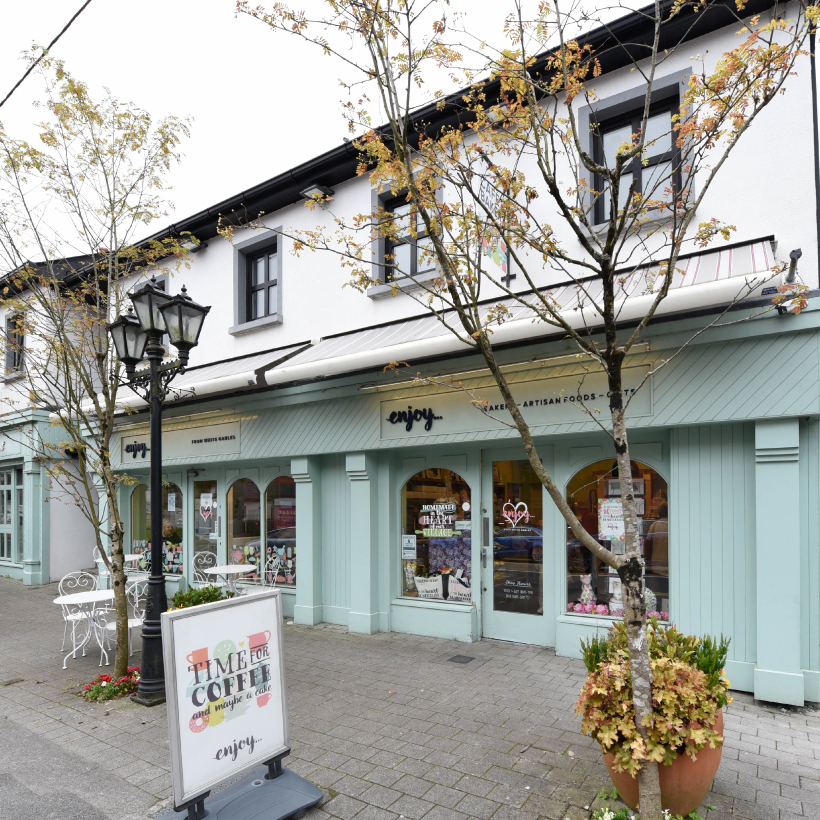 WHITE GABLES
Take the stress out of the Sunday roast with a fab takeaway from White Gables, get a three course meal ready for you to enjoy from your own dining table without worrying about all the prep work. Spoil yourself with a delicious meal from their expert team at home. Call them today to book yourself a fantastic meal to go or gift a loved one a lovely Cocooning Hamper from White Gables which is an ideal way to give your support to those you don't see over the next six week. These can be purchased online or by calling the number below.
Moycullen // Tue-Sun 10am-5pm, Fri open til 7.30pm // 091 793 587 // ORDER HERE  //
CONNEMARA GREENWAY CAFÉ 
Stop by Connemara's finest café and get your lunch needs sorted with your pick off their takeaway lunch menu. If the weather suits you, sit out and warm yourself up with the soup of the day and their homemade brown bread. Keep an eye out for their daily specials so you don't miss out on some exquisite flavours. They also have a lovely selection of wines for you to take home with you, what are you waiting for? Get in touch and order yours for pickup.
Oughterard // All week, Lunch 12pm-4pm, Dinner 6pm-8pm, // 091 866 645 // ORDER HERE  //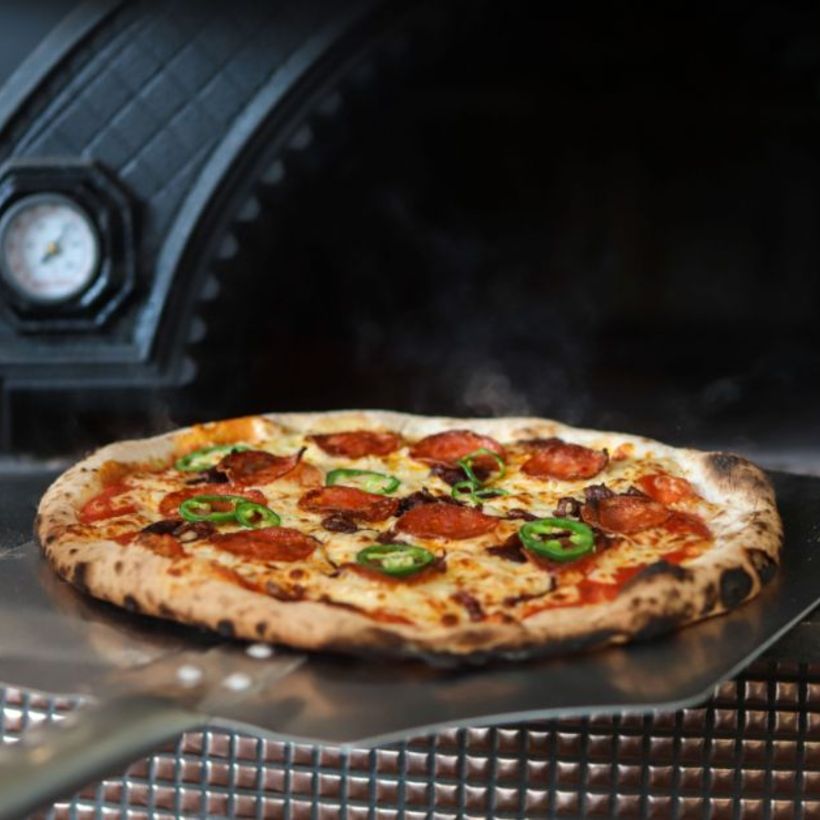 OLIVE TREE KITCHEN @ WILDLANDS 
The Olive Tree Kitchen at Wildlands is a brand new eatery, serving up lots of fab new dishes for takeaway. Walk in to order or give them a call in advance and pop by to collect your goodies. Try out the delicious items on their new menu like the Wildlands chicken and sweet potato curry or their pan fried halloumi cakes. They've also got fresh, crusty pizzas stone-baked in their massive oven!
Moycullen // Thurs-Sun 9.30am-8pm, // 091 868 900 // ORDER HERE //
MCHUGHS PUB & RESTAURANT
Sitting on the outskirts of the busy city, McHughs is serving a brand new takeaway menu that looks absolutely heavenly! Tuck into a fresh seafood pie with a side of fresh seasonal veg and loads of other beautiful roasted dishes. Give them a call and get your hands on a hearty traditional meal to bring home and enjoy in front of the cosy fire.
Castlegar // Mon-Sat 3pm-9pm, Sun 1pm-7pm, // 091 739 268 // ORDER HERE  //
WALSH'S BAKERY
These days are leaving us feeling a bit sour, so why not head over to Walsh's Bakery and get something sweet to help balance your day out. While their coffee shop has closed once again, their cake shop is still open takeaways so take a few minutes out of your day and sit back and relax with a fresh Walsh's pastry and a hot Bewleys coffee. Browse their collection of baked goods on their website and click and collect your pick of their delicious warm goodies.
Clifden // All week 9am-5pm, // 095 21283 // ORDER HERE  //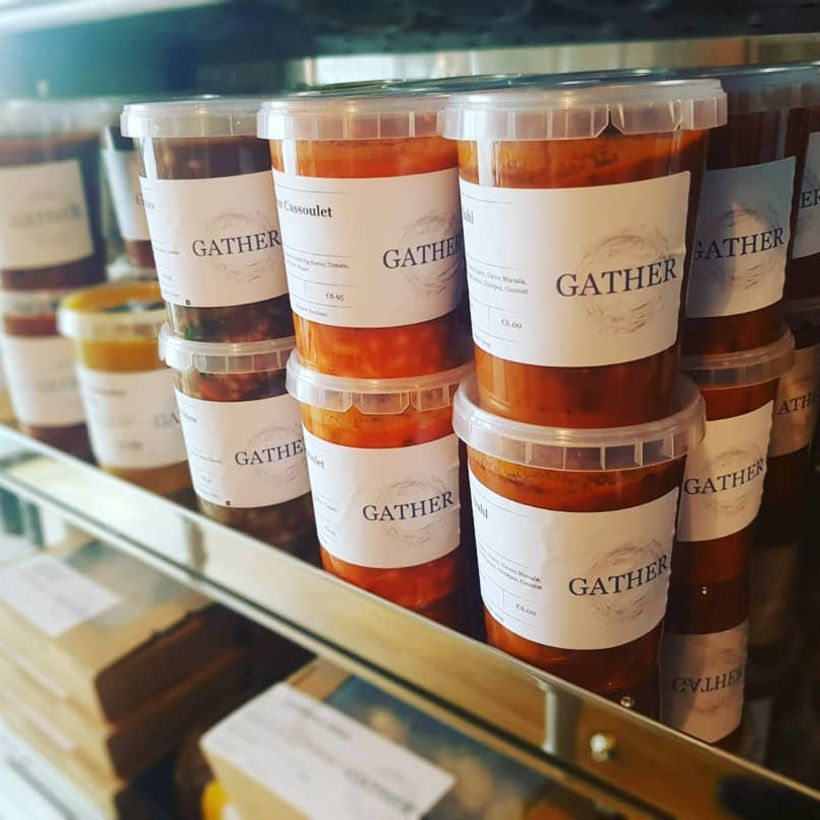 ABBERT LIFESTYLE STORE
If you're visiting Tuam, you need to pop round to Abbert Lifestyle Store and get yourself a treat from their delicious array of cakes, breads and bakery goodies. Get a slice of fabulous apple crumble and some gourmet sausage rolls to bring home and snack away in front of the tv with all your scrumptious finds. There'll also be some delicious takeaway meals available from their sister restaurant Gather which is open Friday 12pm to 4pm, Saturday and Sunday 10.30am to 4pm.
Tuam // Tue-Sat 10.30am-6pm, Sun 10.30am-4pm, // 093 27739 // ORDER HERE  //
PEGGY'S BAR & LOUNGE
Treat yourself to a gorgeous evening meal from Peggy's Bar and Lounge's new takeaway menu. Their off-licence will also be available so be sure to shop local. Try their delicious Atlantic salmon dressed in a Pinot Grigio and Dill cream sauce. Why not take this opportunity to enjoy a perfectly prepared dinner in the comfort of your own home without having to do all of the hard work.
Claregalway // Mon-Sat 3pm-9pm, Sun 12pm-7pm, // 091 793 587 // ORDER HERE  //
DELIGHT 
Delight in Renmore is still open serving up a delicious menu full of takeaway delights. Treat yourself to a warm goats cheese salad with a creamy dressing on the pesto ciabatta. Matched with a heavenly fruity smoothie from their juice bar will help you get through the day and leave you feeling refreshed. Call in to say hello and be served up all their best delights.
Renmore // Mon-Fri 8am-3pm, // 091 761466 // ORDER HERE  //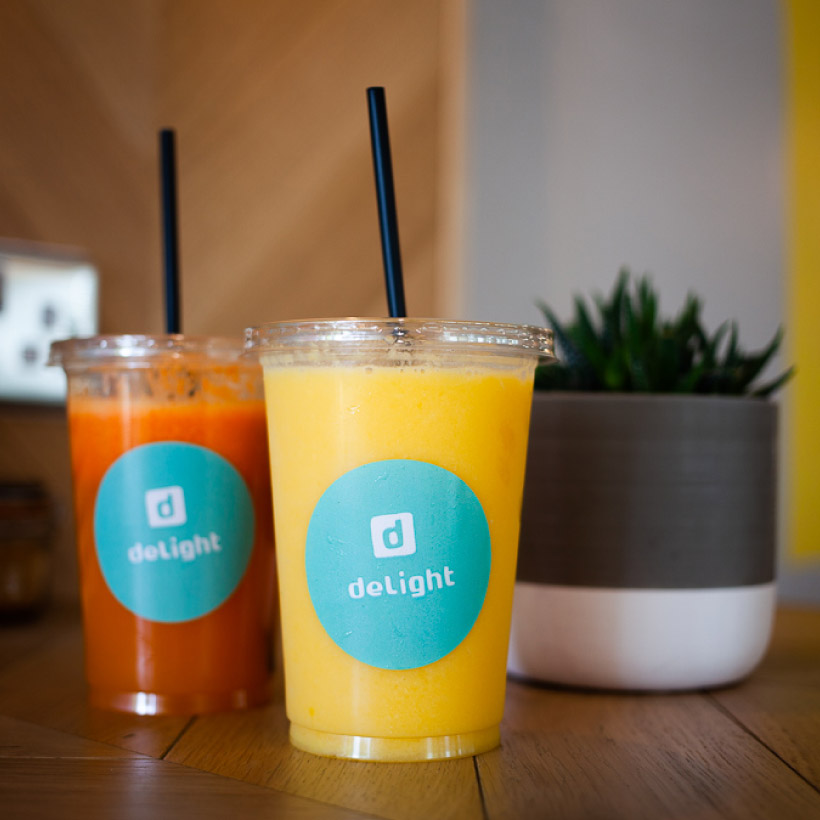 THE OLD BARRACKS
If you're in Athenry, stop by The Old Barracks and grab a bite to eat off their new menus that have been drawn up specially for takeaways and are packed full of top quality dishes for your pleasure. Starting this weekend you can get delicious family size "Heat at home" dinners. They're serving Athenry's best Sunday Roast until late so give them a call and preorder yours for collection.
Athenry // Mon-Thurs 8.30am-6pm, Fri & Sat 8.30am-7pm, Sun 9am-5pm, // 091 877 406 // ORDER HERE  //
WILD FIRE GOURMET FOOD TRUCK
With a wide range of gourmet burgers, there's plenty of delicious choices to choose between, from their hearty piri piri chicken burger to their latest addition Grace's burger, which is filled with crispy bacons and onions, melted cheddar cheese, fried egg and jalapeno salsa. Order your juicy burger and loaded fries online and savour every mouthful from the comforts of your home. Don't forget to keep an eye on their social media to find out where they're headed to next!
Galway // 083 839 0688 // ORDER HERE //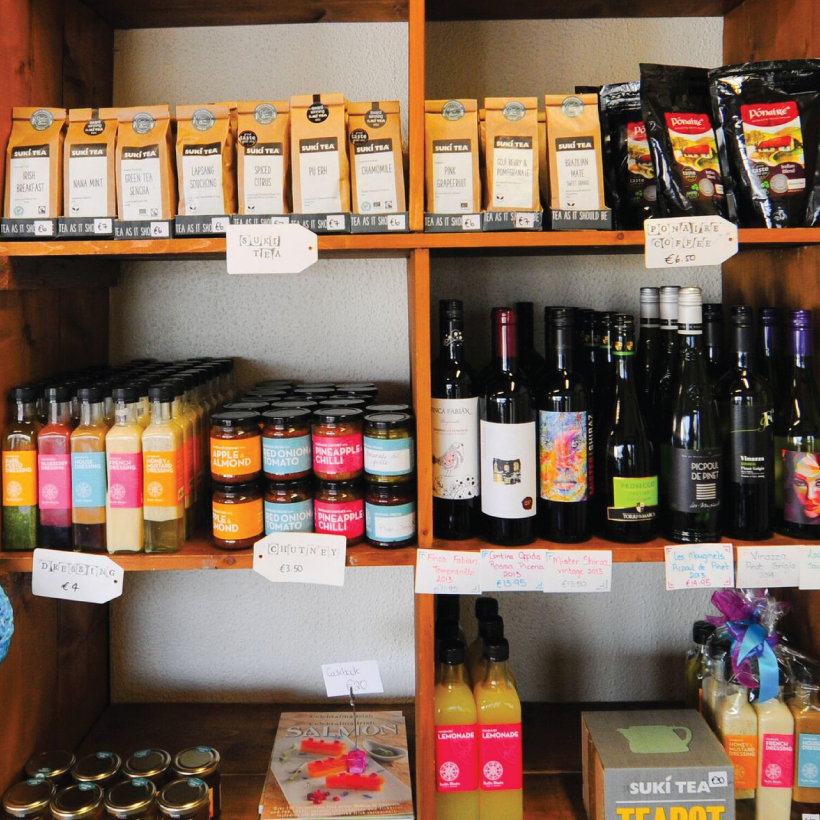 BUILÍN BLASTA
Dreary weather getting you down? Stock up on some freshly baked treats, light the fire, put the feet up and relax. Call by Builín Blasta, and get yourself one of their fab new bake box, filled with a selection of freshly baked goodies. Don't forget to call ahead to preorder your tasty homemade treats and a delicious cup of barista coffee and be sure to keep an eye on their social media for updates on all their newest daily specials.
Spiddal // Wed-Sun 10am-5pm, // 091 558 559 // ORDER HERE  //
CHEF'S CAFÉ
Even though you can't enjoy the comforts of dining in the cosy ambiance of the beautiful Chef's Café, their full menu is now available for takeaway. Due to the Coronavirus they have cleverly added their own twist to their classic takeaway dishes. Enjoy some of the best foods from their very own homemade recipes. Indulge yourself in their lunch menu with rustic pizzas, light salads or filling sandwiches.
Craughwell // Sun-Thurs 9.30am-6pm, Fri & Sat 9.30am-9.30pm, // 091 876 497 // ORDER HERE  //