There are plenty of things to do in Galway when people visit, but if you're struggling to find the right recommendations, we have the list for you. Places to go, where to stay, nightlife, food and drink options can all be found here to ensure the non-locals passing through Galway have an amazing time. Here's our top picks of where to bring your group of friends in Galway.
TO-DO: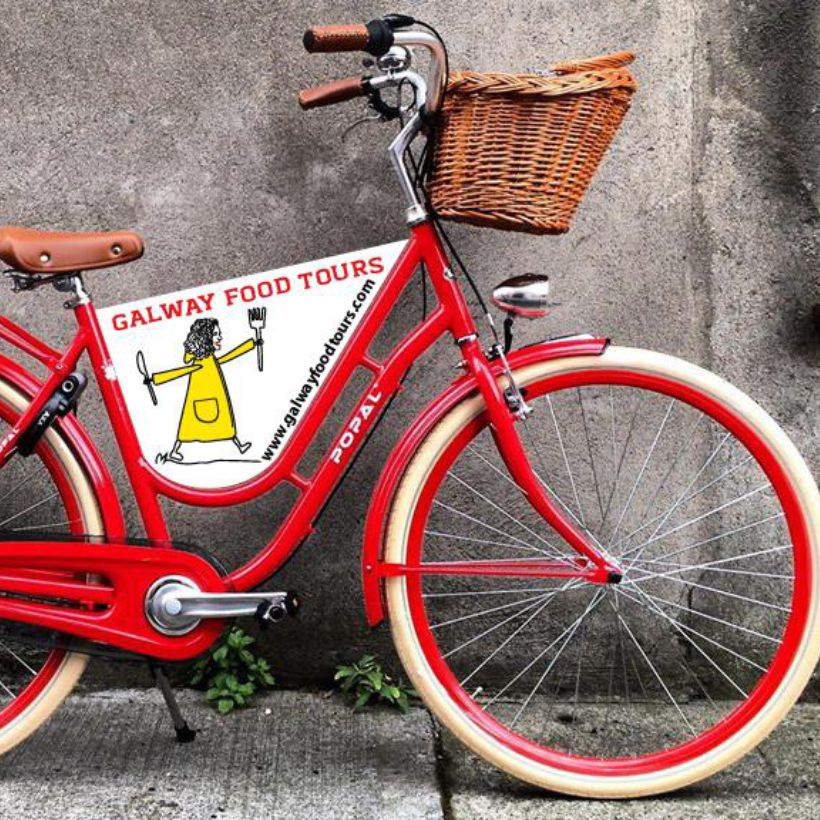 Galway Food Tours
Go On a Food Tour
Take your friends along on a food tour with the enthusiastic guides at Galway Food Tours. Their tours range from daytime, evening, whiskey, craft beer and 'sweet tooth' tours so you'll be sure to find the one that suits you and your friend group. All tours last between two and two and a half hours with a food and cycling tour that lasts 4.5 hours. Walk, chat and eat your way through Galway with your friends as you explore the local cuisine on offer.
Get Out and Adventure
What a better way to spend a day with friends than to get the adventure going at Wildlands in Moycullen. With packages available to build whatever your party's needs, you are able to limit how much adventure you want to face. For groups, activities such as the challenge rooms, Zip 'n' Trek, fun climb, tag archery, archery and disc golf are all suitable for groups. The Olive Kitchen on site is the perfect place to re-energise after the day whether it be with a small or large group of people. Make sure to try out one of their signature pizzas - they are absolutely delicious!
Play a Round at SWING Golf
Try out the latest TrackMan technology and compete against your friends in a round of immersive golf at SWING Golf in Oranmore. The expert team is dedicated to helping you and your friends improve your game while you play on some of the world's most famous golf courses. Games offered for groups include; Approach Challenge, Putting Challenge and Virtual Golf. SWING Golf provides a unique and exciting place of activities for everyone to enjoy!
Shop 'Til You Drop
Galway has an array of big-brand and local businesses in the city centre and surrounding areas. They could grab a piece of Galwegian art from 2 Wild Geese, a claddagh ring from Silverwood Jewellers or a pair of funky socks from the Irish Socksciety. Bring your friends on a shopping-spree extravaganza for clothing, jewellery, gifts, design and so much more.
Try an Escape Room
Test your friendship at one of Galway's escape rooms. The Great Escape Rooms have a selection of five challenging rooms to choose from, with a limit of 60 minutes to escape. A fun, but tricky, task for any team and is suitable for all occasions. The Open Door Escape Room can hold groups from 2-7 people in either of their two rooms. "The Black Castle" and "Pirate's Treasure from Galway Bay" take creativity, teamwork and logic to escape on time with your friends.
See If There Are Any Events On
Check out the PÁLÁS Cinema or Town Hall Theatre websites before your friends visit to take advantage of any of the events in Galway. There's always something to see, be it a movie, a show or a music gig. An evening out in the cinema or a trip to the theatre could be the perfect ending to a day out with friends. Check out everything that's going on in Galway right here!
WHERE TO STAY - IN THE CITY CENTRE:


The Dean Galway
The Dean
This design led boutique The Dean is just a stone's throw away from Eyre Square. The Dean Hotel mixes the old with the new with the restored historic structures being incorporated into the design of the space. With rooms that can hold from 1-2 people up to 6, there's plenty of space to bring your gang to Galway and enjoy a relaxing stay.
★★★★
The Galmont Hotel & Spa
With a city centre location, The Galmont Hotel & Spa is the perfect place for your friends to stay in. A one minute walk from the bus stations it's the perfect pit stop so you can get going on your Galway adventure with your friends. With 275 rooms and views over Lough Atalia, there's sure to be space to accommodate all.
★★★★
Eyre Square Hotel
Another hotel that is in the heart of Galway is Eyre Square Hotel. With rooms finished to a high standard, the hotel is designed to comfort their guests and care for the needs of a modern day traveller. The warm and inviting rooms are the perfect reprieve for your Galway exploring friends.
★★★
WHERE TO STAY - OUTSIDE OF THE CITY CENTRE: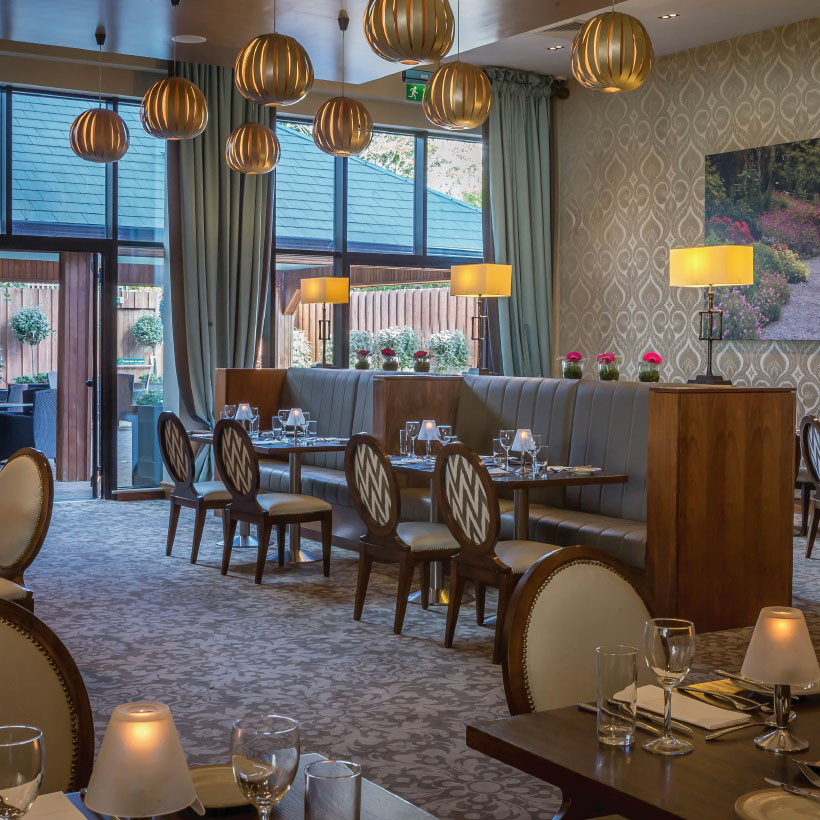 Lough Rea Hotel & Spa
Lough Rea Hotel & Spa
Only a 25 minute drive from Galway City and nestled just outside of Loughrea town, the Lough Rea Hotel & Spa provides a combination of a rural setting with the city. Single, double, twin, triple and family rooms are on the property, so there is no shortage of sleep space for your friends. Let them enjoy the peaceful atmosphere and impressive views of Loughrea Lake from the comfort of their hotel room.
★★★★
Oranmore Lodge Hotel
A family-run hotel that has earned the reputation of being a 'home away from home', the Oranmore Lodge Hotel is a quaint place for your friends to stay. Just a few minutes walk to the bus stop for Galway City, it is a perfect mix of rural and urban working together to make anyones stay the perfect overview of Galway life. The hotel is an 1840 country manor house with standard cosy rooms and luxurious suits to rest your friends travelling feet.
★★★★
Aran Islands Camping and Glamping
If you really want to get your friends away from the bustling atmosphere of Galway city, take them on a ferry to the island of Inis Mór. The Aran Islands Camping and Glamping pods overlook the harbour and offer premium beachside solar power lodges which are perfect for your group of friends. Holding 4-6 people, why not offer an escape for the weekend and explore Galway from a different angle.

FOOD AND DRINK: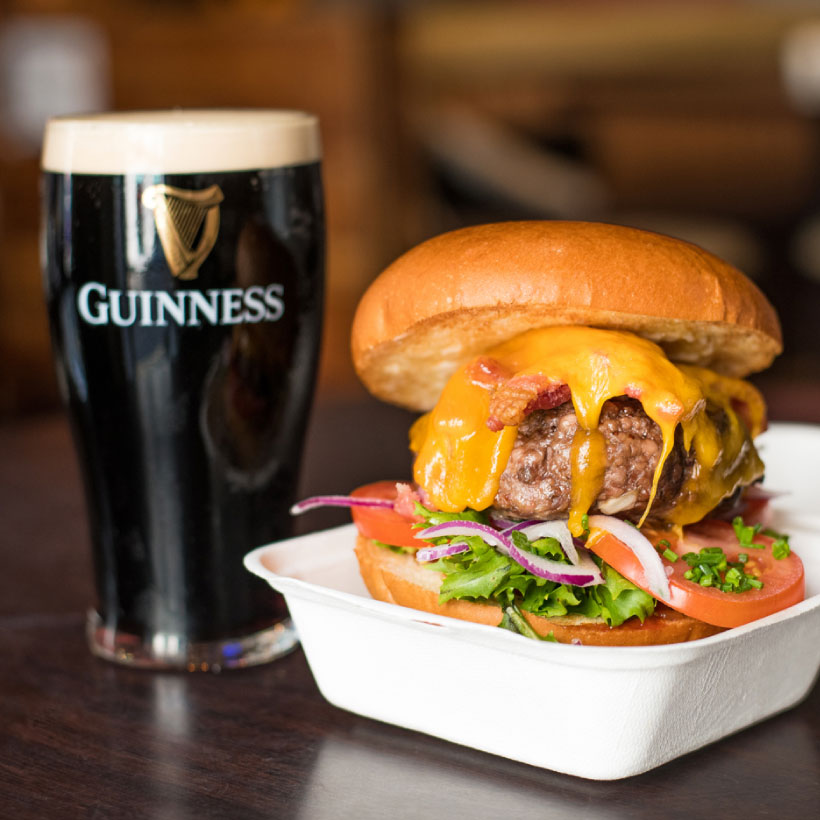 The Cellar Bar
The Cellar
An iconic gastropub in the middle of Galway City, The Cellar serves great value food, fabulous cocktails and has an extensive beer and wine list. The spacious and atmospheric venue can hold parties of between 20-200 people, creating the ideal space for you and your friends. Delicious drinks, great food, live sport and entertainment, you won't want to leave The Cellar.
McSwiggan's
The traditional family run steak and seafood restaurant on the edge of Eyre Square is the perfect place to feast with your friends. Serving top quality food and drinks for breakfast, lunch and dinner, there's sure to be a perfect meal had at the award-winning restaurant McSwiggan's. A traditional bar with a warm and vibrant atmosphere, you'll definitely want to stay for the live music in the evenings. Grab a seat with your company in one of the cosy nooks and let McSwiggan's take care of your food and drink needs.
The Kings Head
The Kings Head Bistro is dedicated to sea food and celebrating life in the West of Ireland. Using fish meat and vegetables that are on a Galway doorstep, give your friends a chance to sample some Irish supplied cuisine. Home cooked favourites including beef and Guinness stew and the seasonal signature lobster and triple cooked chips will forever be reminiscent of Galway. Why not wash it down with The Kings Head's signature whiskeys, gins and craft beers. Standing three stories tall on High Street, they are happy to accommodate groups of all sizes and will welcome you warmly to their award-winning haven.
The Dáil Bar
If you're looking to treat your friends to award-winning cocktails, delicious food, an exclusive whiskey selection and music 7 nights a week then The Dáil Bar is the place to go. The local pub in the heart of Galway, which won the Best Cocktail Experience in the World at the Irish Hospitality Global Awards, continues serving until 2am. Carefully sourced ingredients from local suppliers at affordable prices are used to create their restaurant quality food for both lunch and dinner. Bring your friends and enjoy the live entertainment that's on every evening or dance to the DJ at the weekend until the bar closes.
Woozzas
Owner of Woozzas, Pietro Affinito is an expert in original Neapolitan pizza. The artisan wood fired pizza is made in the wood fired ovens that were imported from Italy, bringing the authentic taste of Italian pizza to Galway. Treat your friends to one of their pizzas, calzones, salads, pastas, burgers, chips or their other homemade products. Pair the food with one of the choices off of their extensive wine and beer menu. Before you leave, why not share one of Woozzas Sweetzas? The chocolate and strawberry, banana and chocolate, chocolate and marshmallows or chocolate and pineapple pizzas will have your friends wanting to book a trip back to Galway in no time.
NIGHTLIFE: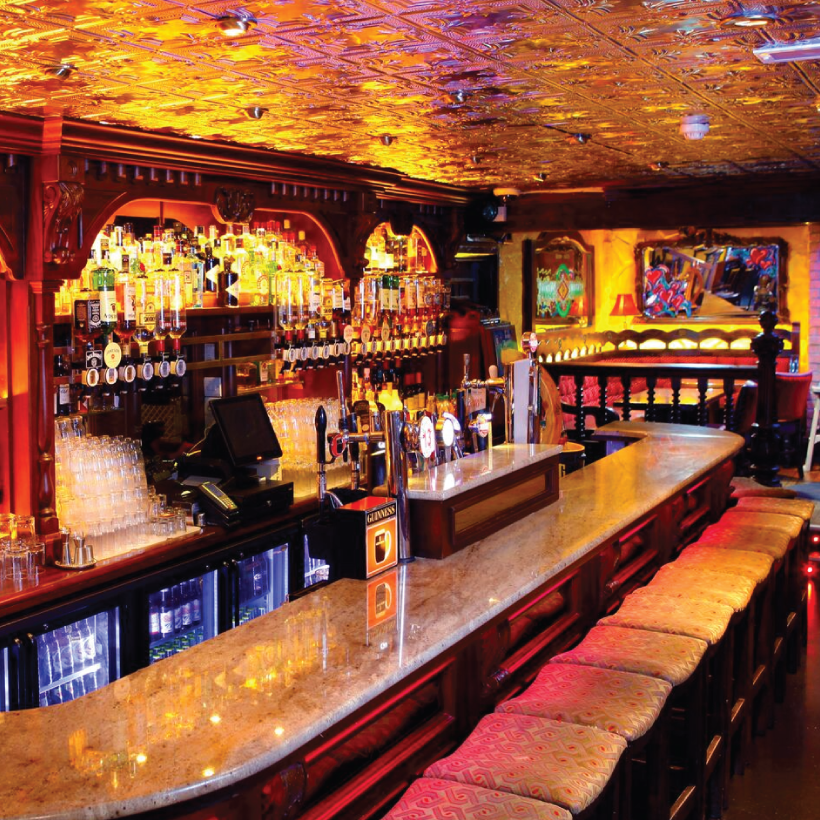 The Front Door
The Front Door
With a late bar, live music 7 days a week, cocktails, gin trees and whiskey platters, The Front Door is the place to have a great night with friends. Spread over two floors, stretching over two streets and housing 5 bars there is a reason that The Front Door is the beating heart of Galway's social scene. With a special cocktail lounge, a dedicated gin bar,and a whiskey bar, it's guaranteed to be the perfect venue for your night out. The contemporary Irish pub always has a hive of activity buzzing until 2am at night.
The Róisín Dubh
The Róisín Dubh music and comedy venue is the place to keep an eye out for events you can bring your friends along to. The Silent Disco on Tuesdays and Wednesdays keeps everyone entertained with two channels of music you love and all your guilty pleasures streaming through the headphones. The Róisín Dubh has a commitment and passion to music and comedy like no other venue in Galway. They are the longest home of comedy in Galway and the driving force behind Galway Comedy Festival. Join the great atmosphere with your friends and maybe you'll all find your favourite artist on their stage saved for emerging talent. Find more about upcoming events here!
Coyotes
A party atmosphere with DJ's playing everything from house and techno, cheesy pop and classic crowd pleasers is what you will find at Coyotes late night bar and club. Open late 7 nights a week the team of mixologists will have classic cocktails for you and your friends to try. The VIP Lounge, beer garden and cocktail bar span over 4 floors making Coyotes the ultimate party venue. Cocktails and beers, music and dancing, events and themed nights, mocktails, pitchers and shots and the famous karaoke nights cement Coyotes at the centre of Galway nightlife.
DNA
In the heart of Galway City's famous bustling nightlife is the premium late-night venue DNA. The stylish and plush club is the place to dance and enjoy a brilliant night out with friends. Doors open at 11:00 pm on Wednesdays through Saturdays and bank holiday Sundays to the 4 bars, 3 levels, 2 dance floors, 2 outdoor terraces and a vip lounge that make up DNA. Live entertainment every weekend includes a mix of bands, DJ's, performers and fun novelty events. All of this adds up to create a brilliant night out while your friends visit the West.
Those are our recommendations for the perfect Galway guide for those who are not native to the city or county. We hope your friends enjoy their time here!
Feature photo by @chaoshengzhang
Published on Updated on