If you're missing your loved ones living abroad and want to send them a lovely present from home, there are loads of heartwarming gifts available for shipping to spots all over the globe. Send your family abroad a thoughtful gift and spread some of that Golden Galway Grá.
What is unique is wonderful and when it's from Galway it's even better! We've collected a selection of businesses that are sending out a piece of Galway to locations all over the world. Check them out below...
ODE
This is Galway are proud to present ODE, a brand new annual publication which celebrates all that makes Galway special. ODE makes an ideal present for anyone who loves Galway, whether that be an expat living abroad, a born and bred local or an honorary Galwegian with a true grá for the city. A whopping 132-page annual featuring thought-provoking interviews and articles, stunning photography and artful composition, ODE takes a look at arts, culture, business, community, music, activities, food, drink, scenery and all of the amazing things that make Galway what it is.
Shop HERE...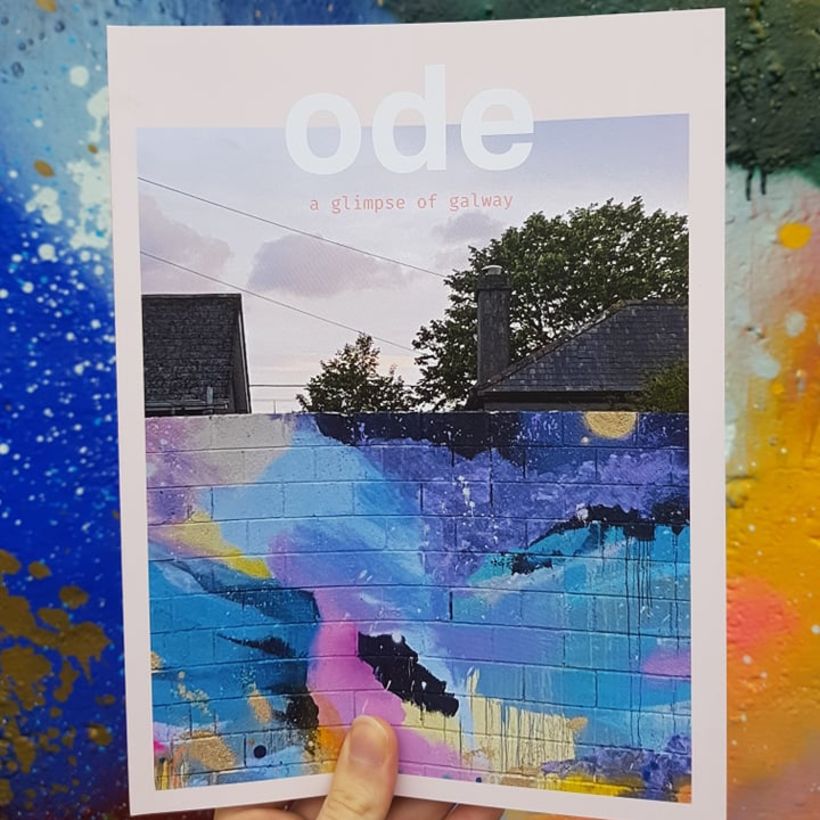 CLADDAGH & CELTIC JEWELLERY
Claddagh and Celtic Jewellery is based in the iconic old buildings at the very end of Quay Street in The Latin Quarter Galway. Owned by Niall and Aideen Mc Nelis, all the jewellery sold here is Irish made and the world famous Claddagh rings are made in their very own workshop. They have a stunning array of pure Galway pieces that they can send to loved ones all over the globe, and they offer FREE worldwide shipping!
Shop HERE...
IRISH SOCKSCIETY
Comfy, soft socks are ideal for lounging about the house and for keeping you warm when you're out and about. Irish Socksciety design them best; colourful and funny socks designed with the sole purpose to help brighten up your day by adding a touch of colour to your look. Hitch up those trousers and show off your stylish Galway socks, designed by the extremely talented Andrea Rossi, featuring the iconic Claddagh ring, and Galway Hooker by the Claddagh surrounded by elegant swans. Wear a bright celebration of Galway on your feet as you go about your busy day.
Shop HERE...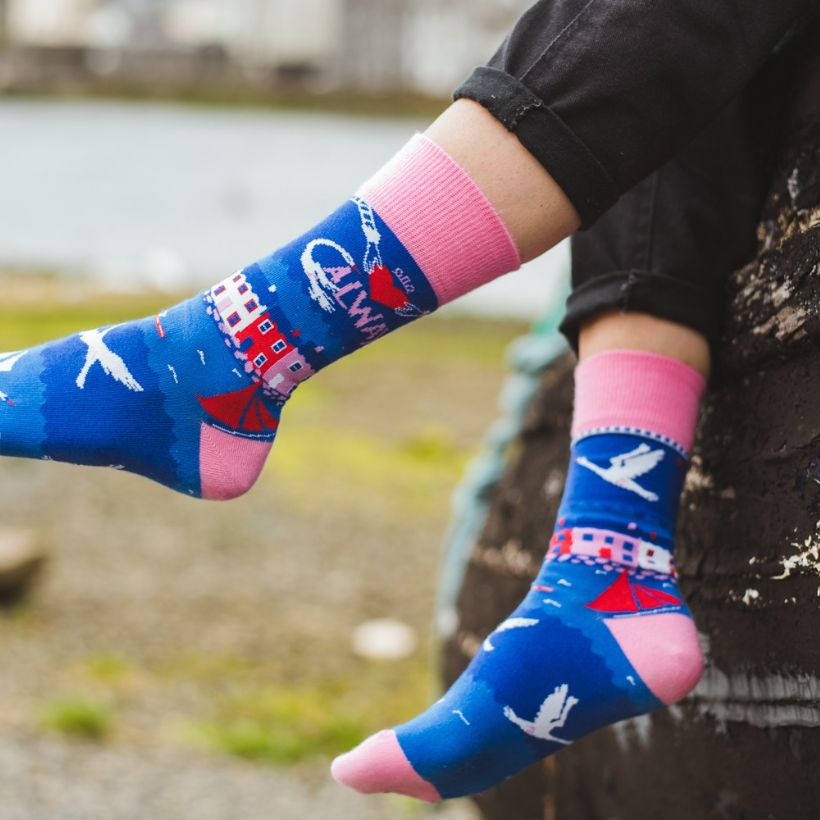 Photo by Julia Dunin
MISHNÓC
Galway memories will last you a lifetime, and at Mishnóc you'll find incredible, top quality products that will last decades aswell! All products are handmade in their Athenry studio so they are steeped in Galway tradition. With so many leathery goods to choose from, stylish deep green notebooks to beautifully carved Celtic leather belts, each one naturally scented with the rich aroma of quality leather. Start planning your next visit to Galway with one of their year planners and look forward to future days spent in the beautiful City of Tribes.
Shop HERE... 
STANDÚN
A unique shopping destination in the heart of the gorgeous Gaeltacht is sharing its grá for the Irish language. With their range of designs and prints by Irish artists. Gift the kids with a cute Irish language jigsaw from Standún. Help the little ones learn a little of the rich language with this map of Ireland with all the counties names as Gaeilge on a sweet hand painted wooden jigsaw with vibrant colours to help get their imagination flowing.
Shop HERE...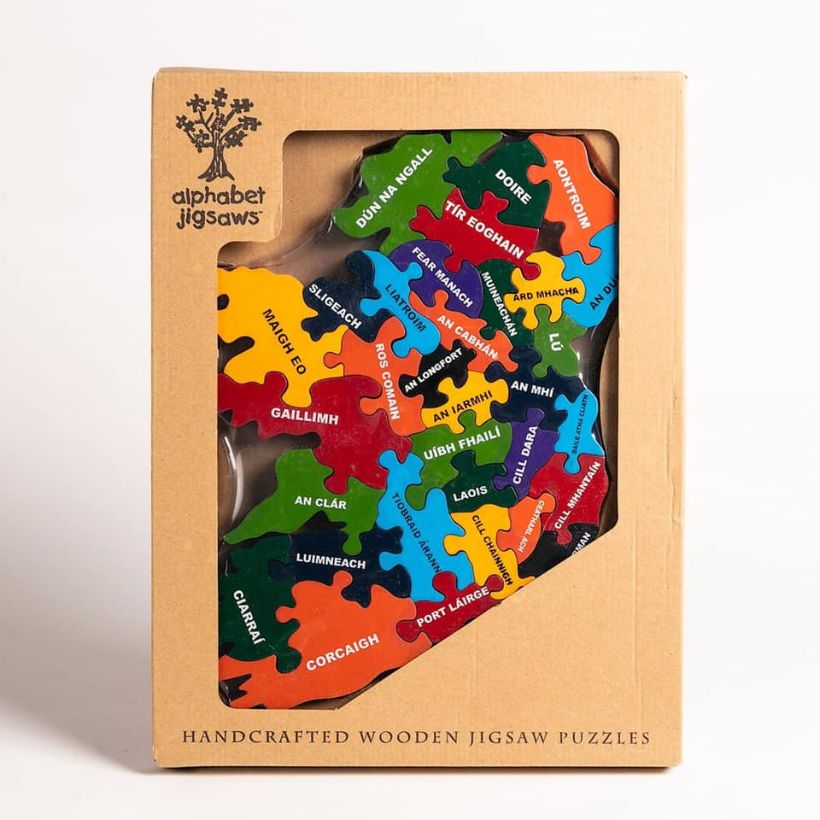 PUBLIC ROMANCE
Keep up to date on the street fashion of Galway's busy shop street. Get the Galway look at Public Romance. This one of a kind store has a wide array of different styles to choose from, so whether your style is bohemian, chic, fun, glam, festival, cool or chilled out, you'll find it here. A unique vintage piece is bound to add a bit of flare to any of your outfits. Find the style that shows off you in their own re-worked vintage collection, that can't be bought anywhere else.
Shop HERE...
THOMAS DILLON CLADDAGH GOLD
A precious gift that will last for a lifetime, Galway's iconic Claddagh ring. Handmade with great care and love from Thomas Dillon Claddagh Gold, the original makers of the Claddagh ring since 1750. Each piece is a stamped original and comes with a certificate of authenticity. The classic ring is famed for its unique design, fascinating history and association with the ancient Claddagh area along the breath taking River Corrib.

Shop HERE...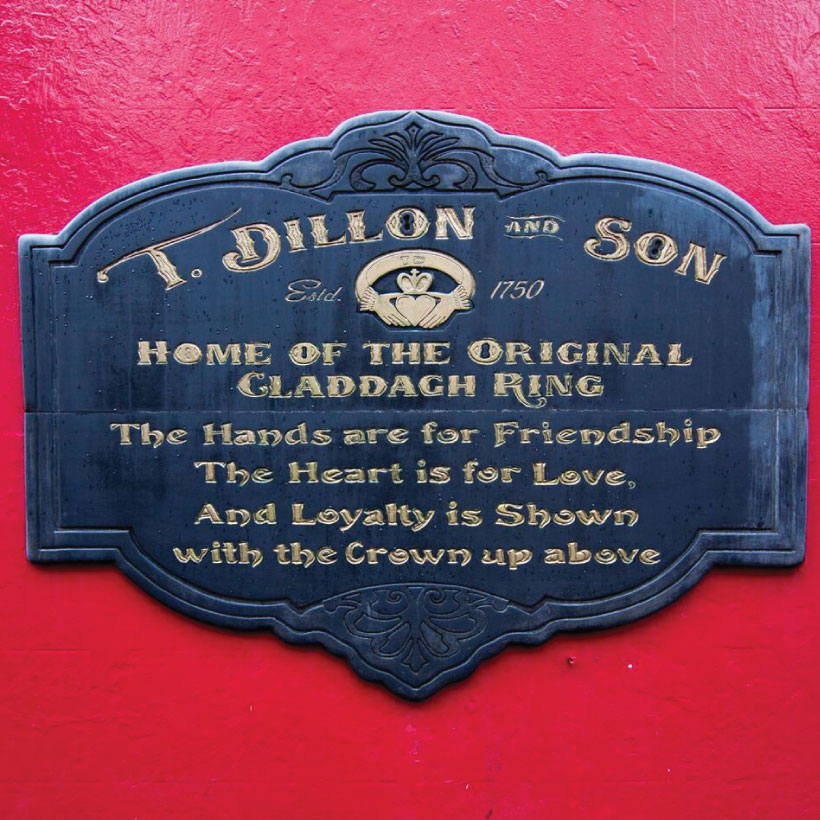 ÓR JEWELLERY
Take a piece of Galway to wherever you may wander, with The Eternal Heart of Galway, a new edition to their Ór Collection designed by Ór Jewellers. Each unique piece is crafted by the jewellery designer with the receiver in mind. The stunning Old Penny and Farthing Coin is an elegant addition to any outfit.
Shop HERE... 
MICIL GIN
Enjoy a taste of this luxurious Galway-made Gin from wherever you are in the world. Handcrafted by the Micil family, this Gin has a rich, spicy, citrusy zing that contributes to an unforgettable gin and tonic. Distilled in Salthill with Connemara flowers and herbs including bog myrtle, hawberry, heather, and bogbean, Micil Gin offers a true taste of natural Galway. Available for international shipping through Irish Malts at the link below.
Shop HERE...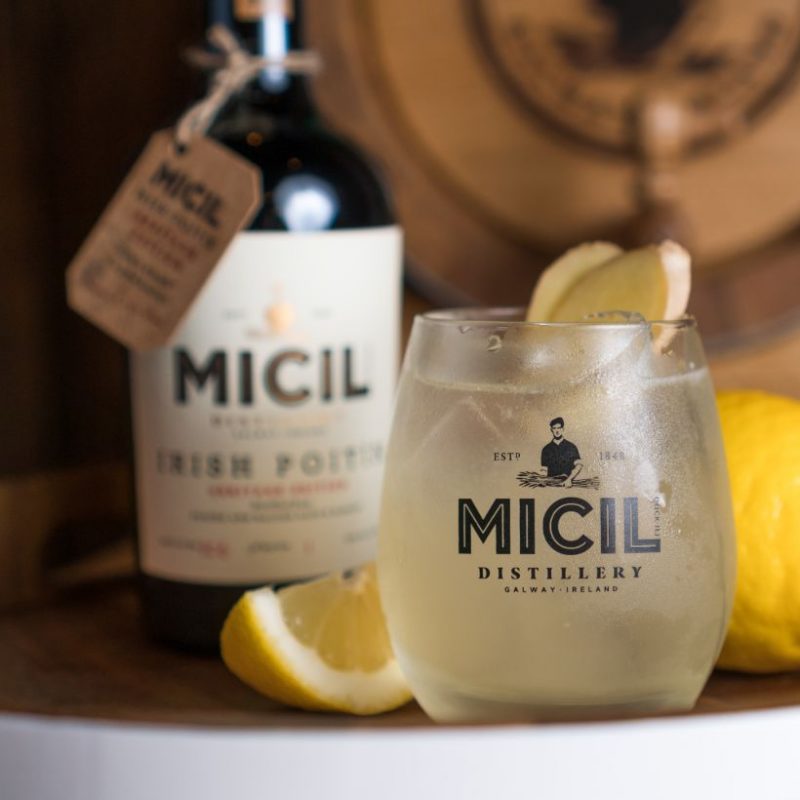 IRISH WHISKEY STONES
If you're ordering the Micil Gin, you may want to get your hands on some of these too. Keep your drinks chilled to perfection with Irish Whiskey Stones. Avoid any risk of watering down your flavour-filled drink, as these marble stones do all the chilling work without any risk to the taste of your drink. The little cubes come in wooden boxes with Galway and Kinvara signposts carved onto their exterior. Fans of Father Ted can get their own Father Jack Whiskey Stones and enjoy for themselves a taste of Craggy Island, perfect for a cozy night in.
Shop HERE...
STORY TAILORS
A visit to the colourful Latin Quarter is a must for anyone passing through the City. For those of you who spent your time wandering the district and window shopping as you strolled its lanes, Story Tailors has the perfect goodie for you! Their Latin Quarter T-shirt is sure to bring back all those fond memories of Galway that you hold dear. The shirt's artistic design shows off the atmospheric crossroads at Ti Neachtain, the cobbled streets, music, the Quays, the iconic views of the Galway Hookers by the Long Walk and more. Relive the good old days spent in Galway's bustling Latin Quarter every time you put on this gorgeous shirt!
Shop HERE...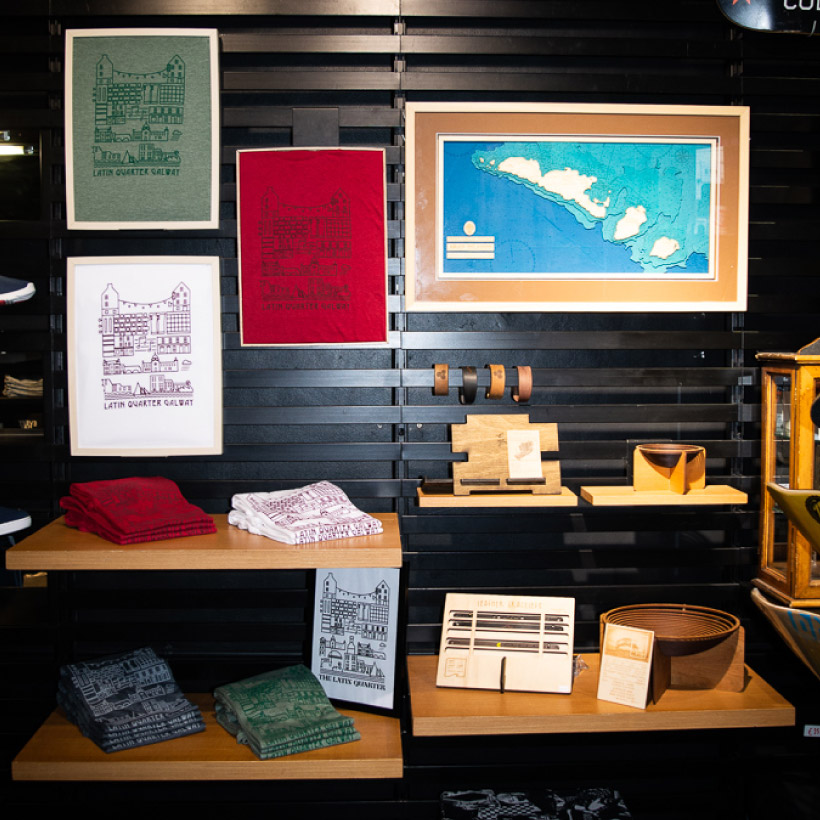 DESIGNS OF IRELAND
Get nice and cozy in some soft knitwear from Designs Of Ireland. The Galway based company also have a collection of 100% silk scarves, an accessory which adds a touch of glamour to all outfits. Keep your specs safe with a glasses pouch with a lovely Celtic Shamrock or Tree of Life design. Add a little colour to your day with a little window hanging stained glass Trinity Knot suncatcher, and let the vibrant colours brighten up your home.
Shop HERE...
DRUMGREENAGH CRAFTS & DESIGN
Pamper yourself and have a spa style evening at home. Drumgreenagh have a wholesome range of zero-waste beauty products, all handmade natural products hydrates and conditions even the most sensitive skin. All the products are shipped out in eco-friendly recyclable packaging. Their mini soap bar gift set contains eight unique natural perfumes that are as pretty as a picture and have been created using only the highest quality pure essential oils.
Shop HERE... 
Published on Updated on