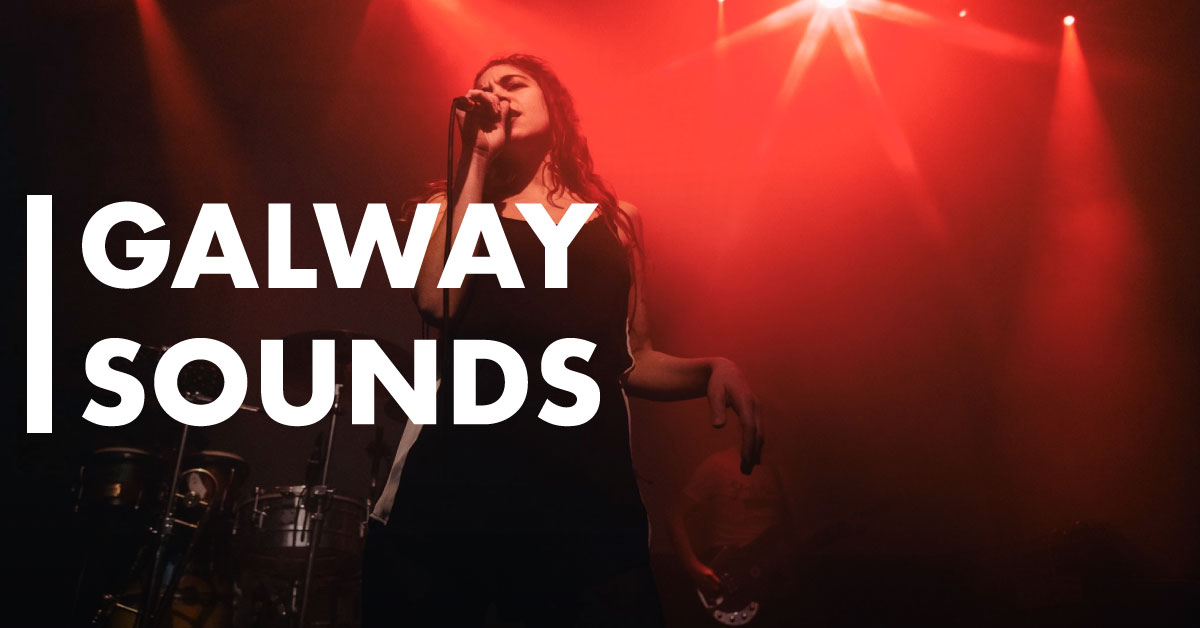 Galway Sounds: November
Get the low-down on all the best Irish music going on around town with Galway Sounds: November
We're certainly spoiled for choice in Galway this month. There's everything from hip-hop and electronic to neo-folk, and even an appearance from a legitimate legend of Irish music. Treat yourself to a show this month and support local.
whenyoung // Róisín Dubh // Sun 10th November
Bold and bright in every sense, whenyoung's slick brand of power-pop has earned the Limerick trio quite a reputation. Since forming in London over three years ago, they have released multiple punchy singles and put on even punchier live shows. Their guitar-driven, pop-rock is anthemic and produces a wall of noise. Aoife's dreamy vocals soar over controlled basslines and melodic guitar riffs. Their performances garnered a lot of attention and earned the band incredible slots supporting the likes of Nick Cave, Patti Smith, Dream Wife and The Vaccines. They released their debut album on Virgin EMI this year and will now play their first Galway show as a band. This could be one of those special "were you there?" kind of gigs.
For fans of: Blondie, Patti Smith, The Cranberries
Soda Blonde // Róisín Dubh // Sat 23rd November
There was a period of a couple of years when Little Green Cars looked dead-set to take over the world. Then things went, sadly, a bit quiet until they were officially disbanded in March of this year. But, rebuilt from that rubble, comes Soda Blonde – a new alt-pop musical venture consisting of four-fifths of Little Green Cars. Dublin artists Faye O'Rourke, Adam O'Regan, Donagh Seaver O'Leary and Dylan Lynch have quickly built up a loyal fan-base thanks to their polished new sound which meshes together influences from Fleetwood Mac, Little Dragon and Kate Bush to create a dreamy sonic. Stevie Appleby (the left-over LGC member) was a fantastic song-writer but didn't produce enough. It always felt that Faye O'Rourke was the more serious artist and so we should be very excited to see what comes from Soda Blonde in the future. The single, "Swimming Through The Night", is not only a triumphant belter, it also showcases the stunning artistic talent of the collective who produced every facet of the work from audio to visuals.
For fans of: Annie Lennox, Fleetwood Mac, Little Green Cars
Phil Coulter // Town Hall Theatre // Wed 27th November
Phil Coulter has long been considered one of Ireland's greatest ever songwriters, and that's no overstatement. The Derryman's impressive career has boasted chart entries in every decade since the sixties. In that time he has amassed 23 platinum discs, 39 gold discs, 52 silver discs, two Grand Prix Eurovision awards; five Ivor Novello Awards, a Grammy Nomination, a Meteor Award and more! He has written songs for Luke Kelly, Cliff Richard and Elvis Presley and even produced three Planxty albums. Coulter is most famous, perhaps, for his home-town ballad, "The Town I Loved So Well" but that is just one in a plethora of beautiful tunes that h will showcase on the night. This is a must-see for all lovers of music and anybody who wants to experience a big slice of Irish musical culture and history.
For fans of: Luke Kelly, Mary Black, Cliff Richard
Eclectics: Maija Sofia // The Black Gate // Wed 13th November
Maija Sofia is a unique artist whose indie-inspired guitar and smooth, droning voice will grab you and stay with you long after your first listen. Her songs are quirky and foot-tappingly sweet. Originally from rural County Galway, but currently plying her trade in Dublin, Maija Sofia has performed at major festivals including Other Voices, Electric Picnic and the London Antifolk festival. She has supported some of her biggest influences in the likes of Joan As Police Woman, Julien Baker, Stella Donnelly, and Adrian Crowley.
Supporting her on the night is one of our all-time favourite Galway artists; New Pope. His soothing voice has an earthy, natural quality that will immediately draw you in. Relax and listen as New Pope creates romantic roots and folk music with emotional, nostalgic lyrics. Bliss.
For fans of: Lucy Dacus, Fionn Regan, Neutral Milk Hotel
King Kong Company // Róisín Dubh // Fri 1st November
King Kong Company blur the lines between political rap and late-night, head-banging electronica. The project began in 2011 with the idea of releasing a music video every month for the year, concluding with a one-off gig in hometown Waterford. But that show was so successful (nearly 700 people showed up!) that they decided to carry on, and thankully so! Since then King Kong Company have had a Top 10 Irish Album, made the long list for the Choice Music Prize and won the Pure M Award for Best Live Act. Their manic live shows are absolutely phenomenal and have seen them play stand-out sets at Electric Picnic, Body & Soul and, even, Glastonbury. Sure to be a wild, entertaining, sweaty night that might even feature a bottle of buckfast or two – King Kong Company did, after all, released their own Buckfast-infused beer in conjunction with YellowBelly Beer, called Commotion Lotion. Local buskes, Galway Street Club, will be supporting.

For fans of: KNEECAP, Le Boom, TPM

Feature Image: facebook.com/KingKongCompany