A night of Classical music and song with Helen Hancock takes place this weekend in Galway. Find out more here...
GALWAY SOPRANO, Helen Hancock, will lead a night of music and song by Schubert, Schumann, Strauss, and other composers, including a feast of Irish airs, this St Patrick's Weekend. The concert, entitled 'The Lark in the Clear Air', takes place in The Mick Lally Theatre on Saturday March 18th at 8pm. It will feature Helen, accompanied by Italian pianist Annalisa Monticelli, and American clarinettist, Berginald Rash, the Artistic Director of Vivre Musicale, Inc.
The programme will feature Schubert's 'Shepherd on a Rock', and Arnold Cooke's 'Songs of Innocence',
both for soprano, clarinet, and piano. 'Shepherd on a Rock' was composed in 1828, during the final months of Schubert's life, and explores themes of longing, the arrival of spring, and journeying to the beloved. Cooke's 'Songs of Innocence', takes its inspiration from the poetry of William Blake. A strong focus of the programme is on themes of nature and the cycle of life, and these will be further explored in Strauss and Clara Schumann songs for soprano and piano, including 'Die Stille Lotosblume' and 'Zueignung', among others. Also performed will be a selection of Irish airs, and Paul Reade's Victorian Kitchen Garden Suite for clarinet and piano. The piece was the theme tune for the BBC2 programme - The Victorian Kitchen Garden - and won the 1991 Ivor Novello Award for best TV theme music.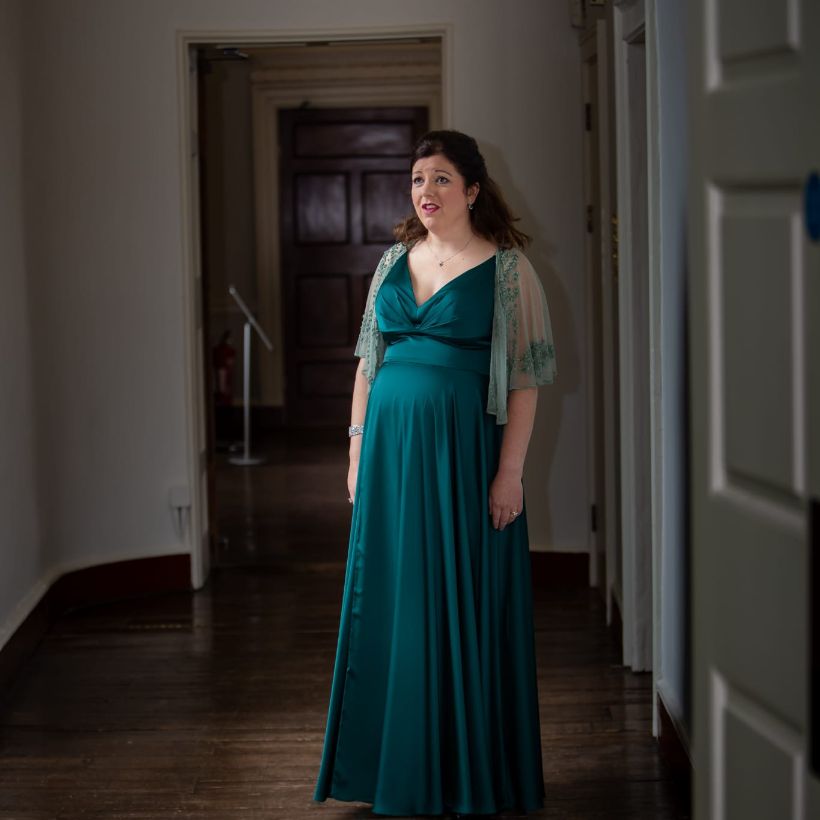 Photo by Billy Cahill
From Dublin originally and based in Oranmore, Co Galway, Helen Hancock has emerged as one of the
most notable talents in Classical music in the West of Ireland. A busy recitalist with interests in chamber music, art song, and baroque music, she performed at the Ulysses 100 Celebration at the Embassy of Ireland, Berlin in June 2022; at the Rathfarnham Castle, Dublin Concert Series; at Maynooth University; and across Galway city and county. A highlight of 2022 was her Arts Council Agility Award which funded trips to Berlin for specialist lieder and Baroque Opera coaching. She was also a recipient of a Galway County Arts Office Artist Bursary in 2021 which funded a concert in the 2021 Galway Early Music Festival.
Berginald Rash has been praised by The Guardian for his "especially stylish" playing. Comfortable as both a chamber musician and soloist, he has collaborated with members of the Orchestra of the Age of Enlightenment, City of Birmingham Symphony Orchestra, Philharmonia Orchestra, Frankfurt hr-
Sinfonieorchester, and the RTÉ ConTempo Quartet. He is also a TEDx Speaker, and has been a featured soloist at the National Concert Hall in Dublin, Ireland.

Annalisa Monticelli is the Italian diction coach and vocal coach at the Royal Irish Academy Dublin and a
Programme Director at the DkIT Dundalk. She has also worked as an Italian coach for numerous opera productions and masterclasses (in Ireland and abroad), including the recent Irish National Opera productions of Cenerentola and La Bohème.
"There is a big appetite among audiences for live music right now;" says Helen, "and we have chosen a
lovely programme to appeal to the Galway audience and also to those visiting Galway, with an appealing
mix of classical music favourites and Irish airs to give the perfect flavour for St Patrick's weekend."
Tickets are €21 (€16 students) and are available HERE.
Helen Hancock would like to thank her sponsors: hospitality sponsor: Armorica, Oranmore and print
sponsor: Printmore, Oranmore.
Published on Updated on