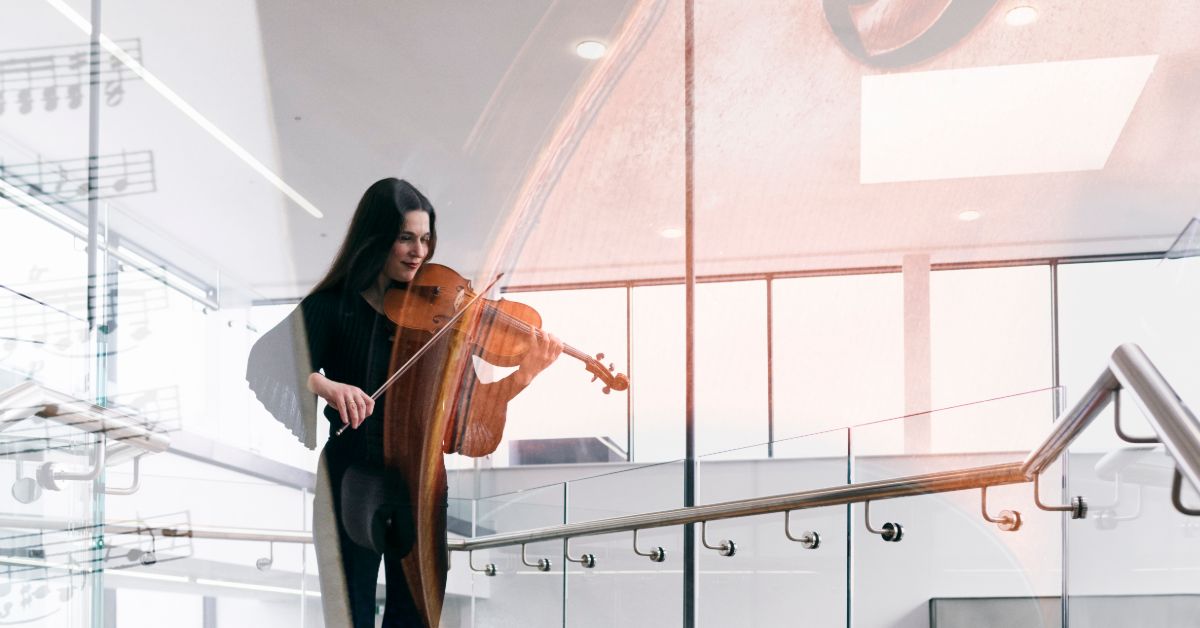 Galway Music Residency Launches 19/20 Programme
The Galway Music Residency has launched its 2019/2020 Programme of Events featuring 30 events across Galway City and County with their ensemble-in-residence, ConTempo Quartet.
The new programme features exciting new partnerships with Galway arts organisations and new sponsorships from Galway businesses that will help bring musical performances and education to citizens of all ages, most of them free of charge.
The Galway Music Residency was set up in 2002 to cultivate a comprehensive music development programme for Galway, with a professional ensemble at its centre. The programme was designed to bring performances to new audiences in Galway City and County and to broaden the experience of those already involved in music. This is the first time they have published a full nine-month programme. The programme launch coincided with the launch of the Galway Music Residency's new logo, new website and rebranding.
Speaking about GMR's 2019/20 programme, Chair of GMR's Artistic Committee John Caulfield said: "The Galway Music Residency and ConTempo Quartet love collaborating with other artists and organisations across Galway, and we are particularly pleased to see so many partnerships in the new programme. We have received generous sponsorship from businesses in our city to help expand our programme of events, and we look forward to sharing great musical performances with communities across the city and county."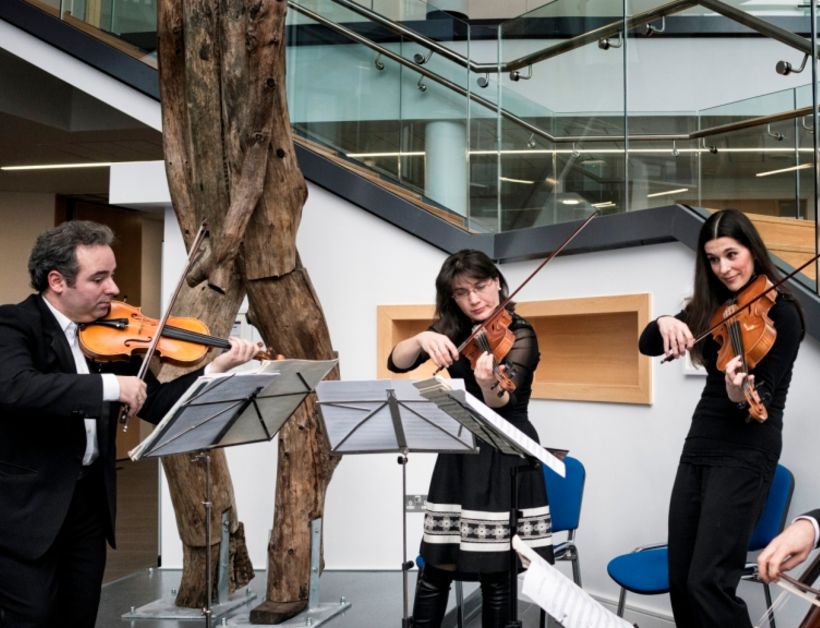 Their programme this year is bigger and better than ever before and there are sure to be many highlights.
GMR's Lunchtime series entitled "From Europe with Love", is kindly supported by The Port of Galway. This ambitious project, housed in St Nicholas' Collegiate Church, explores string quartet repertoire from the 27 European Union member countries over three years of monthly lunchtime concerts, spanning from September 2018 to June 2021 (the first Tuesday of every month Sep-June, no shows in January).
Some of the best FREE series include "3 Kinds of Music", curated by Matthew Berrill, which will include a Christmas Special (sponsored by LK Shields) and spring series, and "ConTempo Countywide" which will visit Portumna, Headford, Kylemore Abbey, Athenry and Oughterard. There is plenty to look forward to for Galway audiences of all ages and locations this coming season.
Other highlights will include the world premiere of composer, Ed Bennet's new piece for String Quartet, co-commissioned by Galway Music Residency and Galway City Council Arts Office, on 5 December at 8pm in the Black Gate Cultural Centre. This premiere will feature as part of Music & Musings, GMR's series celebrating new music and conversations with artists and composers in partnership with the Contemporary Music Centre. Another world premiere will feature during the Cúirt International Festival of Literature as literature and music fans alike will be treated to "Wait", a new work by Irish composer Ailís Ní Ríain created in response to Galway Kinnell's poem of the same name. The piece, which was co-commissioned by GMR and Cúirt and funded by the Arts Council of Ireland, will be performed by ConTempo Quartet on Tuesday 21st April at 8pm in Nun's Island Theatre.
Following on from the extremely successful screenings of Nosferatu and The General in 2017 and 2018 respectively, GMR, together with the Huston School of Film & Digital Media & the O'Donoghue Centre for Drama, Theatre and Performance, will present another unique film event on Tuesday 8 October 2019 at 8:30pm in the O'Donoghue theatre itself. ConTempo Quartet will perform live scores for the screening of three classic shorts: Buster Keaton's comedies One Week (1920) and The Haunted House (1921), which will be paired with Charlie Chaplin's Romance The Immigrant (1917). This unique event will give Galway audiences the rare chance to see some of the greatest silent shorts ever made accompanied by live music from an internationally renowned ensemble.
Further collaborations include a continuation of GMR's ongoing partnership with Music for Galway, presenting ConTempo Quartet on Friday 17th January 2020 at 8pm in the Town Hall Theatre at the opening concert of Music for Galway's Midwinter Festival, this year entitled 'Beethoven' celebrating the 250th anniversary since the musical master's death. GMR will also present Waking the West, an exciting night of music and dance in partnership with Coole Music Youth Orchestra and Youth Ballet West, on Sunday 22nd March 2020 at 6pm in Leisureland.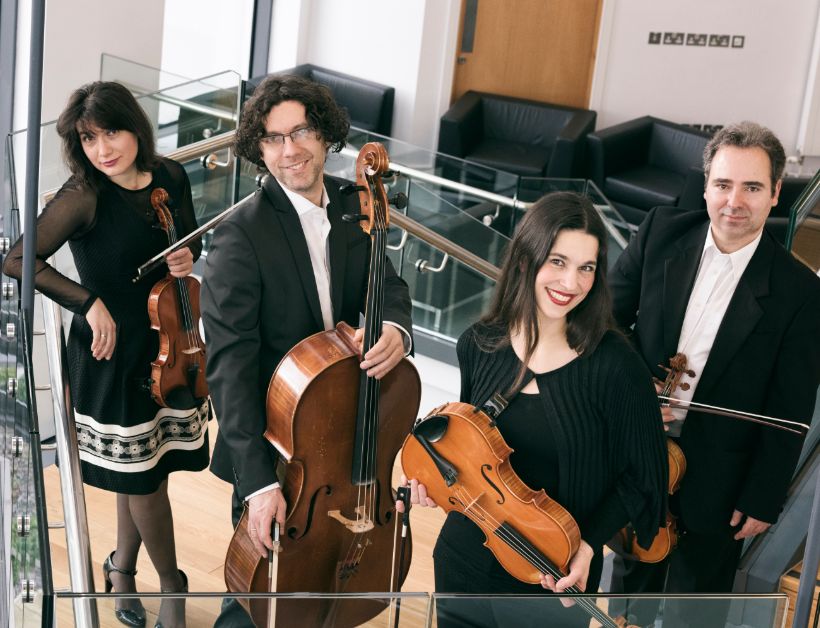 Education will continue to play a significant part in the Galway Music Residency's activities this season. At the forefront of the Education programme, the Apprentice Ensemble scheme continues to provide mentorship to emerging groups. This year, following the very successful addition of 'junior' ensembles to the programme last year, ConTempo Quartet will be working with two junior ensembles for the coming season: the RFM Trio (aged 7 and 9) and the Burren Con Brio (aged 12, 15 and 17). ConTempo will also work with the Zephyr Clarinet Trio, hailing from the Technological University Dublin. You can hear the Apprentice Ensembles perform twice during the programme on Sunday 26th January 2020 in the Emily Anderson Concert Hall and again on Sunday 17th May 2020 in the Lower Aula Maxima. Both events take place at 3pm, are family-friendly and free of charge.
ConTempo Quartet will continue its work with its Education Partner NUI Galway, engaging with the students of the MA in Writing, the university orchestras and the first and second year students of the new BA in Music, which launched in September 2018. It will also continue to work with GMIT students and staff on a series of collaborative workshops and projects. At secondary school level, GMR will provide Junior and Leaving Certificate students with workshops linking to the syllabi.
ConTempo Quartet will also continue to mentor the members of Symphonic Waves (the new youth orchestral for the West of Ireland created for Galway 2020) and will play a part in the accompanying Symphonic Schools initiative, a partnership project that will resource two primary schools in the county with instruments and musician expertise, so that they can begin their own orchestral journey.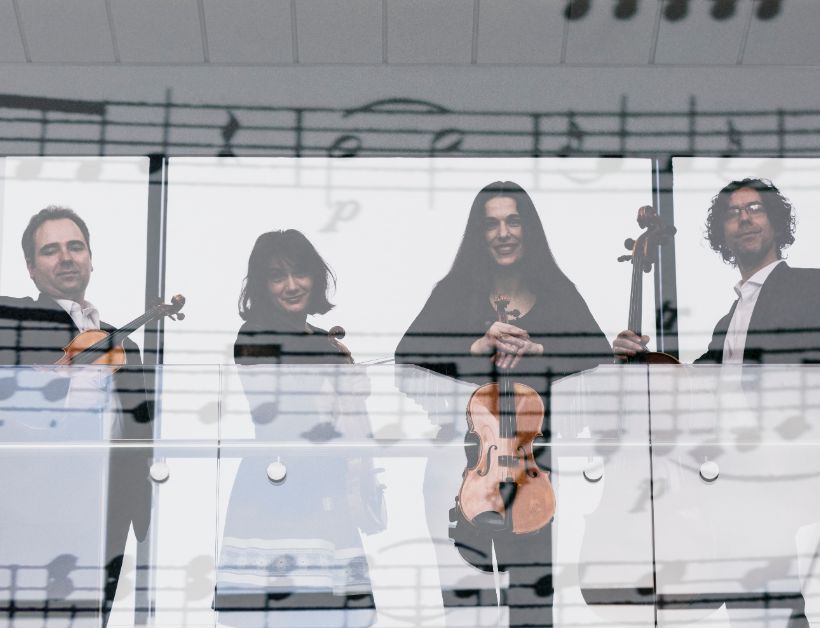 For further information on GMR's programme of events, visit their NEW WEBSITE or pick up an Event Programme today from various establishments around the city and county. Galway Music Residency is funded by NUIG (Education Partner), Arts Council of Ireland, Galway City Council, GMIT and Galway County Council. The programme launch event was sponsored by Rúibín Bar & Restaurant on the Docks and the Embassy of the Slovak Republic in Dublin.