Galway Docklands Festival takes place on October 21st, 22nd and 23rd 2022 in the Docklands area and will be a celebration of our maritime culture. Read on to find out some of the interesting events that are planned...
Galway Docklands Festival is a collaboration between Galway Bay Boat Tours, Galway Hooker Sailing Club and Galway Bay Seafoods to celebrate and highlight Galway's maritime culture. The festival is a three-day event surrounding Galway's Docklands. These areas include the harbour, the commercial Docks, Claddagh and along the seashore. The festival will highlight Galway's seafood and local beers, introduce you to the city's iconic Galway Hooker sailing boats and our maritime history as well as lots of family fun and activities.
Get to meet the boat builders, sample seafood, take a guided walk around the Docklands, hop on board a boat for a spin through Claddagh and out on to Galway Bay, let the teenagers experience driving a motorboat (while supervised), meet the crews, local Sea School students and the Port of Galway Sea Scouts. Over a coffee morning, local speakers will talk on Galway's maritime heritage and the festival evenings will finish with rigging demonstrations of the Galway Hookers and a Parade of Sail which is always a joy to see on Galway's waterways. The festival will have something for everyone! There will be plenty of sea-themed activities, art competitions, crafts and entertainment for all the family to enjoy.
The festival will finish with an auction in Claddagh Hall on the Sunday evening. This promises to be lots of fun and all funds raised will go to Galway RNLI and LAST (Lost at Sea Tragedies). If you would like to support the festival with a financial contribution or a prize for the auction please contact the club PRO Collette Furey on 0872166783 or at pro@galwayhookersailingclub.ie.

Check out the full programme of events below...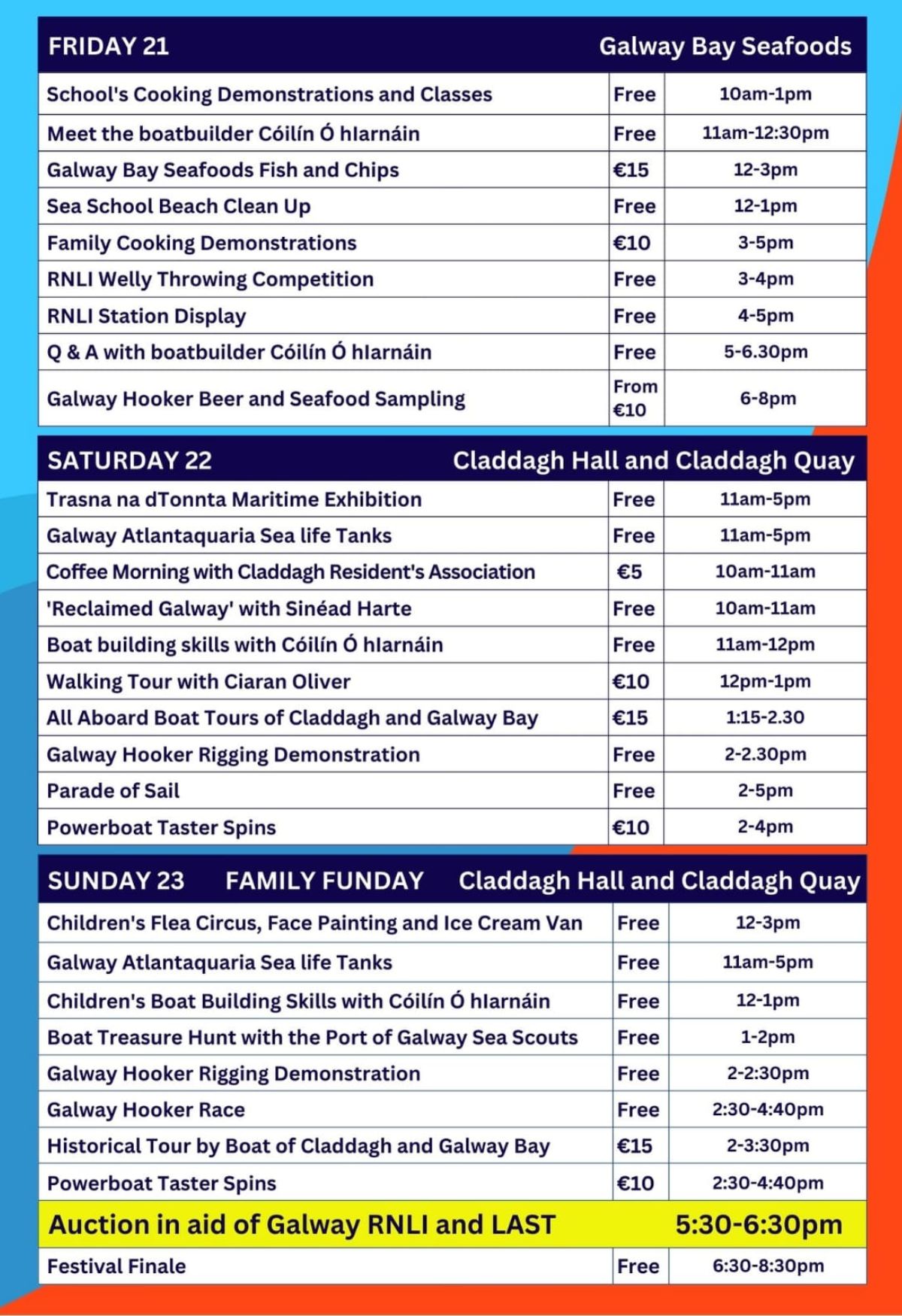 Galway Docklands Festival is on October 21st, 22nd & 23rd. Follow Galway Hooker Sailing Club, Galway Bay Boat Tours and Galway Bay Seafoods for more information. Looking forward to seeing you there!
Cover image by Chaosheng Zhang. See more of their beautiful photos of Galway and Ireland on Instagram @chaoshengzhang
Published on Updated on