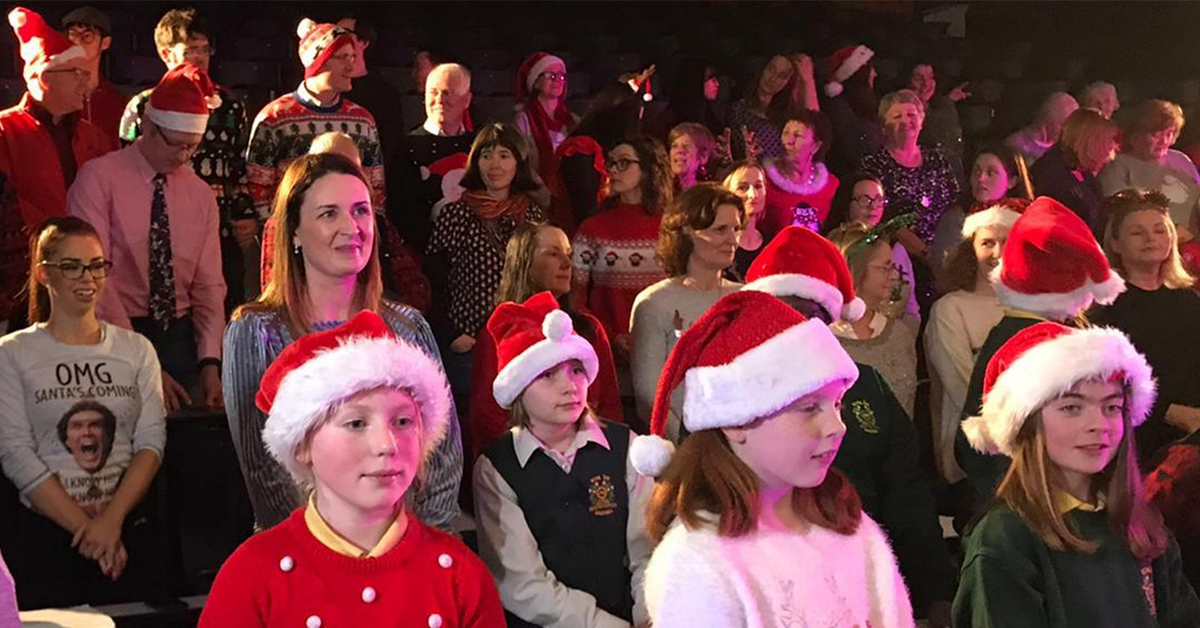 GALWAY ARTISTS SPREAD CHRISTMAS CHEER
Is there anything more Christmassy than a festive charity single? We've been blown away by the sheer volume of tracks released by Galway artists this year in support of worthwhile causes. Read on, and give them your support!
We all know how great the artists and musicians of Galway are! But this Christmas, they have shown that their incredible talent is matched by their incredible generosity. We have been treated to a whole host of Charity Christmas events – raising thousands for local charities over the last few weeks. As well as live shows, there has been no shortage of absolutely amazing Christmas Charity singles recorded and released by Galway's humble and helpful artists. We've picked out a few of these festive tunes so you can get in the Christmas spirit while supporting local artists and helping those in need. What's not to love?!
GMIT Choir – Somewhere In My Memory
GMIT's Staff Choirs and Student Choir only formed in February and September, respectively, but they can already boast a No.1 to their name! The two GMIT Choirs have teamed up with the very talented Scoil Íde Children's Choir from Salthill to record a stunning version of Home Alone's "Somewhere In My Memory". Their Christmas project aimed to unite the two choirs within the institute but Musical Director, Sean Rowland, never expected to see their magical Christmas single rise up the charts and end up at No.1 on the iTunes Irish Christmas Charts. All proceeds from sales of "Somewhere In My Memory" will go toward Galway Hospice, and the amazing support they have received has already raised well over €1000.
If you want to donate, and help keep GMIT's Christmas Single at No.1 over the festive period, you can buy the track on iTunes for just 99c. Click HERE
Michael Mulryan – The Red Man
Galway musician, Michael Mulryan, has written and released a brand new Christmas Charity single, "The Red Man". Mulryan is a long-time supporter of Galway Simon Community but, after taking part in their annual Sleep Out, he was inspired to raise even more funds to help tackle the current homelessness crisis. "The Red Man" highlights the frivolity of Christmas and how the kindness and generosity that abounds over the festive period is often forgotten by the new year. To support, you can purchase the CD at Galway Simon shops on Sea Road or Sean Mulvoy Road, at their stall in the Galway Christmas Market as well as in a number of local Galway stores such as IT Music (Foster Court), Glynn's Centra (Carnmore) and Fancy Nest (Claregalway). Or you can donate online HERE.
Blessed – Homeless at Christmas
Loughrea-based band, Blessed, have released a brand new single to raise funds and awareness for COPE Galway, and try to help the less fortunate this season. Their Christmas song, "Homeless at Christmas", is an incredibly powerful song with strong lyrics that highlight those who are in need this festive period. Tony Cunningham from Tullamore and David Bracken from Pullagh are desperate to help in any way possible this Christmas. They have said "the more people that know about COPE Galway, the greater their impact, so please spread the word by sharing with your friends and family. Thank you in advance for your generosity, it means a lot!". If you want to support Blessed and COPE you can donate online HERE.
Rodney Owl – Wrap Your Troubles in Dreams
Galway-based singer-songwriter, Rodney Owl, has released a new version of "Wrap Your Troubles in Dreams" in support of Friends of the Coombe. Mark McConville, the man behind Rodney Owl, has a very personal reason for choosing this particular charity; his daughter was born by emergency C-section in 2015 and entered the world in cardiac arrest, unable to breathe. The amazing staff at UHG resuscitated her and, as soon as possible, she was rushed to The Coombe. She was admitted to intensive care, placed in a cooling machine and put into induced hypothermia (to minimize brain swell) for 10 days. Friends of the Coombe provided Mark and his wife with free accommodation, counselling, free meals and most importantly of all, support and comfort. This story has a happy ending; their daughter is now a very healthy and happy 4 year old. Mark is eternally grateful for their support, and is now releasing this charity song in the hope that it might help another family in some small way. This song is a cover of an old jazz standard, originally recorded in 1931. You can buy the track for €2 HERE. All proceeds go to www.friendsofthecoombe.ie