Galway 2020 takes the Baton as European Capital of Culture
January 2020 brings a season of new beginnings as the 2019 European Capitals of Culture, Plovdiv in Bulgaria and Matera in Italy recently passed the baton to Galway and Rijeka in two very special closing ceremonies.
Matera Closing Ceremony
The closing ceremony of Matera 2019 kicked off on 19 December. The title of the ceremony, "Open Future, Together!" reflected Matera's inclusive approach to the designation, which has seen a boost to the local economy as well as the involvement of 18,000 residents in 37 community projects. Chair of Galway 2020, Arthur Lappin and CEO Patricia Philbin were in attendance at the closing ceremony where they were gifted a handover work, inscribed with the words, "Matera Plovdiv Rijeka Galway", marking the handing over of the baton as Galway and Rijeka take on the title in 2020.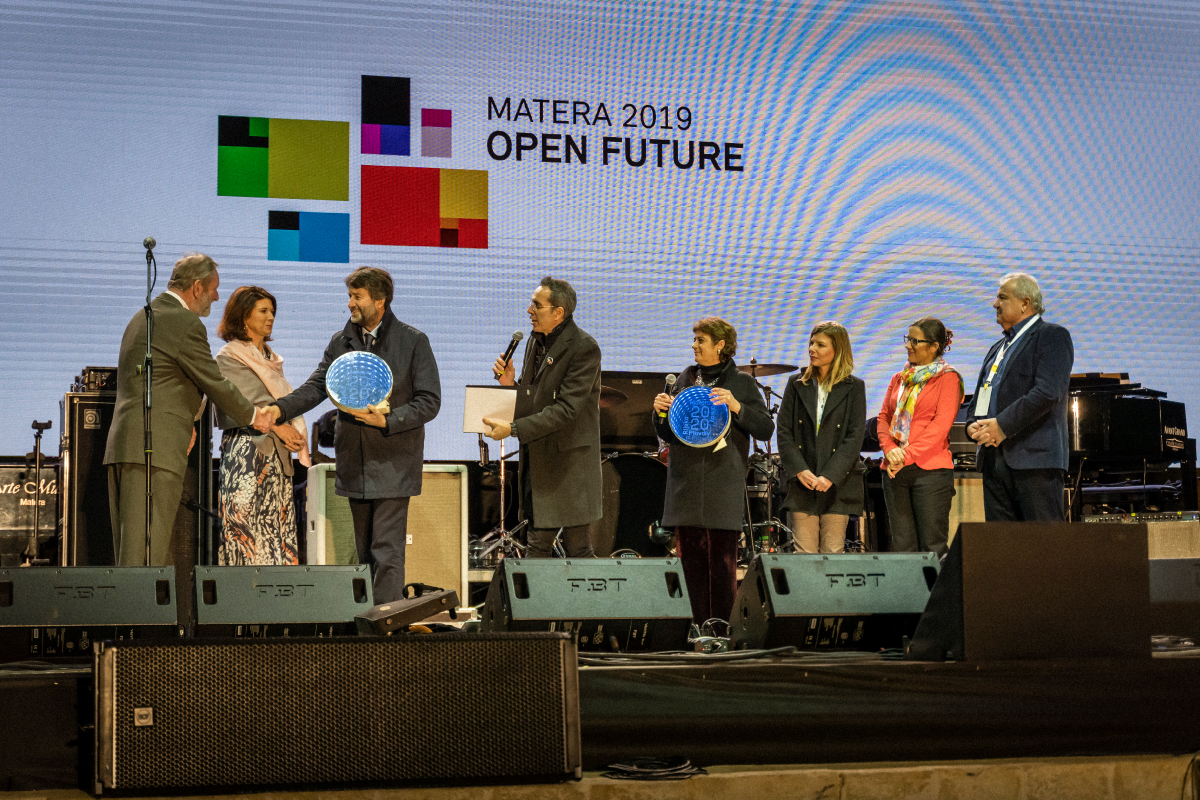 Plovdiv Closing Ceremony
In a similar gesture of transnational collaboration, fellow 2019 European Capital of Culture, Plovdiv gifted Galway 2020 a figurine by local artist Atanas Hranov which reads "Let's stay together in Europe." The closing event which took place on 12 January in the historic Bulgarian city was attended by Deputy Mayor of Galway City, Donal Lyons who addressed the audience and congratulated Plovdiv on a very successful year and invited all in attendance to visit Galway in 2020.
Galway 2020 US Launch
These celebrations were followed closely by the US Launch of Galway 2020 in New York on Monday, 13 January. Now, in the lead up to the Opening Ceremony in Galway from 2- 8 February, a global spotlight is cast on Galway. Arthur Lappin, Chair of Galway 2020 and CEO Patricia Philbin and Mayor Mike Cubbard were joined by a number of local and international artists and organisations including Paul Fahy from Galway International Arts Festival to celebrate the US launch at a reception hosted by the Consulate General of Ireland Ciaran Madden and Culture Ireland. Irish Cultural Centres throughout North America gathered at the Consulate in NYC to learn about the jam-packed programme of events in store for 2020 and to discuss the advancement of Ireland's cultural impact in the US.
Feature image by: Alexander Bogdan Thompson