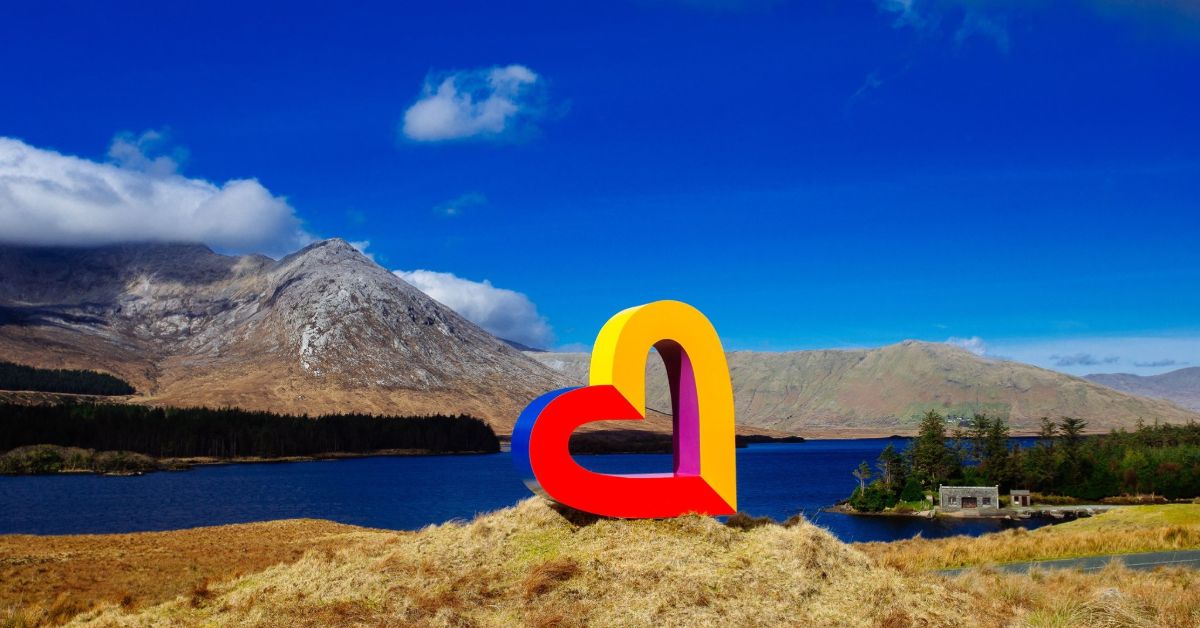 GALWAY 2020: Celebration of place and people
"The legacy began over forty years ago when our inspiring artists and creative organisations put their time and hard work into making our city a more cultured place"
– Marilyn Gaughan Reddan
Over 4 decades ago, through the passion and vision of Galway's creatives and collectives, a cultural legacy was born. As we gear up for what's considered to be the largest and most complex calendar of cultural events in Irish history, there's certainly a hint of excitement and wonder in the air. From February, Galway will begin its reign as the European Capital of Culture, inviting artists and spectators alike to come and experience all our county has to offer.
For many years, Galway has flourished as a cultural hub, supporting and encouraging artists here in the West of Ireland. Through the humble work of these artists and creative organisations like Galway International Arts Festival, Druid and Macnas, Galway will continue its cultural legacy as we welcome thousands of people into our city and county for a year-long celebration. Over the past five years, the Galway 2020 team have worked hard to make their vision come to life. Their ethos is quite simple; Place, People and their Participation.
This year, Galway will make history as the first region to ever be designated the European Captial of Culture, dividing their programme between Galway City and County. As I sat with Marilyn and Pearse in the welcoming surrounds of the Galway 2020 hub, their love and utter dedication for their work and Galway shines through. As two well-known figures in Galway's Cultural scene for many moons, I can tell this project is a dream come true for them.
Head of Programme, Marilyn Gaughan Reddan has been part of the 2020 team since the very beginning in 2014. Joining forces for Bid Book 2, Pearse Doherty came on board as Head of Production. Both Marilyn and Pearse have stayed true to their vision, creating a calendar of spectacle and wonder in both Galway city and county. Affectionately known as Mammy and Daddy in the office, this duo have known each other for over 20 years, creating a great sense of trust and belief in each other's work.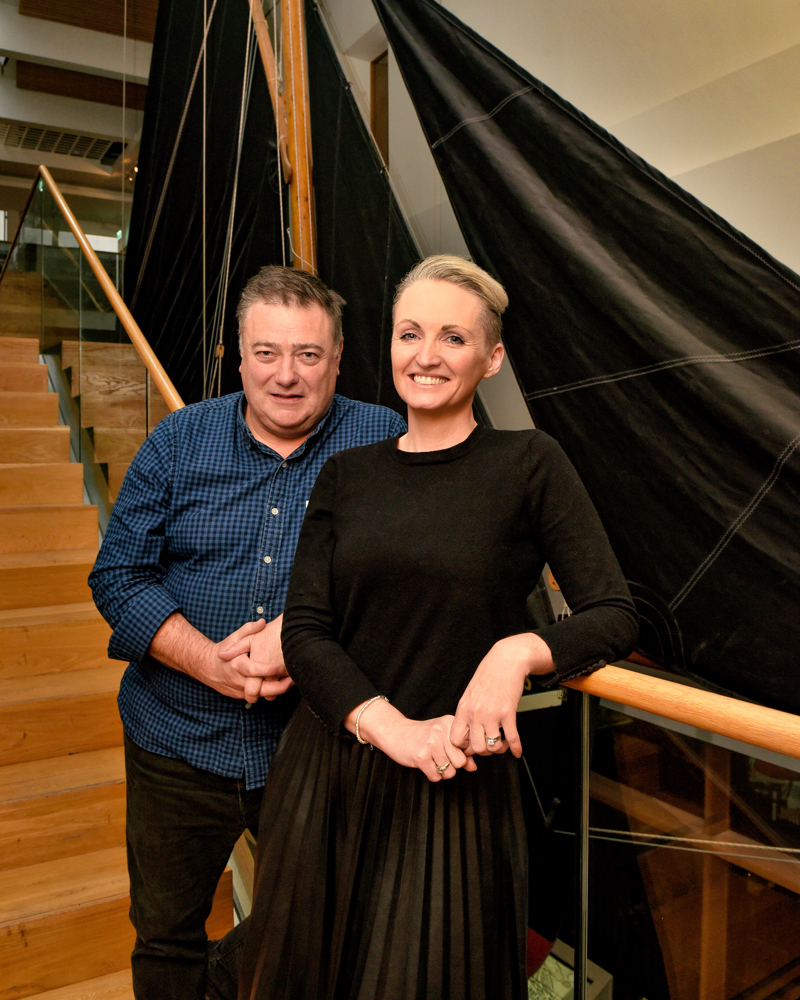 Continuing on from the groundbreaking work of Galway's creatives, the 2020 team were adamant to include Galway's rural towns as an integral part of their programme. As the year is a celebration of place and its people, Galway's rural towns and landscapes will be highlighted through 78 Small Towns, Big Ideas projects, aswell as some mesmerising, large scale installation works.
"During the bid, it was really important to us to justify why we wanted 50% of this programme based in Galway County, there are 154 projects and they're equally divided between Galway City and County…  If I can speak on behalf of both of us, it's the creation of these large scale installations in rural places and the journey spectators will embark on that's really important to us"
– Marilyn Gaughan Reddan
Throughout the celebration of the four Celtic seasons; Imbolc, Bealtaine, Lughnasa and Samhain, artists and spectators will take to Galway's countryside and embark on a whole new cultural journey. From Portumna to Clifden, rural towns and areas will be transformed into stages for performers and galleries for artists.
Dealing with the core themes of this year's celebration; language, landscape and migration are all highlighted in the works in both urban and rural areas. These works not only highlight the core themes but also vividly express 2020's vision, expanding the boundaries around art and culture.
Taking it back into the city, Marilyn and Pearse spoke about their creative and innovative use of spaces. Another part of Galway 2020's vision was to create experiences like no other. Taking the audience into unusual environments and outdoor areas, viewers will explore new areas of the city they might never frequent. The opening ceremony will be a spectacle for all ages, taking place in a space not commonly used for artistic events, at the edge of the Claddagh, South Park.
"It's the unexpected in unexpected places"
– Pearse Doherty
2020's engaging programme encourages discovery and exploration of places less travelled. From Druid's theatre tour to the large installation works of Kari Kola and Daan RooseGaarde, the true essence of Galway's culture will be captured through the unique experiences and ventures prompted by this programme.
A place is only as important as it's people. Stemming from a long tradition of creative arts, the people of Galway have a pure passion for their culture, it's who they are. With creativity and pride pumping through their veins, Galwegians have a great sense of place and community, which Galway 2020 perfectly capture throughout the year. By bringing cultural events to the far corners of the county, there's a great sense of welcome from locals as these magical events are brought right to their doorstep.
"I think the legacy of Galway 2020 is three things; this place, it's people and their participation…The people of Galway, the people that choose to live here and make Galway their home. Whether they've never been to an arts event in their lives, they have a strong place in our programme, in our county"…
– Marilyn Gaughan Reddan
Another important aspect for both Marilyn and Pearse is the role of family in this year's events. Creating a programme that encourages families to get out and experience these magical events together, sharing a sense of pride and belonging. Events like City of Light allows young creatives to express their talents and make their mark on one of the most captivating events of this year's programme. With a strong, diverse culture here in Galway, the 2020 team capture and encourage a greater sense of community both in the city and rural townlands. With over 24% of Galway's population said to be non-natives, this programme reiterates Galway as a home to all. A diverse mix of nationalities are represented through creative arts projects which will springboard new, emerging artists to a whole new audience.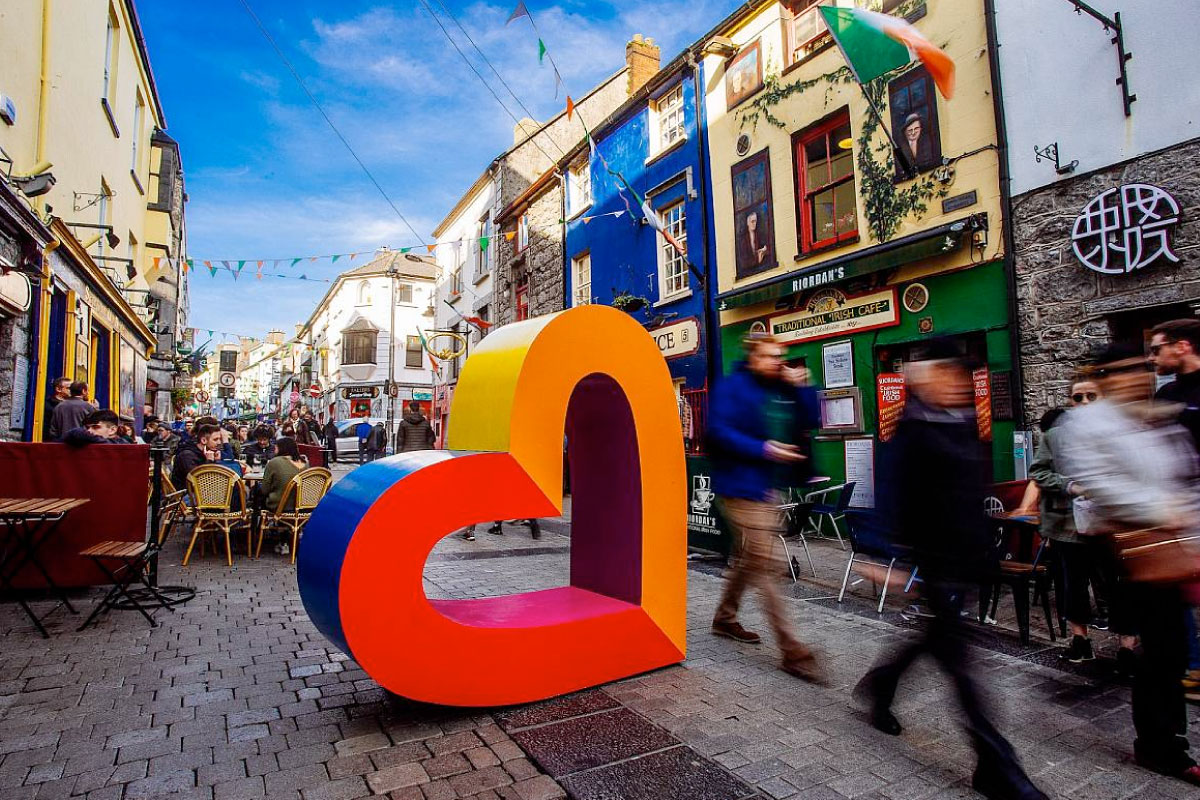 And let's not forget about the 700 unsung heroes of the Wave Maker volunteering programme. With 47 different nationalities represented through the programme, it really reflects Galway and its culture. Marilyn, Pearse and the 2020 team have met some amazing people through throughout the wave maker training. Their energy is uplifting and their positivity is contagious.

"Pearse and I have done training sessions with the volunteers of the Wave Maker programme and they are enthusiastic, energetic, committed to this programme, to this place".
– Marilyn Gaughan Reddan

Between the experience of new places and diverse people, Galway 2020 will not only continue the legacy of Galway's culture but also a long-lasting collective of communities brought together through their passion for their place. The legacy of Galway 2020 will also be delivered through the support of partners such as NUI Galway, through cultural space, new courses, amongst many other initiatives, helping to ensure a sustainable future for this sector in Galway.

Along with unthink design agency & typographer Bobby Tannam, Galway 2020 have added another string to their bow with the creation of the counties very own typeface. Through endless research and immense hard work, the team have invented yet another lasting token to the people of Galway. From graveyards to traditional signage, the 'Gaillimh' type embraces modernity with a gentle nod to tradition. After Galway serves as the European Captial of Culture, the typeface will be gifted to the county and beyond.

As an idea that began over forty years ago, Galway 2020 will continue the journey of our county's cultural endeavours. This extraordinary year is set to highlight the rich and diverse culture instilled in our urban and rural landscapes thus creating wonderful memories of communities coming together in celebration of their place. Most importantly, Galway will show the world it's true culture. Let the celebrations begin.

For anyone who'd like to be part of the magnificent year ahead, click here for more details.