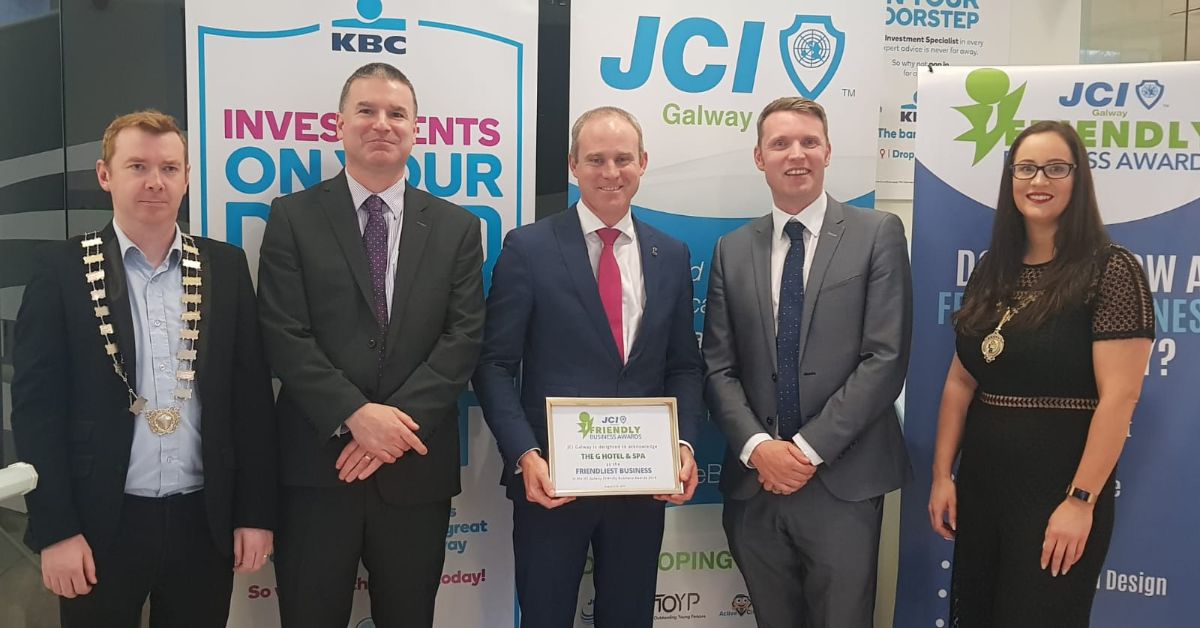 G Hotel wins at the JCI Friendly Business Awards
The G Hotel & Spa is celebrating this week having been awarded as the overall winner of Galway Friendliest Business and in the Disability Access category of the JCI Galway Friendly Business Awards 2019.
The awards ceremony, which aims to recognize the pivotal role that businesses play in our local community took place at the KBC Bank Eyre Square yesterday (August 27th). It saw a host of businesses locally compete for one of six prestigious awards including Best Customer Care, Community Impact, Shop layout and Design, Disability Access, Age-friendly, and Friendliest Digital Business.
Keith McDonagh, Area Manager of KBC Bank said, "In the KBC Galway Hub, we are the bank of you. With our experience and a fresh approach to banking, we have created a bank that's all about the customer. We are excited to be the local sponsor of JCI Galway Friendly Business Awards and celebrate the achievement with all the local businesses."
The G Hotel & Spa overcame stiff competition from over 50 businesses in Galway city and county to be crowned winners in the Disability Access category of the JCI Galway awards, as well as winning the title of overall Friendliest Business in Galway. They then will proceed to the national finals which will be held in Westport at the JCI Ireland National Convention in October.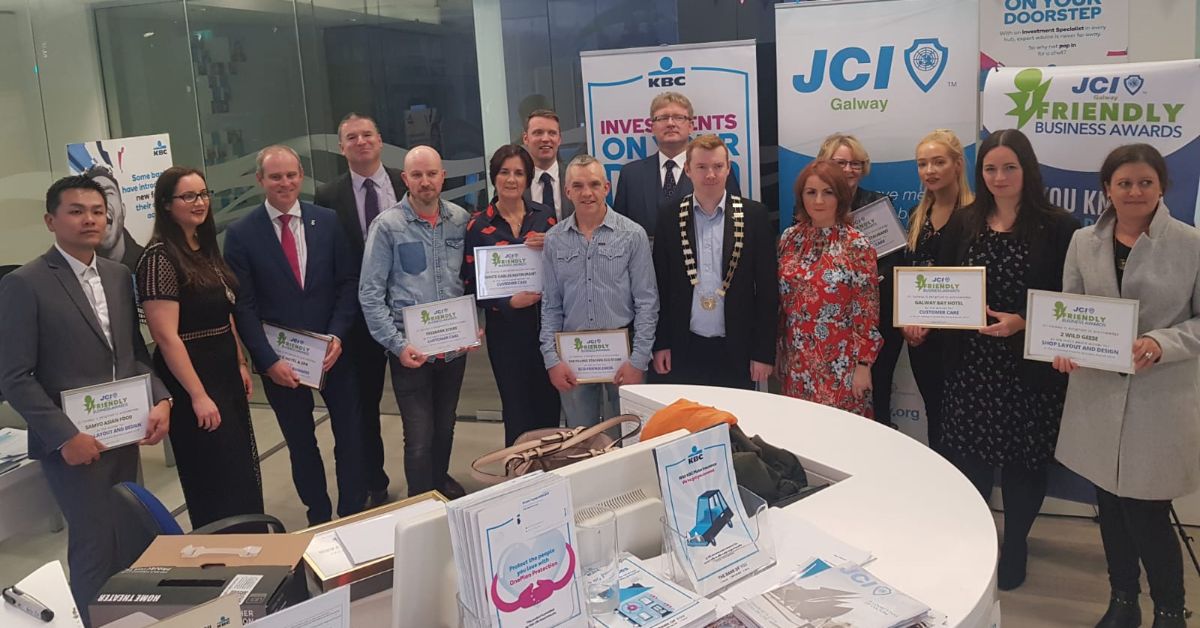 Keith Killilea, President of JCI Galway said, "With nominees from all around the city and county, we are absolutely thrilled that G hotel is representing Galway this year as the Galway Friendliness Business. We are also happy to see so many businesses in Galway Friendly Business Awards always go that extra mile to be as friendly as possible to the customers. It is obvious that accessibility is vitally important to them, and now they have a local award to verify this."


Full Winners List of Galway Friendly Business Awards 2019:

Shop Layout and Design – Samyo Asian Food

Shop Layout and Design (Merit Award) – 2 Wild Geese

Disability Access – G Hotel & Spa

Digital Experience – Brown Thomas

Customer Care – Galway Bay Hotel

Customer Care (Merit Award) – Tree Bark Store

Customer Care (Merit Award) – Esquires Coffee

Customer Care (Merit Award) – Martine's Restaurant

Customer Care (Merit Award) – White Gables Restaurant

Eco-Friendliness – The Filling Station Eco Store

Community Impact – Farmyard in your Schoolyard

Age-Friendly – APP Kirrane Auctioneering

For further details on G Hotel and their disability accessibility please visit https://www.theghotel.ie alternatively for information on the JCI Galway awards click here or contact president@jcigalway.org if you want to get involved with JCI Galway