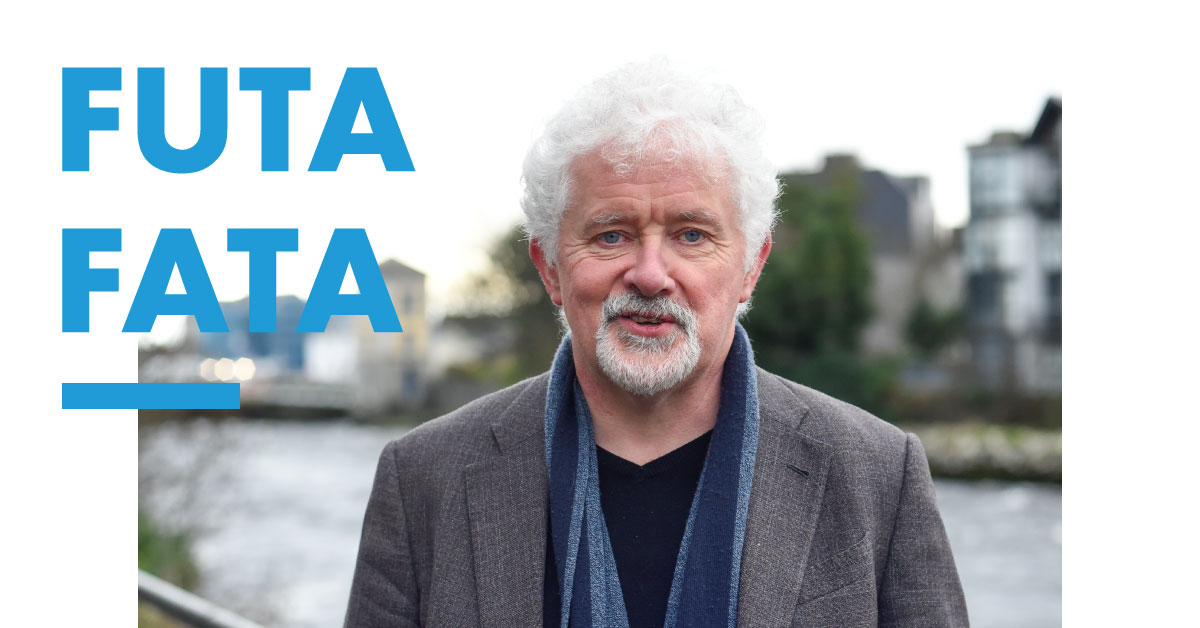 Futa Fata: getting excited about Irish language in Spiddal
A futa fata in Irish means a babble or flurry of excitement. If you can imagine a hallway full of children before a school play, or lunch break, that's the image that a futa fata brings forth.

It's also the name of a small powerhouse Irish-language publishing house, based right in Spiddal. We got to talk with the owner, Tadhg Mac Dhonnagain, about publishing in Irish out the West.
"I kind of stumbled into publishing, in a way, almost by accident," Mac Dhonnagain tells us. His career up to Futa Fata has been varied; he began as a primary school teacher at a Gaelscoil, and then spent thirty years in Dublin as an Irish-language television presenter for RTÉ.
"Then I came West and I was still working in TV. I went from a full-time job to more of a freelance thing. And in the years before I left Dublin, I'd been involved in music as well. I started composing songs for children in Irish; I made a collection, and when I came down West I started to kind of develop that. And then the next thing I did was a collection of traditional Connemara rhymes, with a book – and that was the first time I published a book."
That book is Gugalaí Gug!, which won a Gold Disc in 2013, and was Mac Dhonnagain's first foray into the publishing world. After that, he began heading to the Bologna Book Fair, to find books for inward translation to be published in Irish through Futa Fata.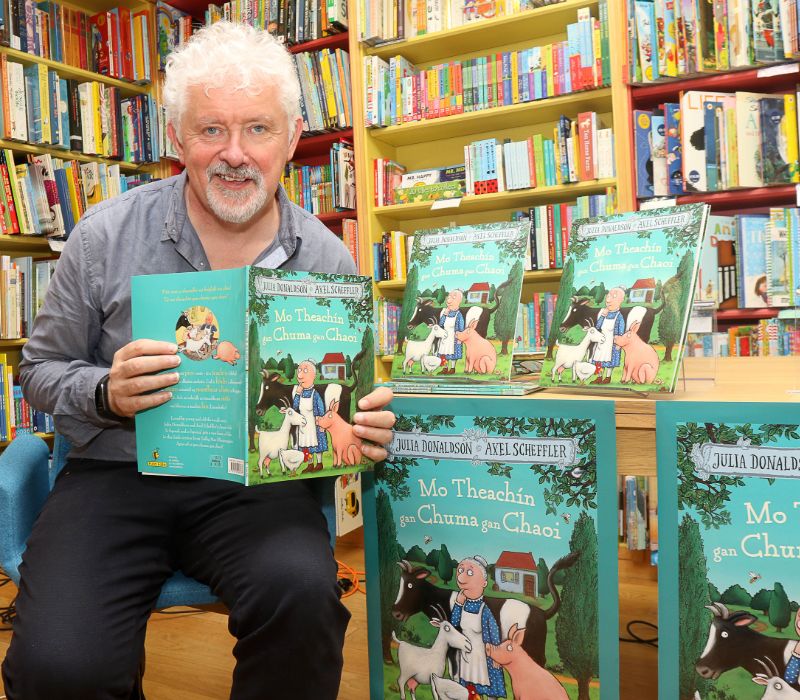 In the years since they began, Futa Fata have translated and published books from David Walliams (Gangsta Granny), Julia Donaldson, and they're the home of the beloved Diary of a Wimpy Kid by Jeff Kinney.
"That was a really lovely thing," Mac Dhonnagain says. "We decided to try and publish some of these well-known series, and I wasn't sure if it would work, because they're so well known."
Perhaps to their surprise, the first Irish edition of Diary of a Wimpy Kid was a huge success, making it onto the RTÉ news and featuring during Seachtain na Gaeilge.
"Kids are super happy to read them again in Irish. It makes them feel really good about themselves, that they can read this substantial book in Irish – and they're familiar with the story, so it helps them with comprehension. And Jeff Kinney – his books are translated into over 50 languages, but he's Irish-American and he was really pleased his book was being translated to Irish. He made a point of coming to Dublin on his global tour, so we've got to know him now and we went out to dinner with him. It's a lovely connection; it makes it more special. He felt it was a coming home."
After a few years of inward translations, though, Mac Dhonnagain wanted to see if Futa Fata could push things on.
"I decided to see if we could do it the other way around – originate [books] in Ireland and try to sell them on the international market, as well as selling them at home."
When looking for new Irish talent, they prefer for books to be written in Irish first.
"That's a really important part of the whole thing; it's our mission, really. We're funded by Foras na Gaeilge and also by the Arts Council to do just that, to foster new Irish-language talent. And also, from the illustration side of it – the illustrators generally wouldn't be Irish speakers, but they're Irish artists who are trying to make a living, which is difficult enough here in Ireland. We have a lot of connections there as well.
"Our books are translated into twelve languages now worldwide. It's not an enormous part of our business, but it's a really nice part. We're really proud of it."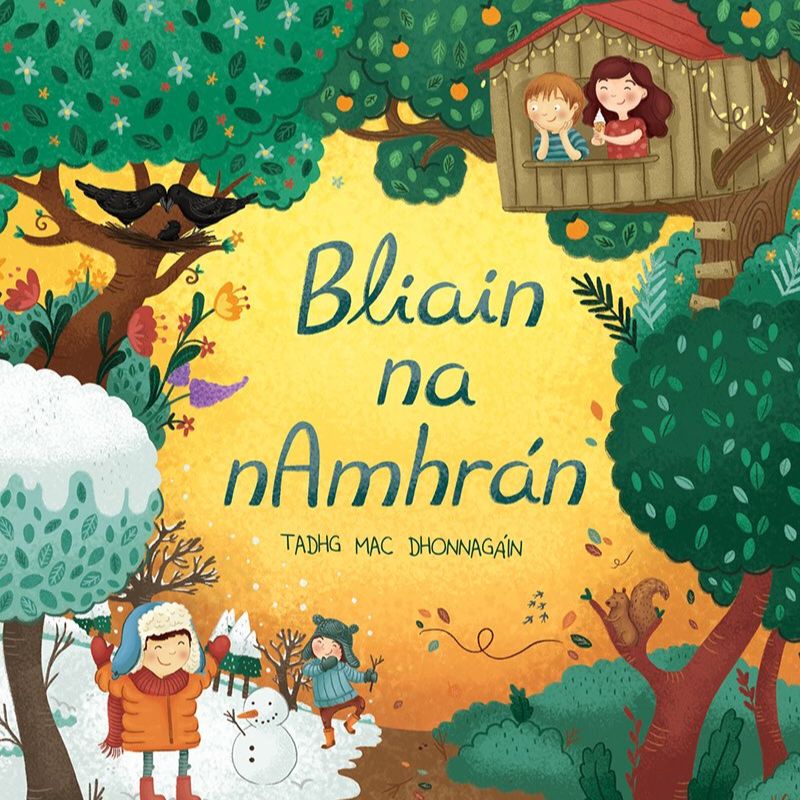 Mac Dhonnagain, who has been involved in the Irish-language world for decades, believes that the Irish language is at an exciting place.

"It's coming around," he says. "I really believe it. I mean, I'm more positive about it now than I was some years ago. I can see that we have advanced," he says. For a start, he sees the growing interest in Irish-medium schools first hand while touring the country for Futa Fata events.

"Because Irish is a minority language, it shares the kind of challenges of many minority languages," he says. "But today, there are well over a million people educated in Irish. [Many people] could sit down with one of our picture books for children and mightn't understand every single word, but they would be able to get the gist of it.

"I think there is a huge demand for Irish medium-education. Irish people have really embraced it. The demand outstrips supply. One school in Dublin, where we did an event in there last year, takes in sixty-five five year olds every year, and they have a waiting list of 300. That's just one school."

But for Futa Fata, education isn't their primary goal; they write books to serve the Irish-speaking community.

"There's a growing population of children going to Irish-medium schools as well as native Irish speakers in the Gaeltacht, where we are based, who would read for pleasure. I suppose our main focus is to create fun material, to read for pleasure. And if it's used in the education system, well, that's a happy kind of coincidence, but we don't see ourselves as educational.

"We have events in Connemara, book launches and signings, and big crowds come, local families with their kids line up. That, as a phenomenon, as an event, didn't exist before. In a rural area, it's nice that kids will look back on their childhood and remember those events, with Irish at the forefront. Even when we're taking on new writers, we look for people who are excited about doing events and creating those connections."

This year, Futa Fata are building on their years of success with exciting new projects forthcoming. They're publishing Muireann Ní Chíobháin's first book; she's worked extensively for RTÉjr in both Irish and English, so her book is sure to delight young audiences. They're also starting a new series of books based on Irish mythology, illustrated by the Irish-based Scottish illustrator Shona Shirley Macdonald, who is something of a legend in the illustrating world.

As the Irish language grows in strength and popularity, we look forward to seeing more wonderful projects from Futa Fata, across the country and beyond. For more on their illustrated books and interactive CDs as Gaeilge, visit www.FutaFata.ie.

Words by Caitlin Foley – feature image by Boyd Challenger