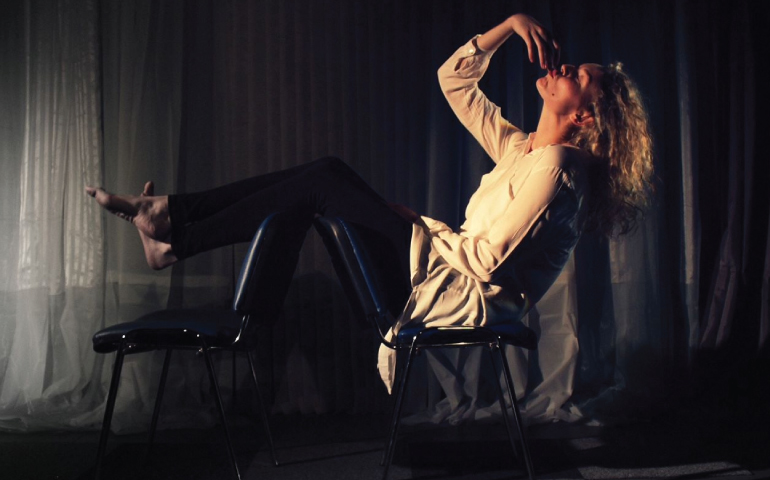 Fried Eggs
"He snarled the way some people can pirouette in a shower without falling over or flooding the bathroom or accidentally killing their partner with the shower nozzle."
Moonstone Productions in conjunction with Galway based Dodo Theatre present a new production of Fried Eggs written by Lindsay J Sedgwick starring Karen O'Connell.
With a well received run last year at Theatre Upstairs, Fried Eggs is a bizarre love story about two unusual sisters and one very understanding man. Eloise spends her life consoling men her sister Lulu has slept with and dumped. If Lulu could only be  a little more inhibited, that might make Eloise's life a bit easier. When Eloise looses her job because of Lulu, the last thing she wants is to meet her sister's latest conquest, Brendan. But then again, Brendan might be the one person who can make everything right.
At a time when positive mental health is recognised as being crucial to our well-being and even survival, this funny, lyrical and quirky play shows the ups and downs of life and love and casts a new light on the problems facing many in society.A one woman play about life, love, fried eggs and accepting all the different parts of yourself however unusual they may be. If you had multiple personalities, what happens if one of them fall in love?
4 nights in Galway City – 14th – 17th June, Town Hall Studio @ 8.30pm. Tickets  €10/8* (booking charges may apply)
Book now online: www.tht.ie | PHONE/  091-569777 | Email: thtsales@galwaycity.ie | Town Hall Theatre –  1 Courthouse Square, Galway.
1 night in Inis Oirr – 18th June Aras Eanna Arts Centre, @ 8.30pm. Tickets €12/€6*
Online: www.araseanna.ie | Phone: 091 9975150 | Email: eolais@araseanna.ie | Aras Eanna Arts Centre – Inis Oirr