Food On The Edge 2019 Kicks Off in Galway
The Food On The Edge 2019 gathering of the world's best international chefs and food leaders opened this morning in Galway at the National University of Ireland, Galway. The award-winning two-day food symposium will see over 600 people in attendance over the two days, more than 50 speakers take to the stage to share their food stories, and top Irish food producers in the Artisan Food Village.
Food On The Edge 2019 opened with Shinobu Namae (L'Effervescence, Tokyo) who spoke of the modern day and historic influences on Japanese food, travel being a key ingredient. In his talk titled 'Heritage and Future of a Far East Country, Japan', Shinobu said that it was through progress and external influence that food culture evolves. He said, "1,200 years of a meatless diet in Japan was influenced by the politics at the time, while meat was introduced to build stronger soldiers like Western counterparts." Shinobu added that he hopes that through being at Food On The Edge he will bring home new ideas and influences to his cooking.
Irish chefs Darina Allen and Rachel Allen (Ballymaloe Cookery School, Cork) spoke in conversation about Irish food – 'Irish Food: Past, Present and our Vision for the Future' – with Jacinta Dalton of GMIT moderating the discussion. Darina said, "The future of Irish food is through looking to the learnings of the past". She went on to say that central to this was teaching basic cooking skills and educating our children in both the joy and importance of nourishing themselves through food.
Fishing and the sustainability of the seafood industry was central to the 'Fish Unknown – Diversifying Your Plate' panel discussion where panelist Guy Owen urged people to talk to their fishmongers to better understand the opportunity of various diversified fish. This was also discussed by Josh Niland, the 'fish butcher' (Saint Peter Restaurant, Australia) whose talk was titled 'Beyond The Fillet'. Josh uses 91% of the entire fish and has explored using fish eyes and fish sperm as ingredients in his dishes. He takes a respectful view of each fish that comes into the restaurant, always looking for the 'delicious opportunity'. His ground-breaking approach to utilising the whole fish had many highlighting his talk as a 'must-see'.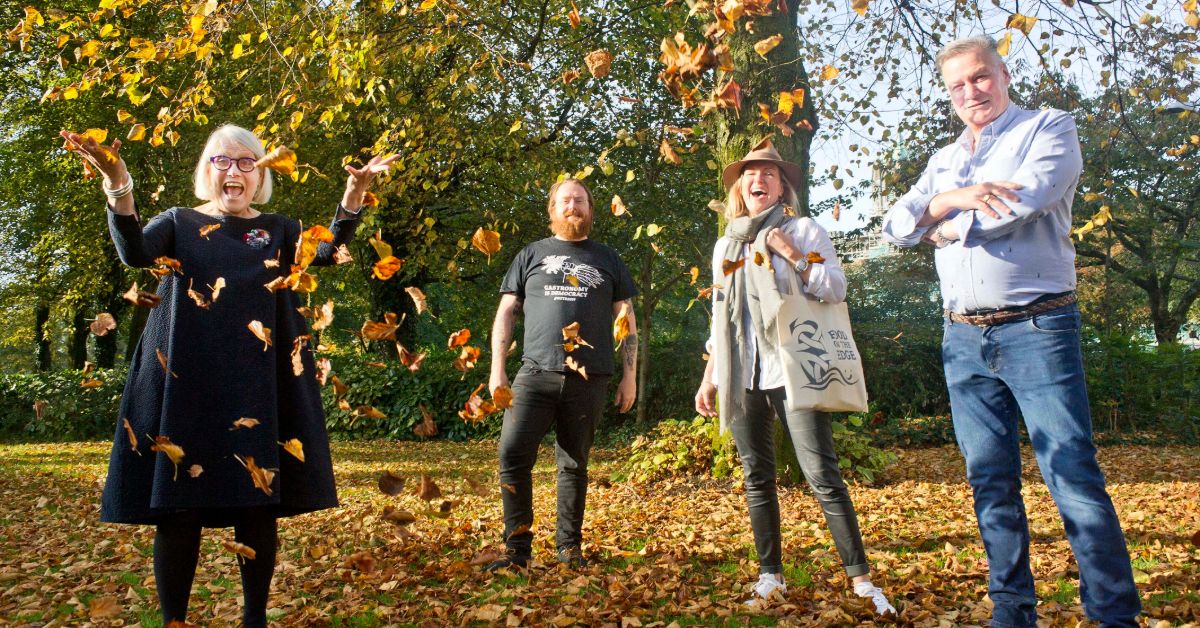 The popular Chef Network Masterclasses for delegates led by selected speakers are taking place again this year. Today's masterclasses included Doug McMaster on 'Nu Waste'; Majken Bech on 'Non Alcoholic Pairing'; Will Goldfarb on 'Bread and Sorrow: Revisiting Personal Pastry Through a Local Literary Lens'; and Stephen Bell on 'Coffee Evaluation and Coffee Cupping'.

Food On The Edge delegates also got to experience the Artisan Food Village which showcased food and drinks from top Irish producers. A pop-up Charlie Byrne's Bookshop is also acting as a hub for signings and sales of titles authored by the speakers.

The 2019 Food On The Edge venue is the Bailey Allen Hall at the National University of Ireland Galway (NUIG). The masterclass sessions will take place in the Bank of Ireland Theatre next door. The event starts at 9.00am on both days.

Gather & Gather and Fáilte Ireland are principal sponsors for Food On The Edge 2019. San Pellegrino are returning as major sponsors, along with new major sponsors, Galway Bay Brewery.

For more information see www.foodontheedge.ie. Check out @FoodOnTheEdge on social media and follow the official hashtag #FOTE2019 for regular updates.