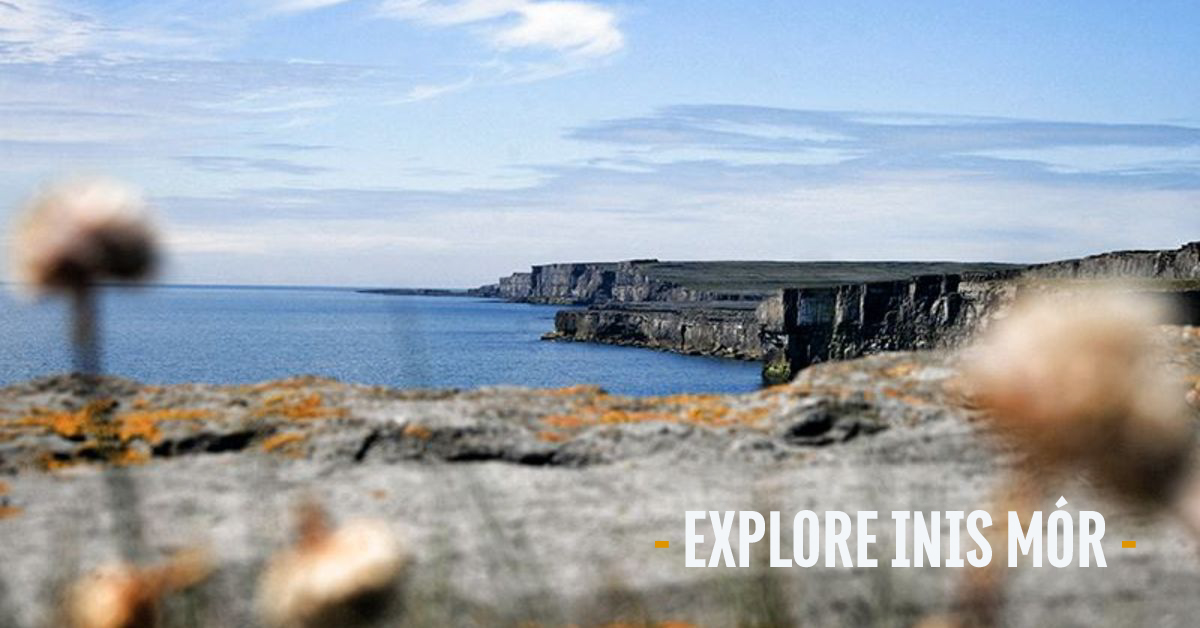 Explore Inis Mór
The largest of all three Aran Islands, Inis Mór's long standing traditions have certainly withstood the test of time. Scattered across its 7,635 acres you'll find ancient stone forts, monuments of Christian and Celtic mythological heritage and panoramic views second to none. If it's an authentic Irish experience you're after, a trip to the island of Inis Mór is as Irish as a pint of Guinness eating a bag of Tayto.

To set the scene; the locals chat as gaeilge and the landscape's rugged beauty is breath-taking beyond belief. Historical significance oozes throughout the entire island, with prehistoric World Heritage site Dun Aonghasa creating a dramatic 300 foot cliff edge that is nothing short of structural perfection. Whether you're taking the island by foot, bicycle or pony and trap, there are plenty of sights to be explored, a warm welcome to be received and plenty of craic to be had.
EAT
Bayview Restaurant
Head chef and co-owner Byron Godoy Flores lives by the motto, "you eat with your eyes before you taste", and this sentiment perfectly translates to the presentation of each dish. Breathing life, colour and flavour into each mouthful, the kitchen utilise as many fresh and local ingredients as possible. With dinner specials changing weekly, and finely sourced produce making its way to the kitchen every day, dining at Bayview Restaurant is best described as simple sophistication. While you're there, make sure to try out their famous coconut lemonade, it's refreshing beyond belief!
Krusty Krab Road, Killeany, Kilronan, Inis Mór, Aran Islands // More Here
Tí Joe Watty's Bar and Restaurant
If you're on the prowl for a welcoming, traditionally Irish pub, Joe Watty's is your spot. Tasty pub grub, great customer service and a whole lot of ceol agus craic, this bar's extensive craft beer menu, thoughtful wine list and impressive whiskey selection make it a paradise at the top of Kilronan village. Although their menu is not exclusively seafood, their locally caught lobster and crab are top notch. In the summer months, there's live music 7 days a week and up to three days a week, so the craic is always mighty and their beer garden is the cherry on top!
Kilronan, Inis Mór, Aran Islands // More Here
EXPLORE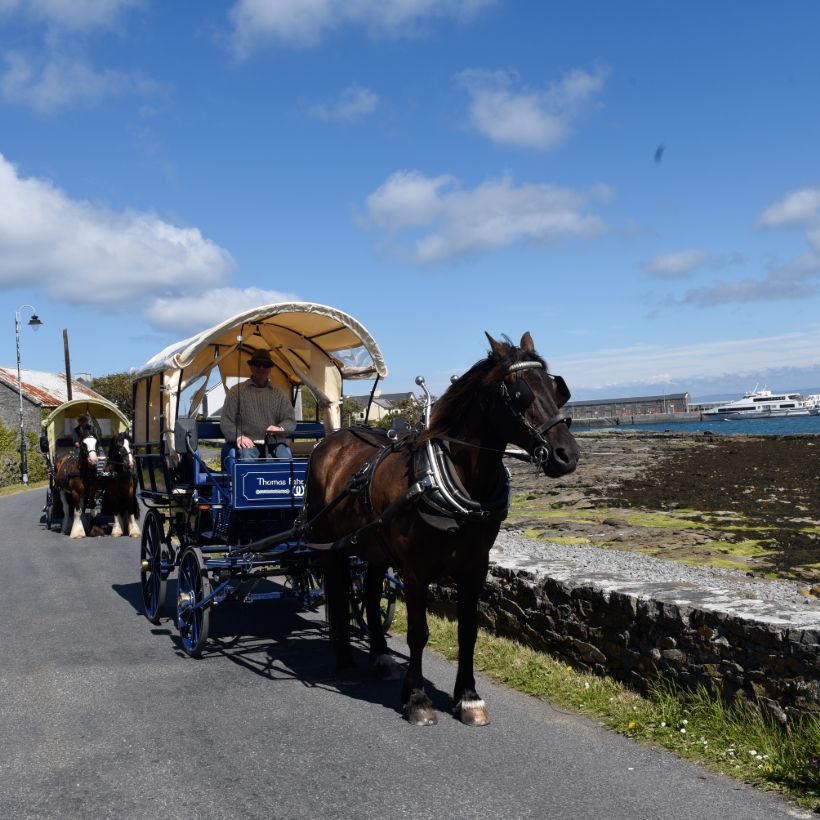 Thomas Faherty Tours
Following a family tradition that dates back to the 1940s, Thomas Faherty has been running hugely popular pony and trap tours around Inis Mór for decades, allowing tourists to take in the sights the old-fashioned way. You'll hear fascinating stories and intriguing island histories as you meander around Inis Mór, making pit stops along the way for some exploring. You'll have the opportunity to hike up Dún Aonghasa or, if you're lucky, you might even get the chance to see some seals during the low tide! Thomas Faherty has got all the insider knowledge and wants to share the island's many gems and secrets with his lovely visitors.
Kilronan, Inis Mór, Aran Island // More Here
Aran Bike Hire
The most glorious and underrated way to take in the picturesque beauty of Inis Mór has got to be by cycling through the island, stopping at your leisure to soak up the idyllic beauty. Glide through the countryside and weave through the village with a bicycle from Aran Bike Hire. Whether you fancy a mountain bike or a buggy, a tandem or an electric, they've got a huge array of bikes available for rent for a day or overnight. Whisk yourself out as far as Dún Aonghasa and back to your accommodation to enjoy a relaxing pint after a busy day of exploring. Each rental comes with a complementary map of the island, helmets and roadside assistance if needed.
Kilronan, Inis Mór, Aran Islands // More Here
Aran Walking & Cycling Tours
Transverse the many historical and cultural monuments of Inis Mór, along with its many hidden gems, by foot with the guidance of Aran Walking Tours. Since 2000, island native Cyril O Flaherty has been providing visitors with an in-depth introduction to the many facets of Inis Mór, sharing the local customs and tales that go with each sight. From the wells that cure blindness to the naturally carved swimming pool, these tours provide an insight into life on Europe's most westerly frontier. Many of the guides are small local farmers, who have first hand knowledge on the land's unique terrain. They even provide bicycle, bus and pony and trap shuttles for when your feet get tired! Experience the magic of Inis Mór, with no trace left behind.
087 688 0688 // More Here
Aran Islands Goats Cheese
Known for producing some of the finest goats cheese products in the West, Gabriel of Aran Goats Cheese is running both historical island tours and an island tour that includes a stop at the fantastic cheese factory. Visitors will be given the opportunity to meet his herd of goats grazing on the island's unique pastures, become immersed in the process of producing the award-winning product and you'll even get to sample the goods yourself. You'll learn all about the goats' interesting diet that lends that exceptional flavour and the equipment and resources that are required to get the delicious goats cheese from the farm to the fork.
Oughill, Inis Mór, Aran Islands // More Here
Aran Sweater Market – The Home of Aran, Since 1892
Born of humble origins in the heart of the small island community, the Aran Sweater Market has grown throughout the years to become Ireland's most famed shopping destination for Aran Knitwear and Accessories. Driven by a shared passion for craft and a keen eye for quality, they aim to bring the beauty of the real authentic Aran to life and provide our customers with a unique treasure which they can cherish for years to come.
The Markets
The famous Aran Sweater Markets are located on Inis Mór, Galway's Quay Street, Dublin's Grafton Street and Killarney. These iconic tourist markets provide a unique shopping destination for those who wish to experience first-hand the beauty of the authentic Aran Sweater, as well as learn about its long and fascinating history. Each of the markets offer the very best quality Aran Knitwear and Accessories, in every colour and style imaginable. This includes a huge range of sweaters, cardigans, jackets and coats for men and women, as well as kidswear, accessories, homeware and authentic Aran knitting wool.
Find Your Clan & Weave Your Own Clan Story
Over the years, in line with ancient Irish folklore, many Clans adopted the Aran Sweater as the ultimate Clan symbol. Historically, these patterns were safeguarded within families and passed down from generation to generation. Their range of Clan Aran Sweaters, scarves and throws, with unique Aran Family Patterns for over 500 Irish Surnames are an authentic family gift that can be treasured for generations to come.
Kilronan, Inis Mór, Aran Islands // More Here
ACCOMMODATION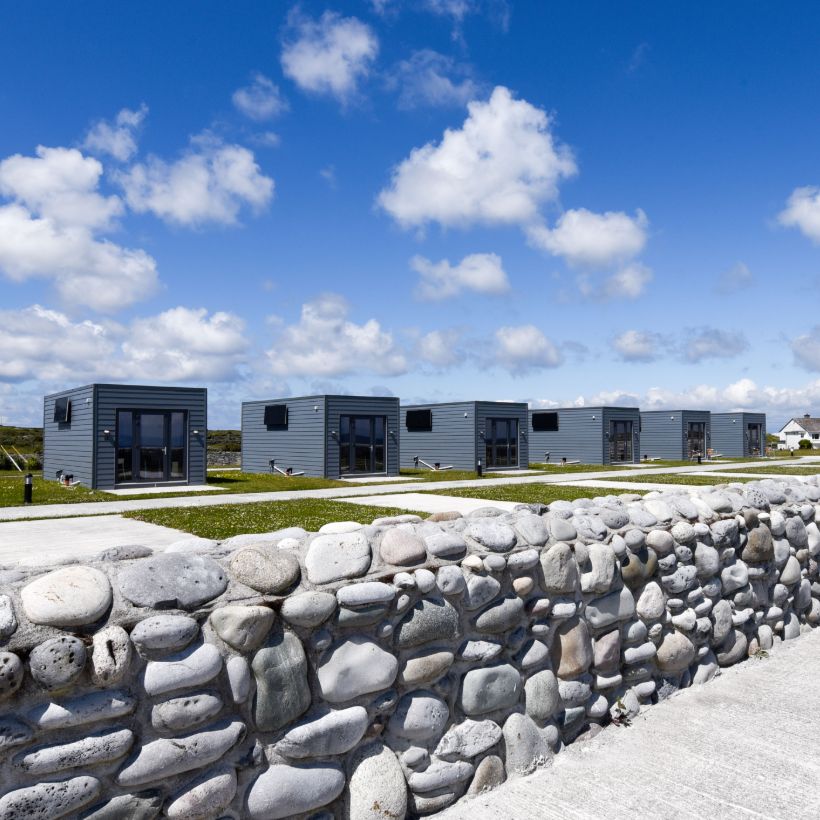 Aran Islands Camping & Glamping
Aran Islands Camping & Glamping is based on Inis Mór the largest of the three Aran Islands. They offer unique glamping accommodation at their luxury seaside site and eco-friendly campground. The newly built Aran Islands Camping & Glamping offers premium beachside solar-powered lodges that are perfect for groups, families or couples. They offer up to 4 people Clochan pods and 6 person Tigin pods. Picture yourself at your lodge taking in the beautiful views of the bay, throw in a peaceful and cosy nights sleep followed by waking up to the sunrise and waves coming ashore the idyllic Frenchman's beach. There is camping for those who want to reconnect with nature and enjoy a technology detox at their purpose-built facility including showers, laundry and the campers kitchen. Aran Islands Camping & Glamping is the ideal getaway that can cater to every group, with an island steeped in culture and history and blessed with breathtaking scenery it makes every adventure here a cherished memory.
Frenchman's Beach, Inis Mór, Aran Islands // More Here
Árd Einne House
For over 30 years now Árd Einne has been providing Aran Island visitors with local knowledge, panoramic views of the coastline and a stress-free stay filled with peace, comfort and tranquillity. This 3-star family-run bed and breakfast serves as the ideal base for exploring the island and its many offerings. Loving nothing more than showing their guests a good time, the staff at Árd Einne will let you in on some insider secrets and where to find the most breathtaking views on the island. Whether you're looking for an adventure, or just want to relax in the beauty of nature, Árd Einne will suit any pace of life.
Killeany, Inis Mór, Aran Islands // More Here
Radharc Na Céibhe
Surrounded by views of the wild Atlantic Ocean, Radharc na Céibhe are right in the centre of a culture, history and tradition that they strive to keep alive. Discover the rugged landscape and many sights of Inis Mór, from The Black Fort to the Seven Churches, that surround the bed and breakfast before unwinding in your comfortable and cosy private bedroom after a long day of wandering. Waking up to the sound of waves crashing against the coast and birds chirping sounds pretty good to us! It is highly likely that the island's laid back way of life and the fresh smell of salty sea air will be more than enough to keep you coming back for more. You may even make returning to Radharc na Céibhe a tradition of your own.
Inis Mór, Aran Islands // More Here
Seacrest Bed & Breakfast
Run by Geraldine Faherty and her husband Thomas, Seacrest Bed and Breakfast is a real family affair. With over 17 years of business under their belts, Seacrest have welcomed many visitors into their warm and inviting bed and breakfast over the years. Spotless and comfortable bedrooms, delicious breakfasts and an incredibly relaxed atmosphere, Geraldine has created a home away from home out on Inis Mór. If you want an expert to guide you around the beautiful island, Thomas' pony and trap tours are legendary. The perfect way to take in the sights, these tours date all the way back to the '40s and offer visitors a tour like no other – you can even search for seals during the low tide and even hike up Dún Aonghasa before kicking back in the comfort of your bedroom.
Kilronan, Inis Mór, Aran Islands // More Here
Cover photo via Inis Mór (facebook)
Photography Boyd Challenger