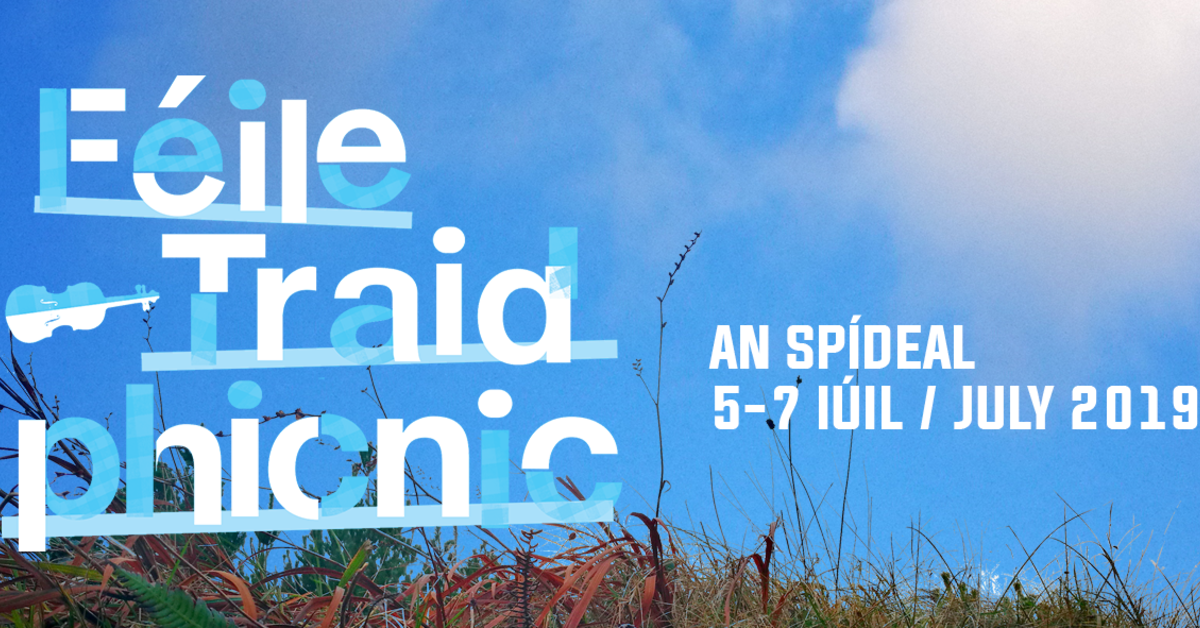 Everything you need to know about Traidphicnic 2019
Traidphicnic, the uniquely Irish community-based festival of music, art and inclusion celebrates its 8th successful year in the beautiful Conamara village of An Spidéal. Located just 15 kilometres west of Galway city, this picturesque location on the Wild Atlantic Way will host an array of Ireland's and beyond most talented musicians and artists from the 5th to the 7th of July 2019.The festival will be based in and around the grounds of An Ceardlann, Craft Village and Café An Spidéal

For the first time at Féile Traidphicnic, they'll be partnering up with The Galway Music Residency as their musicians in residence ConTempo quartet meet and collaborate with Galwegian Piper Padraic Keane. This is an exciting first for Traidphicnic and the outcome of the collaboration at 2pm Sunday, July 7 is sure to be a treat.

They will also be hosting their first ever theatre piece, the sell-out 'Cleite' presented by Brú Theatre. There will be a ticket/cover charge to include bus ride to a secret venue for this special performance.Tickets are available in advance from Eventbrite.

The new Ardín Buí – is an area which will be manned by committee member and local musician Steve Sweeney. This area is a name on an old meeting place, that used to be in the same area, where people would meet after mass to chat and socialise.

Steve will revive Ardín Buí, creating a space where people can gather reminisce,chat, play music, sing and enjoy some storytelling from the Traidphicnic Currach with Caitríona Ní Chonaola, Visual Arts Projects "Amharclann na gCupóige' with Nuala Ní Fhlathúin and Máirín Mhic Lochlainn and 'Saltair na Rann ' with Noel Arrigan and Gabriel Henry.

As well as three full days of performances on the Traidphicnic stage, this family-friendly gathering has a jam-packed programme of events ranging from sessions and 'Ardín Buí' storytelling, to wool-spinning, wood turning, and a guided shore-walk with Gasóga Mara na Gaeltachta to discover the hidden treasures of the Atlantic Coast. There will also be a talk on the Archaeology and History of Galway Bay 'Séidte Isteach ' / 'Blown in ' with Michael Gibbons. There will be workshops in music, sean-nós singing and dancing underway throughout the weekend, as well as the opportunity to create your very own piece of art with the help of the team.

Inclusivity is the defining factor of Traidphicnic, and it is embodied in the opening act of the festival on Friday afternoon. The Gathering Session, followed by the Community Stage is open to anyone who wants to play this years set of tunes, whatever their age, ability or instrument. A host of talented musicians and singers are set to entertain each day from 2.30pm till late evening, providing a wide and varied range of traditional and folk music.

Starting Friday's gigs with Blas Chonamara, which showcases some local greats and a CD launch of 'An Tower' with Neansaí Ní Choisdealbha and Tommy Mellet. Moving onto Connemara meets Kerry with Liz Kane and Danny O'Mahony, finishing the evening with a real treat from Ye Vagabonds.

Saturday's gigs will bring us Muintir Uí Cheannabháin with a mix of traditional and classical pieces, and another CD launch of 'The Housekeepers' with Doireann Glackin and Sarah Flynn, followed by the powerhouse Banjo playing of Stevie Dunne along with Brian McGrath and Gerdy Thompson. All the way from Glasgow, The Friel Sisters, with their family roots firmly entrenched in the Donegal Gaeltacht, will be joined by Marty Barry on guitar and Cathal Ó Curráin on bouzouki. Finishing up with the fantastic Ulaid from Belfast joined by Kerry's Muireann Nic Amhlaoibh.

Sunday will start with an exciting partnership between Traidphicnic and Galway Music Residency, bringing ConTempo Quartet and Pádraic Keane. This exciting mix will bring contemporary classical pieces together with a Traditional twist.Moving on to Grainne Smyth, Finnian O'Connor and Seán Conway, an exciting and uplifting Traditional Irish trio from the North West of Ireland. Back West, reared in the heart of Galway, will showcase imaginative, modern day Irish cultural expression, an explosion of songs, tunes, and dances that are vital to the world of contemporary Irish music. Finishing the gigs Sunday with some of our younger local heroes Ceoltóirí Chois Fharraige will show that the 'Tradition' is safe in their hands.

Throughout the weekend, you will hear the true sean-nós song sung by some young singers. As well as the impressive line-up of musical talent, there are ongoing alternative activities, and visitors are encouraged to get creative by participating in workshops held in the brightly coloured cottage studios around the Ceardlann. Basket-making, glass craft, t-shirt design, weaving and clay modelling to name but a few. Drumming classes and heritage displays intersperse tunes with Steve Sweeney and friends from our new village 'Ardín Buí'.

Full details of the exciting programme here.