Whether you're looking for a trusty Margherita or a pizza with all the toppings on earth, Galway has a pizza with your name on it. We've compiled a list of some of our favourite pizza places for you to start checking off your Galway pizza bucket list.
The Dough Bros
If you're a Galway based pizza lover and you haven't been to Dough Bros... you need to question your devotion to pizza! From starting in a small street food truck in 2013 to a pop-up shop shortly after, followed by a permanent premises on Middle St and a tasty venture with O'Connell's Bar, the bros quickly became one of the most beloved joints in Galway! Now you can enjoy all of their yummy pizzas at home with their popular DIY Home Pizza Kits, available for nationwide delivery. In partnership with Guinness they have recently released limited-edition Guinness x The Dough Bros Kits; a delicious pizza with one of Ireland's most famous brews and their famous glassware - it just can't be beat!
1, Cathedral Building, Middle St, Galway // more here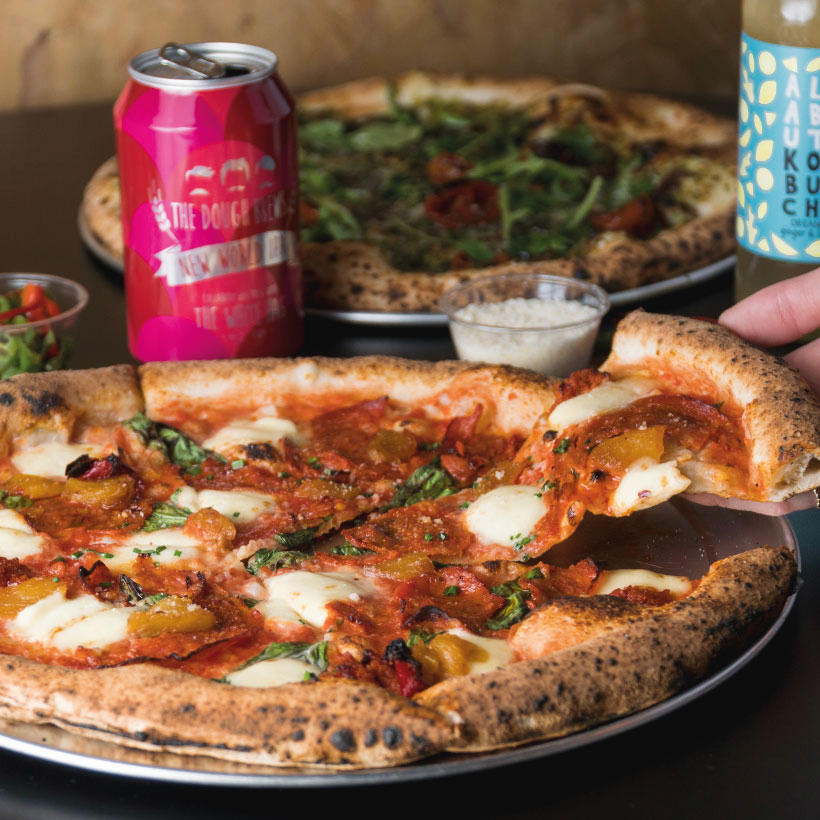 Woozza Pizza Sea Rd
These delectable artisan pizzas will light a fire in your pizza loving heart. Boasting a large menu of pizzas all made with fresh ingredients, locally sourced or imported from Italy, Woozza's pizzas are sure to win your heart and stomach! To enjoy a taste of the sea, try the Wild Wooza Way Pizza. For your meat loving carnivore pal, the Meat Supreme Pizza might be their new favourite. For your sweet toothed sweetheart, Woozza's Nutella and Marshmallow Pizza is sure to be a tantalizing treat!
14 Sea Rd, Galway // more here
Pizza Dozzina at The Twelve
Enjoy a pizza menu of traditional Italian classics as well as locally-inspired choices like The Prom Walk, The Spanish Arch and The Barna Crossroads at Pizza Dozzina at The Twelve Hotel. Its stone oven is the glowing heart of this pizzeria, having been shipped in specifically from Naples the original home of pizza. So if you're looking for authentic ingredients combined in an authentic pizza oven to make the finest Italian pizzas, Pizza Dozzina should be your go to spot. Give them a call or pop in to order and watch your pizza being made in the oven right in front of you. This is one pizza place you're really going to want to try for yourself!
The Twelve Hotel, Barna // more here 
Pizza & Pasta Napoli
This quaint family run Italian takeaway makes some of Galway's finest authentic Italian cuisine. Freshly made each day, the aroma of their delicious, freshly cooked pizzas is impossible to resist! All of their pizzas are made using only the freshest ingredients. The Only Mighty Pizza is a delicious array of homemade Italian sausage, ham, pepperoni and chicken. Or why not treat yourself to a slice of their mouth-wateringly good Spinach and Goat's Cheese Pizza? Whatever you choose to order, there's something for everyone at Pizza Napoli.
15 Cross Street Upper, Galway // more here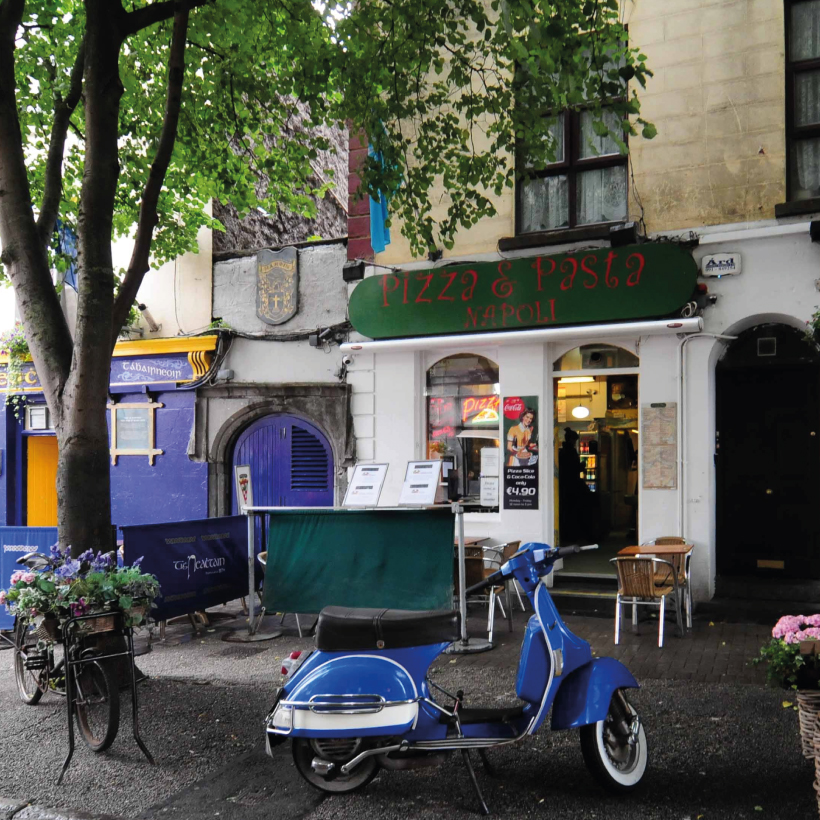 Basilico Italian Restaurant
This award winning restaurant offers a range of tasty Italian food but we'd have to recommend that you try their deliciously cheesy and authentic pizzas. With loads of great options like their Pizza Rustica with sliced ham, chicken and Italian style sausage or the Pizza Capricciosa with roasted mushrooms, olives and Italian artichokes, it's extremely difficult to pick a favourite! They also have vegan and gluten free options that are just a yummy as the rest, so no one has to miss out on Basilico's quality pizzas.
Main St, Oranmore, Galway // more here
Capones Diner
If meaty pizzas are the key to your heart, Capones is the place for you! Not only do they do a great job of cooking up the traditional pizzas, they've also got a selection of 'Most Wanted' pizzas that are just as badass as they sound. Their The Godfather Pizza comes with crispy bacon, fried onion, gooey mozarella and house pizza sauce. This hefty dish is sure to delight all pizza loving souls. Capones' affordable prices make this restaurant the ideal takeaway spot for a relaxed family meal.
1 Kingston Rd, Knocknacarra, Galway // more here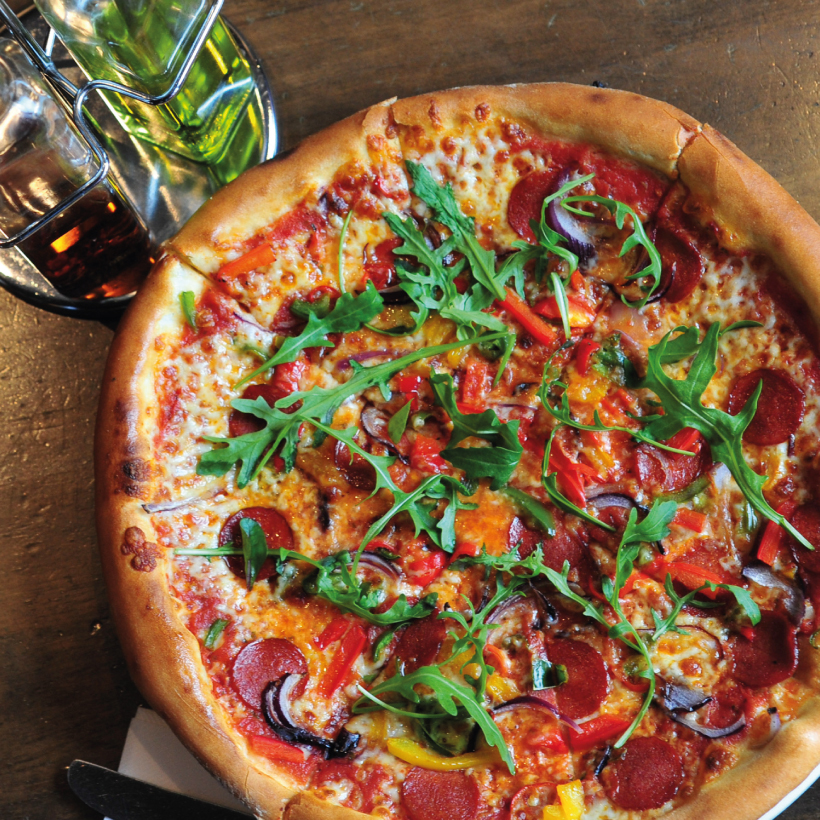 Mona Lisa
Crispy pizza bases with fluffy crusts that just ooze cheese, topped off with a yummy range of the finest ingredients, are some of the reasons Mona Lisa is known for its authentic Italian pizza. Ordering a gourmet pizza from Mona Lisa is a must if you want to experience the beating heart of Galway's pizza scene. The tomato based Parma Pizza is dripping in melted mozzarella and parmesan with Parma ham and fresh rocket. Try washing it down with some of their delicious boozy options to finish your meal off perfectly!
17 William St West, Galway // more here

Olive Tree Kitchen
The Napoli Firebrick Oven Pizzas at Wildlands are not to be missed out on! All their signature 12" pizzas are freshly prepared using their homemade dough and a mix of local and Italian ingredients. The delicious Veggie Pizza is topped with locally sourced goat's cheese, fresh peppers, red onion, rocket and pesto drizzle. All the veggies used are picked from Wildland's vegetable garden on-site everyday so you know it's about as fresh as you can get. Add a side of their Garlic Firebrick Bread to complete your order, you won't regret it!
Wildlands, Moycullen, Galway // more here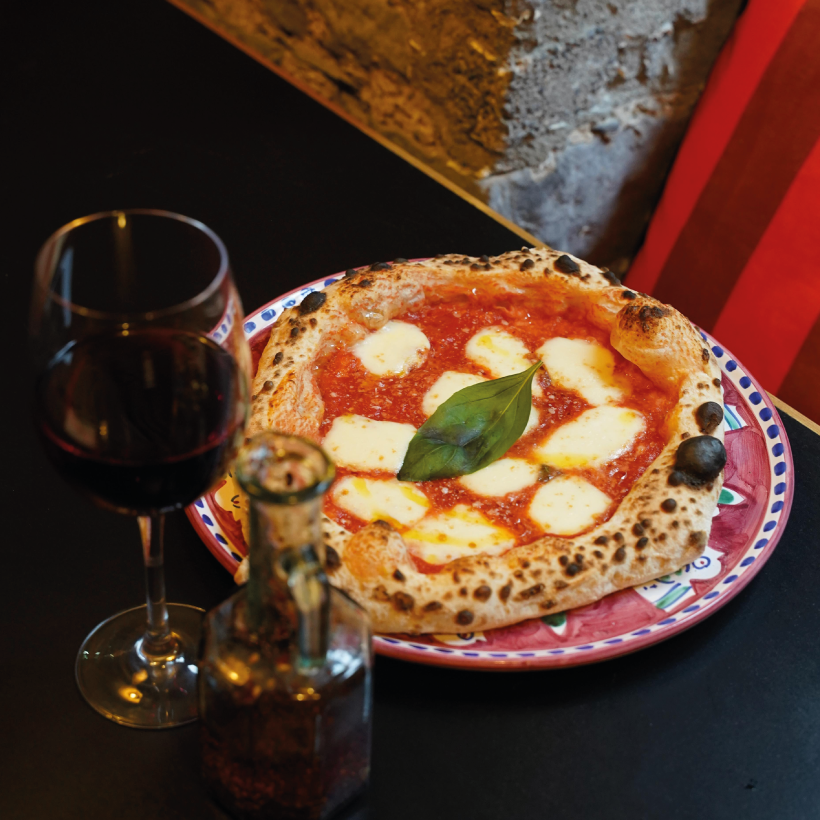 Freddy's
Right at the heart of Galway's beloved Latin Quarter, Freddy's has been delighting their customers with delicious pizzas for more than 30 years. Their famous stone-baked pizza is truly some of the best around, it's worth the trip to Galway alone. N'duja, Cashel Blue, Chilli & Honey, the toppings are really the cherry on top of a fantastic dining experience. You really will find yourself returning again and again!
15 Quay Street, Galway // more here 
Magnetti's Salthill
At Magnetti's, all of their pizza dough has been left to rise for 72 hours to ensure it is light, crispy and packed with flavour - and trust us when we say you'll notice the difference. Their pizza is absolutely divine! Magnetti's only use authentic Italian ingredients and specially imported flour to guarantee that you get only the best. Magnetti's offers an Authentic Italian Pizza Experience right on Salthill's Waterfront, where each pizza is made to perfection.
Unit 1 Upper Salthill Rd // more here 
Pizza Point
If you want to enjoy a tasty slice of pizza on the go, stop by Pizza Point in the heart of Eyre Square's Shopping Centre. A slice of their Quattro Formaggi Pizza or the Vegetariana Pizza with fresh mixed peppers, mixed mushrooms, aubergine, red onions and basil pesto, is guaranteed to sort out all of your midday pizza cravings. The convenient location of this takeaway makes it the perfect spot for grabbing a quick bite to eat when you're busy and on the move.
Unit 110 Eyre Square Shopping Centre, Galway // more here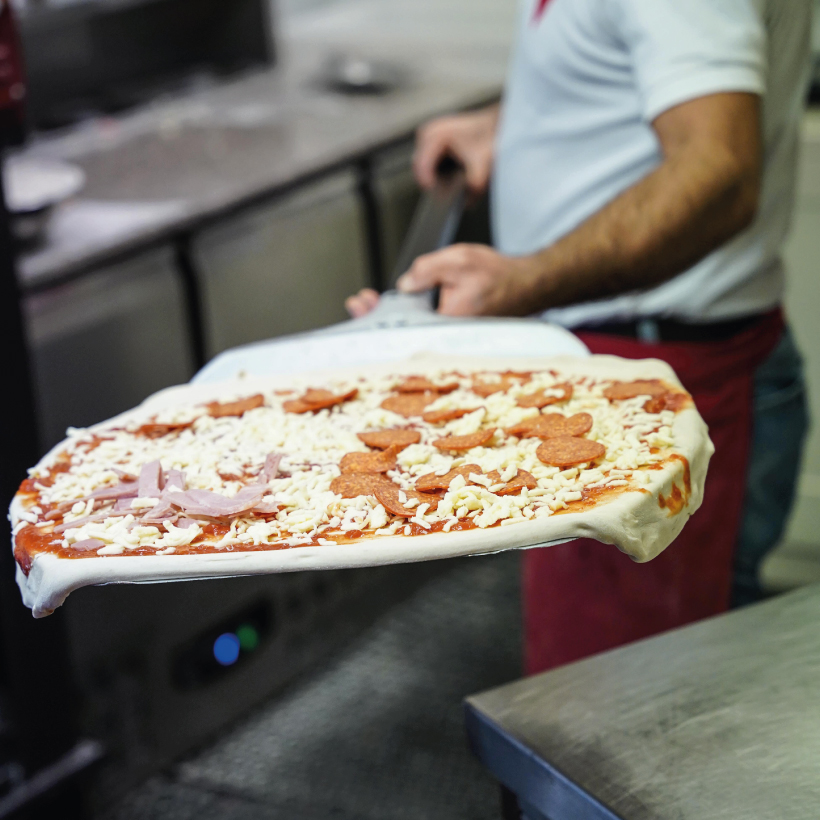 Roots Café & Bistro
Packed with bursts of flavour and exquisite textures, any pizza from Roots is a seriously good feed. Go for the classic Ham and Mushroom Pizza or spice up your life with the Diavola Pizza topped with mozzarella, hot chilli, yummy salami and fresh basil. They've also got something for everyone with some incredibly tasty vegetarian options. The Veggie Pizza is topped with sun-dried tomatoes, roasted mushrooms, mixed peppers and fresh basil. Stopping by one of their four locations all over Galway and collecting a scrumptious pizza is a perfect way to enjoy a leisurely evening at home.
Abhainn na mBradán, Newtownsmith, Galway // more here
Milano
Bringing the recipe of the perfect pizza from Italy to Ireland, Milano has been serving up delicious pizzas for years. With all the pizza classics and a few new additions, Milano has never let us down. If you have any dietary requirement just let the team know and they'll be happy to accommodate all your needs. Their delicious La Reine Pizza comes with mozzarella, sliced ham, black olives and closed cup mushrooms. How about a few freshly baked Dough Balls with garlic butter for starters? Yes please!
The Cornstore, Middle St, Galway // more here
Published on Updated on