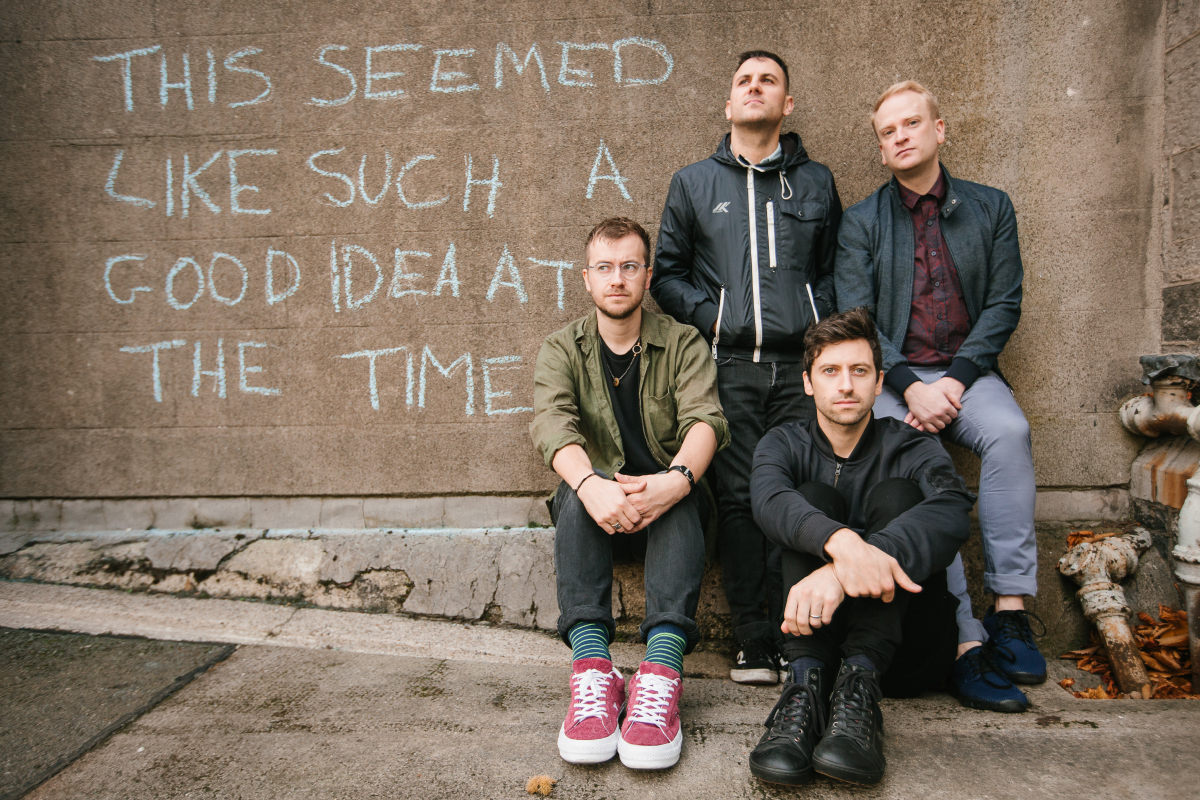 DELORENTOS RARING TO GO FOR GALWAY SHOW
Award-winning Irish band, Delorentos, are hitting the road this December to celebrate the 10th anniversary of their beloved album, S.E.C.R.E.T. We caught up with Rónan Yourell to find out more about their Galway show on December 20th.
Delorentos are four unassuming lads from Dublin who make energetic, heartfelt, indie-pop with little hints of classic rock and folk. They bring bucket loads of energy and passion to their live shows and try to connect with their audience on a face-to-face level. For these reasons, Ireland and the rest of the world have been showing Delorentos a lot of love for a long time. And the love shows no sign of stopping, even as the band approach the 10th anniversary of their sophomore record, S.E.C.R.E.T.
As part of the anniversary celebration they will take part in a four-stop Irish tour, with Galway's leg set for December 20th in The Róisín Dubh. And the band are feeling giddy about these upcoming shows! "We're absolutely raring to go, can't wait for it. This year a lot of personal stuff has been happening – I suppose it's just the age we're at. One of the lads got married and another has just had his first baba. So life is a lot more complex now than when we started out. It's great to have the anniversary of S.E.C.R.E.T. as an excuse to get together when life is busy."
The band's desire to just spend time together is incredibly poignant, and a clear sign of the camaraderie and togetherness that makes their songwriting so endearing to so many. "The way we write, it's a real collaborative thing between the four songwriters and it relies heavily on what each person brings individually. We haven't had as much time to write together as of late, and we miss each other! So we just said, let's get together for a few shows and have a bit of a hoolie."
And many the hoolie they have had in the past! Delorentos boast the kind of longevity that few independent Irish bands could even dream of. Nearly 15 years of creating music and playing shows all over the globe, as well as releasing five albums which broke the Top 10 in Ireland (one of which, Little Sparks, won the Choice Music Prize Irish Album of the Year), is practically unheard of in the modern music age of fleeting fame and short-lived fads.
"We're just suckers for punishment really!" jokes Rónan over the phone, as I dig for the secret to their long-term success. "I suppose, it was the passion we had for it that kept us going. When we started it was a creative outlet, but it was also a real emotional outlet, and I think anybody who has been to our shows will testify to that. It's always remained that. Ten years ago, when we released S.E.C.R.E.T., it was nearly our last album. That was around the time of the economic crash and it was just really hard to be a band. Some of our peers, and good pals of ours, went by the wayside because it was so hard to make a living out of it. While we've been very lucky with our opportunity to make a few bob and travel the world a bit, that was never the primary goal so for that reason we still had lots that we wanted to say, regardless of the economic situation."
Delorentos have a constant mission to create and express themselves, and that has led them to some amazing experiences, both on and off the stage. "There have been loads of highlights over the years. Supporting Bruce Springsteen a number of years ago in Kilkenny is definitely one. That was absolutely mega, he's a hero of mine. Luckily for us, most of the people we've met through music have been absolutely sound. To be able to go to these different countries and cultures and to be welcomed as warmly in Russia as you are in Latin America, that's the best bit I think. We've had the chance, through music, to share our experiences with other people and musicians, to broaden our horizons."
With the upcoming anniversary shows, Delorentos would be forgiven for resting on their past laurels. But there's no hint of any stagnation or complacency. "There'll be one or two surprises in there. We don't have a new album imminent but we haven't been completely dossing so there will be a new tune or two in the set. And we'll try and mix in a few of the old favourites because we haven't played Galway in a while."
Galway crowds can be very excited to get a taste of some new material, but when I push for any concrete album news, Rónan is a little more coy. "We'd love to just finish a few songs! But no, there's no set date for any album yet. We have got where we are today through constant hard work. And, given where the members of the band are in their lives right now, we are just taking a bit more time and not putting pressure on ourselves. We'll gather together at some point and see how we feel about it."
Regarding the future – during our conversation, there were a few tongue-in-cheeks comments about potentially even doing a 20th anniversary tour for S.E.C.R.E.T. in 10 years time. Whether Delorentos (and their fans) are lucky enough to see that come to fruition remains to be seen, although we very much hope it does. What is sure is that whenever they decide to call it a day, they can do so knowing that they have touched a lot of people at home and abroad. And Rónan knows that there will be an abundance of brilliant Irish bands to take on the challenge of filling the void they leave behind. "At the moment it's an amazing time for Irish music and that's great to see."
"You can look at bands like Fontaines D.C. who have something to say and are saying it in a creative and very energised way. For a while there were a lot of bands in Dublin who just thought if they could get a few people down to Whelan's then they had made it. Which obviously isn't the case! But the industry has moved on now – graft and desire to make it for yourself is the only way to do it. When we came of age there was no other option. But the next generation of bands are very digitally literate and social media savvy. They are doing really exciting things and reaching out to people in powerful ways."
If you feel like celebrating with this truly era-defining Irish band, you should head along to their Galway show in The Róisín Dubh on December 20th for some great tunes and a boogy. You certainly won't regret it.
We'll leave you with a quote from Delorentos' very own Kieran McGuinness; a sort of motto which they have developed over years of experimenting and learning. "Try to get comfortable with being uncomfortable. To really feel excited you have to be a little bit scared as well". We think that's a lesson that any of us could learn from, regardless of our situation.