A new show that was conceived and written with actual tribes in Central America comes to The City of the Tribes! We had a chat and a load of laughs with the brains behind it all, Danny O'Brien...
To say Danny O'Brien is excited to play Galway once again is an understatement. "It'll be like the end of the Formula 1 races but [instead of champagne] it'll be Buckfast and I'll be spraying everybody else," he gleefully replies when we asked if he was looking forward to his show in Róisín Dubh on February 5th. "The capacity in that room is 180 but that 180 feels like 500. Especially coming out of the last two years, the energy is just going to be so charged. I can feel it already and I'm in the UK!"
After that hugely successful and popular show, Danny O'Brien returns to Galway this April to perform as part of 'Stand Up For Ukriaine' in front of an even bigger Galway audience at Leisureland. The show is being organised to raise funds for the Irish Red Cross' Ukraine Appeal so book your ticket now. All crew and performers are donating their time for free so 100% of proceeds go toward supporting Ukraine.
Despite originally hailing from Dublin and spending the last decade gigging all over the UK as well as Ireland, Danny O'Brien has a soft spot for Galway, evident in how often he plays our lovely city in the West and his fond memories of meeting comedic heroes at Galway Comedy Festival. "The last gig I did with Bobby Davro was ridiculous. What a legend! We were just coming out of restrictions and I was hosting up in The Galmont. He was all nervous backstage, saying 'oh what if they don't like it?', then he went on and within two minutes everybody had their phones out and they were singing The Proclaimers...he's just pure showbiz! He's a hero, they don't make them like that nowadays and if I can end up being half the man Bobby Davro is, I'll be delighted."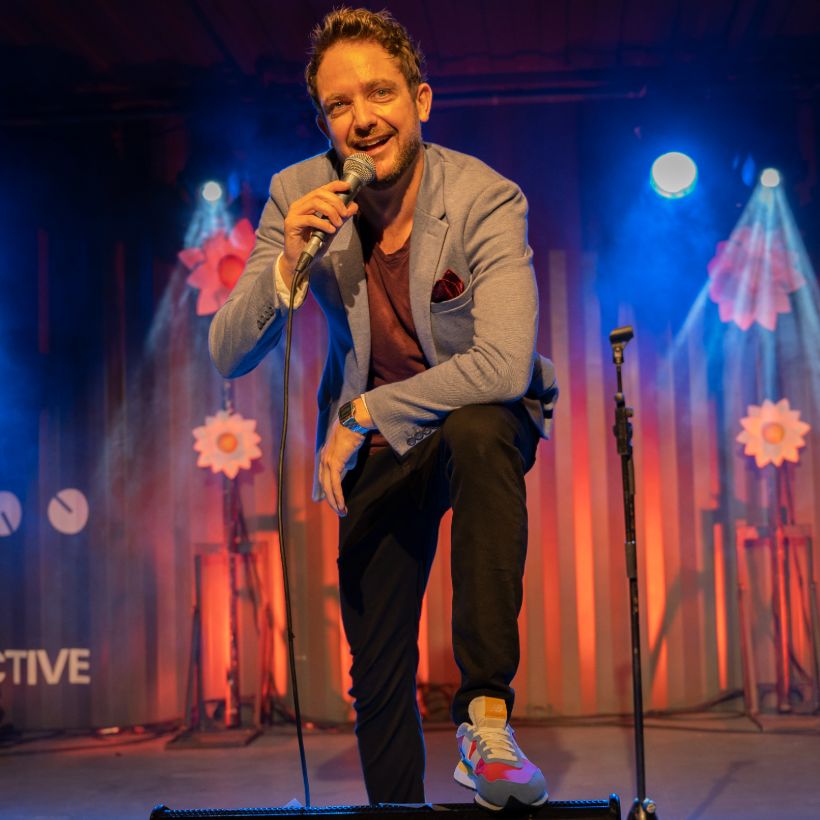 The God of All Things Bad , the latest hilarious show from O'Brien, found its spark in an unusual place: "I went and met loads of Mayan tribes when I was in Guatemala and that's where the name of the show came from. Maximón is a God over there and he's The God of All Things Bad. I went and hung out with loads of different tribes, and by tribes I mean random Irish people in Guatemala, Mayan tribes, members of the Holy Order of Euphoric Senselessness (H.O.E.S.) and more. I'm taking a show written with actual tribes to The City of the Tribes and I'm really excited." Sure who knows, there might be a few H.O.E.S or a Mayan Tribesperson at the Róisín Dubh on February 5th; Galway is a diverse place afterall!

The show has also taken an unusual amount of time to get to this point. "I haven't previewed the show as much as you normally would; I haven't run it through the gauntlet of Edinburgh Festival, but I have worked on it for 2 years, so it's like there's been more time but less practice. Pressure [of a live show] is great, I like the fire that pressure lights under your arse. The audiences are going to be forgiving. They know we haven't really been gigging for the last two years, nor have they been a proper audience for the last 2 years. So I think the first bit of the show will be us just getting used to hanging out together again like one giant speed date! This will absolutely be safer than speed dating, though"
That's not to say that Danny has been 'furloughed' like so many others during the global pandemic. In fact, the incredibly hard-working comedian has been keeping himself busier than ever since the rest of the world came to a stand still back in March of 2020. "I've been lucky, I've been gigging over in the UK since May because restrictions were lifted. I've done shows in Edinburgh, Leeds, Liverpool and London all over the Summer. Then I ran Ringsend Comedy Festival at the end of August. I got a small grant from the Live Performance Support Scheme and ran 9 shows in 2 days. We sold out every single one of them and we donated all of the money to Autism Equality Dublin Bay and Féilicean. After that, I did Vicar Street with Deirdre O'Kane and Ardal O'Hanlon and it was electric. Even though it was at 50% capacity, it was the best Vicar Street show I've ever done in my life. Best energy, best craic - you'd never know that it was only half full. That's what I'm expecting from Galway too."
Danny's show in Róisín Dubh marked the beginning of a literal Spring of Comedy in Galway, with Róisín Dubh Comedy putting on a whole host of shows in the first half of this year - all of which you can check out below. If you missed out on tickets to Danny's show this weekend, he'll be returning to a Comedy KARLnival soon so keep an eye on Róisín Dubh Comedy's Instagram, Facebook and Twitter for updates. We highly recommend getting to one of his shows soon, he's hilarious!
Published on Updated on