There's no denying that chill in the air, those dark winter evenings and the sudden pull of gravity towards the pub. If you are like us and crave a hot whiskey once the temperature drops below a certain point, you'll be delighted to know that Galway's got a whole lot of cosy pubs for you to call home while you're sheltering from the cold. Whether it's a quality pint by the fireside or a festive cocktail on a comfortable bar stool, there's always space to unwind in one of the city's many welcoming pubs.
1. THE GREAT GARAVAN'S
As the evenings get longer and the darkness rolls in, the only way to escape that winter chill is to dive into Garavan's. Whether you'd prefer to settle into the lively bar or hide away in a quiet snug, this toasty pub is truly is one of a kind. Home to three generations of Garavan's, this original spirit grocery has withstood the test of time and, holding the title of Whiskey Bar of the Year in Connacht for 6 years, they're here for the long haul. Garavan's are famous for their Irish coffee, and when you're feeling the chill of the season there's no better cure for the cold.
46 William Street // more here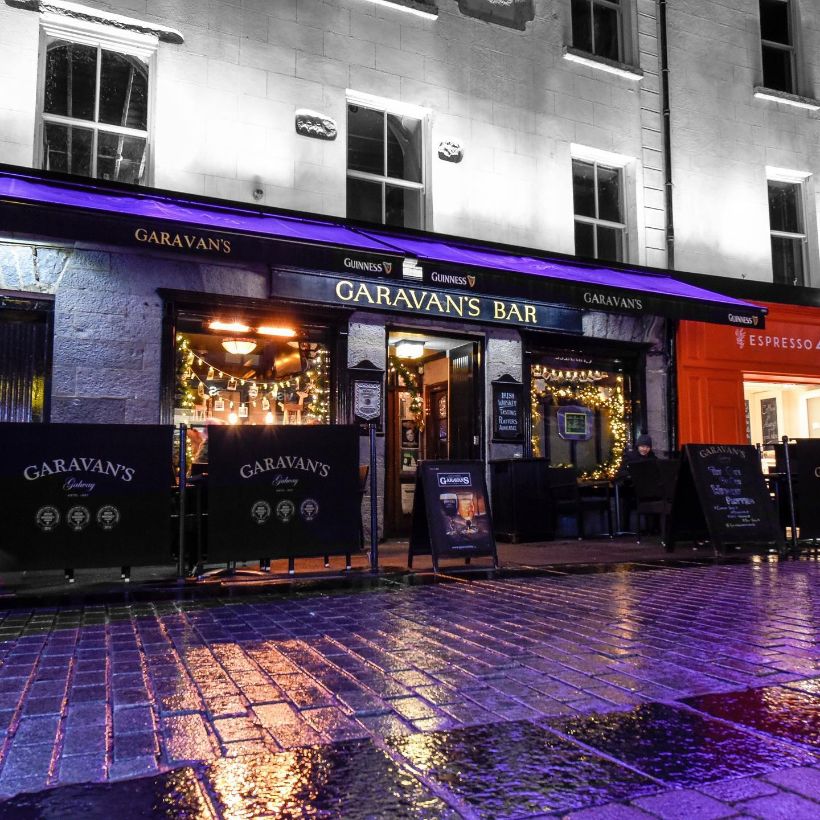 2. STEP INTO THE SKEFF
The perfect place to soak up the magical festive atmosphere in the run-up to the holidays, The Skeff's sensational food menu and vast drink selection will warm you right up. Take advantage of one of the best viewpoints in the city while enjoying some festive drinks as you watch the twinkling lights cast their spell over Eyre Square, and their diverse selection of cocktails, gins, whiskeys and wines will keep you content all night long.
27 Eyre Square // more here
3. ENJOY THE TRAD IN TAAFFE'S
Bringing the feel of an intimate village pub to the heart of the city, traditional Irish tunes echo from Taaffe's stone facade, luring in passersby. The likes of Sharon Shannon and Sean Keane have performed here, as well as a number of wandering entertainers and musicians. With no cover charge, you're always welcome to listen or join in, if the mood takes you! Trad music, a roaring fire, a few cold ones and top-notch company - what more could you want on a chilly winters evening in Galway?
19 Shop Street // more here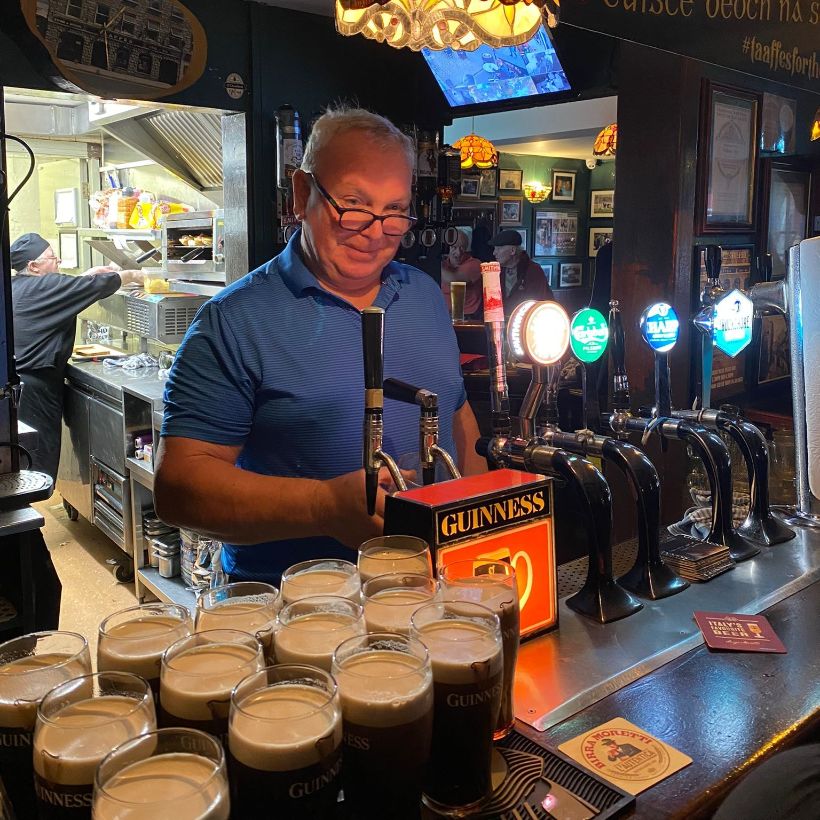 4. PULL UP A CHAIR AT THE CELLAR BAR
A great place for a hot toddy, Irish coffee or a cup of coffee, the Cellar has you covered. If you're feeling a bit peckish, they've got great home-cooked food every day and if you're looking for a spot to watch the match, grab a pint and a stool in front of their big screens on any given day. There's live music every Friday and Saturday from some of the best local acts, so pop in and let the stellar Cellar staff look after you.
12 Eglinton Street // more here
5. FIND HEAVEN AT SEVEN
The perfect place to shelter from the cold after a long day of milling around the shops, Seven Bridgestreet have all the food, drink and entertainment you need to spend the whole night propping up the bar. Whether it's cocktails and a wide range of spirits you're after, or a tasty breakfast, lunch or dinner off their new menu. Warm yourself up with their signature hot whiskey or a Baileys hot chocolate as you watch the world go by in one of the cosy window booths.
5-7 Bridge Street // more here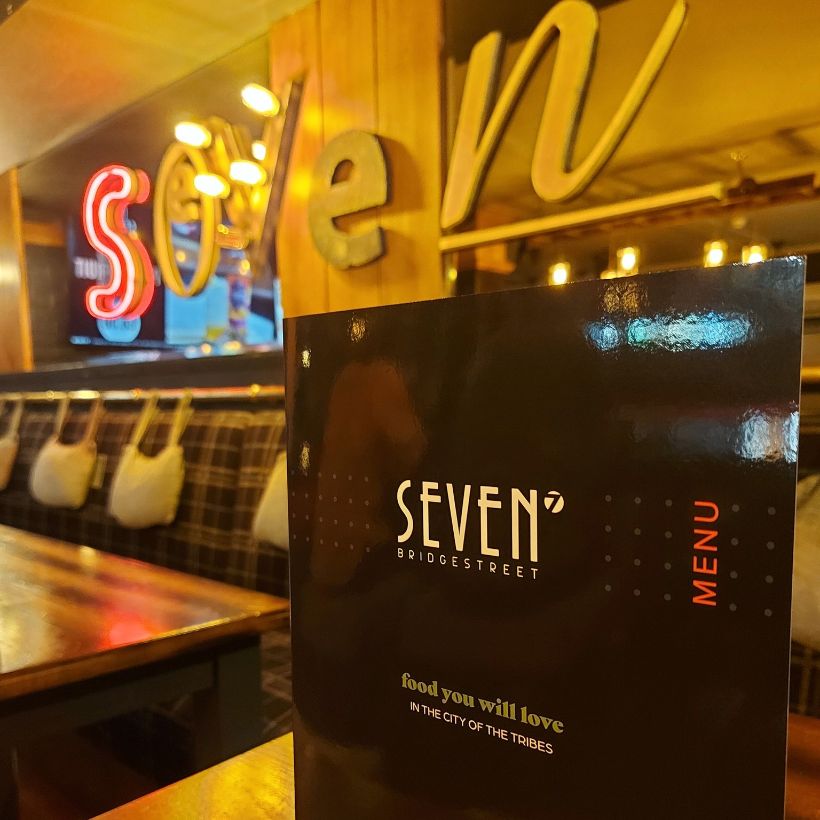 6. GRAB A TABLE IN TAYLOR'S
This traditional landmark pub on Dominick Street Upper offers an old-world character while encapsulating that signature character and craic of Galway within their walls. Talyor's has got live music offerings every night of the week, with great DJs looking after the late bar on a Friday and Saturday. Their large, heated beer garden is perfect for wintery evenings. Equipped with two outdoor screens and another five inside, Taylor's is a serious spot for watching the match. Small at the front, big at the back, Taylor's will keep you cosy, even when the weather outside is frightful.
7 Dominick Street Upper, Galway's Westend // more here
7. HEAD TO HARRY'S
This Water Lane gastro-bar offers everything you could need for the ultimate day or night out. Supplying all the food, drink and craic you could hope for, Harry's brings together the buzz of a burger joint, the energy of a sports bar and the elegance of a cocktail bar in one neat little package. Their menu is mouthwatering, and their drinks menu is just as extensive - you seriously need to pay them a visit!
77 Bohermore // more here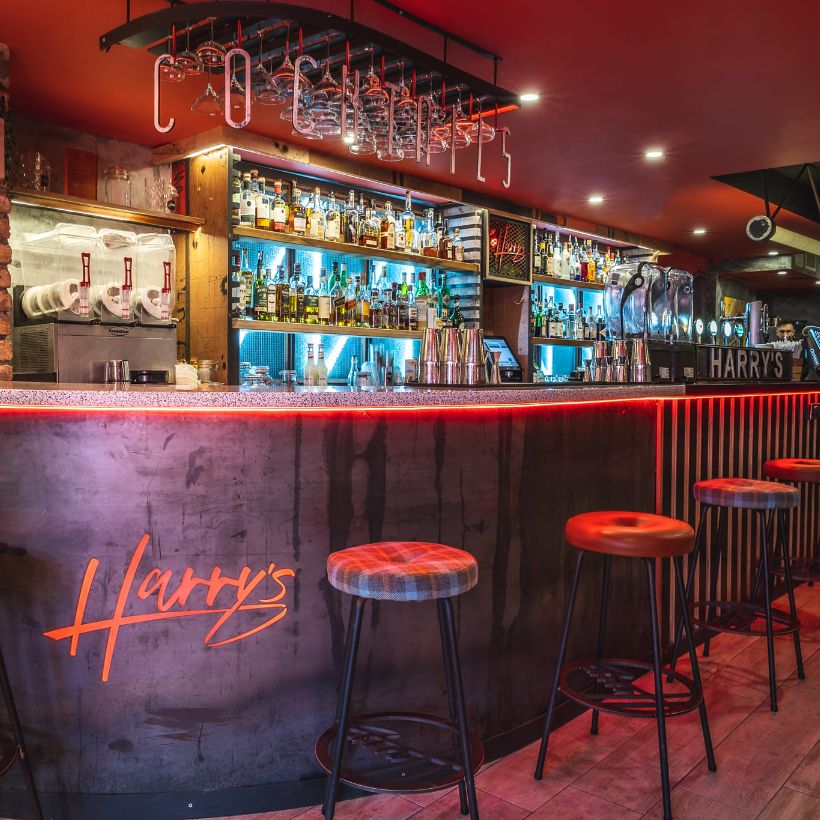 8. DRINKS APLENTY AT 1520
Experts in providing a warm welcome and serving up some delicious warm drinks, 1520 are known for their exquisite cocktails and their great range of winter warmers and hot drinks will keep your cosy during the chilly months. If you fancy braving the elements, you can bundle up and sit outside for some good old-fashioned people watching. You never know, you might even get lucky and spot the first snowfall of the season from the comfort of 1520, with a hot whiskey in hand.
14 Quay Street // more here
9. A FEW FESTIVE PINTS IN AN PÚCÁN
Despite being one of the hottest spots in town, An Púcán somehow manages to maintain the intimate feel of a local, especially in their front bar. Grab a stool and soak up the ambiance with brilliant live music every night of the week. Serving up the old winter reliables like Jack Daniels apple hot whiskey and Powers Irish coffee alongside their impressive cocktail menu, you'll soon forget about the dreary weather outside.
11 Forster Street // more here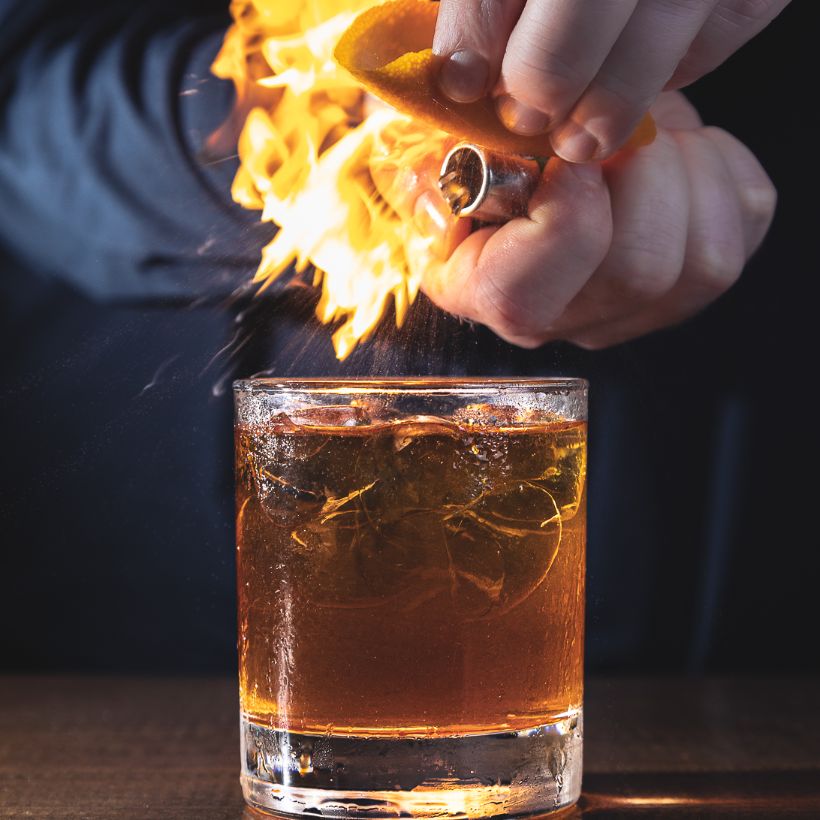 10. MAKE MURTY RABBITT'S A NEWFOUND HABIT
Murty Rabbitt's has all of the winter warmers, inviting fires and good quality grub you could hope for. Out the back is an ideal spot to enjoy a few drinks in the toasty surrounds of the heated garden and if you fancy tuning into the match of the day this is the spot for it. Seven days a week from 12.30pm to 9pm, you can nab yourself some delicious traditional food, as well as a variety of daily specials.
23 Forster Street // more here
11. MASSIMO - THE WESTEND'S WINTER WONDERLAND
This Westend boozer transforms into a cosy winter wonderland every year, with hand carved decorations the festive cheer is in abundance. Think luxurious hot boozy drinks, a soul garden covered in snow and a roaring fire inside. When the wind howls and the chill sets in, a visit to Massimo does wonders to brighten up the cold evening.
10 William Street West // more here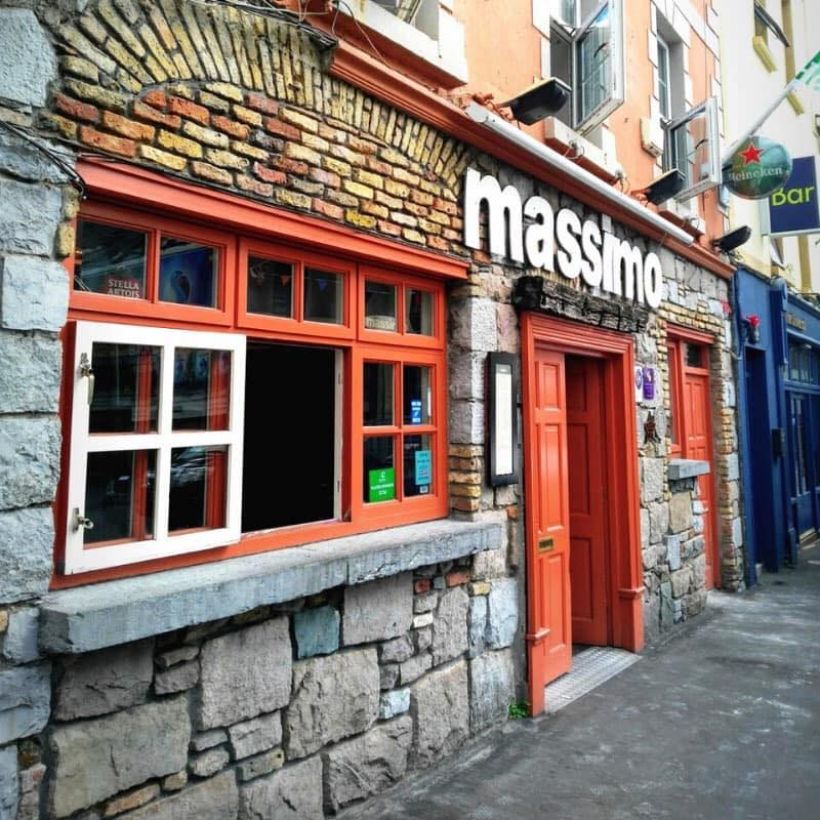 12. ESCAPE THE WINTER FREEZE AT FREENEY'S
Bundled into a compact location on High Street, the facade of this traditional Irish pub would very nearly put you off the scent, but once you stick your head inside the door the rich character and warmth of the place will pull you in. Family owned and operated since 1938, Freeney's Bar serve up an exceptional pint of plain while providing a welcome escape from the packed pubs we're used to being squashed into here in Galway.
19 High Street // more here
13. GET COSY IN O'CONNELL'S
Bursting with energy and a warm, inviting atmosphere, this traditional-style bar offers a huge selection of the finest craft beers, wines and premium spirits. Their iconic beer garden features a cobbled street lined with lanterns, fairy lights and heaters to make even the dullest of nights feel enchanted add in the delicious offerings from Prataí and The Dough Bro and you will never want to leave.
8 Eyre Square // more here
14. BUY A ROUND IN HOLE IN THE WALL
A treasured watering hole for tourists and locals alike, Hole in the Wall features old world charm with all the artistic character Galway has to offer. Featuring a beer and a cocktail menu that is to die for, big screens for all the must-see games, cosy interiors and plenty of eye-catching décor that you won't find anywhere else.
17 Eyre Street, Woodquay // more here
15. MAKE A NIGHT OF IT AT CAPONES
Setting an ambitious standard for cuisine with their ever-evolving menu and immersive atmosphere, guests to Capones have the privilege of tasting the bold and unique flavors that come from years of training and experience and on a cold winter's night there is nothing better than tucking into platters of delicious food.
Kingston Road, Knocknacarra // more here
Published on Updated on