COPE Galway's 30th Annual Christmas Day Swim – Brave the Cold so Others Don't Have to!
COPE Galway is calling on veteran sea swimmers, regular dippers, first-timers and all levels inbetween, to brave the cold Galway Bay sea on Christmas morning to raise vital funds for its services for people affected by homelessness, women and children experiencing domestic abuse, and older people in Galway.
"Over the past 30 years the Christmas Day Swim has become one of Galway's greatest traditions," says Community Fundraiser for COPE Galway, Lynia O'Brien. "Last year, nearly a thousand swimmers 'braved the cold' with us at Blackrock, Salthill. Many more came along to support and cheer-on their family members, friends and colleagues. Salthill is a special place to be on Christmas morning and a great reminder for ourselves, and our children too, that while the day is about being with family, it's also about remembering and supporting our community."
To mark 30 years of the COPE Galway Christmas Day Swim, the local organisation is also encouraging participants to log onto www.copegalway.ie/swim to share their "Swim Story" about why they take part and why this event has been special to them over the years.
"Every Christmas Day Swim I meet the same families, maybe with a new baby or a cousin or friend who is home," COPE Galway volunteer, Saibh Egan writes in her contribution. "Even those who come down just for the festivities and don't actually get in the water – it is still tradition. My tradition."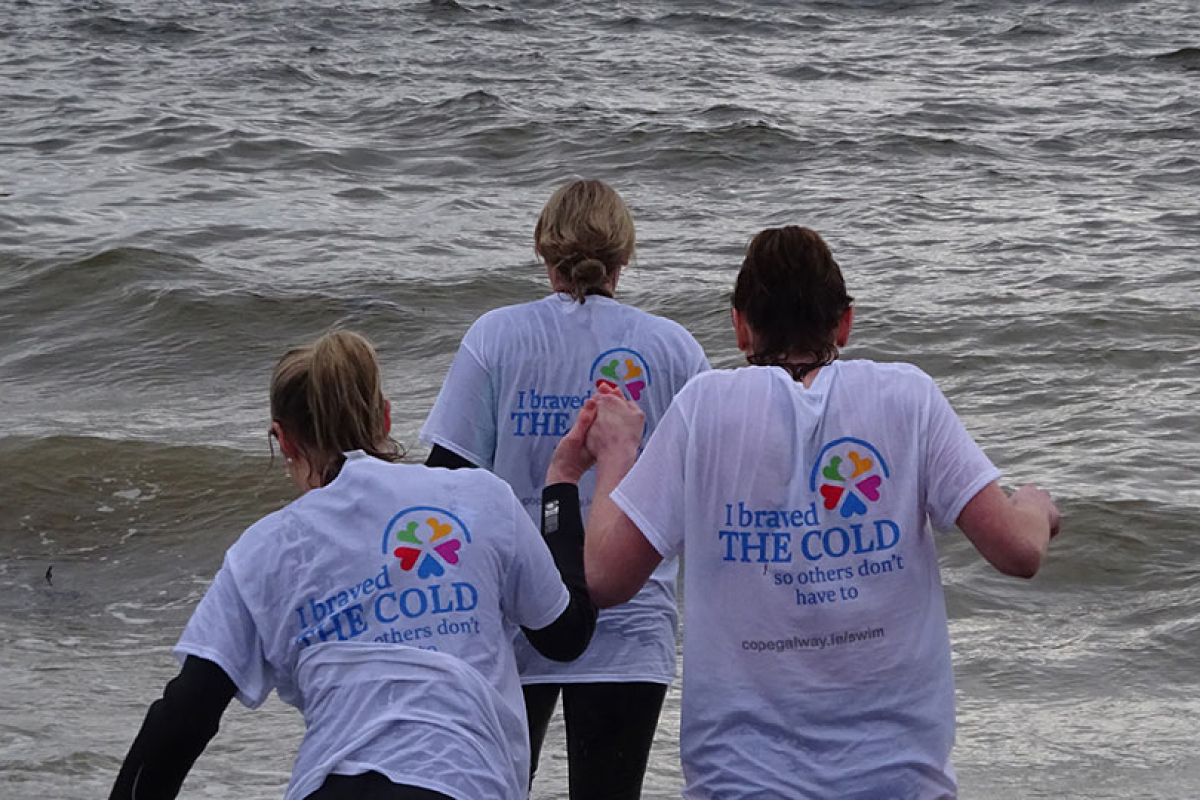 The COPE Galway Christmas Day Swim fundraising event began in 1989 when a small group of staff braved the cold together on Christmas morning. Within a few years they were joined by tens, then hundreds and now, 30 years on, thousands of Galwegians from home and abroad.
"Many are home for the holidays, others live locally, some are visiting Galway for the first time, but all are united in the desire to make a difference and help a person who is experiencing hardship in Galway to rebuild their life," continued Ms O'Brien.
As they celebrate 30 years of this iconic event at Blackrock, COPE Galway would like to thank the generous Galway community for their consistent support… through all kinds of weather!
The COPE Galway Christmas Day Swim takes place at Blackrock on Christmas morning from 10am to 1pm. Register online at www.copegalway.ie/swim where you can also tell your "Swim Story". Registration costs €10 for an individual, €35 for a family. T-shirts are available for €5.