Claregalway Castle to host International Medieval Combat Tournament
On Saturday and Sunday, September 28and 29th, battle returns to Claregalway Castle as members of the Irish Full Contact Medieval Combat Team prepare to face opposition from some of the world's top fighters.
For the fifth year the beautifully restored castle, built by the De Burgos in the early 1400s, will host the Claregalway Castle Shield, a revival of the medieval foot-combat tournament. Each year it has grown bigger and better. Fighters from England, Scotland, the USA, Canada and elsewhere, clad from head to toe in steel medieval armour, will be competing in both one-on-one categories and five-on-five team fights. The combat is full-force and not staged or choreographed in any way, and requires an extremely high level of fitness and stamina.
Speaking about this year's event team Ireland Captain Brendan Halpin said "We take part in this sport because we love history and the medieval world, being able to fight on the grounds of a castle as important and as beautifully restored as Claregalway Castle, is always an honour."
This year the Irish team are coming from a very successful World Championships in Ukraine, back in May, where they secured 2 gold medals (Women's Longsword and Women's Polearm), two 4th place finishes (Men's Longsword and Men's Polearm) and impressive performances across the board that earned Ireland a great deal of respect from much bigger, more established teams.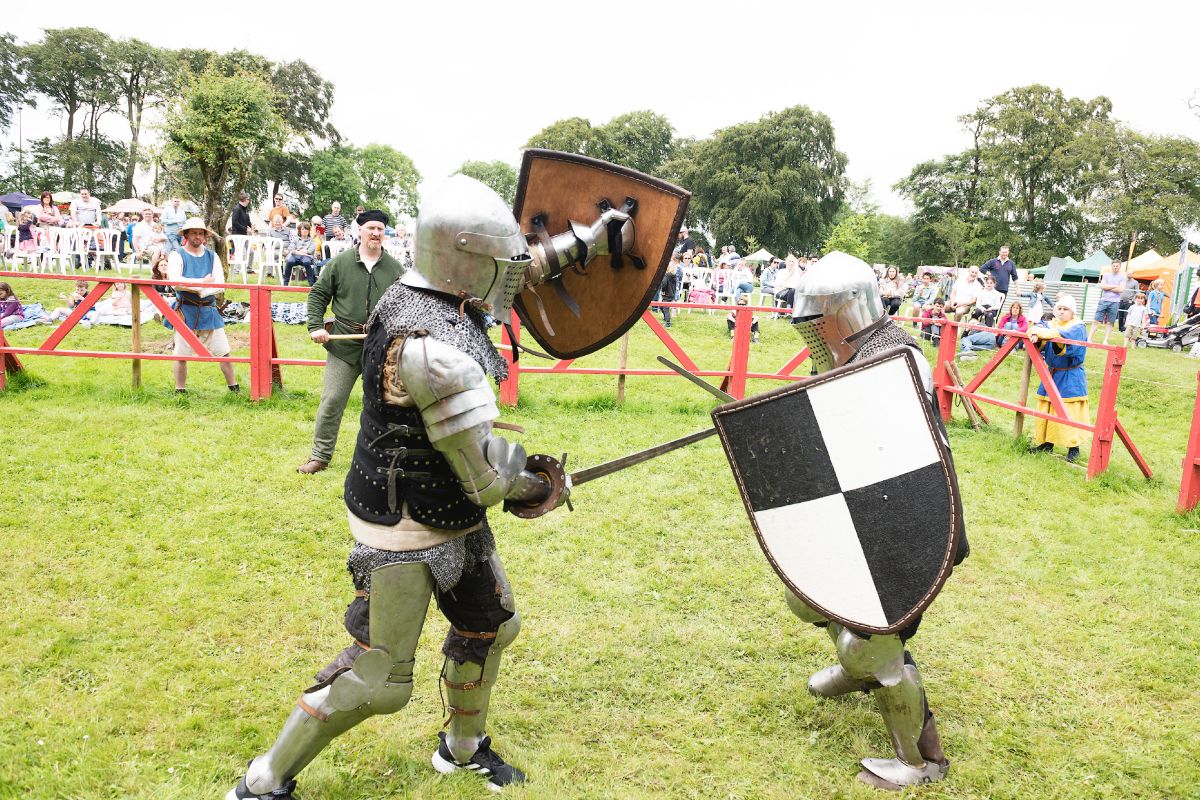 For the first time the Claregalway Castle Shield will feature women's group fights, a very positive sign that points to the growth of the sport as we attract more and more women to a previously male-dominated sport. Crucial to this is Lara Serviolle, star member of Team Ireland and the holder of 4 gold medals from the IMCF World Championships, she has encouraged more women within Ireland to compete and the chance to face off against a world-class fighter like her has helped attract female fighters from overseas.

On the subject of women fighting Lara Serviolle, said "Each year more and more women are taking part, both here and internationally in general. The skill and fitness level improves all the time so I'm constantly pushing myself to stay ahead of the pack. It's very exciting to be back at Claregalway Castle again this year. "

For a full two days, in addition to exciting combat, there will be Mounted Archery displays, Magicians, Puppeteers, Historic displays and re-enactments, 'Have a go' archery and much more at this family-friendly festival. Musicians include acclaimed new Trad group 'Troda', Medieval Minstrels from Coole Music and Ceoltoiri Lackagh. Meet Nemo the Magician. Talk to Blacksmith and Sword merchant, Wool Dyer and Carder, Baker and exotic spice merchant. Listen to stories from the Alewife and enjoy the Society for Creative Anachronism.

The Castle Kitchen and the Castle Tearooms will also be opened for light lunch and refreshments.

Come to the Castle for a unique event that combines great fun and high educational value. A visit should entertain young and old alike and help give budding historians a flavour of life in medieval Ireland. Come in a costume with some hint of medieval flair and compete for a special prize

Admission: Adults €10, Children €5.
Open 11.00am to 6.00pm daily
Limited on-site parking. More spaces behind Arches Hotel and by Abbey.

For further details check out Claregalway Castle on Facebook, Instagram, Twitter or Claregalwaycastle.com as well as facebook.com/Irishcombat.