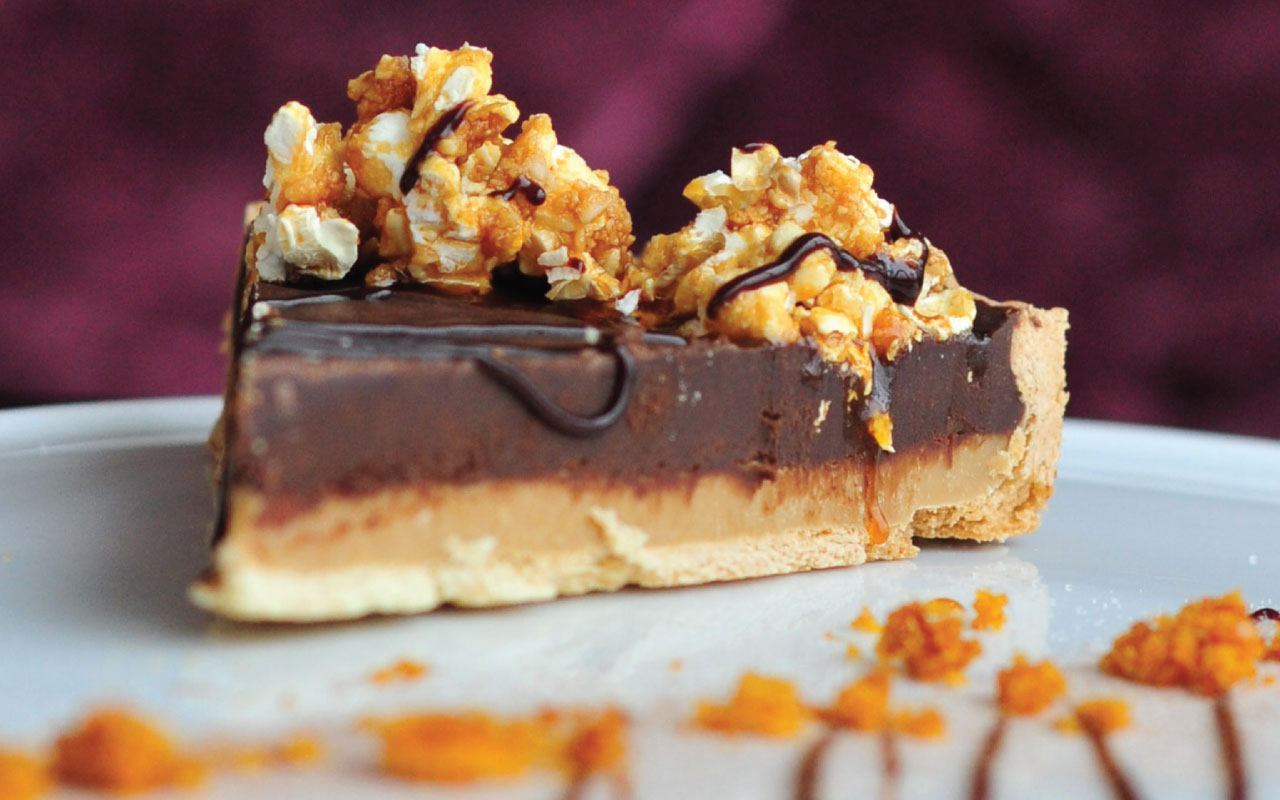 13 PLACES FOR TASTY CAKES IN GALWAY
Wherever you are in Galway, you're never more than a couple of steps from some delicious cake. From cupcakes and occasion cakes to sweet treats to devour on the go – Galway's got all!
So who makes the most delicious cake and sweet treats around, and who brings something a little special to it as well? Read on to find out the finest places for some quality cake and tasty treats right here…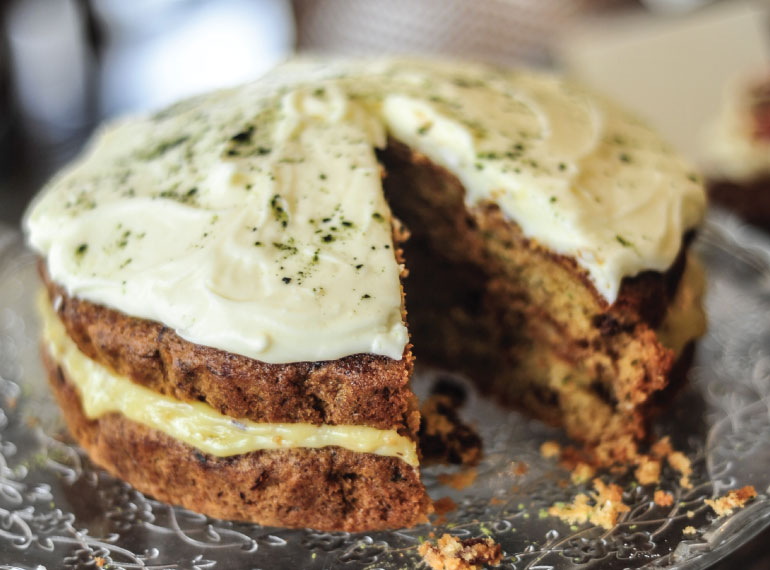 Cupán Tae
If you're taking a cake tour of Galway, the first stop has to be Cupán Tae. You'll want to sit down here for a little relaxation among doilies and other lovely bits of brick-a-brack. Their lovely cakes are often infused with their own teas, and just as often they're gluten-free. Heaven in a teacup.
8 Quay Lane // more here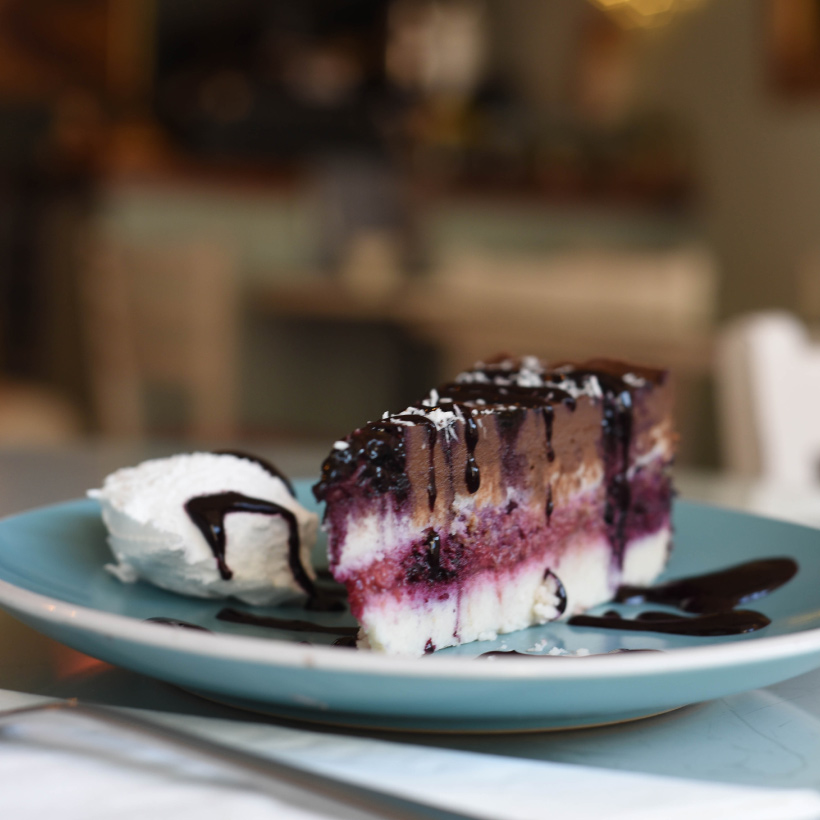 The Light House
Heaven for all the vegetarians and vegans among us, look no further. It can be difficult to find tasty, vegan-friendly sweet treats but in this cosy tea room and cafe, there's many home-baked scones and fresh cake options to keep you ticking over – they've even got gluten-free goodies! Enjoy a delicious slice on their patio out front while sipping a high-quality cuppa – nothing beats it.
8 Abbeygate Street Upper // more here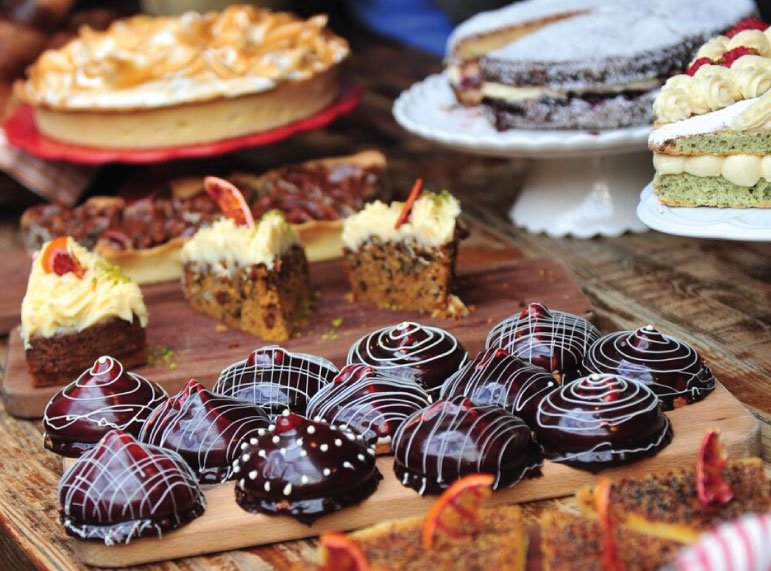 Kai Cafe + Restaurant
Their cakes are the stuff of legend. Big, fancy cakes with loads of edible beauty are their specialty. They also do little teeny tiny cakes filled with all kinds of tasty goodness, if you're weak and can't take a big one. Blackberry sponge? Raspberry sable? Don't make us choose… Plenty of options for gluten-free folks, too!
20 Sea Road, Westend // more here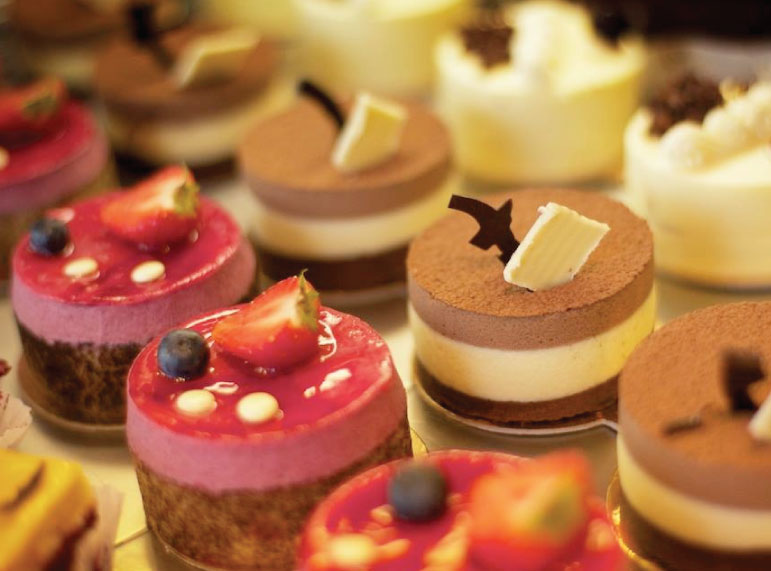 Gourmet Tart Co
Five locations around Galway means five times the cake. They're in Newcastle, they're in Salthill, and they're right in town in Galway's Westend and on Abbeygate Street. The display case is full of tasty cakes, to whisk away with you to a party, devour on a street corner somewhere, or sit down and enjoy in the cafe. They also have plenty of eclairs, cupcakes and more if your sweet tooth encourages you that way.
Multiple locations // more here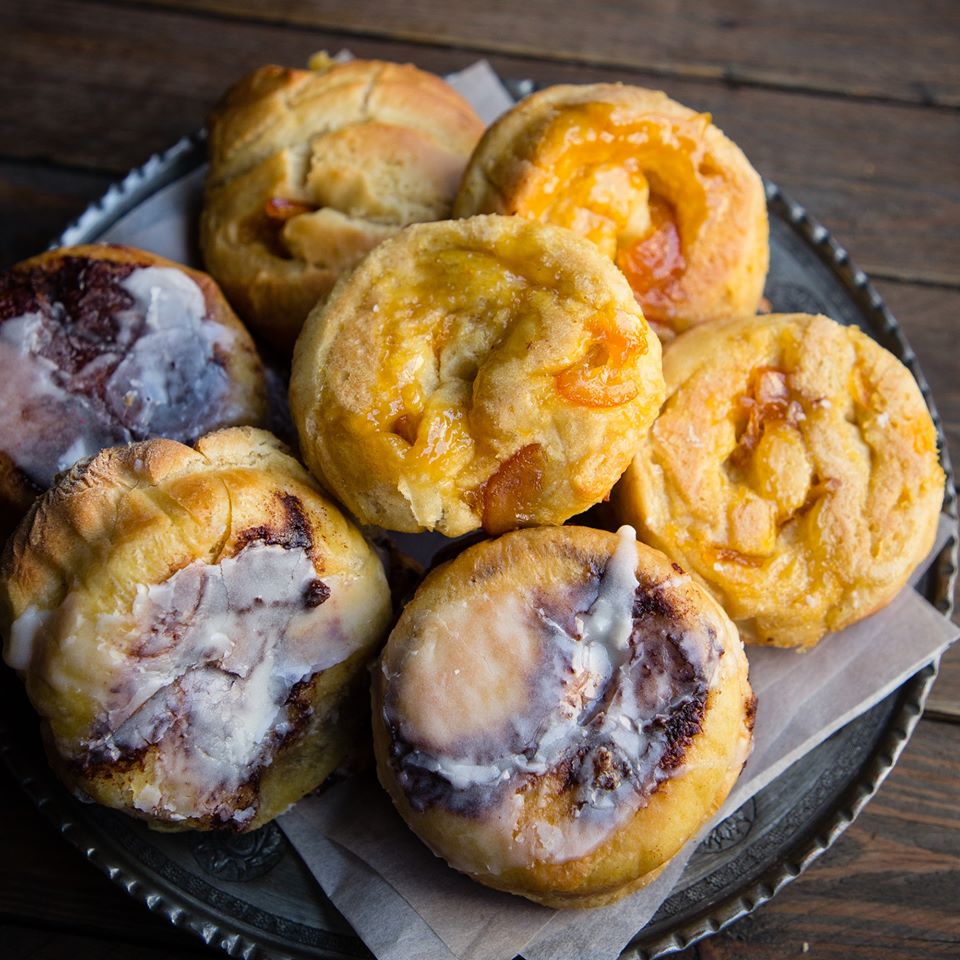 Marmalade
With freshly-baked pastries, mouth-watering muffins and plenty of vegan options on offer, Marmalade Bakery has a bit of everything on offer. Their two daily baked make sure that they serve only the freshest produce possible and with a whole heap of tasty savory dishes available and some deliciously roasted coffee, this place will fast become part of your morning routine.
Middle Street // more here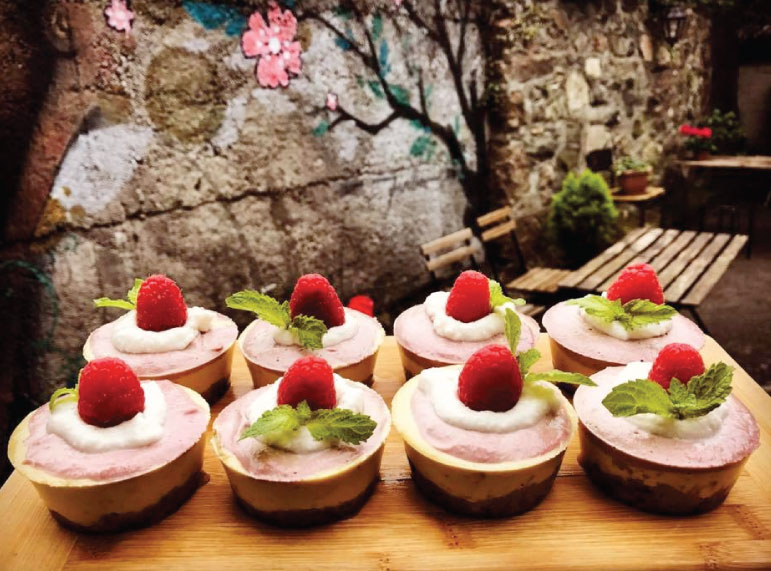 The Secret Garden
Here's a haven of delicious-smelling teas and even better cakes and treats. The tea-shop is cosy and quiet: the perfect place to sit down with a book, some hot loose-leaf tea, and of course a sweet treat, because you deserve it. A lot of their morsels are raw and vegan, too. The cake menu is always changing so you can go back again and again for more and never get tired of it… Hooray cake!
4 William Street West // more here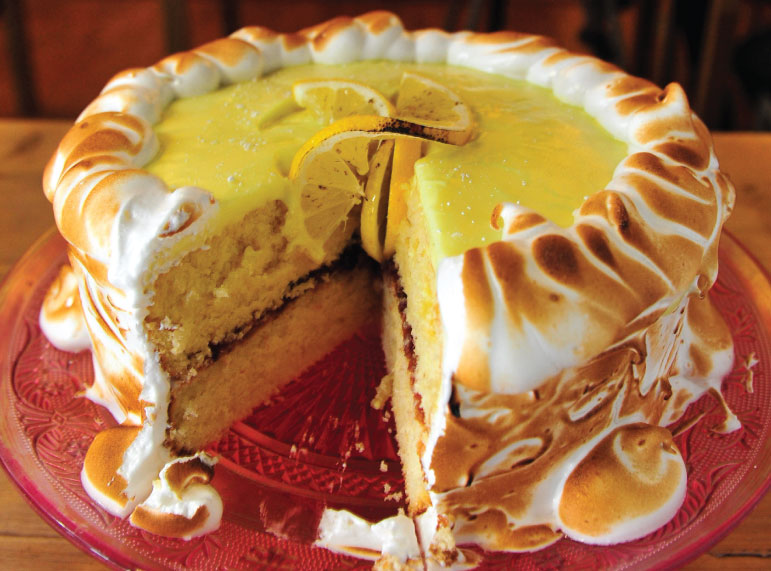 The Kitchen
Head over to the Spanish Arch, and you'll quickly find the City Museum and the Kitchen. Their specials change daily (including the cakes) so you never know what treat you're in store for, but trust that it will always be something delicious! Michelle in the kitchen is a mastermind and we think everything is made to pair perfectly with a cup of coffee when you have a seat in this fun, bustling little restaurant.
Galway City Museum // more here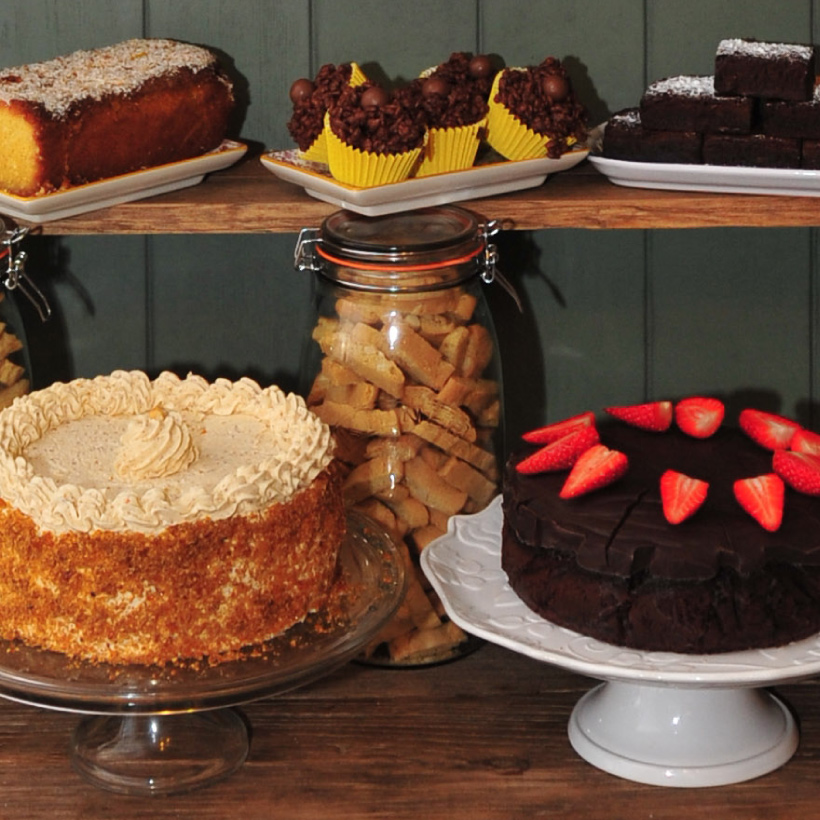 Corrib House Tea Rooms
Overlooking the famous Salmon Weir, every cake, scone, quiche and soup served at Corrib House Tea Rooms are made from scratch – right down to the biscotti served with your coffee. Their ever-changing sweet treats selection are laid out on their front counter and, careful to ensure their customers' dietary requirements are met, there's always plenty of gluten-free cake options to keep everyone happy.
3 Waterside // more here


Builín Blasta
This cafe is located at the edge of Connemara, and means "tasty bread" in Irish — but "tasty cake" would be just as apt. They make food with local and foraged ingredients as often as possible which makes for extra-tasty cake. Their chocolate cake melts in your mouth, and sticky toffee pudding is a must (that's basically cake, right?)
Ceardlann Craft Village, Spiddal // more here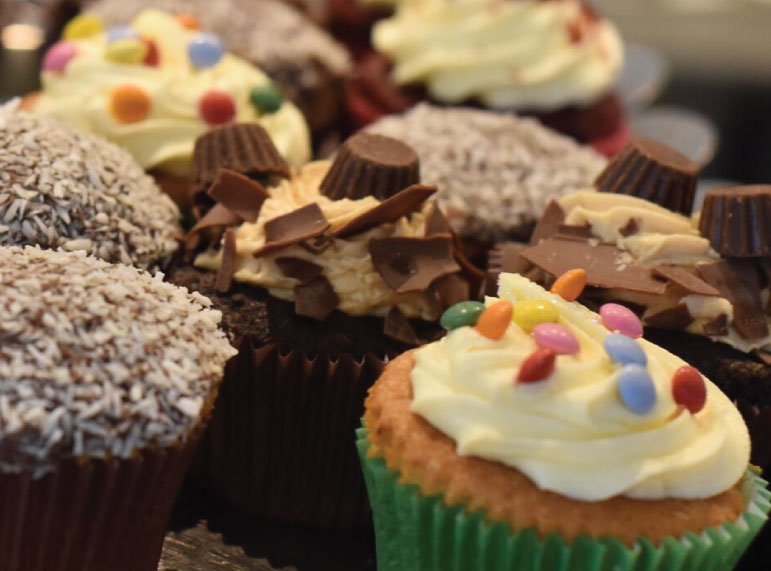 Goya's
Just follow the heavenly smells and you'll arrive at Goya's. Their celebration and catering cakes would pass as full-on showstoppers on the Great British Bakeoff (with Mary Berry present and all), but you can go for a little mini-cake, a slice, or a cupcake when you stop into the cafe. Order a beautifully created cake to eat then and there, or order for special occasions
2-3 Kirwan's Lane // more here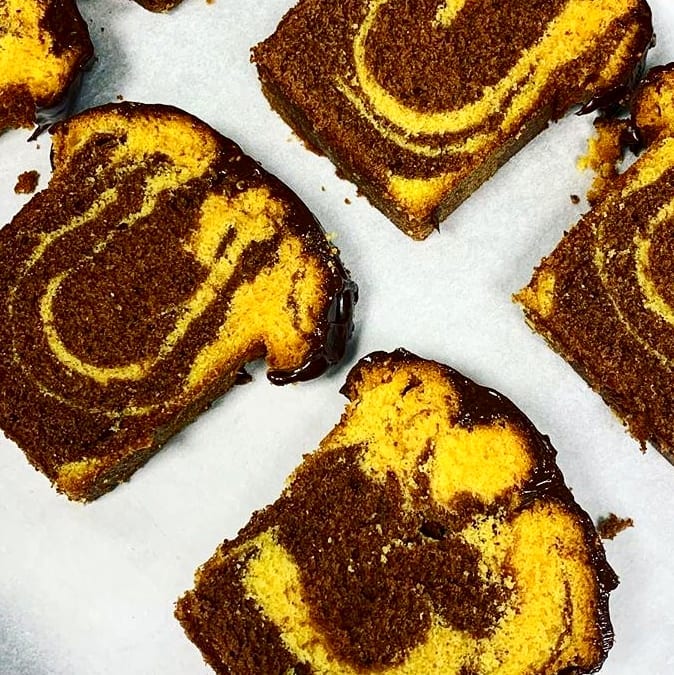 McCambridge's of Galway
One of the city's most popular places for a slice of cake, McCambridge's coffee bar's selection of homemade cakes and pastries will have you drooling from the get-go. A great place to relax which sipping some delicious Ponair coffee looking out onto Shop Street, they've also got a fabulous range of fine artisan groceries, a vast wine selection and an upstairs restaurant serving breakfast, lunch and dinner.
38-39 Shop Street // more here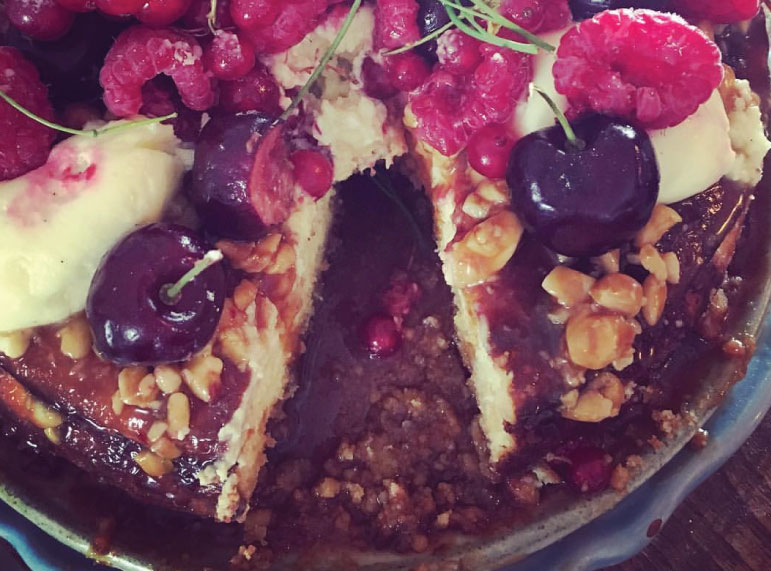 Ard Bia at Nimmo's
Enjoying home-baked treats, in this beautiful little restaurant overlooking the Corrib… It doesn't get much better than that. Expect fresh-cut flowers, tweed, pottery, and seasonal delights: peach madeline in the summer, plum and chocolate in the colder months. Or whatever the baker is feeling that day, because everything is made from scratch in house!
Spanish Parade, Long Walk // more here


Twelve Pins at the Twelve Hotel
Fancy doings like Baked Alaska happen at this gourmet bakery. They definitely do cupcakes, and everything is baked in a delicious home-cooking kind of way! Creamy frosting, soft fluffy cake… Just imagine. If you're out in Barna, it's an absolute must.

Coast Road, Bearna Village // more here