When the weather's good and you're out with pals, outdoor dining in Galway just can't be beat! With all the best al fresco dining spots right on our doorstep, these Galway restaurants and bars are reason enough for you to make a break for the City of Tribes!
Read on to discover some of our favourite places to enjoy breakfast, lunch and dinner out in the Galway sunshine…
IL VICOLO
Providing one of the city's most idyllic outdoor dining areas, Il Vicolo in the summer months is one of our favourite sun spots in town. Take a seat by the waterside at this intimate Italian restaurant and wine bar and enjoy stunning views of the River Corrib as you tuck into a feast of authentic Italian cuisine, wine and perhaps a few cocktails off the seasonal cocktail menu that has been expertly crafted by general manager Gabi. They also celebrate two happy hours on Sundays where all cocktails are two for the price of one, it really doesn't get much better than this.
Bridge Mills, O'Brien's Bridge // Book your table here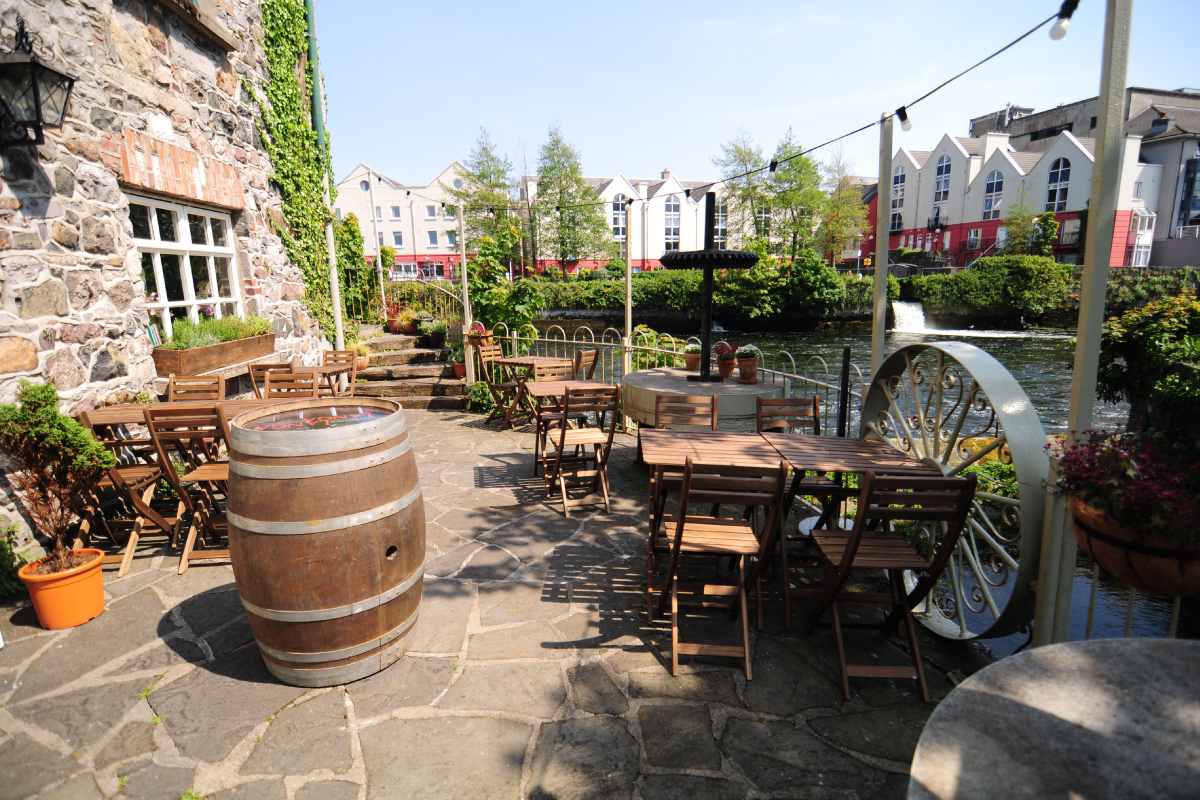 SOPHIE'S ROOFTOP RESTAURANT & BAR
Taking outdoor dining to new heights, Sophie's Rooftop Restaurant & Bar at The Dean is now the highest bar in Galway. Offering panoramic views of Galway City, the bay and beyond, there's no end of gorgeous sights at Sophie's. From their wood-fired pizzas to the salad favourites and range of cocktails that will leave you wanting to sample the entire menu, this is one al fresco dining experience that shouldn't be missed.
80 Prospect Hill // Book your table here
DELIGHT
Specialising in healthy, wholesome foods, eating out on the beautiful patio area in Delight is a good time all around. Surrounded by a wide-open green space and gorgeous views of the Clare Hills, you're guaranteed to leave this café in a cheery mood. Their fruit juices and smoothies and selection of breakfast and lunch menu options makes it an ideal café to kickstart a busy day from. With the Kingfisher gym right next door, Delight is the perfect spot to bring the kids after their swimming lessons or to enjoy a reviving meal after an intense workout session.
Kingfisher Club, Renmore Avenue // Book your table here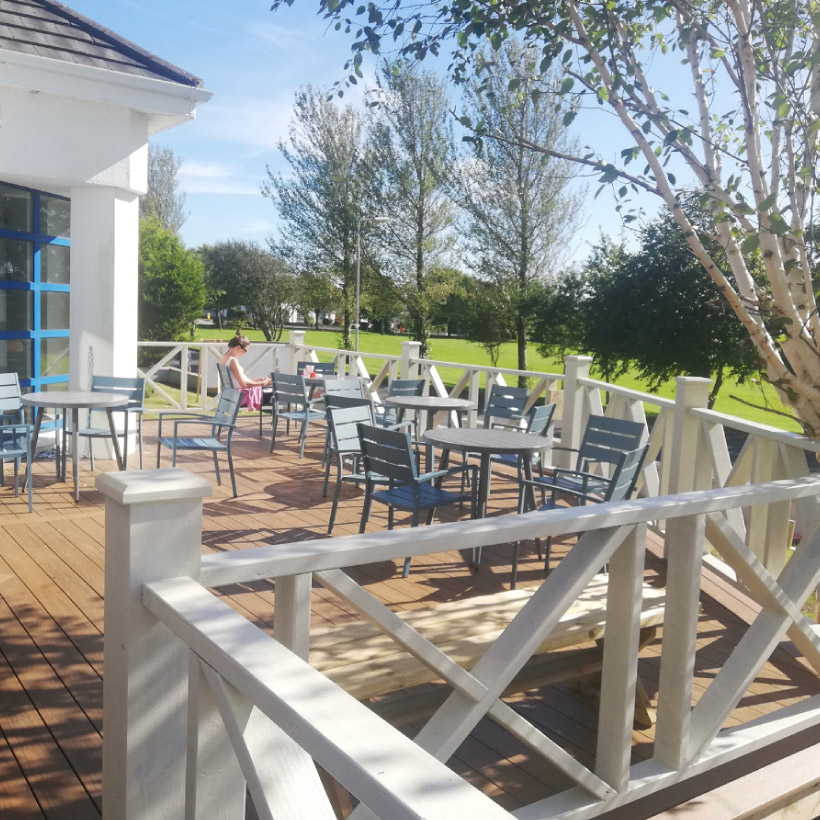 PADRAICÍNS SEAFOOD RESTAURANT
Delicious seafood by the seaside is the only way to have it, and at Padraicíns Seafood Restaurant you can enjoy the best seafood in one of the nicest outdoor patios in Galway and then go to the beach nearby for a refreshing dip. The outstanding views of Galway Bay are on par with the delicious drinks and dishes they serve, so if you're planning on meeting up with friends for a boozy afternoon you can't go wrong when you pick Padraicíns.
Furbo // Book your table here
ROOTS CAFÉ & BISTRO
One of the most popular outdoor dining spots in town and for good reason! Roots Café & Bistro is known locally and further a field for specialising in good times and for their even better food. Whether you're stopping by for breakfast, lunch or dinner you can enjoy your meal in their tranquil terrace that overlooks the River Corrib, with breathtaking views of the Cathedral and Salmon Weir Bridge. The relaxed vibe of this Italian-inspired eatery is truly unmatched.
In Born Clothing, Newtownsmith // Book your table here 
MCCAMBRIDGES OF GALWAY
An afternoon spent people watching in the outdoor area of McCambridge's of Galway is one of Galway's simplest pleasures. Take in the atmosphere of the city as you tuck into a yummy sambo, fresh coffee and little treat from their artisan food hall on your lunch break. If you're lucky your mealtime entertainment might be provided by local buskers performing nearby.
38-39 Shop St // Book your table here

PÁLÁS CINEMA
There's no better way to start an evening out at the movies than with some delicious grub and cocktails. At Pálás Cinema you can enjoy yummy hotdogs from the visiting popup Doghouse while you sip away some brilliantly priced cocktails, with some boozy drinks even themed after the latest film releases. All this goodness can be enjoyed from their spacious outdoor area that is decorated with unique artwork on the walls and is in a stunning location near the Spanish Arch and the Galway Docks. If the sun's high and you don't feel like catching a film, we have good news for you as you don't need to purchase a ticket to access all of this deliciousness, simply pull up a seat outdoors and get ordering!
15 Merchant's Road, Latin Quarter, Galway/ // Book your table here 
BUILÍN BLASTA
When it comes to a day trip to Spiddal's Ceardlann Craft Village a pit-stop to Builín Blasta is a must! A chill seaside café and bakery with a picturesque view of Spiddal beach. Whether you prefer sweet or savoury they'll have just the dish for you. Loads of outdoor seating, dog-friendly, wheelchair accessible and with a cute craft village right next door, nothing can beat a visit to Ceardlann Craft Village and Builín Blasta on a summer's day.
Ceardlann Craft Village, Spiddal // Book your table here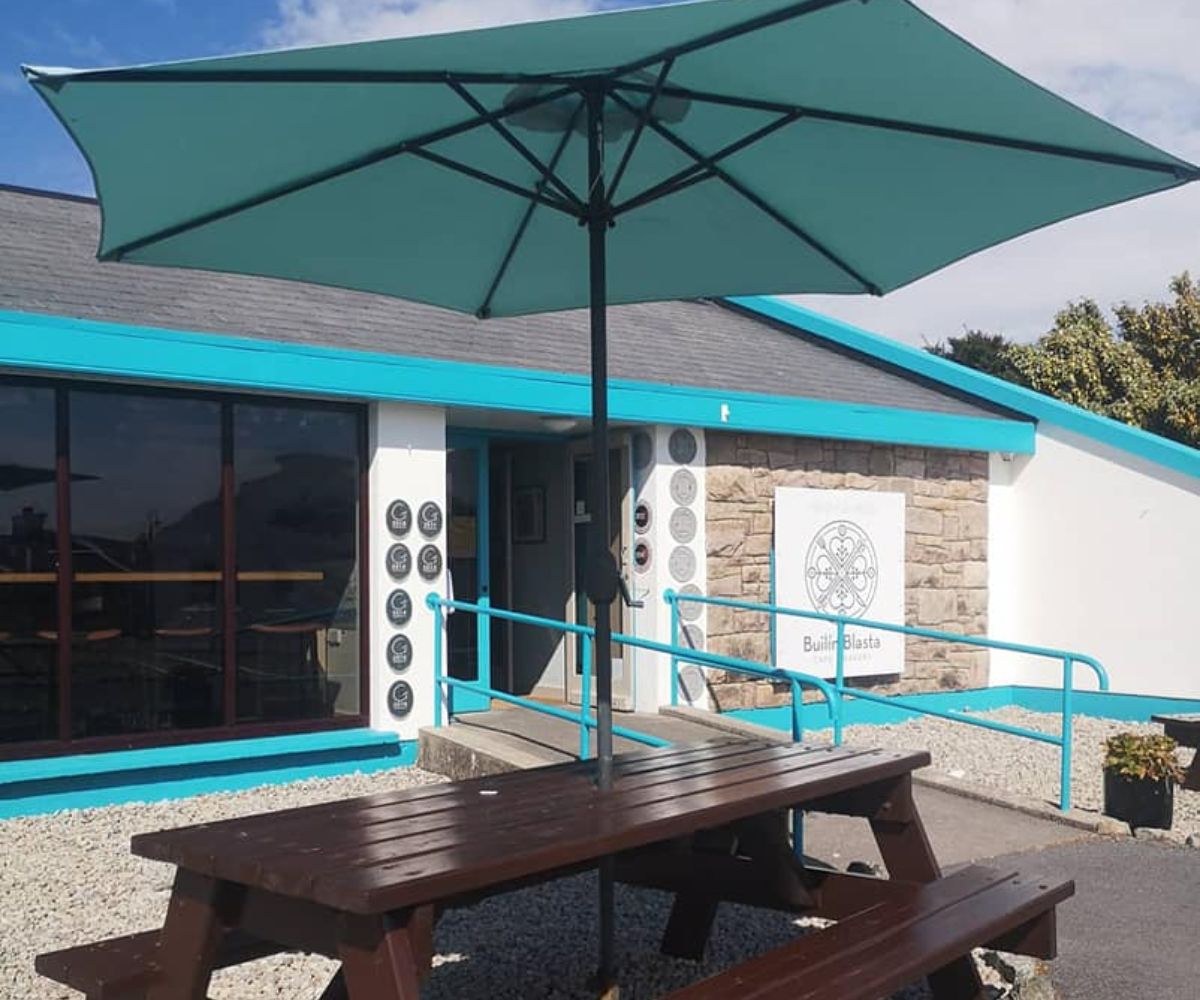 GROUND & CO
After enjoying a walk along Salthill's Prom, treating yourself to a delicious meal al fresco style at Ground & Co. should be next on your itinerary. Ideally located beside the Galway Aquarium right on the Promenade, this casual dining spot is perfect for a lengthy afternoon lunch with friends. From delicious sambos, healthy salads to the daily specials, every meal here is a treat for the tastebuds. If you're out exploring Galway on your bike, Ground & Co. have secure bike racks right outside their front door so you can sit back and enjoy the food, drinks and good company without a worry.
Salthill Promenade // Book your table here
MCHUGH'S TRADTIONAL PUB AND RESTAURANT
Escape from the city and take a short spin out the Tuam Road to the lovely McHugh's Traditional Pub and Restaurant. They've got an enormous beer garden out back that is full of picnic tables, making it the ideal spot for enjoying some delicious food with the whole family. Serving breakfast, lunch and dinner seven days a week, there's no better spot than McHugh's for getting a bite to eat in the gorgeous Galway sunshine. They have seats that are also covered and heated so no matter the weather, you are guaranteed a good time at McHugh's.
Tuam Rd, Killeen, Castlegar Village // book your table here
HANDSOME BURGER
Nothing satisfies burger cravings like a visit to Handsome Burger's Burger Garden. Their burgers are widely regarded as Ireland's best, and we for one can't argue with that. You'll find chicken burgers, an Indian-inspired veggie burger and more, not to mention their seductive loaded fries. Bring your friends, co-workers or family out to this burger joint for a dining experience where the food and the craic are always top notch.
49 Dominick Street Lower // Book your table here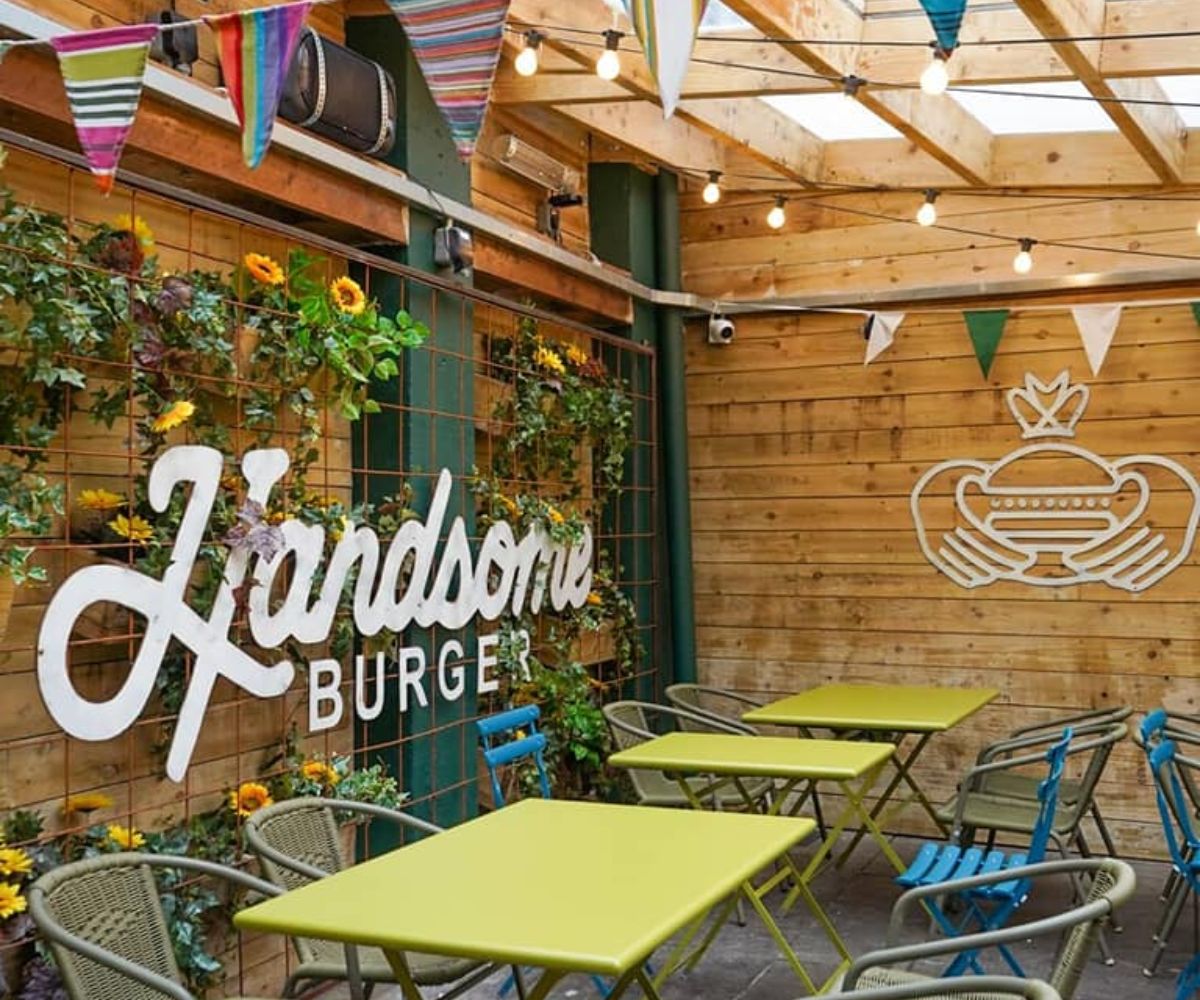 THE SECRET GARDEN
One of the most relaxing garden café experiences in all of Galway, teatime in The Secret Garden is a dining experience unlike any other. They've got over 100 different types of teas to choose from and loads of homemade baked goods on display. It can be difficult to pick a favourite as everything looks divine! Be sure to keep an eye out for their resident cat, West, who can often be found sunbathing in the garden or curled up on a cushion.
4 William Street West // Book your table here
TRIESTE CAFÉ & WINE BAR
The heated patio on the cobblestones of Buttermilk Walk makes for a lovely spot for treating yourself to some wine and a cheese board with your date or a friend. Trieste Café & Wine Bar's incredible meat and cheese boards are famous in Galway for their blend of high quality produce that is presented in such a beautiful manner. The food paired with exclusive red and white wines is one of the best ways to enjoy a relaxing after work dining experience.
5 Buttermilk Walk, Middle St, // Book your table here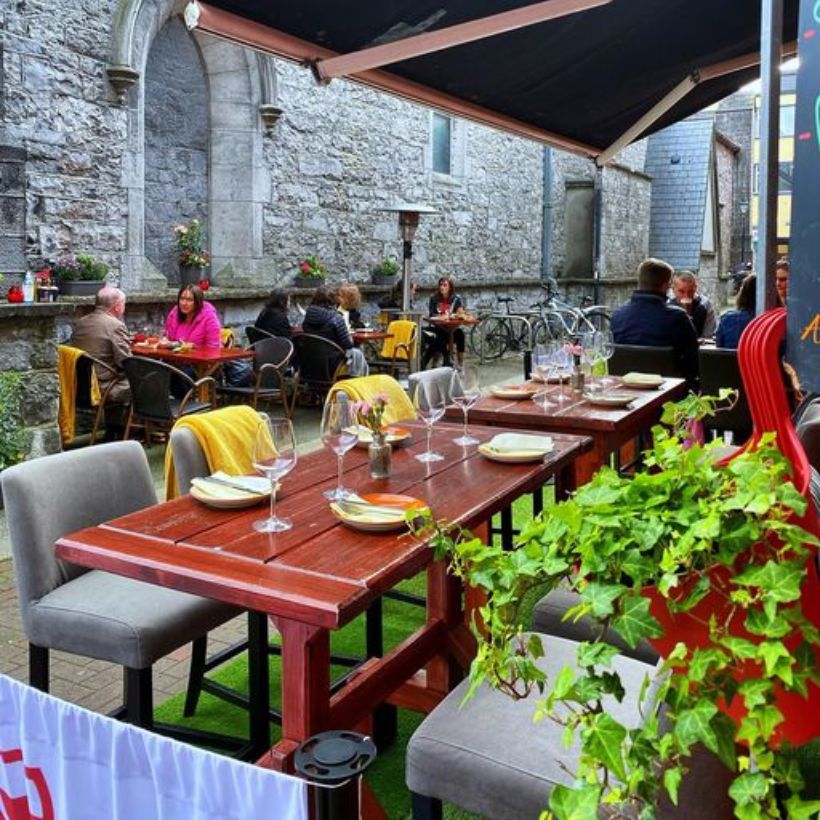 Published on Updated on