Baboró International Arts Festival for Children is delighted to reveal the full programme of brilliant, child-centred events with which it will celebrate its 25th edition. Children are at the heart of everything that Baboró does, and this year young people are co-creators of many of the events, lending their talents, opinions and thoughts.
From its base in Galway the festival reaches its quarter century with an extended festival from the 4th-17th October, offering an extraordinary wealth of diverse and accessible events for all ages and in all artforms, taking place in Galway city and county, in theatres, on streets, in schools, in bookshops, in a van, on walls, on beaches, on the airwaves, online, and more.
The festival is delighted to be presenting 6 premieres of work by Irish artists this year, along with 7 new commissions. Featured performing artists will include Brú Theatre, Branar, Dan Colley, Junk Ensemble, Little John Nee, Moonfish Theatre and United Fall, with visual arts experiences from Kids Own, Emmalene Blake, Jennie O'Connell, Fatti Burke, Peter Donnelly, Chris Judge, Roisin Hahessy, Chris Haughton, Mary Murphy and Niamh Sharkey.
Baboró was established to champion child-focused arts experiences in the West. Literally flying the flag at Baboró will be Artists in Residence, Judith Higgins and Miquel Barceló, together with children from across Galway county, presenting an outdoor filmed performance entitled Flying The Flag. This festival commission is a celebration of freedom of expression and an acknowledgement of the UN Convention on the Rights of the Child, which champions a vision of access to the arts for all children, a founding principle of Baboró.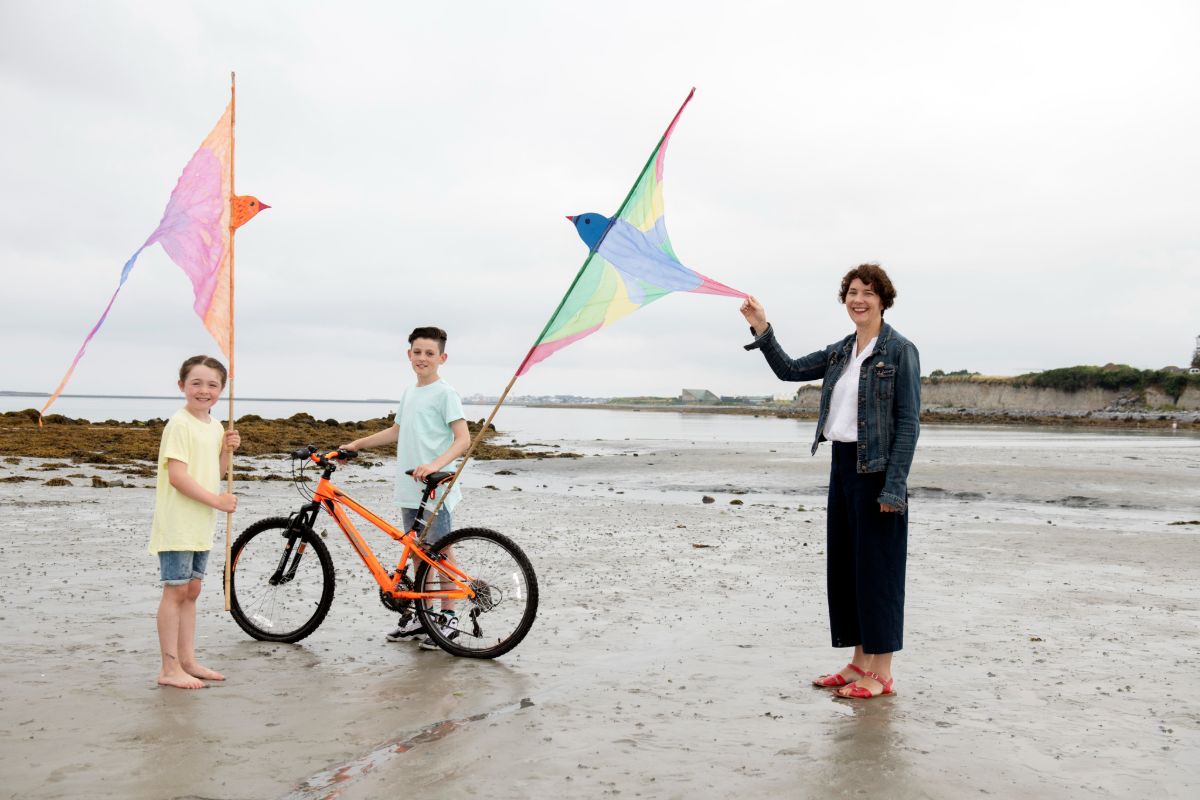 Photo by Andrew Downes, courtesy of Babóro.
Inspired by the insights and drawings of Galway children, internationally-recognised street artist Emmalene Blake is creating a large mural in Galway city centre for a festival co-commission Our City Walls. Local children were invited by Creative Associate Phillida Eves to share their feelings about their rights, and to imagine what life would be like without art and culture. Their reflections will inspire Emmalene's impactful artwork, whose celebration of children's rights and voices can be seen in the heart of the city for all to enjoy and consider.
Don't Forget to Wash Your Hands: Children's experiences of the Covid-19 Pandemic is an entertaining and thought-provoking audio documentary from Baboró Artist in Residence Maisie Lee, a director of theatre and radio. Maisie has captured the thoughts, feelings and experiences of over 100 young people during the Covid 19 Pandemic. The piece makes for poignant listening, a bittersweet testimony to an unprecedented period in these children's lives.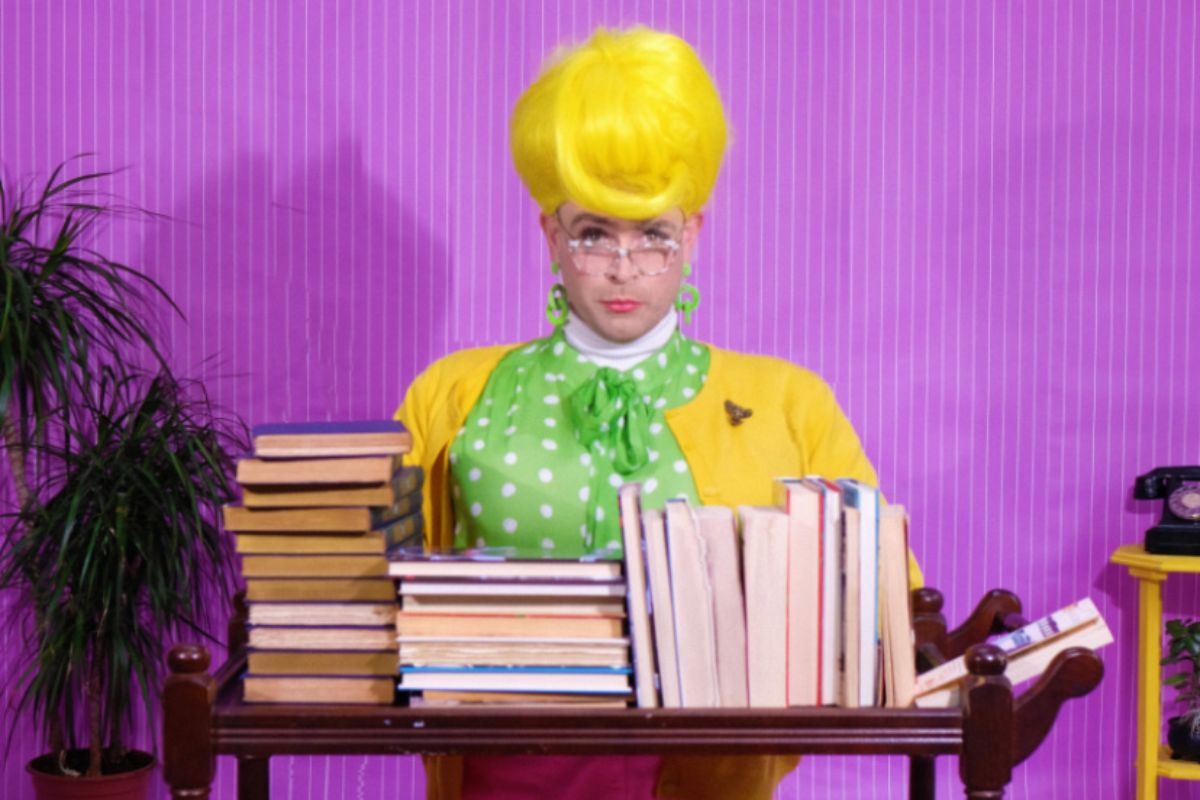 Photo courtesy of Babóro.
The premiere of The Libravian from Galway theatre company Brú Theatre and their artistic director (and lifelong Baboró fan) James Riordan, will explore themes of courage and identity, and celebrates brilliant books from Irish authors through big-hearted physical comedy. The Libravian will be a chance to meet Lynn, book-reader & all-round story enthusiast, for a mighty mix of book cataloguing, big hair and some occasional, staff-approved laughing. Branar Téatar do Pháistí, one of the leading theatre companies making work for children in Ireland, celebrated for their beautiful, innovative, high-quality productions, will present the premiere of Rothar. In a little bike shop at the end of town, a world of adventure awaits two boys, performed by Miquel Barceló and Moisés Mas García.
Dare you venture into the Underworld? is the question posed to sisters Alex and Nicky by Moonfish Theatre in their audio journey Into the World Within. The whole family will get to enjoy a magical, musical world of enchanting adventure, as the sisters journey into the underworld through a pillow fort in their bedroom in a quest to save their Uncle Petey.
Our Day Out is a series of paintings by Jennie O'Connell, inspired by the notion of a joy-filled city offering every kind of attraction and amusement, from a fantastic parade to an aquarium where you can snorkel with sharks, to a huge ferris wheel you could go on with your granny. Jenny is known for her painting and drawing of nostalgic, relatable and colourful scenes for children, and this exhibition of watercolour and digital paintings will be enjoyed by people of all ages.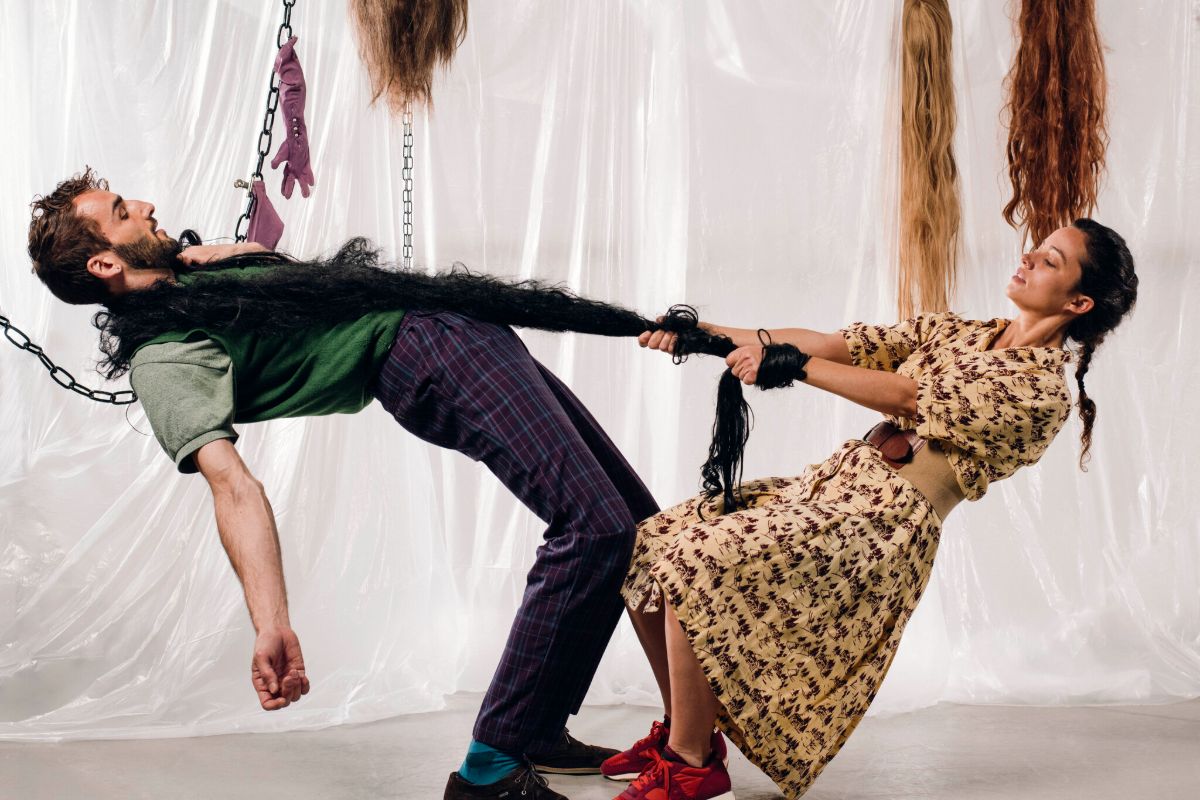 Photo by Fionn McCann, courtesy of Babóro.
The Veiled Ones, by critically-acclaimed dance theatre company Junk Ensemble, explores witches, transformations, and the powerful relationship between a grandparent and grandchild. Loosely informed by Roald Dahl's The Witches, the audience is invited on an intriguing journey through intricately designed rooms with a cast of internationally acclaimed dancers, local young performers, and live musicians.
Also, during the festival, Galway schools and Galway's Cornstore Mall will host a pioneering exhibition exploring the realm of visual art as a place for young people to develop and understand their rights, entitled Viewpoints. For this exhibition, seven world renowned Irish picture book artists - Fatti Burke, Peter Donnelly, Chris Judge, Roisin Hahessy, Chris Haughton, Mary Murphy and Niamh Sharkey - have been commissioned by The Glucksman to respond to different themes in the UN Convention on the Rights of the Child.
The Wonder Project from Festival favourite Phillida Eves, is a creative residency in an additional needs school, is just one of the latest initiatives from Baboró designed to ensure that art experiences are accessible to all children.
Brú Theatre's The Libravian, Emmalene Blake's Our City Walls, Branar's Rothar, Jennie O'Connell's Our Day Out, Moonfish's Into The World Within, Maisie Lee's Don't Forget To Wash Your Hands, and Junk Ensemble's The Veiled Ones, have all been commissioned by Baboró. All these works bar The Veiled Ones (which premiered at Dublin Fringe Festival, who co-commissioned the piece with Baboró and Cork Midsummer Festival for TRACKS Network), will premiere as part of Baboró 25.
Aislinn Ó hEocha, Executive Artistic Director of Baboró, says, "This year we celebrate a quarter of a century since Baboró's founders took the bold step to plant a flag in the sand in the West of Ireland declaring the importance of children's arts in Galway. That decision has resulted in almost a quarter of a million children engaging with the festival over 25 years and has inspired artists and companies from Galway and beyond to dedicate their lives to making work for children."
She continues, "I am so proud to include some of those artists' new work in this year's festival where we will gather again in theatres, galleries, outdoors, in classrooms, around radios and online to enjoy stories that will transport us to the four corners of our imaginations, and beyond. The team and I look forward to welcoming children, teachers, families and artists back to the festival to celebrate Baboró's first 25 years and look towards the next quarter century."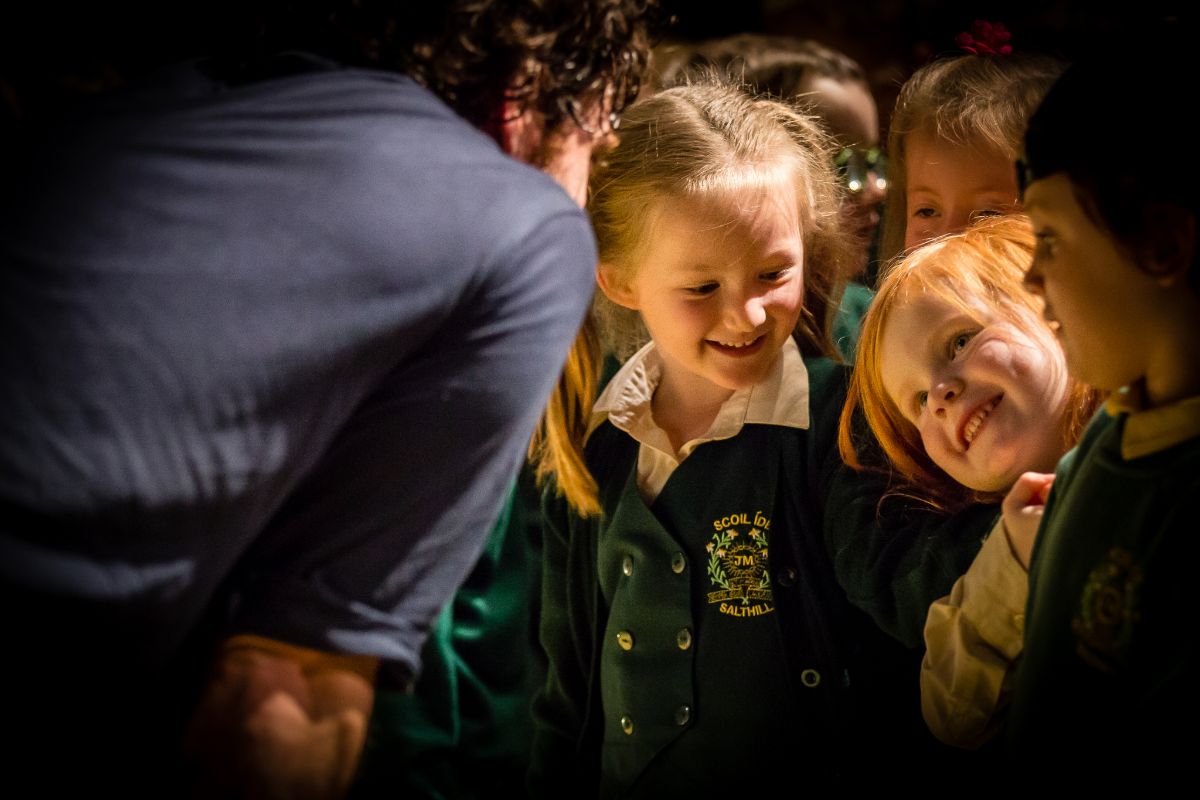 Photo by Anita Murphy, courtesy of Babóro.
To ensure equality of access to the arts for all schools and children, the cost of participating in the festival is subsidised by Baboró with funding from the Arts Council of Ireland, Galway City Council and supporters such as Medtronic - exclusive sponsor of Baboró's Creative Connections strand and 25th anniversary.
Full programme and box office will be live at noon on Tuesday 7th September on Baboro.ie.
Feature photo by Anita Murphy, courtesy of Babóro.