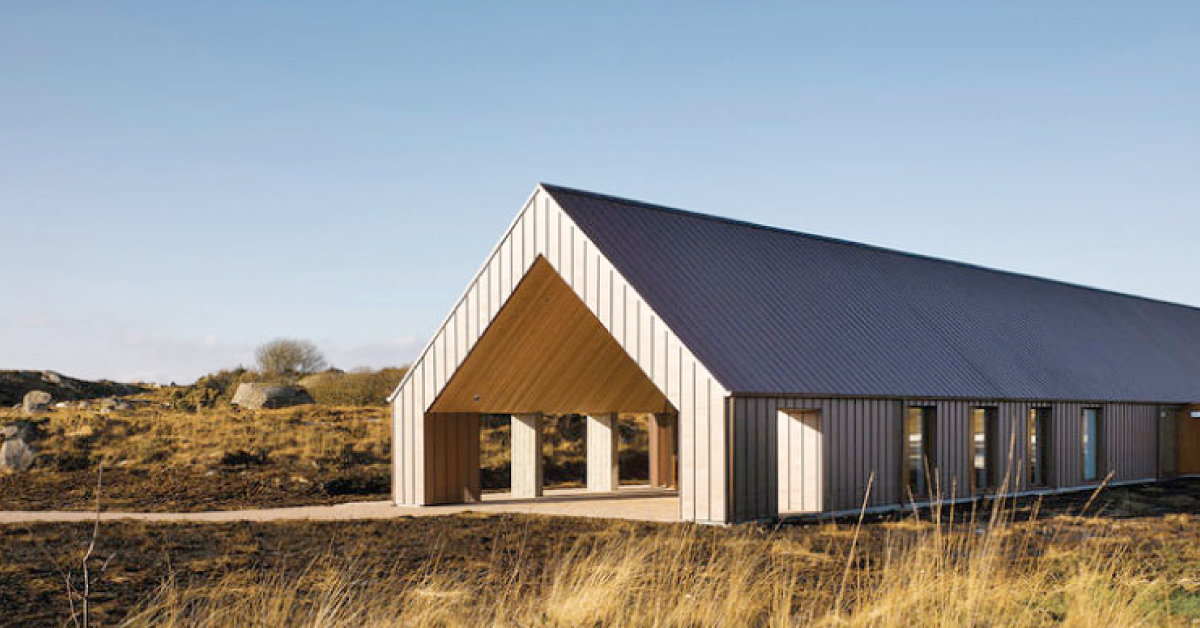 'Architecture at the Edge' festival programme announced
Architecture at the Edge festival designed to help citizens understand the many ways architecture impacts our lives, has launched its programme for 2019. The festival, which runs during the weekend of 12th -13th October throughout Galway City & County and into Co.Mayo includes expert-led guided tours, talks, workshops and exhibitions and will offer audiences a unique opportunity to explore homes, buildings and spaces that are not usually open to the public.
The theme for this year's Architecture at the Edge will be on 'Adaptive Reuse'.
The background to the theme for this year grew out of the current debate around the future of the former Post Office Telephone Exchange buildings which were temporarily repurposed by Galway International Arts Festival as the Festival Gallery for 2019 and the opening talk between Paul Fahy, artistic director GAIF and artist Deirdre O'Mahony will ask us to rethink public space and the former Post Office building as a potential cultural resource.
'Adaptive reuse architecture is the process of repurposing buildings or spaces that have outlived their original purposes for different uses or functions.' Says Frank Monahan, Festival Director Architecture at the Edge ' Sometimes nothing changes but the function of that space and an increasing number of examples can be found in the west of Ireland' he adds.
The festival talks and tours will explore projects in both Galway and Mayo including the conversion of a dilapidated workshop into a creative atelier for The Tweed Project, a former Christian Brother school now housing Engage artists' studios, the recuperation a former Magdalene Laundry as a place for the new COPE refuge and the adaptation of an abandoned railway goods shed into a vibrant cultural centre at Swinford in Mayo.
'Renovations like this are both new and old, historic and forward-looking, generative and sustainable. Restorative adaptive reuse of abandoned structures can help rejuvenate places and communities and in turn promote further development. We need only think of the potential in unlocking spaces such as the former telephone exchange building or as with Lenaboy Castle the depilated condition which was highlighted recently. And that really does also highlight the need to rethink how we utilise space in a much more considered and responsible way. Galway has such a desperate requirement for both proper cultural infrastructure and office space and there are many challenges in bringing an older building such as these into the 21st Century. We hope that potential is evident across our programme which showcases some exemplar of that kind of much needed sustainable approach to reuse and adaption in all aspects of our lives.
"In showcasing these best practise and spaces we hope to highlight potential strategies for other spaces and places. We need a comprehensive approach, and we need to leverage existing assets," says Monahan.
The series of 'stories of adaptive reuse' talks which aim to gather professionals and the wider community to learn from best practice, address challenges and implement initiatives of adaptive reuse in the local context. The fundamental need to provide for permanent creative production spaces and a contemporary art gallery for the city of Galway remains a priority. Architecture at the Edge invite everyone, community groups and organizations, professionals and students from the fields of architecture/civil engineering, multimedia, film, design, history, tourism, gastronomy, ecology etc. to be part of this conversation.
Bob Hannan, Senior Architect, DLRCC with Peter Carroll, A2 Architects will present
the process of incremental change at Dún Laoghaire Town and its waterfront is regenerating. Key to this process are place led public realm initiatives and building projects that reimagine and readapt old contexts to new purpose. Something that might well be applied to the context of Salthill for example.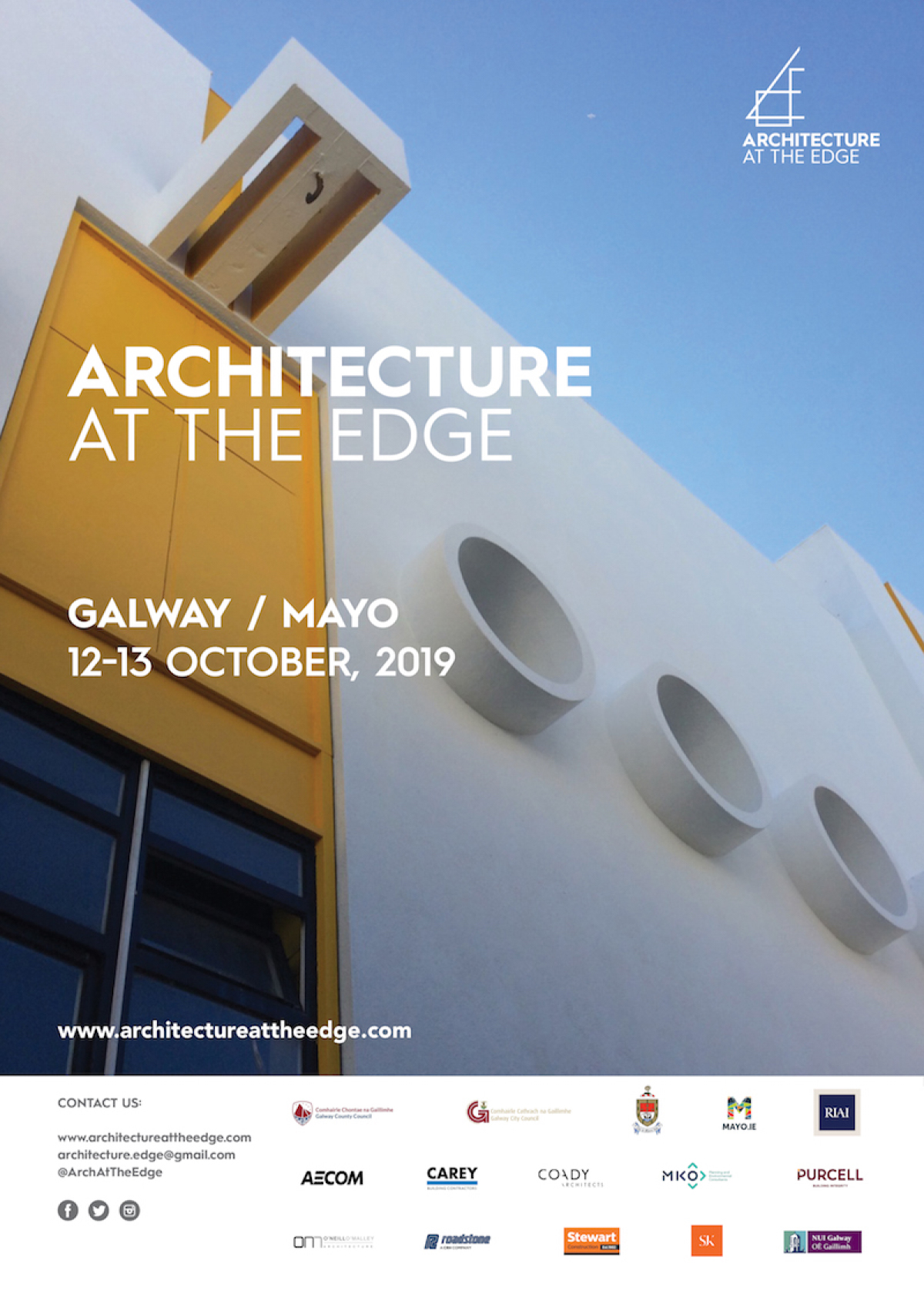 Other 'stories of adaptive reuse' will include Dougal Sheridan and Deirdre McMenamin of LiD Architects, John McLaughlin Architects and Superposition, an award winning Hong Kong and Ireland based architecture and design studio founded by Donn Holohan and Elspeth Lee.
"We are very excited about the talks which aim to stimulate debate about urban and rural planning and the potential for adaptive reuse in reimagining how we can create the best possible spaces in which to live and work", said Frank Monahan, Festival Director.
"We are particularly excited to have Miranda Veljačić & Dinko Peracic, from Platforma 9.81 an architecture and media collective from Croatia also attend this year. With Rijeka, Croatia the sister ECOC with Galway in 2020 we want to develop learning and collaborations with our European partners and to build upon a shared experience between the two capitals of culture into the future. Miranda and Dinko will present a project entitled We Need It – We Do It which focuses on buildings in Rijeka and other parts of Croatia that have lost their primary purpose or never been used as planned into places of intense cultural production and social interaction; spaces transformed that exist and are used for the common good.
The talks will take place on Saturday 12th at the Human Biology Building, NUI, Galway.
"Participants can choose to attend the talks individually or join us for a day-long event", added Frank Monahan.
Other festival highlights include a number of architecturally guided tours in both the city and the wider county.
On Saturday 12th October, Oonagh Walsh, a Ballinasloe native and History Professor at Glasgow Caledonian University, Scotland, will deliver a lecture on the history of the old Connaught District Lunatic Asylum, latterly St. Brigid's Hospital at the Ballinasloe Enterprise Centre.
After closing in 2013, today most of the former St. Brigid's Hospital, Ballinasloe stands empty and badly in need of recuperation. A series of consultative workshops in 2018 led by Denis Naughten TD resulted in the publication of a summary report entitled; 'Reimaging St. Brigid's'. The summary Report provided an overview of the workshop – the process and the findings, highlighting key visions for the site, commonalities amongst the visions, and recommendations going forward. But where to next? Architecture at the Edge aims to revitalize that process.
The HSE have kindly agreed to allow access to the hospital complex for a tour of the grounds where the public will be able to view the external buildings. This will be followed with a short discussion where the public will be asked to share their views on the vision for the former Hospital.
Or if you have ever wondered what happens to your waste? Join the tour of Walsh Waste and find out! Walsh waste invites visitors from across the county to come along and discover what happens at their waste management facilities. Tours of the facilities are conducted by the architect. We can promise 'it won't be a rubbish day out' say the Walsh Waste facility owners!!
Other tours within the city include the Mick Lally Theatre, Canal House on presentation road and a walking tour exploring NUI Galway, campus.
On Sunday 13th October, visitors are invited into No.19 the Long Walk home of Dan Ulrich's the owner of that haven of good coffee and design on Quay St which is Coffeewerk + Press.  His most recent passion project here has that same pure aesthetic of calm.  
The festival will see over 30 public and private buildings open to the public with many tours of the properties led by the architects who designed the buildings. Highlights include Kylemore Abbey and GMIT / Connemara West Furniture College, Letterfrack, Finnertys Mills and museum near Loughrea and a private house at Aillreac, near Ballyconnelly by dePaor Architects.
"In addition to the guided tours, the talks, and the open buildings, we also have a number of other events at various locations throughout the city", stated Festival Director, Frank Monahan.
On Saturday evening The Tweed Projects founders, Triona and Aoibheann, will talk about the brand's natural evolution and be joined in conversation at Ard Bia the House with Elspeth Lee, Superposition and Deirdre McMenamin, LiD Architecture to discuss the importance of reuse, recycling and recuperation in all aspects of our lives. The Tweed Project' takes its commitment to sustainability and the environment one step further this season by using no new fabrics in the making of this collection worked with Irish suppliers to source fabric already in circulation and re-using quality vintage pieces.
Whilst on Sunday afternoon a 'Co-housing workshop with SOA (Self Organinsed Architecture) will take place at at The Black Gate, Francis Street. SOA are a collaborative formed to promote the possibilities for self-organized projects in Ireland. They aim to inform and empower the Irish public in regard to alternative community-led housing models, including CoHousing and Community Land Trusts. This is an open networking event where you can learn and share information and will include an exhibition of projects from across Europe.
"We have a bumper programme and people who are interested in participating in the festival can book tickets at the festival website www.architectureattheedge.com. All our events are FREE, but spaces are limited, so we would urge people to log on and book to ensure they are not disappointed", he concluded.
This is not just an invitation to explore our built environment but one which we hope will challenge the way in which we think about architecture and the role of the architect in society.
Highlights in County Mayo include free tours of Enniscoe House, a ceramics workshop at Heffernans buthers in Ballina, Mayo Medical Academy and the Benchmark Prelude exhibion at the Linen Hall Arts Centre, Castlebar.
Architecture at the Edge is supported by Galway County Council, Mayo County Council, Galway City Council and the RIAI (The Royal Institute of the Architects of Ireland).