Due to the phenomenal success and continuing demand for their new route direct to Inis Mór from Galway city, Aran Island Ferries have announced they will extend the service into Autumn!
Aran Islands Ferries, Ireland's largest and longest-operating ferry service to the Aran Islands, has just announced an extension of its brand new route from Galway City Docks to Inis Mór until Sunday 26th of September, 2021. The route, which can take you aboard the stunning Saoirse na Farraige, includes a cruise along the Cliffs of Moher on the return journey and has proven very popular for locals and tourists alike.
"The new route and service has received a hero's welcome from Galwegians, visitors to Galway City and the tourism and hospitality sector. Such has been the positive reaction and demand for the day out, a daily sailing into Autumn is now guaranteed from Galway City Docks at 9.30am", says Marketing Manager of Aran Island Ferries, Áine Mc Loughlin.
Convenience, service, quality, the chance to explore Inis Mór and view the stunning Cliffs of Moher from the sea are some of the main reasons why this route has resulted in many smiling sailors! Learning the history of Galway Bay, seeing nature and catching a glimpse of the dolphins have all been added bonus and added to the positive feedback received by Aran Island Ferries.
The new service has also supported the hospitality sector of Galway City in giving their guests a very attractive day time activity which shares the unique culture of Aran Island life while also bringing visitors back to enjoy Galway city in the evening.
Offering a 90 minute cruise on Galway Bay, Aran Island Ferries' luxury vessels showcase the contrasting beauty and scenery of the spectacular Wild Atlantic Way coastline of Connemara and Clare along with all three of the Aran Islands; Inis Oirr and Inis Meáin before docking in Kilronan on Inis Mór, the largest of the three. The return journey to Galway City brings passengers on a cruise along the iconic Cliffs of Moher. Galwegians and visitors to The City of the Tribes are set to enjoy a safe, all-weather experience of the jewels in the crown of Galway Bay this summer.
There is onboard audio commentary for guests to learn about the culture and heritage of the Aran Islands, the nature and beauty of Galway Bay, the Wild Atlantic Way and the world renowned Cliffs of Moher, all of which are entertaining and educational to all age groups.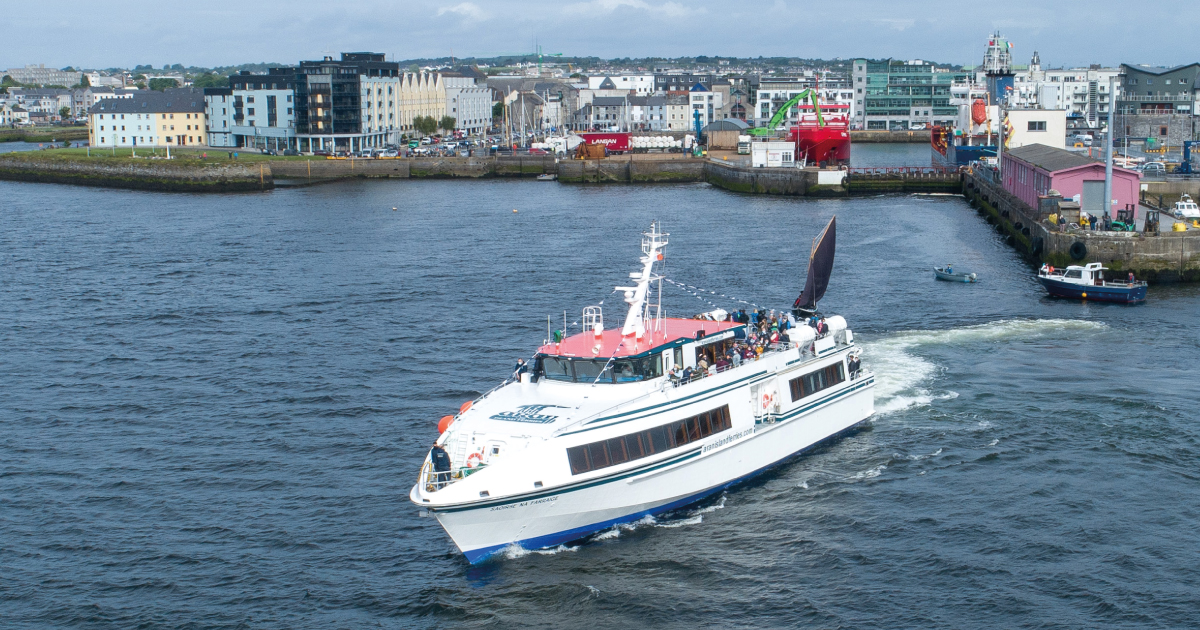 While on Inis Mór for a 4.5 hour stop-over from 11am to 3.30pm, visitors can hire bicycles or explore the stunning beauty of the largest island by mini bus tour, pony and trap, Aran Off-Road Experience or simply by foot. Other attractions include the breath-taking Dún Aengus Cliffs, the many historical sites, beaches, Aran Islands Goats Cheese Food Tours, Aran Diving Academy or relaxing in your choice of excellent restaurants and bars with the mouth-watering seafood and a drink in the atmosphere of a Gaeltacht Island culture. A wide range of accommodation options are also available on Inis Mór for those wishing to create a staycation experience.
Saoirse na Farraige, Freedom of the Sea, is Aran Island Ferries' latest investment and Ireland's largest domestic island ferry vessel which joined the extensive fleet in winter 2020. Carrying passengers on all routes from Galway City and Rossaveel, the fleet also includes Draíocht na Farraige (Magic of the Sea), Ceol na Farraige (Music of the Sea), Glór na Farraige (Voice of the Sea) and Banríon na Farraige (Queen of the Sea) and combined Aran Island Ferries have a total capacity of 1,420.
"Aran Islands Ferries new route from Galway City Docks has been long in the planning by the O'Brien Family of Aran Island Ferries," continues Áine Mc Loughlin, "It is another chapter in the company's progressive history as it is the first time since 2005 that there's been a sailing to the Aran Islands from Galway City and the response so far this summer has been indicative of the demand for such tourist attractions and things to do in Galway City."
Aran Island Ferries new route from Galway City now runs until Sunday September 26th 2021 and its ticket prices for a return journey from Galway City Docks can be found below!
Adult: €49; Student/Senior: €44; Child: €25. Day Tours, Overnight Tours, Single Tours and Family Rates are also available to purchase on www.aranislandferries.com where you will also find the latest news on Saoirse na Farraige and all of Aran Island Ferries fleet along with Ros a'Mhíl departures. Tel: 091 568903 Email: info@aranislandferries.com or follow their social media channels for the latest news.