All About Kombucha are setting off on The Clean Coast Tour of Ireland's Wild Atlantic Way
Ireland's fastest growing kombucha company, All About Kombucha, are hitting the road this summer to tour the Wild Atlantic Way. The team behind the Galway based fresh fermented sparkling tea will be visiting various West coast beach towns this August, and they're on a mission; to clean the beautiful beaches of Ireland's West Coast and share their delicious teas with people along the way.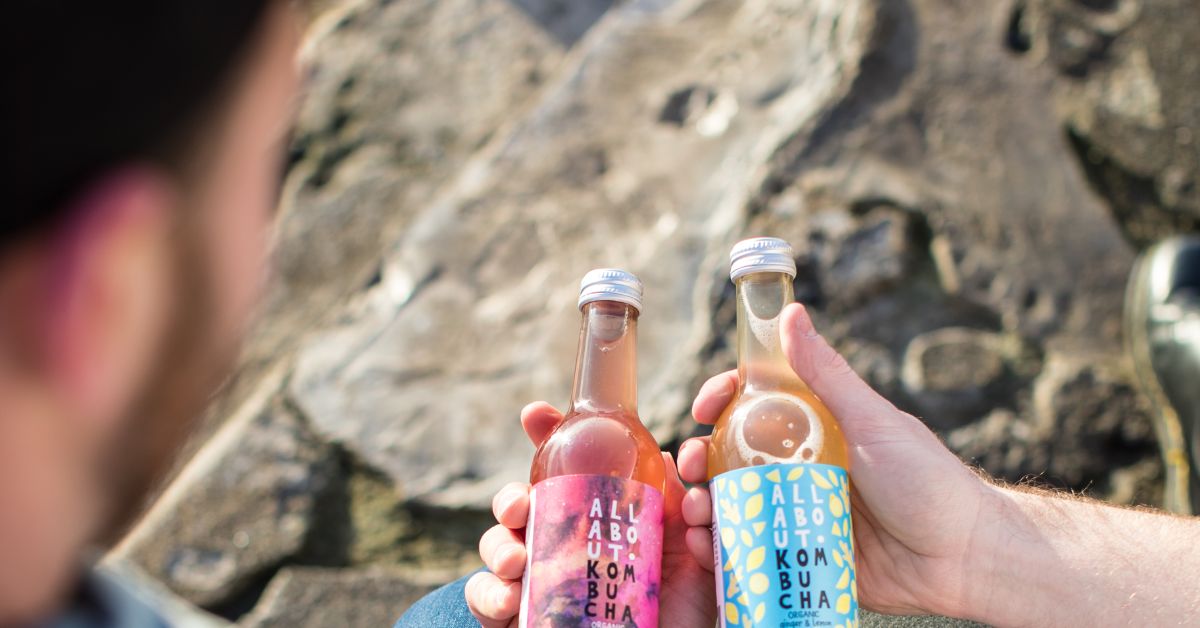 The sparkling tea is made with wholesome organic ingredients and live culture and has gained huge popularity with health-conscious customers due to its gut health benefits. Starting in Bundoran, Donegal, the Booch bus will be rolling into town bringing their three Kombucha flavours; Organic Raspberry, Ginger and Lemon and their latest "Immuni-Tea", which helps promote a healthy immune system by blending fresh pressed Turmeric root, Lemon, Ginger, Carrot and Black Pepper. These Kombucha days will be all about getting outdoors, trying their fermented teas and bringing people together safely to clean up coasts while having fun. So if you're free, we would encourage you to come along and get involved!
To deliver on their mission, All About Kombucha are delighted to announce they have partnered with the Clean Coasts organization to complete the beach cleans this August. "We have a massive connection to the sea, being from Galway. We are very grateful to live by the sea and our team take advantage of this with a morning swim to start each day. Our coasts are so precious and we are very excited to make a positive impact in every place we visit along the way. Working with Clean Coasts is a very natural partnership for us and the culture we have in the company," explained Emmett Kerrigan and Keith Loftus Owners of All About Kombucha.
All About Kombucha are also taking part in 1% For The Planet. This is an initiative that links businesses with charitable organizations around the world in a team effort to save the planet. They do this through combating climate change. All About Kombucha will donate a seriously generous 10% of their profits this year to cleaning up local Irish coasts!
All About Kombucha started three years ago at a local Galway farmers market. From there the brand has grown organically to over 250 retail outlets nationwide. You can find their Kombucha in Aldi, Supervalu and independent cafe's and health stores. The kombucha duo have very ambitious plans for the brand with expansion across Ireland and establishing themselves in the UK part of the near term future plans.
Kombucha Pop-up and Beach Clean Schedule
8th August
Kombucha Giveaway - Supervalu Westport (11am - 1pm)
Followed by Beach Clean at Old Head - 2pm
9th August
Kombucha Giveaway - Supervalu Clifden (12pm - 2pm)
22nd August
Kombucha Giveaway - Supervalu Ennistymon (11am - 1pm)
Followed by Beach Clean at Spanish Point - 2pm
23rd August
Kombucha Giveaway - Supervalu Kilrush (12pm - 2pm)
If you fancy getting involved in the Coastal Clean Ups and want to find out more, connect through their social media on Instagram and Facebook (@allaboutkombucha) or check out www.allaboutkombucha.ie