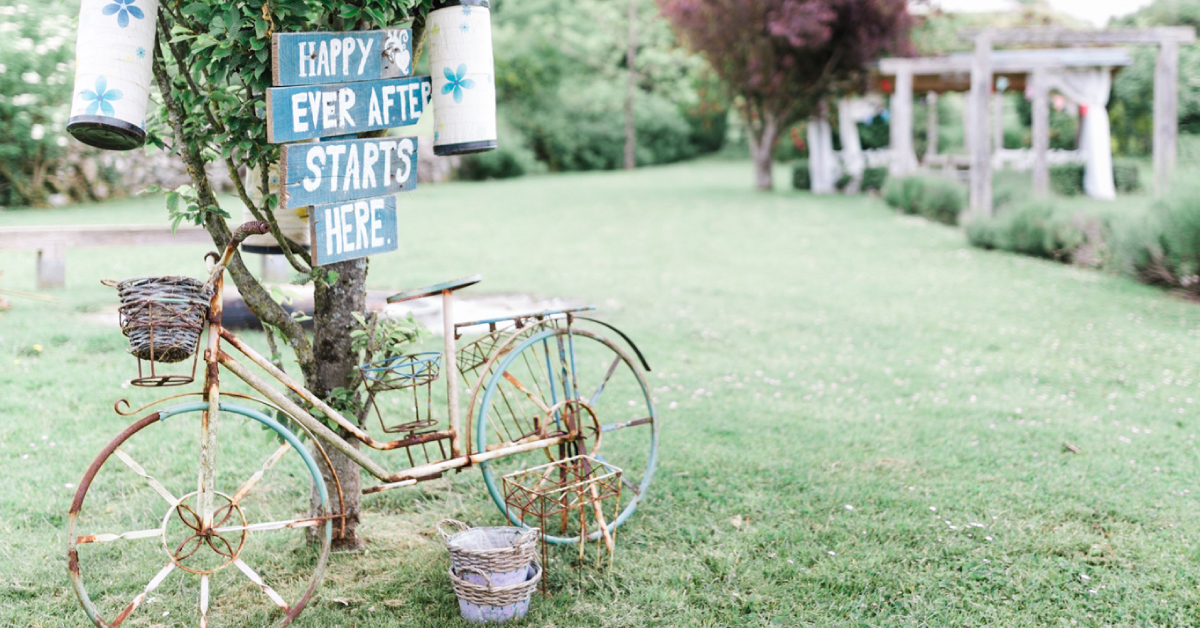 7 alternative accommodation options in Galway
For your Galway holibobs this year, take a step off the beaten hotel track and try something different. Galway has plenty of fun and funky accommodation options to turn your holiday into something truly special!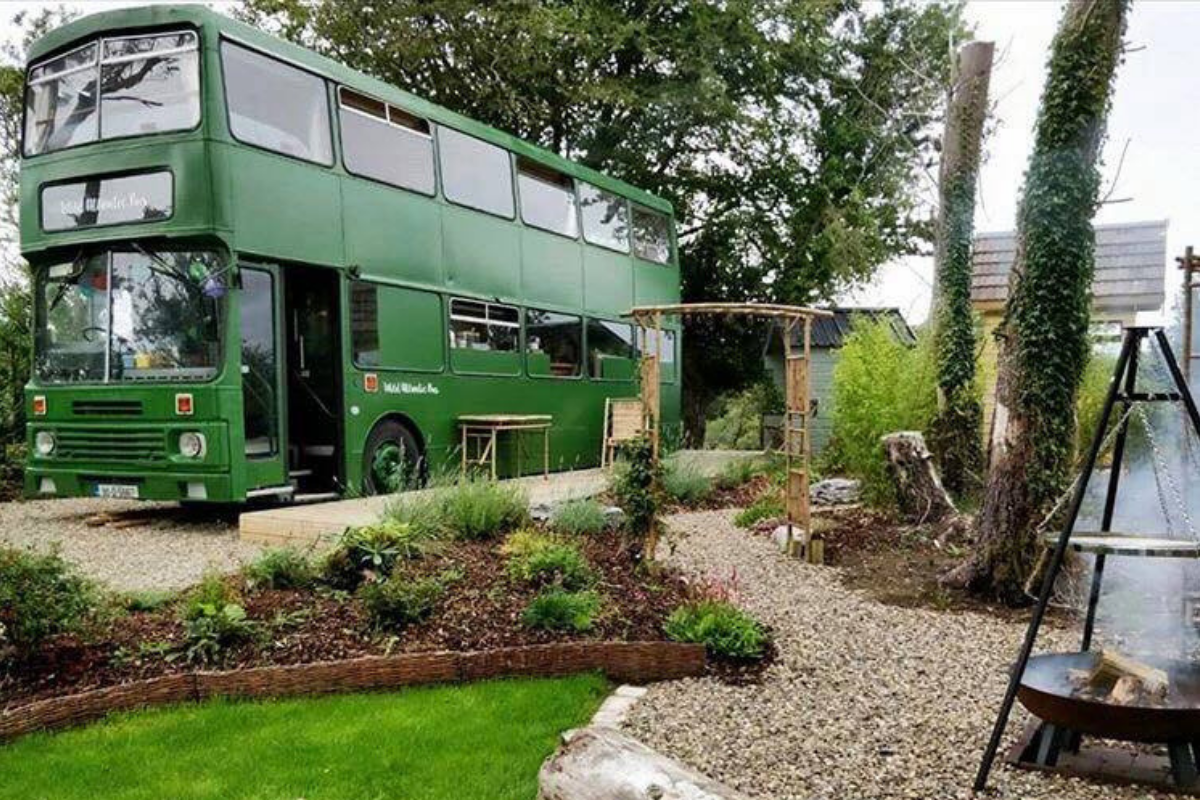 Wild Atlantic Bus
An overnight stay in a refurbished double decker bus in the rural Irish countryside? Yes, please! The Wild Atlantic Bus is a 28-year-old double-decker bus that has been transformed into a unique getaway experience. The Wild Atlantic bus sits on the outskirts of Oughterard, a small, country town with cute corner shops, pubs with traditional Irish music and a great range of restaurants and cafés. While you're there, explore the rural roads of the west of Ireland, stroll along the famous Lough Corrib or discover the renowned Wild Atlantic Way!
In the evening, you can sit by the fire pit & toast marshmallows under the stars. From the outside in, your stay at the Wild Atlantic Bus will certainly be a memorable one!
Oughterard, Co Galway // more here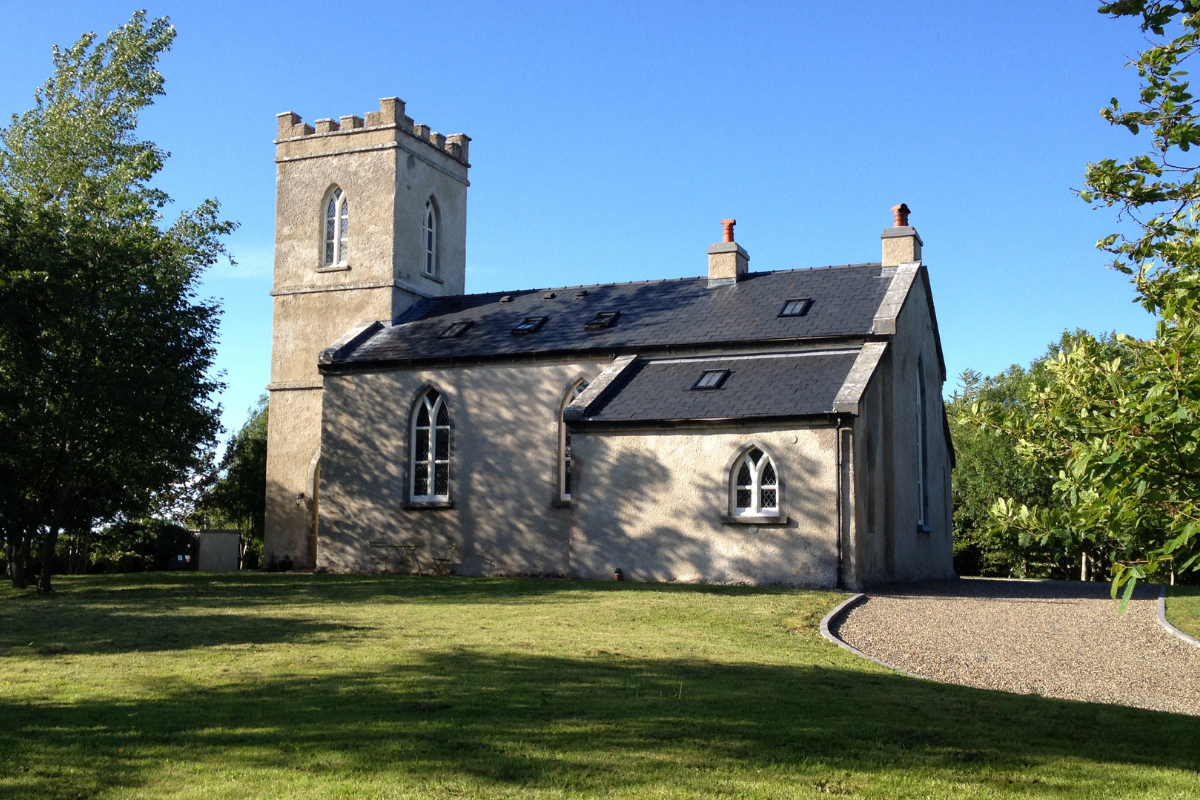 Bookeen Hall
Have you ever stayed the night in a church? Or on the grounds of a graveyard? Us neither… Is it on your bucket list? Why not! Bookeen Hall was a church built in the 1820s in Athenry just 20 minutes from Galway City. During your stay at Bookeen Hall, scout out your surroundings and trail the rural roads of the good old west! Explore the neighbouring towns of Athenry and Loughrea, both of which have a brilliant selection of cafes, restaurants, and bars! It might feel a little creepy to stay in a place of worship with the walls full of old Catholic history, but your stay at Bookeen Hall is really a tranquil retreat. Take in the views from the bell tower and relax in the bright, contemporary chapel with large Gothic windows. Bookeen Hall is an ideal spot for meditation, reading, in general just taking some time out. At Bookeen Hall, take some well-deserved 'me time' and get away from it all!
Bookeen Hall, Bookeen South, Athenry, Co Galway // more here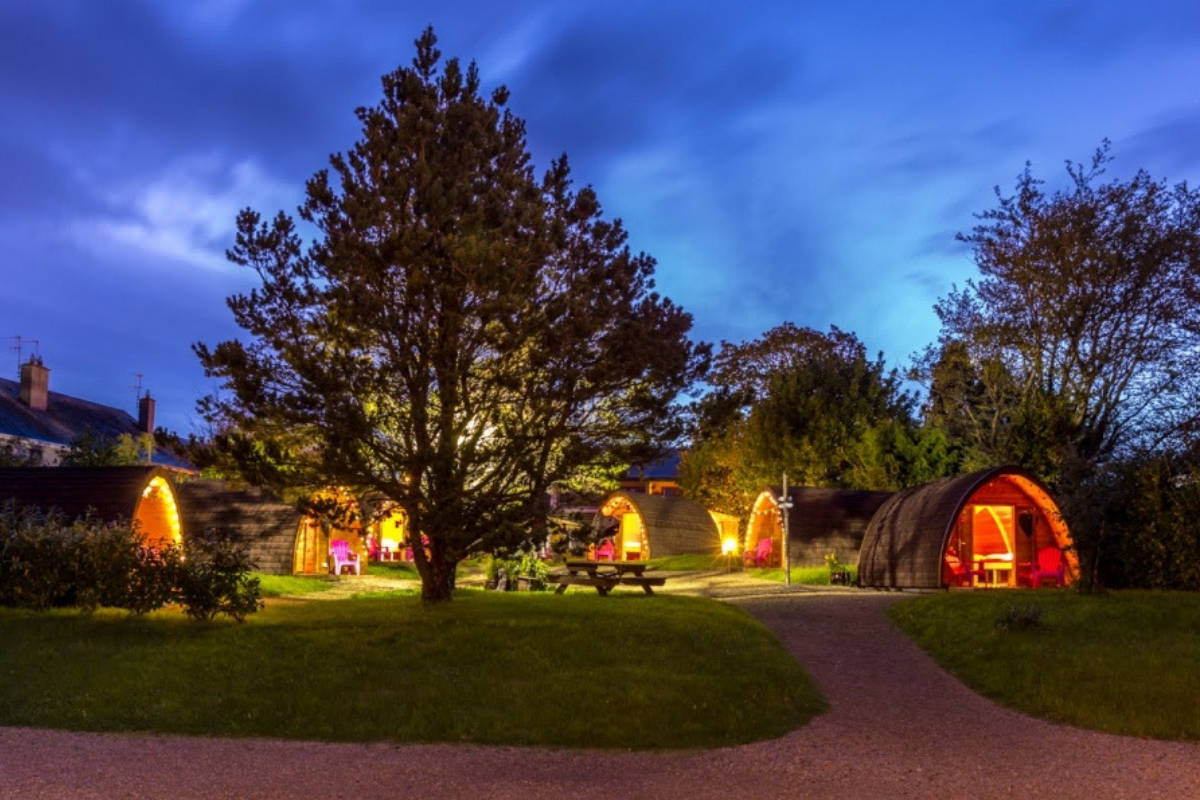 Pod Umna Glamping Village
Dick and Liz welcome you to stay at Pod Umna Glamping Village in the small market-town of Portumna. Stay in quirky accommodations dotted around the quiet, community style camp between benches & picnic areas and fun on-site activity areas. Let your inner spirit-fairy out and stay in the woodland 'Eco-Pods', your own little hub loaded with character. Alternatively, go back in time and stay in the Shepherd's Huts, styled after the original 19th/20th century huts used by shepherds in Ireland. Get involved with some of the on-site activities including biking, nature walks, go-karting and boat trips on the Shannon. In the evening, grab a pint of plain in Portumna town where you will most likely meet a few locals who are sure to spin you a tale or two! The honest rural Ireland at Port Umna Glamping village.
Pod Umna Glamping Village, Dominick Street, Portumna, Co Galway // more here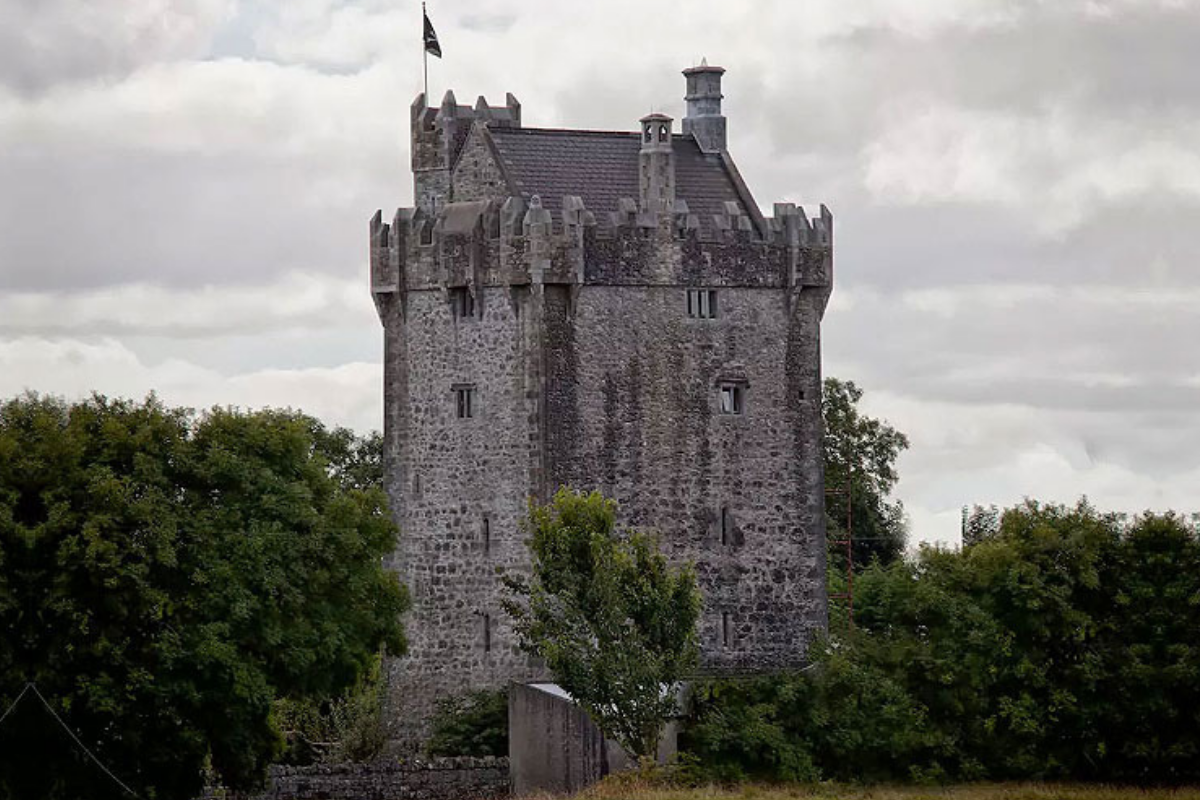 Craughwell Castle, Galway
Live out your childhood dreams for a weekend and stay in a 600-year-old medieval castle in the countryside of Craughwell. During your stay, the top two floors are yours! You'll find lots of winding staircases, a turret, a stone fireplace and stove, a sunken bath in the living room, a master and mezzanine bedroom & access to the parapet (the makings of the best game of hide and seek ever here!). At Craughwell Castle, you will get the real Irish castle experience; it's not pristine, it's not perfect, but it's a real castle in the midst of acres of fields, farms, cows, sheep, a three acre garden, a stream, a river and so much more for exploring. You might see the odd fox, heron, pheasant, rabbit and of course the friendly farmers and neighbours. Venture into Craughwell village and check out the small village pubs. With Galway City 30-40 minutes away, you'll never run out of things to see and explore. There's nothing like Craughwell Castle around. It's not a tourist attraction, so the whole castle is truly all yours during your stay!
Craughwell Castle, Craughwell, Galway // more here 


Galway Coast Cottages
Connemara is an area in the West of Ireland known for its ruggedness and scenic beauty. Discover its beaches, greenery, cute craft & independent shops and appreciate the Gaeilge being spoken around you by locals when you stay at Galway Coast Cottages! These self-catering holiday homes give you the perfect opportunity to explore all that and more. The cottages offer something to suit all tastes, budgets and needs from exclusive townhouses to beachside hideaways. Enjoy the great beaches, forest walks, fishing and other natural activities that Connemara has to offer. You will find plenty of pubs bursting with life & character right in Barna — or grab a bite in a cosy café or pub with views of the rough sea!
Barna, Co Galway // more here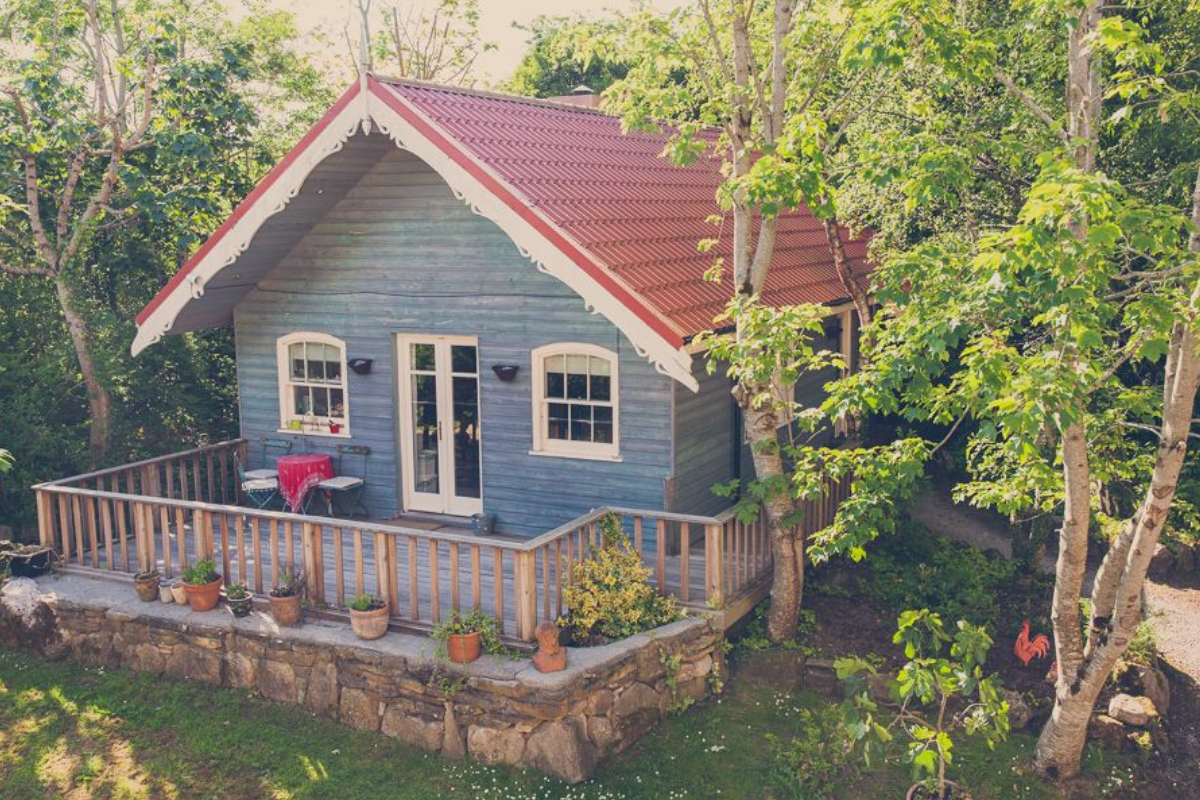 Slieve Aughty Centre
For an alternative staycation, stay in the Eco-friendly 'Chalet de Florence' or the 'Birds & Bees Lodge' at the Slieve Aughty Centre. Cute timber lodges offer the perfect opportunity to connect with nature and the simple things in life. Explore the grounds of Slieve Aughty that is bursting with fun and activities. In the evening, sit out on your timber deck overlooking the vast, natural grounds of Slieve Aughty or cosy up by the wood burning stove in your lodge. You won't find a television in the Eco Lodge's as you are encouraged to enjoy the great outdoors instead! There is so much to explore in this resort: scope out the organic certified garden central to the business, the horse-riding facility, the garden pergola and an organic certified restaurant and more! Slieve Aughty's mission is to create a place where you can connect with nature, the seasons and the nearby wildlife. It makes for a once in a lifetime relaxing stay in Galway's countryside.
Kyle Kylebrack, Loughrea, Co. Galway // more here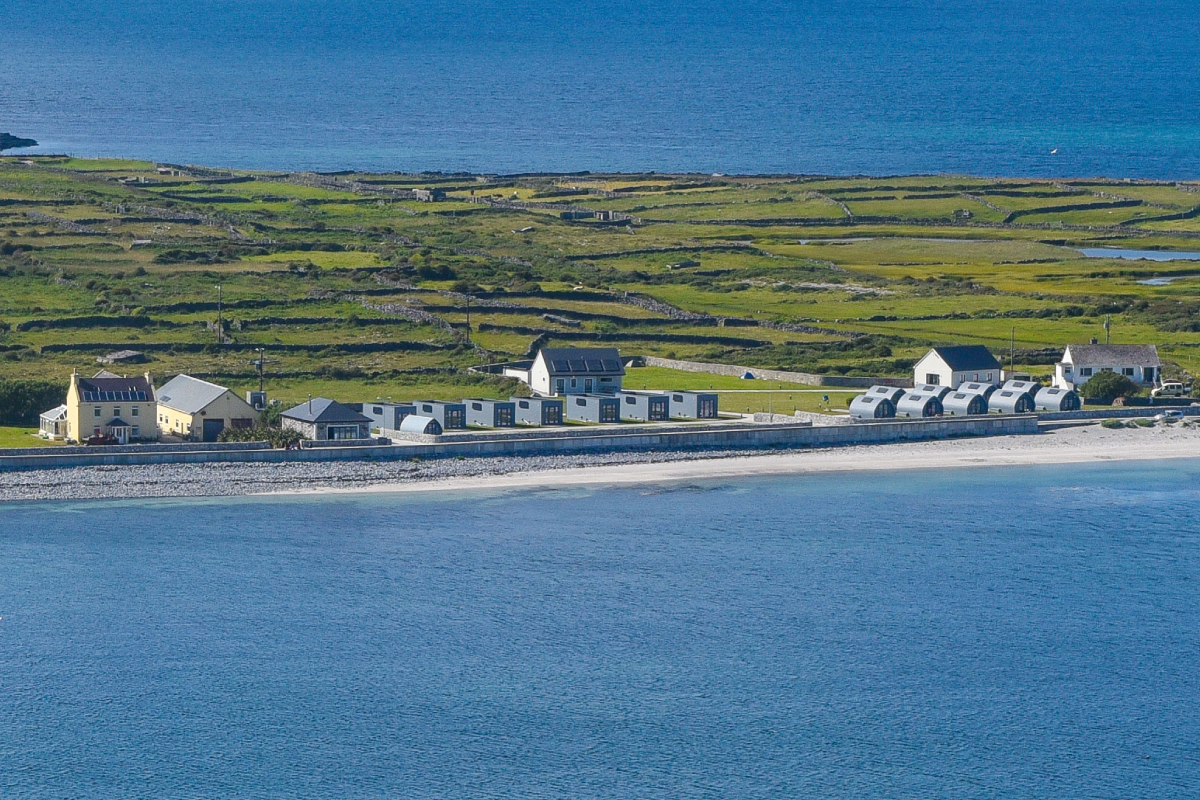 Aran Islands Camping & Glamping
Aran Islands Camping & Glamping is based on Inis Mór the largest of the three Aran Islands. They offer unique glamping accommodation at their luxury seaside site and eco-friendly campground. The newly built Aran Islands Camping & Glamping offers premium beachside solar powered lodges that are perfect for groups, families or couples. They offer up to 4 people Clochan pods and 6 person Tigin pods. Picture yourself at your lodge taking in the beautiful views of the bay, throw in a peaceful and cosy nights sleep followed by waking up to the sunrise and waves coming ashore the idyllic Frenchman's beach. There is camping for those who want to reconnect with nature and enjoy a technology detox at their purpose-built facility including showers, laundry and the campers kitchen. Aran Islands Camping & Glamping is the ideal getaway that can cater to every group, with an island steeped in culture and history and blessed with breathtaking scenery it makes every adventure here a cherished memory.

Frenchman's Beach, Inis Mór, Aran Islands // More Here