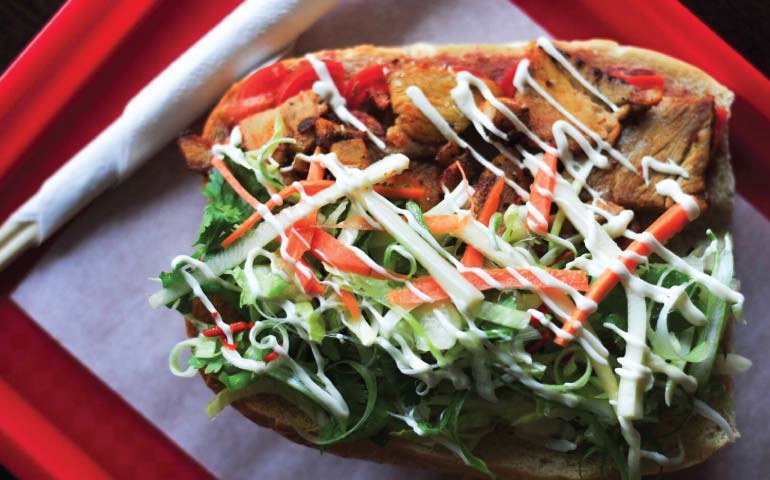 5 Food Gems Rocking Galway You Need To Go Eat In
5 Food Establishments in Galway You Need To Go Eat In
Never eat more than you can lift Miss Piggy once said and I sort of take that as a challenge. I eat a lot. Though by the look of me, some may say I need a smack of a good stew. And as Galway city balances on the brink of a restaurant overload, a restaurant overload is good news to a beast of an eater like myself and many others.
Most afternoons I saunter into town for lunch, sometimes to meet up with someone, but mostly alone and there are a certain few places I like to repeatedly visit, sit, eat and read. But the main reason of acting like a homing pigeon is good food, coffee and service. Below are five places I love to regularly go for lunch and the occasional late evening snack.
The reason I write this article this week is because there are many times I say to friends or colleagues "have you eaten in so and so?" and the usual reply is "where the feck is that?"  and it boggles the mind; you goddamn live up the road for crying out loud. Ignore everything here if you know these places but if you do not, it's time to polish that tongue, scrub those snacks and venture into town to gorge on some savage food.
---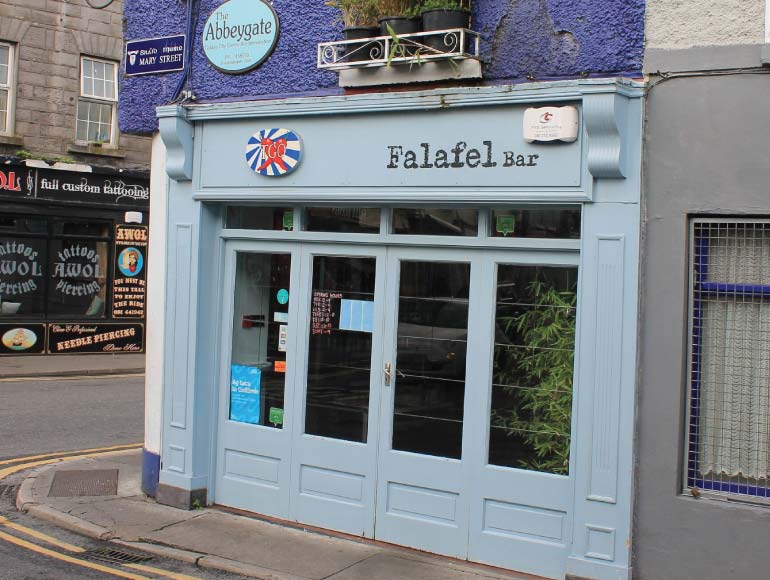 TGO Falafel Bar
Floris Wagemakers has been feeding the Galway belly for quite some time now through his falafel van in the Galway Market, and with such a huge following of falafel disciples, it is amazing how many people still do not know about his new restaurant on Mary Street, TGO Falafel Bar, formerly La Salsa. You can now sit upstairs and neatly eat your pita or expand that pallet with some of the other quality vegan food. When I visit, which is mostly evenings I aim to have the savage Gado Gado (tempeh, tofu, peanut sauce) and when it is unavailable I opt for the bean burger and homemade fries; both are out of this world. There are people in Galway that religiously head into the city to the market on a Saturday to eat Flos' falafel, now they have a comfortable hub to wolf away in.
---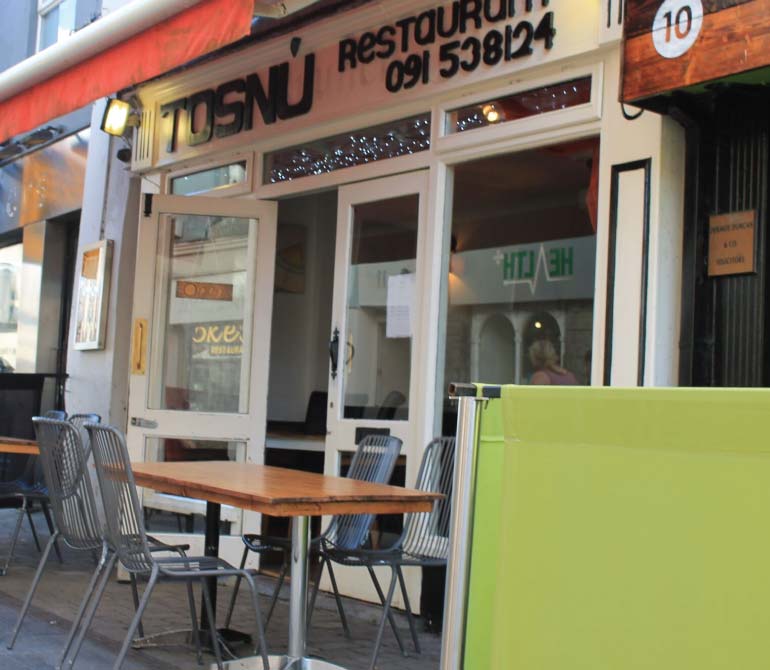 Tosnú
Tos where? That's mostly the reaction I get when I say I eat here. Tosnú is just a year old and sits respectively beside Shellys Health and Beauty Clinic on Abbeygate Street in a building that use to be the restaurant Buon Appetito. I love going in here for the breakfast, especially the sausage burger which annoys the head chef and former colleague Mark Cambell since it is a pain to make but rest assured, it tastes sublime. Number 1 on Tripavisor for the last couple of months points in the direction of the team of Mark and Aidan Scanlan doing something right. The night time menu boasts five star main courses at a very reasonable price which is why I visit; animal dinners within my budget. Nice spot for chilling reading a book and the local Galway coffee roast is delicious.
---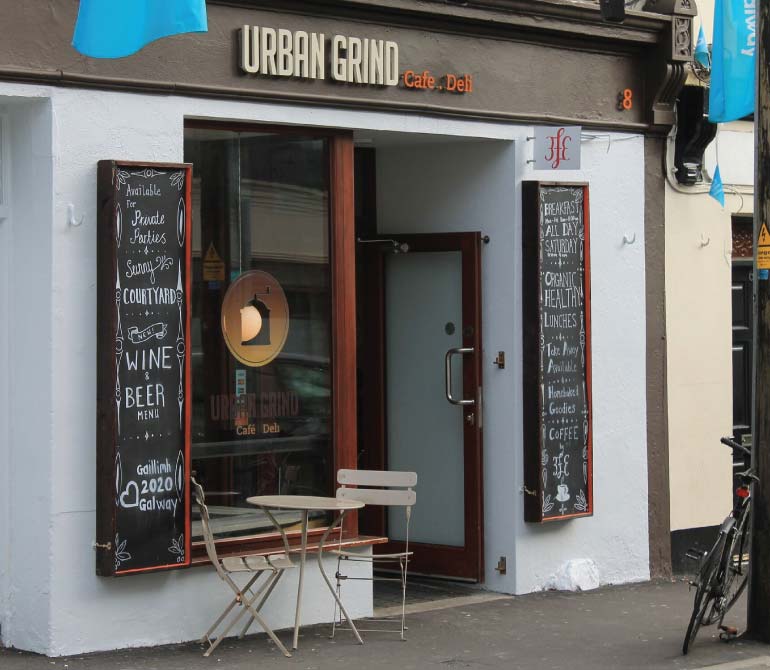 Urban Grind
It is only recently in the last few months that I have been wandering down to Urban Grind on William st near The Blue Note Bar for arguably the best coffee in town. But, if you have one of the excellent selection of sandwiches, wraps etc, that are masterfully created with a concoction of local ingredients you will be in for a treat. I'm late to the party but the food here is damn delicious. As a coffee and sandwich lover, it's hard to find both offerings that are of high standard and reasonably priced in the same place but here you go, a great little spot especially for a hungry man that loves nothing better than reading a book and munching. The selection is well thought out and changes regularly. There is also an excellent breakfast menu (Poached Eggs Shakshuka, go find out yourself) and an outdoor seating area. It always surprises me when I say I eat here and people are baffled but hey, I only discovered it recently too.
---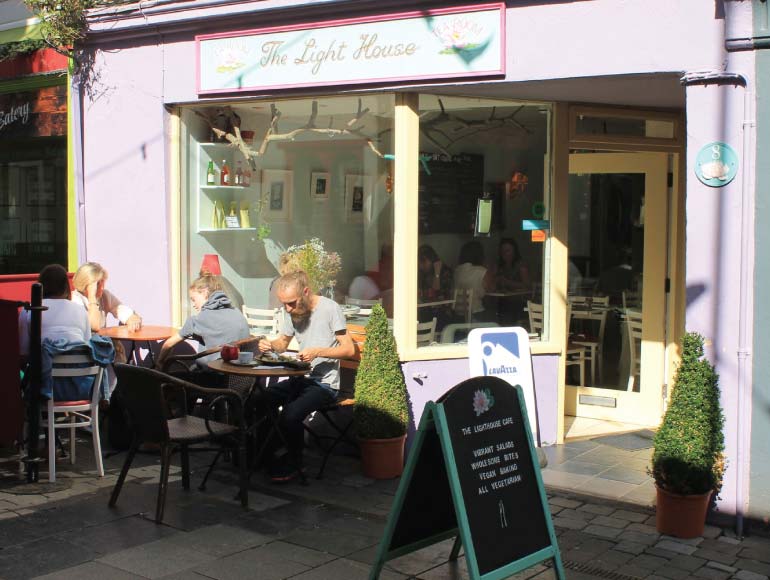 The Light House
Another little gem that the majority of people I talk to haven't heard of it. On the same street as Tosnú, Abbeygate Street, it is a joy, as a man who resides in this city, to see this street once again alive, booming with activity and a host of restaurants to be explored. The Light House is a must for flavour and health enthusiasts. Vegetarians bang on about it, and I, a meat eater, bang on about it too. The menu is kept small so full concentration and adoration is put into each dish. I love the veggie lasagna and the bean burger, so damn tasty I could easily eat two, and would do so, if I wasn't so embarrassed to look like a pig. But the key to the wonderful food is the ingredients, the local produce used as well as the influence of foreign spices and grains. It's a vegan/vegetarian paradise, small, cosy and busy and if like me, you are a meat eater, venture in and give meat a break, trust me, savage spot.
---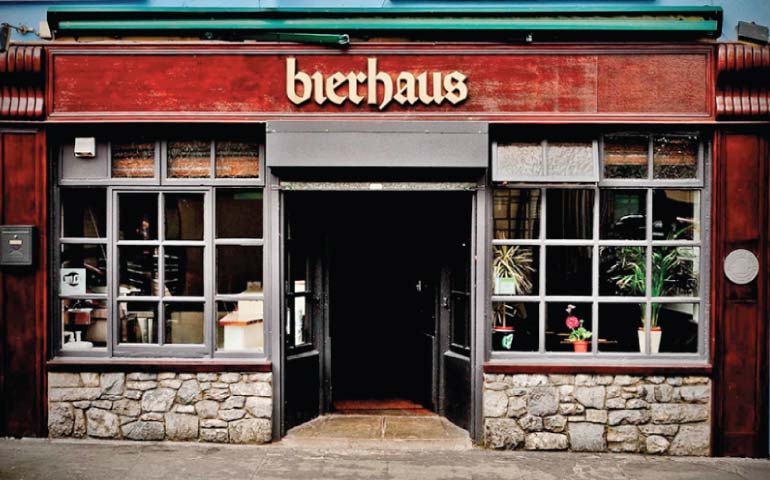 Bierhaus
Synonymous with great beers, cocktails and a local following, the Bierhaus may come as a surprise to be known for good food (since certain people I say it too usually repeat the Bierhaus does food, really?) and that the small if not tiny little hub of a kitchen in the corner of the bar, bangs out goddamn delicious sambos, this place is one of my favourite spots to wolf food. Seriously, Paul the chef has established and stamped his mark on the thriving food scene in Galway with savage creations such as the magnificent addictive grilled cheese sambo or the Banh-Mi, a pork beaut with pickles and pate; it is so damn good you should go now, out that door and down to Henry st for a bite. The food addition to the Bierhaus has added a new dimension to the establishment and attracting food lovers and beasts like myself to its door, long may it continue.
So there you go, five places I regularly love to eat in, go check them out. There are a couple of other places such as Papa Rich (best Asian in town) and Bar Seven (love the burger) which I like to visit too. By reading this it is quite possible you think I'm a glutinous pig and you may be right, and as one pig to another I leave you with a quote from the great one, Miss Piggy "I am a pig, and as a pig, I have always stood out."
---
About the Author

You wouldn't know by looking at him, but Stephen Byrne likes to eat, a lot. He has cheffed worldwide; Canada, Australia, San Francisco, Dublin and now resides in Galway. Not afraid of the unhealthy appetite, he has a keen interest in simple whole foods, a love for Asian flavours and an awful sweet tooth. With years of experience, he will create weekly recipes of meals he devours regularly, and hopefully inspire people to cook at home and embark on a healthier lifestyle.
He writes on his site: http://therantingbeast.com/