Now that we've officially entered the winter season, the countdown to the festive season has begun! While the festive season seems to demand that we stay home in our pajamas watching reruns of Christmas classics, there's so much merriment to be enjoyed all around the city each and every year. From roaring Fairytale of New York in the beer tent to catching some carols in the cathedral, how many will you tick off this year?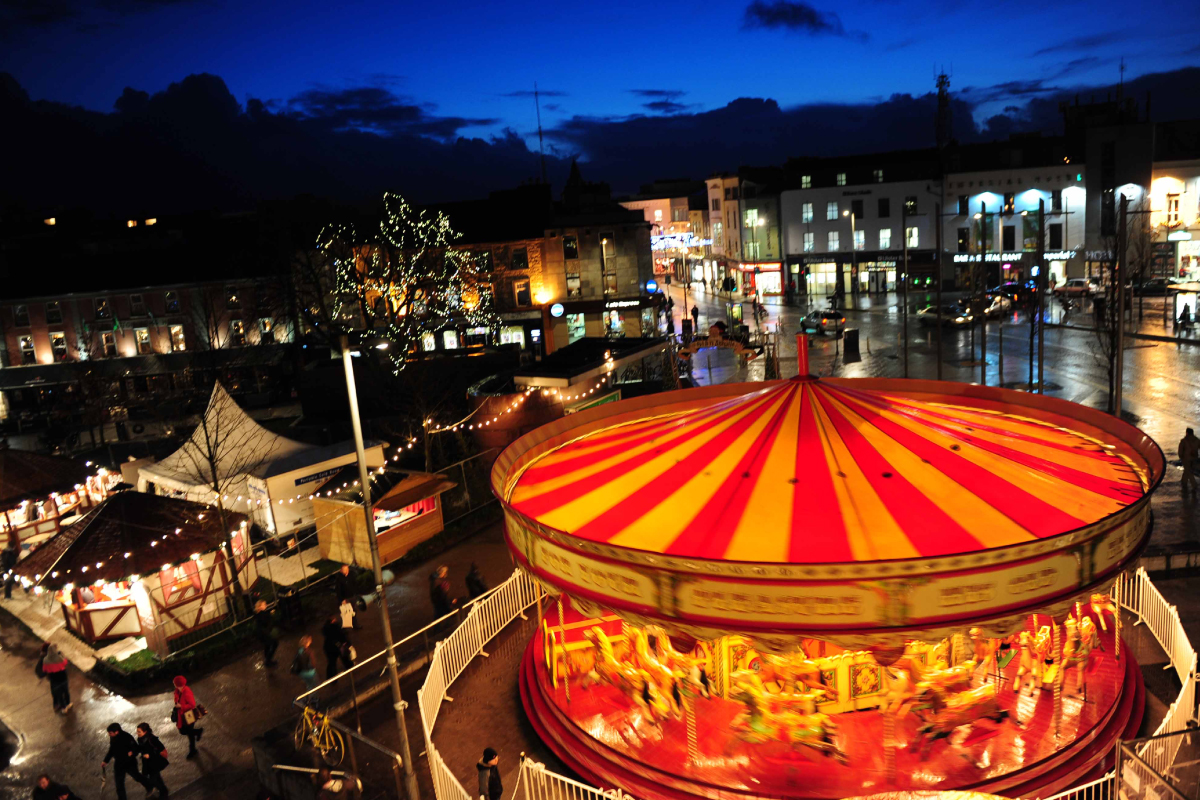 1. BECOME PART OF THE MARKET MADNESS
The legendary Galway Christmas Market in Eyre Square is one of the city's main attractions over the winter months. The continental stalls offer everything under the sun and it's almost impossible to leave the square without the aroma of hot dogs drawing you in. In a similar vein, Galway's famous market by St Nicholas' Church host a Traditional Christmas Market, and it's every bit as beautiful.
2. SLUG A STEIN IN THE BEER TENT
Nothing screams Christmas in Galway quite like roaring along to the tunes in the beer tent with a big aul stein of beer in hand. If you don't feel like you can stomach the sheer mass of a stein, grab a pint, glass of vino or a hot drink and you're laughing.
3. CATCH A PERFORMANCE AT TOWN HALL THEATRE
All season, the Town Hall Theatre have numerous cheery performances that are worth checking out! From the annual ballet, to knee slapping comedy shows, there is something here for everyone and then some.
4. MAKE A SPLASH AT THE CHRISTMAS DAY SWIM
The Christmas Day swim at Blackrock in Salthill is an initiative started by COPE Galway 30 years back and it has become a tradition with many the family in Galway. Join the ranks of people braving the cold to help raise essential funds to support vulnerable and isolated men, women and families in the city this Christmas. Be sound - take the plunge!
5. ENJOY A FESTIVE AFTERNOON TEA
While there is an array of fine establishments from which you can procure a delectable afternoon tea, the festive offerings at The Hardiman and The Connacht Hotel are well worth a visit. These festive afternoon tea menu offers all the hand-cut sandwiches, homemade scones and delicious pastry creations you could hope for - and there's always the option of adding a bit of bubbly.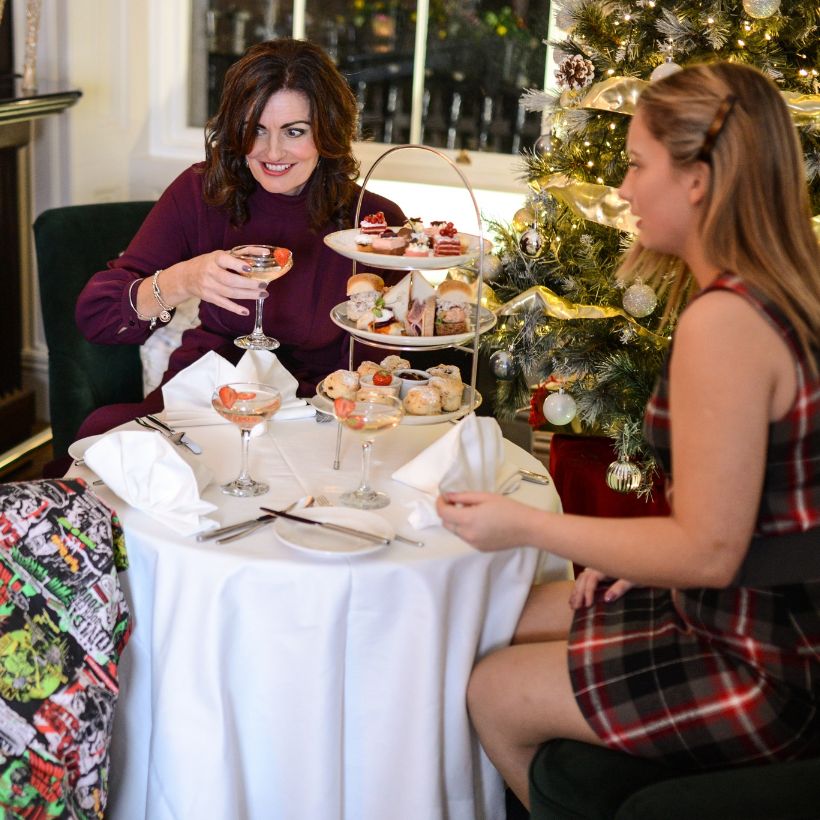 6. WARM YOURSELF UP WITH A HOT CHOCOLATE
I don't know about you, but we here at This is Galway vehemently believe that the only efficient way of thawing out frozen fingers is with a big, massive, marshmallow-heaped hot chocolate. Since this is a hill we are willing to die on, we've gone to the ends of the earth to narrow it down to the top places to get a mug of the good stuff here in Galway. You're welcome! Check it out here
7. STAMP YOUR FOOT IN TIME TO SOME TRAD
In a city that's known for its echoes of traditional Irish ceol, there's no better way to spend a day than with a pint of plain in hand, tapping out a rhythm with your foot. Once the music starts flowing, you'll blend right into the furniture and those diddly-idle tunes will take up a very special place in your hearts.
8. SET OUT ON A WINTER WALK
Regardless of red noses and numb fingers, there's something magical about having that crisp winter air flowing through your lungs. The landscape in Galway is always a thing of beauty, but once the veil of frost has descended and the grass begins to glint in the light, it's nothing short of enchanting. Since we're super sound, here's a list of some of the finest places to have a wander. Check it out here
9. SIP A HOT WHISKEY TO WARM THE SOUL
If you're having a bad day, the winter blues have got you down or you just can't be arsed with the festive season, a hot whiskey will melt all your worries away. Bundle yourself up in a cosy corner or pull your chair close to the fire in any one of this city's relaxing pubs and sip away to your heart's content. Sugar, lemon, cloves and whiskey - it's a combination that will cure what ails you.
10. POP ALONG TO GALWAY'S MIDWINTER FESTIVAL
Celebrating Irish composer and musicians there is always so many musical performances to be swept away by at the Midwinter festival every January. Avid the chilly weather and settle in and be amazed by some musical genius. Throughout the week in the Town Hall Theatre there is something for all music lovers to enjoy.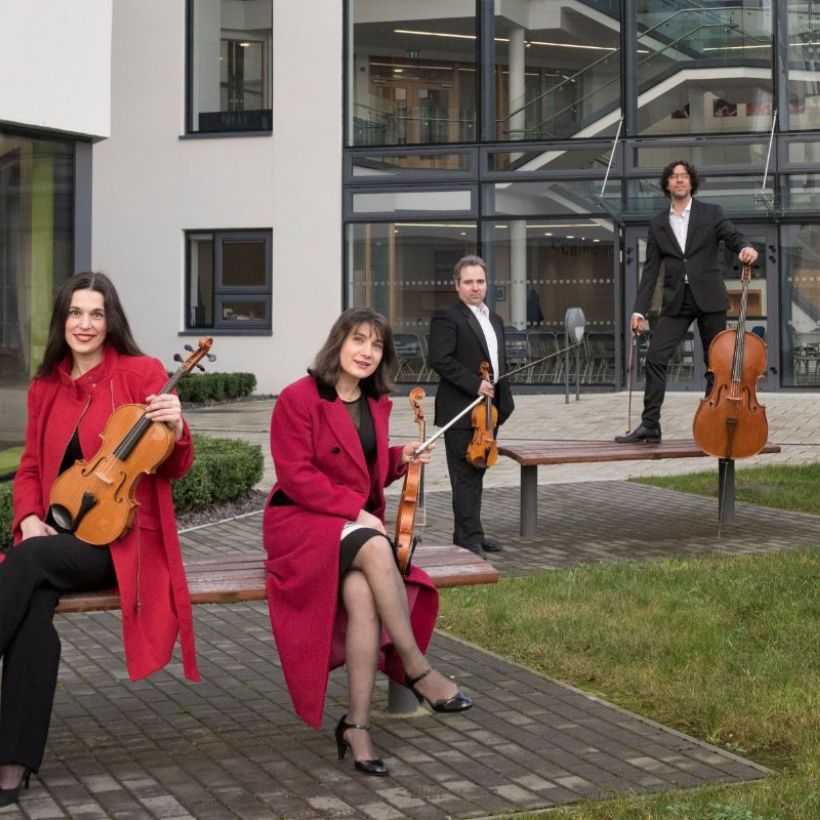 11. GOBBLE UP A FESTIVE LUNCH
Visualise a roast with turkey, home baked ham, honey roast baby carrots, buttered Brussels sprouts, creamy mashed potato, onion & sage stuffing and chefs' gravy and try not to drool. You couldn't do it could you? Well, all this festive goodness is available from Gourmet Food Parlour. it's basically Christmas dinner as lunch so get yourself out to Salthill soon and stuff your face. Find out all about it here.
12. CATCH A CHRISTMAS CLASSIC AT PÁLÁS
Love Actually, Die Hard, Home Alone, it's a wonderful life, the list is a mile long and we've all seen each one more times than we would care to admit (don't deny it). Christmas classics galore will be shown in all their glory on the big screen at Pálás during their Christmas season and we can't think of a better place to rewatch old classics.
13. TAKE A TOUR OF MICIL DISTILLERY
Learn the real history of whiskey, poitín and gin, how they're made, and what makes Micil products so unique during the incredibly unique experience that is their distillery tour. The sights, sounds, smells and tastes of a working distillery are well worth the visit alone and the tasters are just the cherry on top. Find out more about the fine establishment right here.
14. MULLED WINE YOUR WAY THROUGH GALWAY
Rich with cloves, cinnamon, nutmeg and orange peel, mulled wine is one of the most festive drinks going and it will take the chill right out of your bones. From the markets to Tig Coili and plenty of pubs in between, you'll definitely get your glühwein fix.
15. PAY A VISIT TO THE BIG MAN HIMSELF
Santa is a difficult man to keep track of at the best of times, but the beardy gift-giver will be visiting the city in the run up to his busiest night of the year. He's taking letters and has brought some friends along for balloon making, singing, face-painting, and more. Here's a list of some of the best places to see Santa with the family this festive season click here.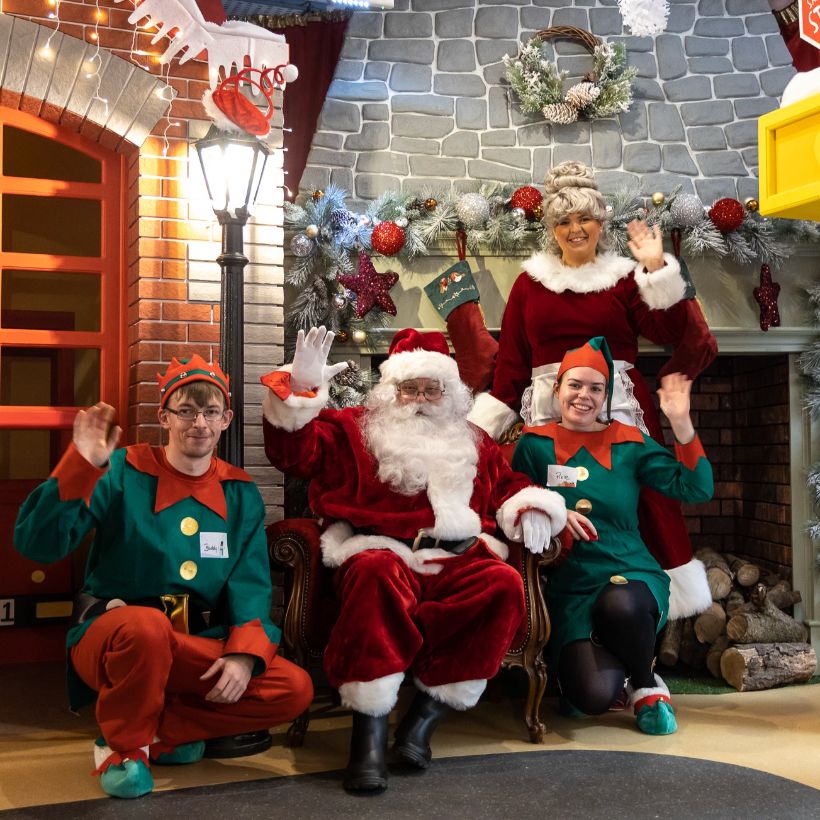 16. HEAD ALONG TO A PANTO
Pantomimes seem to be a staple aspect of growing up in Ireland. Who else can recall shouting "oh no you don't" and "he's behind you!" at the stage while perched at the edge of your seat, eyes wide in amazement? Renmore pantomime will be bringing new life to the tale of Cinderella this Christmas on 29th December, so you can experience the theatrical magic live at Town Hall Theatre.
17. TRY TO GO VEGAN
Galway is full of different eateries that specialise in vegetarian and vegan foods, so where better than to attempt veganuary than in Galway city. Discover our top tips to go vegan here and enjoy a new lifestyle coming into a new year.
18. SUPPORT THE LOCAL ECONOMY
Bespoke, one-of-a-kind items that have been produced with tender love and care make for ideal gifts that will withstand the test of time, and Galway's got something for everyone on your gift list. Through these independent stores' unique offerings and thoughtful service, you'll be confident that you've spent your pennies wisely. Here are some of our favourite places to endlessly browse and buy... click here
19. HAVE A FABULOUS NEW YEARS
Bring in the New Year in style! This is the first time we'll be able to celebrate properly since BC (before Covid) so you might as well get out and make the most of it. Head off to your favourite boozers, dress to impress and expect more than a few fabulous surprises with them lot!
20. ENJOY A GREAT GALWAY GIG
Galway's live music scene is one of the very best in the country, having birthed some great local talent down through the years and hosted performances from some of the biggest names in the game. From Róisín Dubh and The Ol' 55 to every second pub you pass, there's always music in the air.
21. SING ALONG WITH SOME CHRISTMAS CAROLS
If you fancy singing along to a beautifully arranged choir in a candlelit cathedral, you're going to love this one. Galway Cathedral invite the public to come along and rejoice in the jubilation of the Christmas season and it never fails to amaze. Enchanting vocals in one of the most beautiful locations in the city - it's a match made in heaven, quite literally.
22. LEARN TO COOK PERFECT CHRISTMAS TREATS
While we're sure mammy's Christmas dinner is the height of perfection, there's no harm in expanding your skill set to encompass the art of cooking. Little Lou's Online Cooking Classes will cover all aspects of Irish Christmas cooking, from the traditional to the innovative in this class. You'll learn how to cook the perfect local turkey with all the trimmings, all while having a bit of craic.
23. EAT, DRINK AND BE MERRY WITH YOUR WORK MATES
Whether you're gathering a few of your work friends to blow off some steam or the whole crew are going out in force for some corporate craic, the drinks would want to be flowing. A festive feast, a lively atmosphere and some good old fashioned Christmas spirit(s), what more could you ask for?
24. WANDER THE STREETS LOOKING AT THE SKY
Oscar Wilde once said, "we are all in the gutter, but some of us are looking at the stars". While the stars may be hard to find in the centre of the city, during Christmas Galway employ a beautiful substitute. From the Latin Quarter to Eyre Square, rows of twinkling lights illuminate all who pass underneath and with beautiful installations appearing here and there, there's plenty of light to guide you home.
25. EXPLORE THE CITY THROUGH FOOD
Galway's foodie scene never fails to impress, with restaurants serving up their own flairs of French, Italian and traditional dishes. This Winter stave off the cold with some exceptional dishes from out on the town.  Discover some here with the help of Galway Food Tours.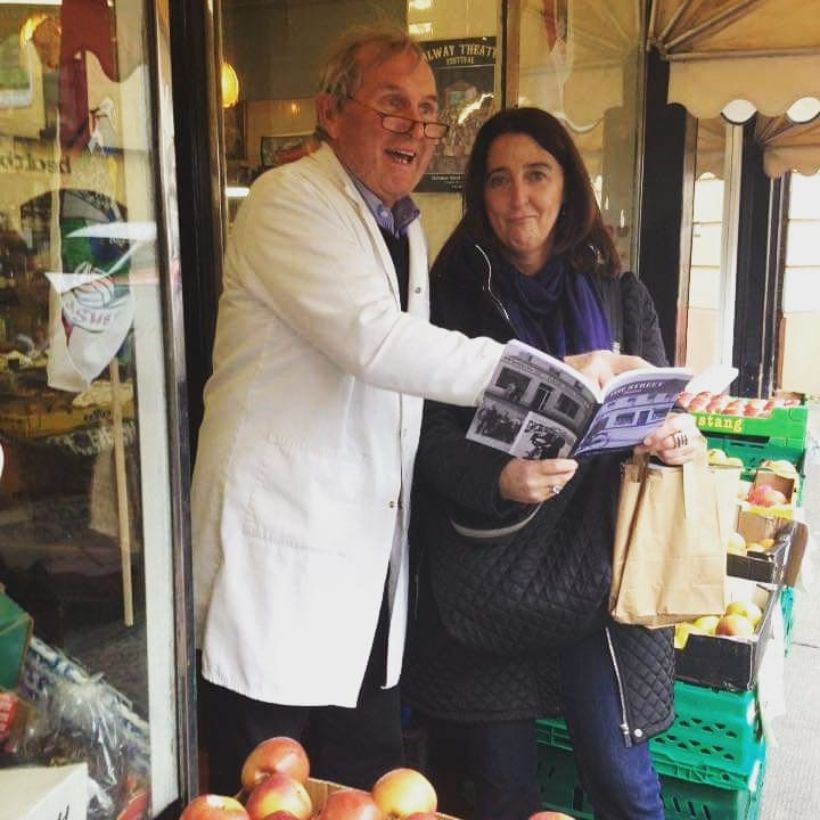 26. SPEND A DAY GALLIVATING IN THE WEST
Galway is absolutely stunning at all times of the year, but in Winter there really is something magical in the seasonal changes that occur. Head out West to Connemara and visit the different spots that normally filled with tourists in the Summer season.
27. GIVE A BUSKER SOME WELL-EARNED MONEY
Galway's streets are dotted with some of the most talented street performers in all the land, creating the perfect ambient background for while you're enjoying a pint outside or wandering through the streets. Since it's blooming freezing outside, do the sound thing and throw them a few quid - it's not easy strumming a guitar with frozen fingers!
28. ATTEMPT TO COMPLETE AN ESCAPE ROOM
While Christmas is often spent playing board games with your family and piecing together a jigsaw at an alarmingly slow pace, mix things up a bit this year with the help of an Escape Room. Lock yourself and your nearest and dearest in a room filled with puzzles that must be solved in order to gain freedom - what could go wrong!
29. SPEND SOME QUALITY TIME WITH YOUR FAMILY
One of the best things about Christmas is that the whole family is together in mutually lazy spirits. Lying on the couch and devouring chocolates is what the festive season is all about (isn't it?!). We urge you to embrace these days and soak up every minute of time with your family before the real world comes aknocking in January.
30. ADOPT A CHARITABLE MINDSET
Christmas is often looked at as a purely consumerist holiday, crafted by corporations to make us spend extortionate amounts of money on meaningless things. It's easy to forget that there are people out there who have nothing and are seriously struggling. This Christmas, we urge you to wear your heart on your sleeve. Have empathy and compassion for those in need and give generously to any one of the incredibly worthwhile charities right here in Galway. Even a smile goes a long way these days.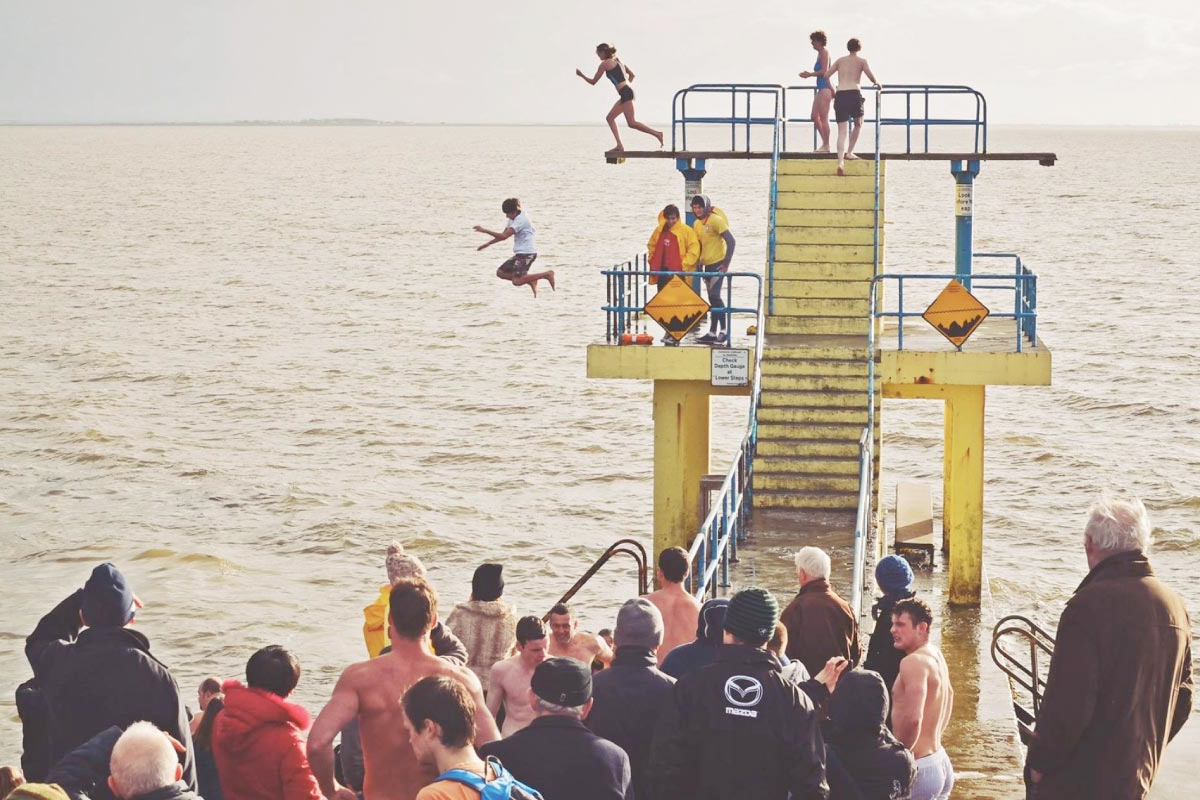 Published on Updated on