7 places to get great whiskey in Galway
Follow Galway's Whiskey Trail to some of the finest Irish and global whiskies around! Order a whiskey platter and try something new, or go for your old favourites. Whether you're looking for a cosy traditional pub or a lively evening with friends, Galway has a whiskey bar waiting for you.
Garavan's Whiskey Bar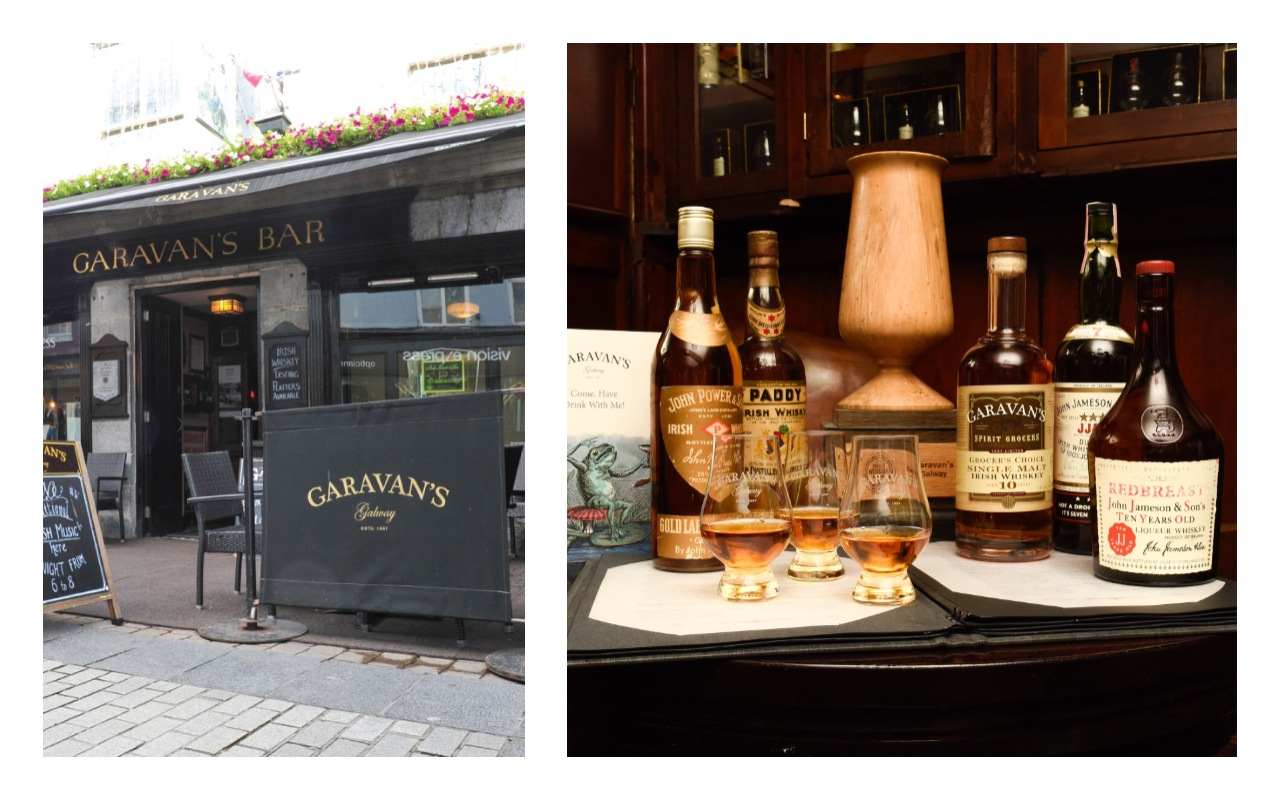 This charming family bar is popular with locals and tourists alike. It's situated right in the City Centre, brimming with history and offering an authentic, memorable experience. From the medieval building to the rare Irish whiskies in their antique whiskey cabinets, you're sure to learn a little something about the area!
Garavan's is the ideal place to sit out and enjoy the sound of buskers with an Irish Coffee in hand. It's a prime location for people watching with a pint of Guinness in hand, too! Or you can tuck into a snug and explore their cabinets, housing some of the rarest whiskies in Ireland.
When it comes to whiskey, Garavan's have a fantastic range from Ireland, Scotland, the States and Japan. Everyone from a beginner to the Irish whiskey realm to an experienced whiskey lover will find something new to enjoy in Garavan's whiskey platters.
Garavan's offer a warm, friendly atmosphere where there's always a bit of banter and that good traditional pub feeling! Ask their friendly staff for a recommendation, or just follow your gut and choose from their huge range. Enjoy live music seven days a week, or sit down for a quiet one and unwind with friends.
They've won the Best Whiskey Bar in Connacht four years in a row, and took home the Overall Best Irish Whiskey Bar 2017 from the Irish Whiskey Awards, so if it's whiskey you're after this is the place!
46 William Street, Galway City Centre // more here
1520

1520 has it all: live music, two bars, a great food menu and of course lots of whiskey! This bar is eclectic and different, with a touch of traditional Irish pub and a dash of everything else. The large front bar features big tables for dining with a group, as well as snugs and high stools for pints and pub grub.
There's plenty of room for dancing too when the bands take to the bandstand! Or if you'd prefer a few quiet drinks with your mates, the Penney Bar at the back has comfy chairs and a warm cosy feeling.
The bar serves up some brilliant whiskey-basked cocktails, or if you'd prefer something simple, try 1520's top of the range whiskeys, from Ireland and abroad. Ask their knowledgeable staff and fully-trained team about the best whiskey for you! They run regular whiskey-tasting events with experts from a wide range of distilleries, which is always a bit of craic.
14 Quay Street, Galway's Latin Quarter // more here
Án Pucán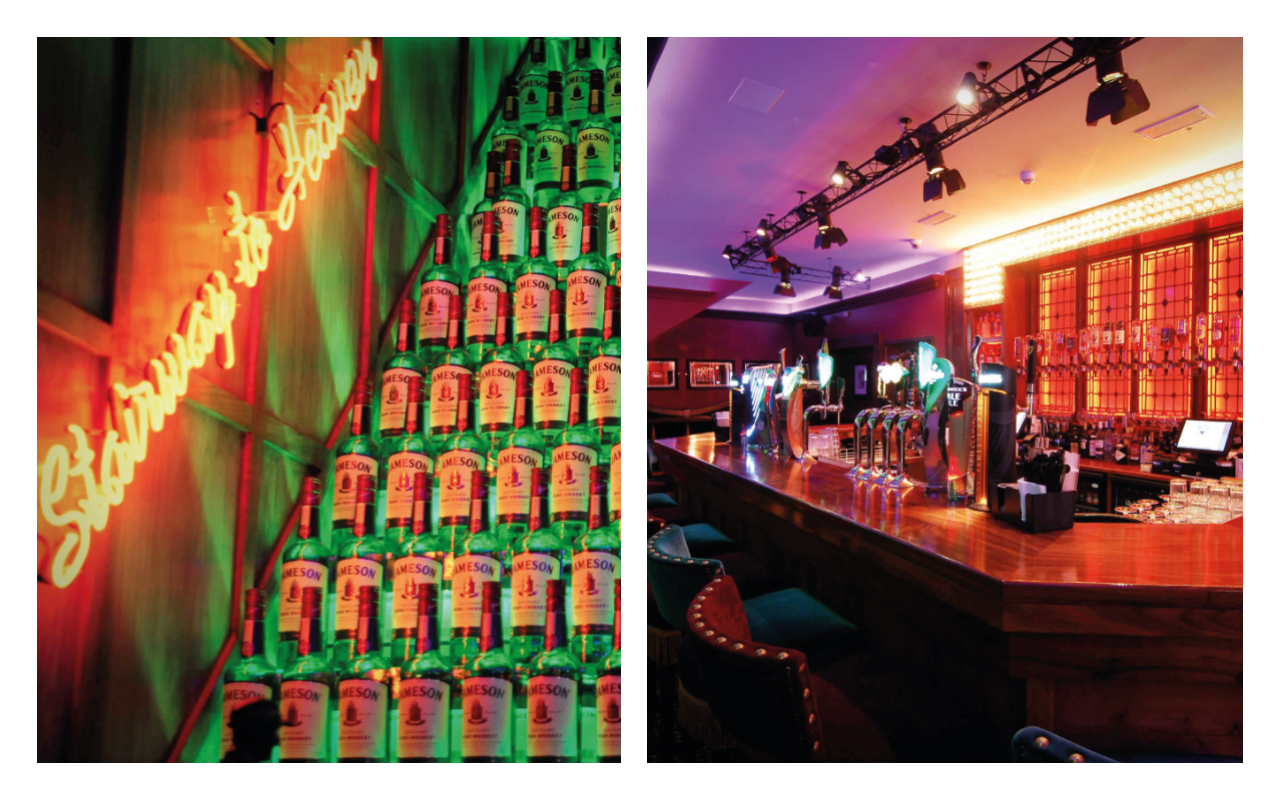 Án Pucán are founding member of the Galway Whiskey Trail, and also the proud winner of Best Single Cask Irish Whiskey. In 2015, An Púcán also won the Gold Medal for Connacht Whiskey Bar of the year. This bar has a lively and enthusiastic following, not just for their remarkable whiskey selection but also for their superb all-day menu, great nightly entertainment and delightful beer garden.
The bar also has a strong sporting connection, and with Connacht Rugby's ground just a stone's throw away, local match-days are something special!
An Púcán Bar has one of the most extensive selections of whiskey in the city, with a listing stretching to over 200 Irish, Scotch, American, Japanese and other great whiskies from around the globe. There are Irish and international whiskey platters available starting with an 'Introduction to Irish Whiskey' and moving on to premium Irish brands covering the classic Pot Still, Grain and Malt whiskeys. There is also a really special 'Irish Whiskey and Food' tasting platter featuring 3 great Irish Whiskeys matched with a selection of locally sourced Irish foods it is truly scrumptious and a totally surprising taste experience!
The bar runs unique whiskey themed events as well and have released their own cask bottling! There are monthly whiskey specials and a mouthwatering selection of whiskey cocktails, too: we would recommend trying their An Púcán Old Fashioned or their Brûlée Sour!
11 Forster Street, Galway City // more here
O'Connell's Bar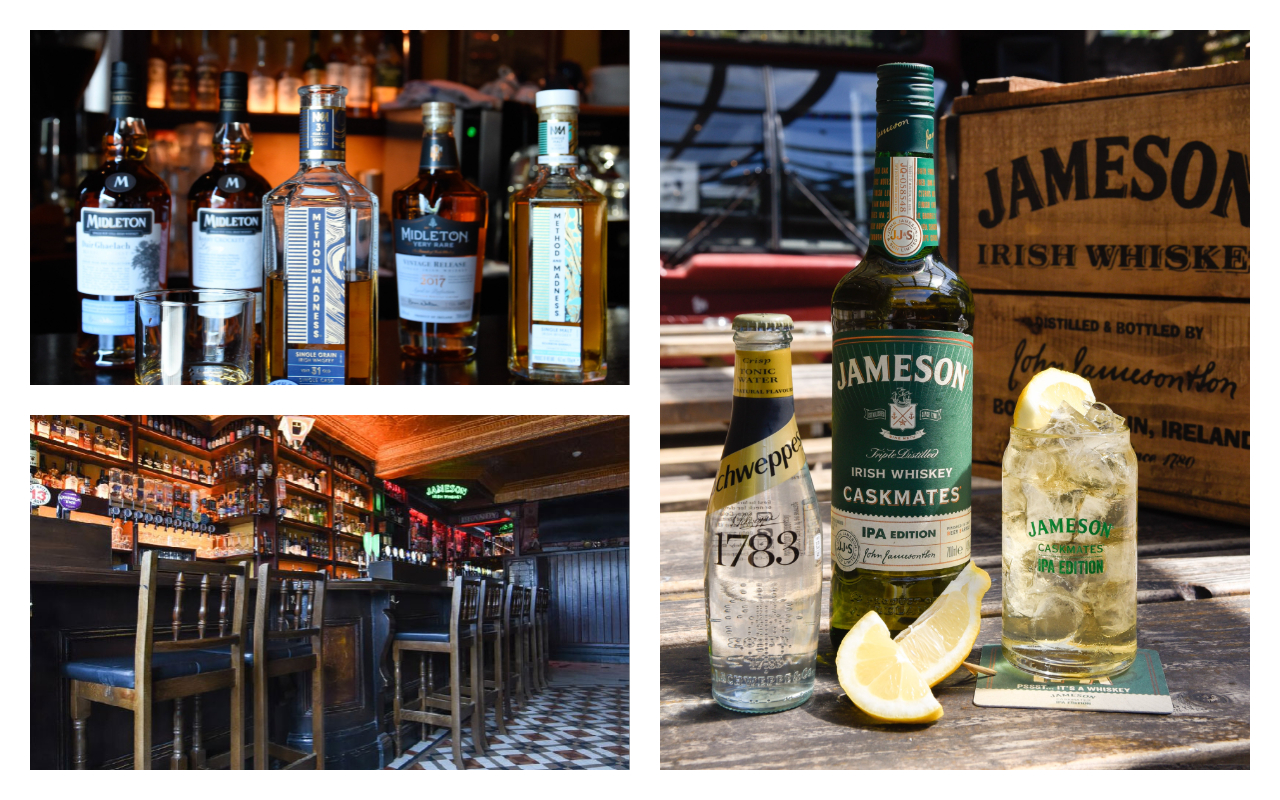 O'Connell's Bar is a traditional-style pub with tons of energy and a warm, inviting atmosphere. It feels like sitting inside a piece of history with most of its original fixtures and fittings still in tact. Here, you will find a wide selection of craft beers, premium gins and of course whiskeys from around the world! O'Connell's are well-known for their whiskey collection, which currently has over 120 whiskies to choose from.
O'Connell's Bar is also a member of 'The Galway Whiskey Trail', which is a collection of the finest 11 whiskey bars in the city, each waiting to share their story with you.
O'Connell's has a whiskey for all tastes, whether you are looking for that rare exclusive malt, traditional favourites or wish to sample whiskies from a wide variety of distillers and premium casks.
They recently hosted the Galway launch of Jameson's new Caskmates IPA edition. The night was a great success and showcased not only their amazing whiskey but also O'Connell's very own 1862 beer. With guests on the night such as Dave McCabe (Midleton blender), it was a whiskey lover's dream! They look forward to more whiskey-loving events to come.
8 Eyre Square, Galway // more here 
McCambrige's of Galway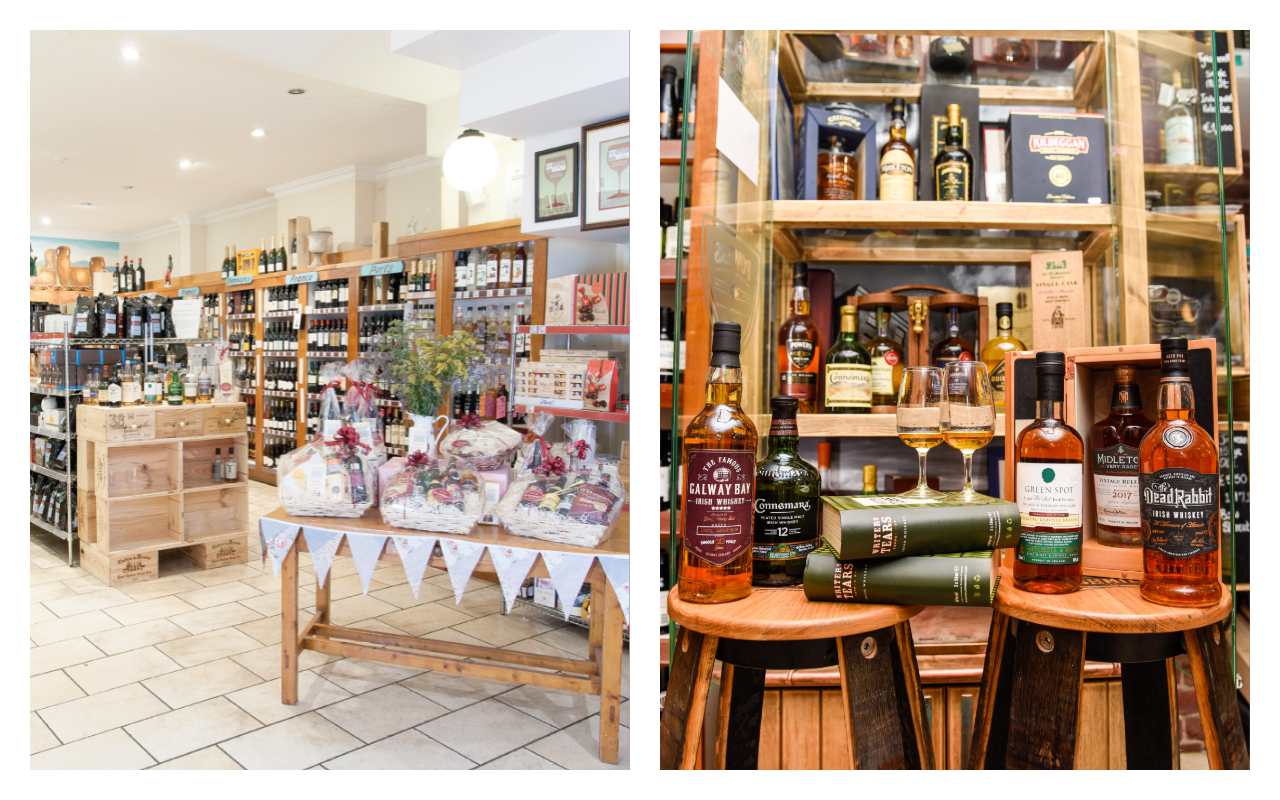 These folks were the first off-licence to open in Galway, and have kept the tradition of supplying high-quality wines and spirits going strong. As a grocer, deli, coffee shop and restaurant, McCambridge's still hold a special place in their heart for Irish whiskey, and their innovative off-licence section reflects that. They stock everything from Midleton Very Rare, to Green and Yellow Spot pot stills, to other rare and well-aged Irish whiskeys. They also carry an ever-growing range of Japanese whiskeys, along with some of Scotland's finest!
38 – 39 Shop Street, Galway // more here 
Sonny Molloy's

This welcoming whiskey bar forms the front part of Galway's much-loved Front Door Pub, with its own distinctive character. One wall is dominated by their whiskey cabinets and displays, featuring some of Ireland's best whiskey, including the distinctive Galway Bay Irish Whiskey. Pull up a high stool and give it a try!
2 High Street, Galway's Latin Quarter // +353(0)91 563 757
Freeney's Bar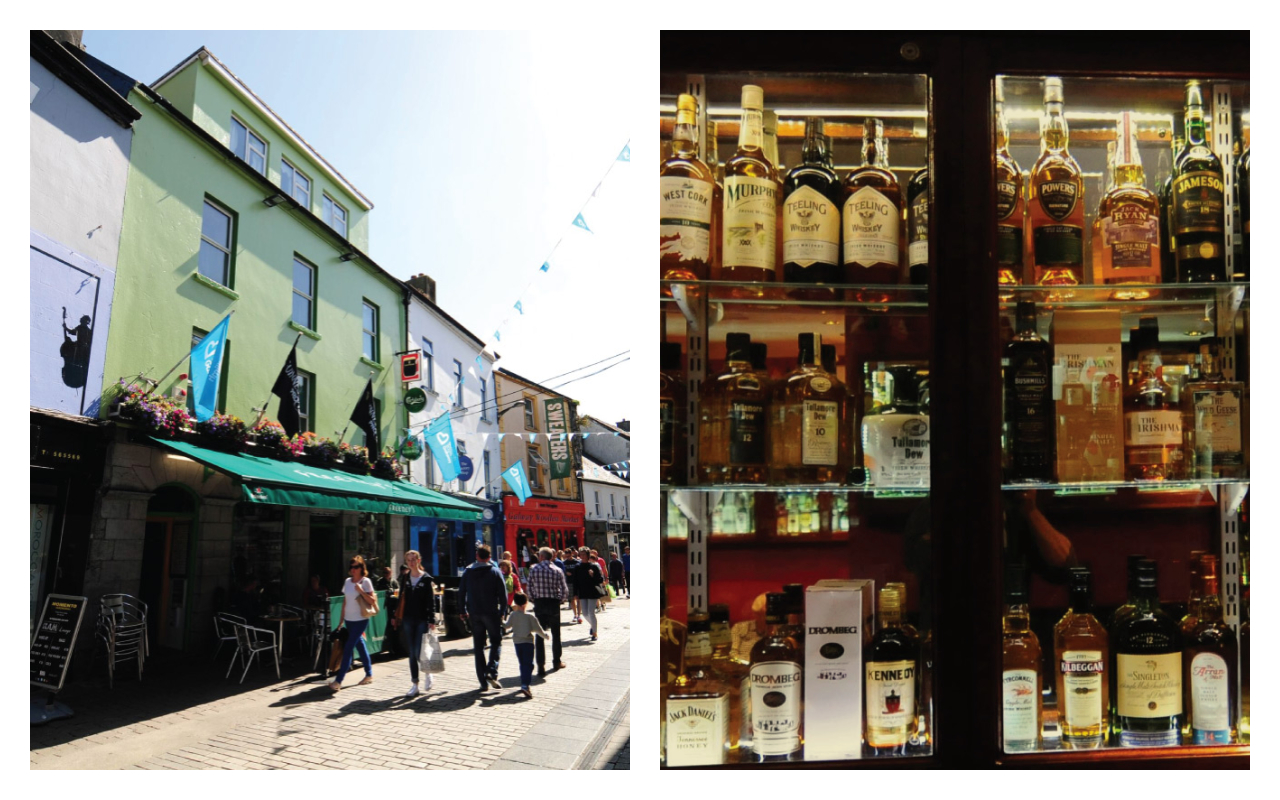 This little pub might look like a bait-and-tackle shop from the outside, but we promise it's a charming old-school whiskey bar inside! On top of pouring a perfect pint of Guinness, they also have an impressive whiskey range and are one of Galway's original whiskey bars. Freeney's is family owned and operated, so you can expect a warm welcome and top-notch service. Their bar staff have all kinds of whiskey knowledge if you've got questions to ask!
Enjoy in one of their cosy snugs, or take it outdoors to watch the world pass you by.
19 High Street, Galway City // more here