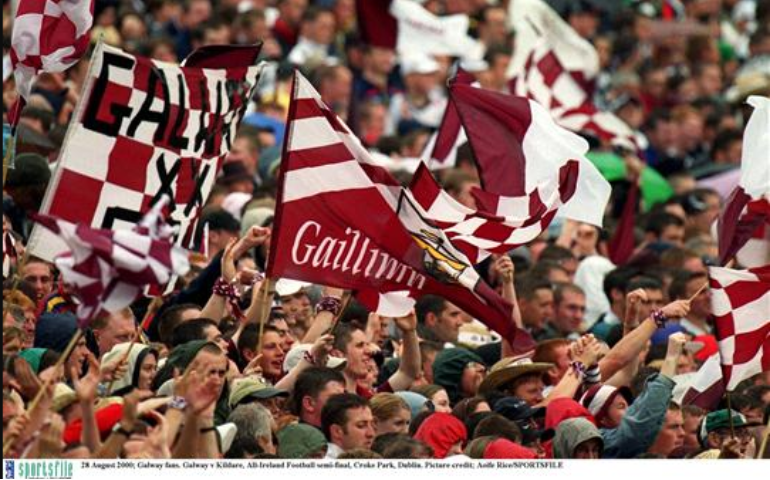 Top 3: Now That's What I Call Galway GAA Songs
OK fair enough we have The West Awake and the Fields of Athenry, but we wanted to research and list the top three specifically written Galway GAA songs!
Number 3: Galway are Back — The Conquerors
The original Galway GAA song, released ahead of the historic 1980 all Ireland hurling Final. Has to be in the top three for its innovation alone.
The song is an unashamed re hash of "The Equals" 1966 hit Baby Come Back, which was penned by the legendary Eddie Grant. The conquerors added some 80s synth, big hair, and guitar keyboard sounds. The result, a medium wave radio and dinner dance classic.  A song that is geographically all inclusive, a veritable early 80s Eir Code listing of every town, parish, and water pump in the county.
We sang it loud, we sweated Harp Lager, we loved it, and Galway were Back.
---
Number 2: Play it Low into Joe — The Cash Strapped Johns
Moving forward 20 odd years from the conquerors, this deceptive under the radar gem is the "Mercury prize Winner" or "Surprise Electric Picnic weekend anthem" of Galway Gaa Songs.
Tribal …guttural, its low steady rolling drum beat call us, as a people, to do battle. Lyrics crafted from a grass root understanding, and reverence for Galway hurling, and its King Joe Canning. A lesser known Galway GAA song, but a total ear worm. Sounds familiar right? that's because the chorus uses the same melodic structure as the Sunday Theme music. See, we took this to the minute detail.
Boasting a wonderfully dark Jesus and Mary Chain'esque guitar solo thrown in for great measure. The song calls your inner half back to tog out.
Top Line: Goosebump line…. repeated, the mantra: "And the time's coming soon for the boys in maroon!"
And it is…. On Sunday!!!
---
Number 1 :

Maroon & White……The Folk Footballers (Padraig Stevens & Leo Moran)

Queen gave us "Bohemian Rhapsody", Puccini gave us "Nessun Dorma", Bono gave us a headache, and Messers Moran & Stevens gave us this rendition of Maroon and White

From Special edition 2001 album, "The First 15", by the mighty Padraig Steven, Leo Moran and crew. This is top of the pops and the all time Galway GAA song classic. This is Lush, Lyrical, Legacy.

I challenge you to DNA test yourself, listen to this song and if you don't shudder to your core, you ain't Galway schtock baby. Vocals in the vernacular, and guitar solos that arrive just in time to give your emotions a breather from the intensity of the lyrical journey. It's your heritage, it's nostalgia, it's your GAA childhood and dreams, all crafted into one magical song. This song not only takes us to Croker, it puts us all on the Pitch.

The story telling and lyrics are underscored by a crisp acoustic guitar, and a heavy Padraig Stevens electric guitar gently in overdrive on volume 3, that could easily switch to 11 and blow you to pieces. The vocal passion, and pronunciations by Leo Moran make it Galway to the core. Goose bump lyric "with the people all around me, and the ghosts up in the stands" (remembering Tony Keady) . It's about more than us, it's about who we are and where we come from.

Top Line: "Me heart is in Maroon and white, I'll stick with what I know, its maroon and white forever, no matter where I go"

Ancient philosopher Socrates stressed….. "Know Thyself", and Stevens and Moran expand that: "Stick with what you know."

Ah here, I'm in bits…. Get this play list on after you have the cuppa Tae in Costa Applegreen on the way up, and you will arrive in the big smoke ready to do battle.

Its been emotional,

Colm

He bleeds maroon and white, he's a true Galwegian through and through. Colm McLoughlin is known for his festive socks, and his love of GAA. He'll be your man standing in the middle of Eyre Square belting these tunes out and leading the charge down Shop St when Galway take the win! 

Feature image via Balls.ie, via Sportsfile