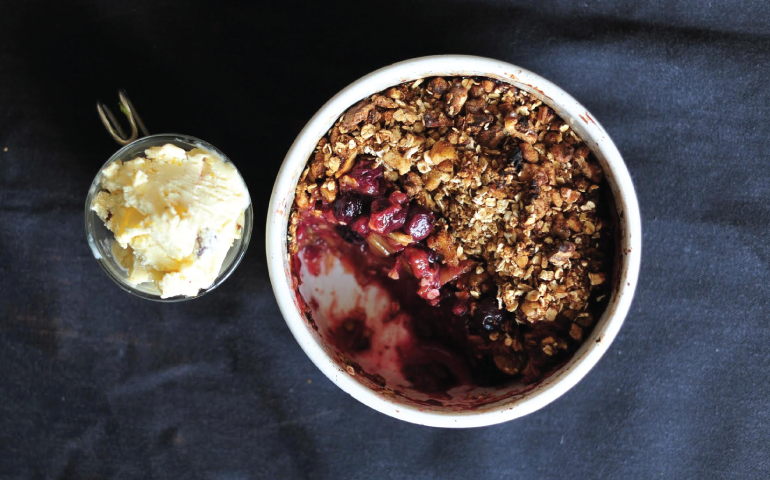 Time to Get Rhubarbed
Time to Get Rhubarbed! Two Desserts and a Simple Homemade Ice-cream – Looking to stuff your face with desserts? Or trying to impress at home? Either way, these two fast, so so simple and damn tasty desserts, as well making your own fecking ice-cream, will make you lord commander of the kitchen. Rhubarb and fresh berries are everywhere at the moment. Use them. Try find forced if possible. The Ginger Biscuit, Rhubarb and Honey Fool dessert will be the easiest you have ever made, and these biscuits from Evergreen are outstanding. In the past I have used this ice-cream recipe that I had forgotten about and wow is it easy. Two ingredients, that's it. Add whatever flavouring you like, anything goes really. The crumble has no sugar involved. Use 100% maple syrup. The topping is damn good and if you are not a fan of nuts, just replace with oats or other grains. The Sweet Mixed Spices can be bought in most stores. This mixed bag is a must for any kitchen, especially if you like baking and making desserts. Make these now and fling guilt out the fecking window.
Homemade Ice-cream
Ingredients
– I can of Condensed Milk. Around 250ml
– 250ml fresh cream for whipping.
– Flavouring. You can add anything to this mix. I went with orange, raisin and nutmeg.
Method
1.) Whisk the condensed milk well in a bowl.
2.) Whip the cream to stiff peaks.
3.) Along with your flavouring, fold everything together in the bowl with a spatula. Place in a container, cover and pop in the freezer for around 12 hours. Simple and mouth watering and made with your hands.
---
Rhubarb & Blueberry Crumble
Ingredients
Fruit Mix
– 2 bunches of rhubarb
– 1 orange, zest, and juice
– 250g blueberries
– 100ml honey
– 1 tsp cinnamon
Crumble Topping
– 100g walnuts
– 50g rolled oats
– 2 tsp of Sweet Mixed Spices (Nutmeg, Coriander, cassia, ginger, fennel, cloves, cardamom)
– 50ml maple syrup
Method
1.) Pre-heat the oven to 180c.
2.) To make the fruit mix. Wash the rhubarb. Trim the tops and bottoms. Dice the rhubarb into small squares.
3.) In a small pot, add the orange zest, juice, honey and cinnamon and bring to a simmer, then add the rhubarb and cook until soft. Set aside to cool. You will use some of this mix for your other dessert.
4.) To make the crumble topping. In a bowl, roughly crush the walnuts. Add the oats and spices. Pour in the maple syrup and mix well with a wooden spoon. Done.
5.) In a small baking dish, place the blueberries on the bottom, add ¾ of the rhubarb mix, pat down, then add the crumble topping over the mix.
6.) Place on a tray and into the oven. Cook until the crumble topping has a lovely brown to it. Around 20 minutes. Serve with the homemade Ice-cream.
---
Ginger Biscuit, Rhubarb and Honey Fool
Ingredients
– 200 ml fresh cream
– 250g mascarpone
– 1 tbsp honey
– 6 gluten free ginger biscuits,
Rhubarb mix
Method
1.) Whip the cream to stiff peaks.
2.) Whisk the mascarpone separately until mixed well.
3.) In a bowl, using a spatula or wooden spoon, fold in the cream, mascarpone, honey, the rest of the rhubarb mix kept from the crumple, and roughly break up the 6 biscuits and add too.
4.) Serve in a glass and eat straight away while the biscuits are crunchy. You will get around four portions here so prep for sharing.
These two desserts are possibly the quickest you can make, yet look like you haven't seen daylight and have been locked in a kitchen for a day. Made to impress.
And don't forget, if you manage to make it look pretty, take a snap and share it on the This is Galway Instagram or Facebook page.
Sources: Rhubarb from Galway Markets. Berries, other fruit, nuts and spices from Ernies Fruit and Veg Store. Ginger Biscuits from Evergreen.
---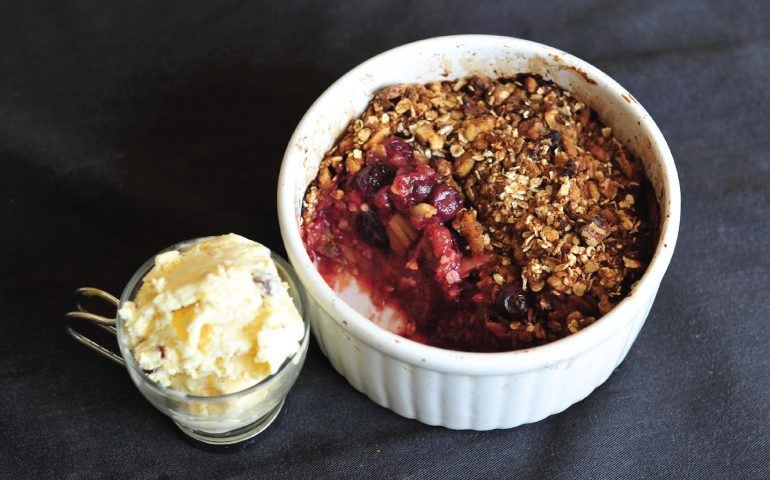 About the Chef
You wouldn't know by looking at him, but Stephen Byrne likes to eat, a lot. He has cheffed worldwide; Canada, Australia, San Francisco, Dublin and now resides in Galway. Not afraid of the unhealthy appetite, he has a keen interest in simple whole foods, a love for Asian flavours and an awful sweet tooth. With years of experience, he will create weekly recipes of meals he devours regularly, and hopefully inspire people to cook at home and embark on a healthier lifestyle.
He writes on his site: http://therantingbeast.com/