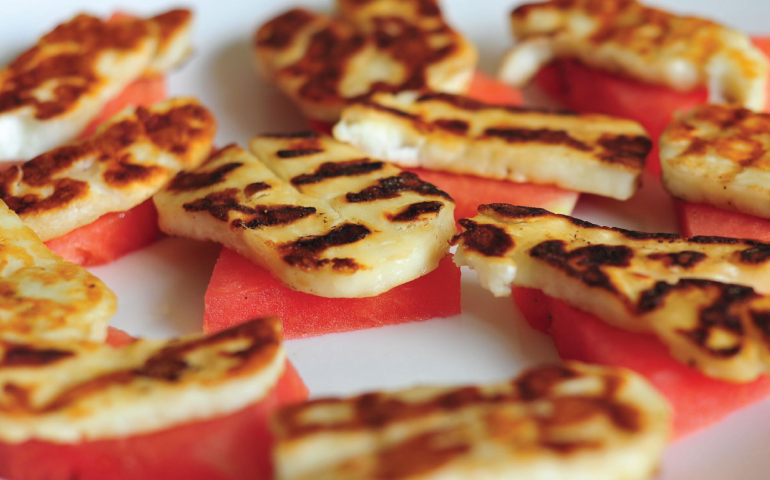 Three Delicious Things to Do With a Watermelon
I was at the Galway markets Saturday morning doing my usual weekly shopping when I came across a medium sized watermelon, last one or only one, that I had to buy and have for my lunch. This got me thinking, what can I do with a watermelon for my lunch? I came up with a bunch of ideas and with the sun slapping the back of my neck, I knew what was needed. So I made a juice, a snack (whoever knows me personally, knows I bang on about these two ingredients constantly) a damn good salad, and invited a hungry Aussie around to join me because you know, Aussies. Out of a medium sized watermelon, that happened to have edible pips, I was able to feed two people and still have some left over. If you ever use a watermelon with the larger pips, take them out, wash them, toss them in spices, a little salt and roast; they make a delicious snack. Try the warm halloumi and watermelon together (I discovered this in Cyprus 2006) it is just so damn good, juicy warm and cold flavours sliding down the back of your throat, trust me.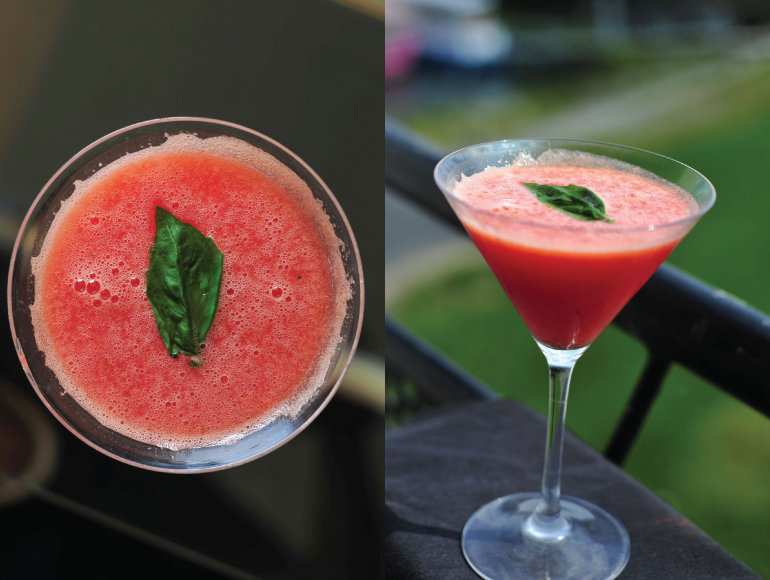 GF. V
Juice
Ingredients
– ¼ of a watermelon
– 1 lemon juiced
– small piece of ginger, sliced thinly
– handful of ice cubes
Method
Simply add all ingredients into a blender, rather than a juicer. This will create a nice full bodied mixture out of this world refreshing juice, keeping all the goodness that you lose when you use a juicer by discarding the pulp.
---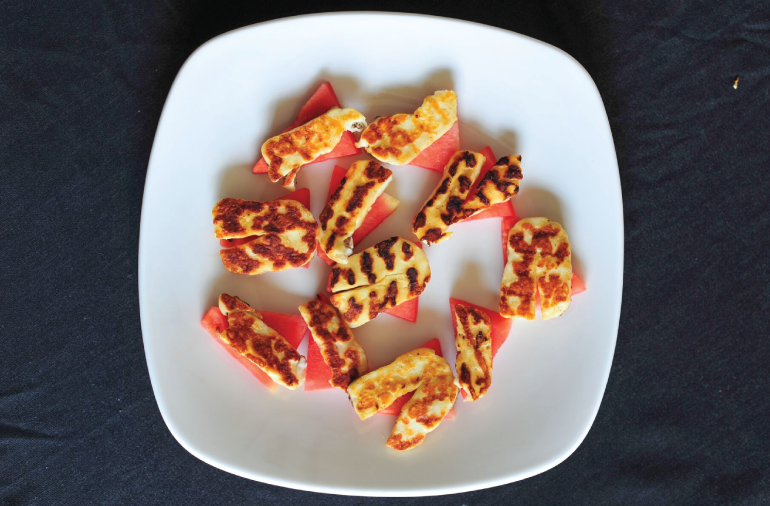 Snack
– 1 wedge of watermelon
– 1 pkt of halloumi (your choice)
Method
1.) Peel the rind from the watermelon and cut into slices a couple of millimeters thick.
2.) Heat a pan, add a little oil (or not) and cut the halloumi into slices, same thickness as the watermelon.
3.) Brown the halloumi on both sides, place individually on top of the watermelon slices and eat straight away.
---
Salad
– 100g feta
– 1 avocado
– ¼ watermelon
– 100g mixed olives
– 1 bunch of basil (I used thai sweet basil here)
– 2 limes juiced.
– Olive oil
Method
1.) Make the dressing. Pluck the leaves from the basil. Add in a blender with the lime juice and a drizzle of olive oil, blend well till smooth and set aside.
2.) Cut the feta and watermelon into small squares.
3.) Peel and dice the avocado into small squares.
4.) Cut the olives in half.
5.) Add everything into a bowl. Pour in as much of the dressing as you fancy and toss all the ingredients. Serve and wolf.
You will probably still have some watermelon left like I had. Make more juice and either freeze to make granita or place in an ice cube tray to make some delicious ice cubes (for that Gin or Vodka drink).
And don't forget, if you manage to make it look pretty, take a snap and share it on the This is Galway Instagram or Facebook page.
Sources: Vegetable from The Galway Market. Feta, Halloumi and Olives from Sheridans Cheesemongers
---
About the Chef
You wouldn't know by looking at him, but Stephen Byrne likes to eat, a lot. He has cheffed worldwide; Canada, Australia, San Francisco, Dublin and now resides in Galway. Not afraid of the unhealthy appetite, he has a keen interest in simple whole foods, a love for Asian flavours and an awful sweet tooth. With years of experience, he will create weekly recipes of meals he devours regularly, and hopefully inspire people to cook at home and embark on a healthier lifestyle.
He writes on his site: http://therantingbeast.com/