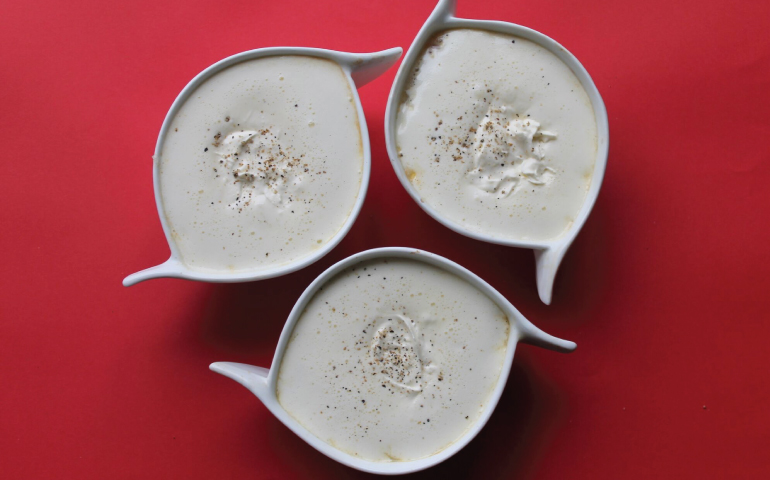 A Smoked Fish Soup That Will Curl Your Toes
This is damn simple, fecking tasty, healthy-ish and very quick to make. I use to make this dish in many of the places I have worked. Always goes down a treat. The combination of a few ingredients baked in an oven is sublime. You can of course do it without the whipped cream but…. plus use a good smoked cheese. I also recommend making your own stock, though it's not too necessary. Today I simply made one from an onion, lemongrass stalk, bay leaves, dried lime leaves and peppercorns, all from the press. This is a great recipe to use on friends, dinner parties etc, you will become a god overnight after serving these. This mix will serve around 6 people. Try it, so bloody good.
Ingredients
– 300g smoked fish (Coley or Haddock)
– 4 tomatoes
– 1 small spanish onion
– 200g Smoked Knockamore Cheese
– 250 ml semi whipped cream
– 1 ½L of water, veg or fish stock
– 1 lemon
Method
1.) Heat the water or stock, bring to a simmer. Making our own stock is easy and adds great flavour to this dish but you can get away without a stock and just use water.
2.) Preheat the oven to 180c.
3.) Peel the onion and roughly dice. Half the tomatoes, cut into quarters, take out the seeds and dice the flesh. Add the onion peelings and tomato seeds to you simmering stock.
4.) Dice the cheese into small cubes.
5.) Cut the fish into small cubes.
6.) Mix all the diced ingredients well in a bowl.
7.) Place the ingredients into small Oven-to-Tableware baking dishes, around ¾ full. You can make around 6-portions from this mix.
8.) Cover with some warm stock and bake in the oven for 10 minutes.
9.) Semi-whip the cream. After 10 minutes, take out the baking dish, squeeze a wedge of lemon and add a big tablespoon of cream to the dish. Bake for another 5 minutes.
10.) Eat with garlic bread, so good.
And don't forget, if you manage to make it look pretty, take a snap and share it on the This is Galway Instagram or Facebook page.
---
Sources: Cheese from Sheridan's Cheesemongers, Fish and veg from Deacy's Fish and Vegetable Shop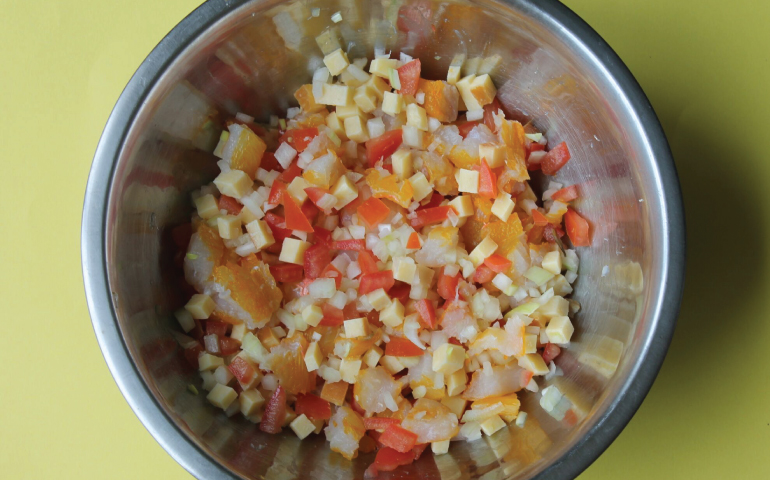 About the Chef
You wouldn't know by looking at him, but Stephen Byrne likes to eat, a lot. He has cheffed worldwide; Canada, Australia, San Francisco, Dublin and now resides in Galway. Not afraid of the unhealthy appetite, he has a keen interest in simple whole foods, a love for Asian flavours and an awful sweet tooth. With years of experience, he will create weekly recipes of meals he devours regularly, and hopefully inspire people to cook at home and embark on a healthier lifestyle.
He writes on his site: http://therantingbeast.com/