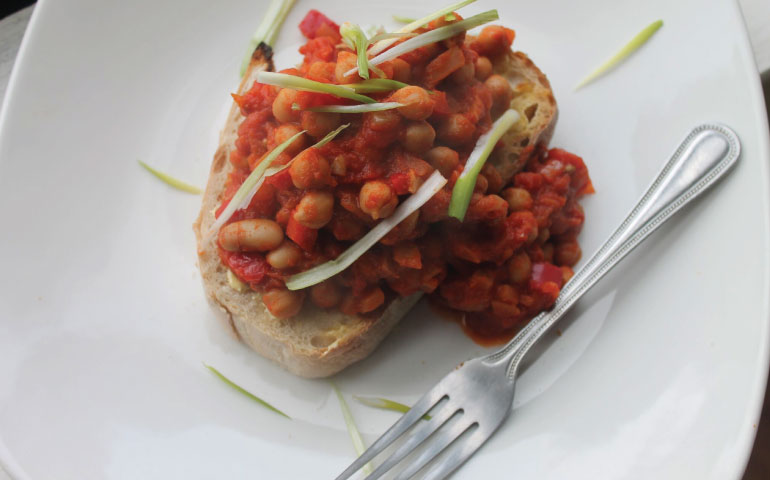 Skinheads on a Raft… aka Beans on Toast
Back when I was a little boy we use to call beans on toast, skinheads on a raft. I still call them this but you don't hear it as much these days. I have an addiction to beans on toast. So simple and a damn tasty snack or breakfast but baked beans from the tin can be a little too sweet due to the sugar so I've decided to start making my own, and doing this is very simple. I add in as much smoked paprika as possible because I love the flavour. I've made this recipe without sugar, maple syrup or honey. If you slowly sweat the onion you can create your own natural sweetness. I used tinned cooked beans here just for the recipe but you could and should buy dry beans, steep and cook yourself. Make your own baked beans here, it's easy. Add chili flakes or powder if you fancy some heat. And buy some good bread. I had some damn delicious sour dough from Le Petit Delice, savage.
Ingredients
– Tablespoon olive oil
– 1 small onion, peeled and diced
– 3 cloves of garlic crushed
– 1 large tables spoon of smoked paprika
– 1 teaspoon cumin
– ½ teaspoon of coriander seeds (optional)
– 2 tins chopped tomatoes
– 2 tins of mixed cooked beans (Chickpea, Butter, Cannellini, Red Kidney)
– 2 tablespoons of balsamic vinegar (or vinegar of choice)
– Salt and black pepper
Method
1.) Peel and dice the onion and add to a pot with the olive oil. Sauté on a low heat until soft then add the crushed garlic.
2.) Cook for around 3 more minutes then add the spices and seeds. Sauté for another 2 minutes then add in the chopped tomatoes . Simmer for about 10 minutes.
3.) Add the beans, vinegar and simmer for another few minutes. Check the seasoning.
And don't forget, if you manage to make it look pretty, take a snap and share it on the This is Galway Instagram or Facebook page.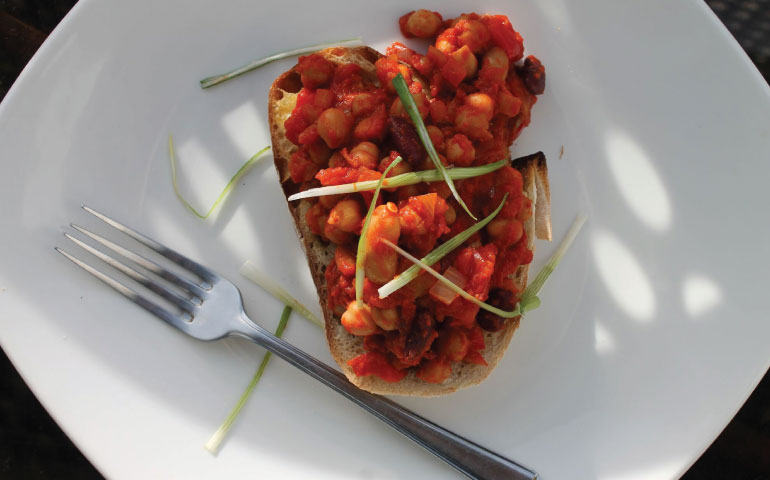 About the Chef
You wouldn't know by looking at him, but Stephen Byrne likes to eat, a lot. He has cheffed worldwide; Canada, Australia, San Francisco, Dublin and now resides in Galway. Not afraid of the unhealthy appetite, he has a keen interest in simple whole foods, a love for Asian flavours and an awful sweet tooth. With years of experience, he will create weekly recipes of meals he devours regularly, and hopefully inspire people to cook at home and embark on a healthier lifestyle.
He writes on his site: therantingbeast.com