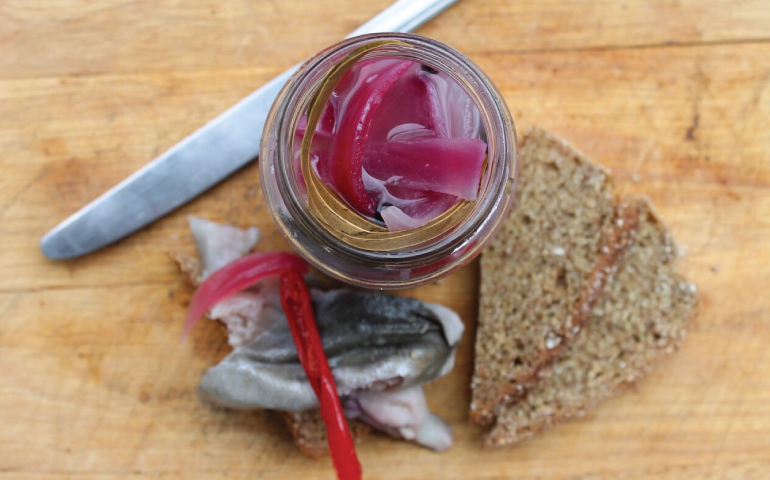 Simple Soused Fish
Simple Soused Fish – So, experiment time. I went on a lads fishing trip near Inisheer and came back with a bucket load of Pollock and a dose of sunstroke. I've baked it, fried it, battered it, poached it and still have a freezer full of fish. So, I wanted to try something new that all should try, and that is sousing or pickling. Do not be afraid of the word pickle as I know "too vinegary" comes to the minds of most people when they think of pickling. This recipe is milder using the brown rice vinegar yet has a fresh gorgeous bite with the chili and ginger. It's a personal experiment because I usually use Mackerel when sousing and have never tried Pollock, so I was curious to see how it would pickle using small fillets. It worked beautifully, subtle and flavorsome and served with some brown bread and a drizzle of olive oil, it makes an outstanding snack. Give it a bash with either Mackerel or Pollock.
Ingredients
– 4 fresh small pollock or mackerel fillets, deboned
– 4 tbsp sea salt
– ½ red onion
– 1 chili
– 1 small piece of peeled ginger
– 200ml brown rice vinegar
– 100g brown sugar (white can be fine too)
– 3-4 bay leaves
– 1 tsp peppercorns
Method
1.) Place some foil onto a tray and scatter some of the salt. Place the fillets of the fish on top, skin down and cover with the remaining salt. Leave for about an hour. Some like to wash and pat the fish dry afterwards but I don't bother, keeping that salt and natural oil of the fish.
2.) Peel the skin of the onion and cut in three into segments, lengthways. Like leaves.
3.) Cut the ginger into slices. Half the chili, discard the seeds (unless you are a fan of heat, otherwise, keep them in) and cut each half in half.
4.) In a small pot, place the chili, ginger, bay leaves, peppercorns, sugar and vinegar and bring slowly to the boil. Take off the heat and add the onions. Set aside and leave to cool.
5.) Place the fish in jar, spreading out the onion leaves, ginger and chili slices amongst the fillets and pour the remaining liquid over the top, covering.
6.) Leave sousing for around 24 hours.
It's a simple as that. You can keep this in the fridge for three to four days. Use the fish in salads, for snacks, on brown bread, with crème fraiche, it is scrumptious.
And don't forget, if you manage to make it look pretty, take a snap and share it on the This is Galway Instagram or Facebook page.
---
Sources: Fish from the belly of the Sea. Vinegar and other ingredients from Asiatic Manila Abbeygate Street.
About the Chef
You wouldn't know by looking at him, but Stephen Byrne likes to eat, a lot. He has cheffed worldwide; Canada, Australia, San Francisco, Dublin and now resides in Galway. Not afraid of the unhealthy appetite, he has a keen interest in simple whole foods, a love for Asian flavours and an awful sweet tooth. With years of experience, he will create weekly recipes of meals he devours regularly, and hopefully inspire people to cook at home and embark on a healthier lifestyle.
He writes on his site: http://therantingbeast.com/