Under the Sea: 6 seafood restaurants to try in Galway
Fresh from the Atlantic to your plate, these restaurants serve up way more than just a fish supper! Galway is a haven for the seafood-lover.
A hundred years ago, fleets of Galway Hookers would head to sea from the Claddagh in all weather, and return with fresh fish, which was sold at the Spanish Arch by the fishermen's wives. These days, it's much easier to get fresh seafood on your plate: Galway is overflowing with great seafood restaurants.
Dock No 1 Seafood Bar & Restaurant
Enjoy fresh Irish seafood in this warm, rustic-style restaurant while overlooking the boats floating in the harbour at the docks. How much closer to the sea can you get than that? The Restaurant serves options from land and sea for lunch and dinner, with daily specials based on the catch of the day. The menu from the Seafood Bar is full of oysters, mussels, Irish lobster rolls, and other innovative dishes made with high-quality local ingredients and the best of native Irish seafood.
1-3 Dock Road, The Docks, Galway City // more here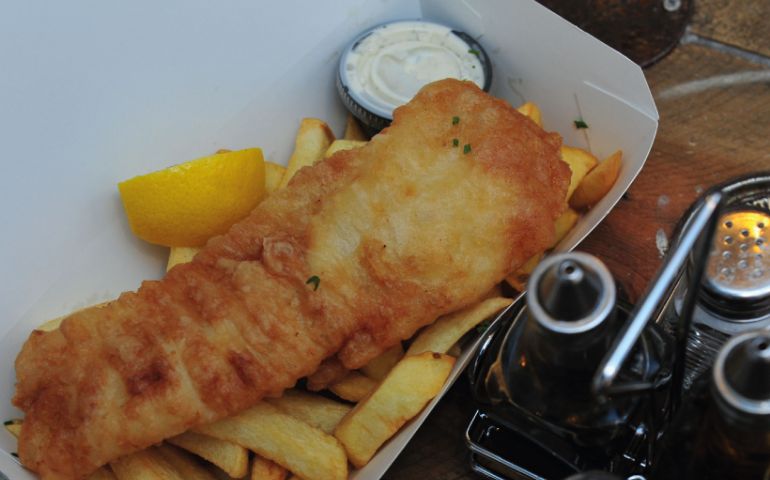 Hooked
This award winning, family-run restaurant and chipper is perfect for a sit-down meal with friends and family in a casual, welcoming setting with a big seafood menu. They've got a little something for everyone, from the popular monkfish goujons, hearty fish pie, shellfish bowl in lobster bisque and of course fried fish and twice-cooked chips; there's even a vegetarian option, but you won't find any chicken on this menu. Their seafood is sourced daily from Ali's Fish Market just around the corner, which brings a steady stream of high-quality fresh fish. Their food philosophy is "hook it and cook it", and the difference is noticeable in that first, delicious bite.
65 Henry Street, Galway's Westend, Galway City // more here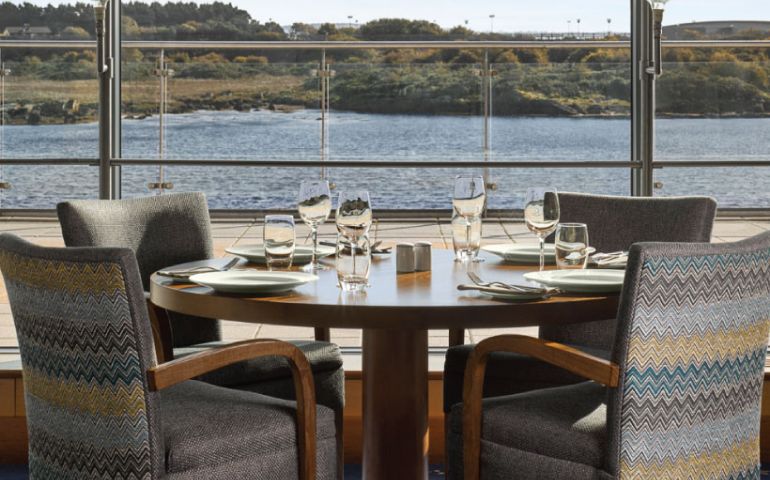 Marina's Grill at the Galmont Hotel
Panoramic views of the Lough Atalia, fabulous service and a wide-ranging menu make Marina's Grill an easy choice for family get-togethers and Sunday lunch. Their "From the Wild Atlantic Way" menu features delicious, locally sourced options like baked Atlantic cod and Clarenbridge mussels. But where they really shine is with the Wild Atlantic Way Platter, which is a European Region of Gastronomy 2018 Signature Dish as well: it includes mussels, Burren smoked salmon, prawns, scallops, and crab claws!
Lough Atalia Road, Galway City // more here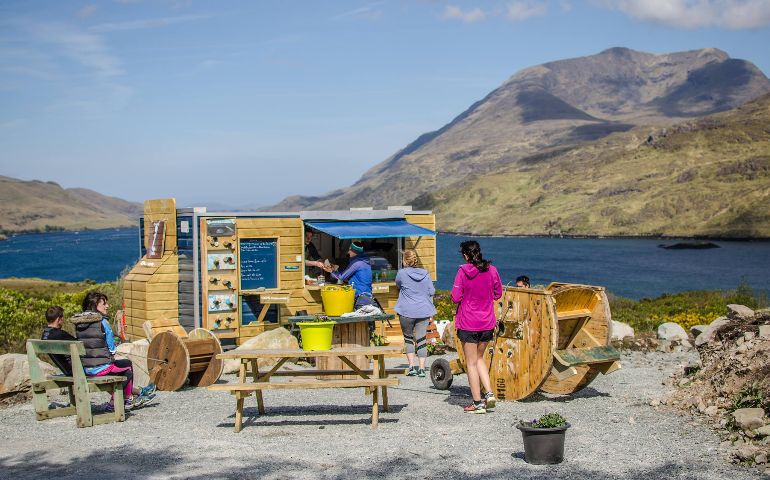 Misunderstood Heron
Set in one of the most dramatic landscapes that Ireland has to offer, the Misunderstood Heron serves up the flavors of Connemara, with stunning views of the Killary Fjord. It's a food truck, offering visitors an al fresco dining experience that won't soon be forgotten.
Their menu is constantly changing and evolving, but it always serves up flavoursome, homecooked food, highlighting the gorgeous produce available in the West of Ireland. The Misunderstood Heron's mussels are sourced directly from the Fjord they overlook; the lamb from nearby fields; and they forage for seasonal flavours wherever they can find them. It's a friendly, relaxed environment where tourists and locals alike are welcomed to stop for a chat, to enjoy a tasty bite of grub, a delicious cup of coffee and homemade cake, and to enjoy the views.
Leenaun, Connemara, Galway County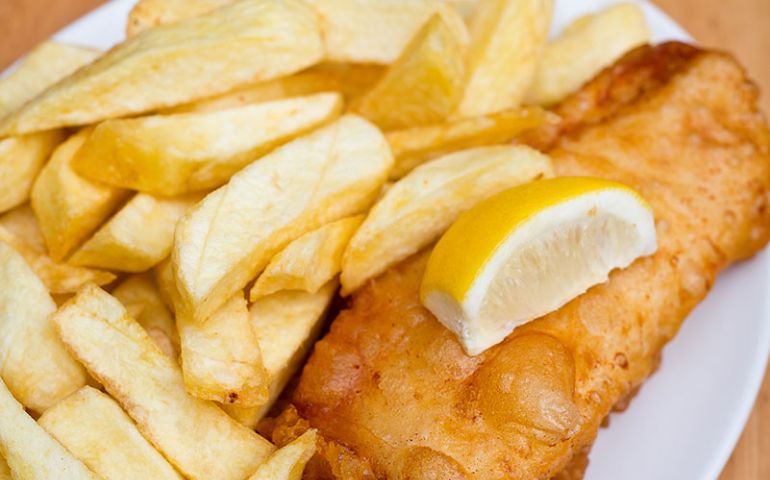 McDonagh's Fish and Chips
Possibly Galway's most well-known chipper, McDonagh's fills Galway's Latin Quarter with the tempting smell of fish and chips. Rock up to the fish and chip bar for a take-away batch of their delicious thick-cut chips with salt and vinegar (a viable lunch option), or sit down at their picnic-style tables to enjoy some of the tastiest fried fish around. On a sunny day, the outside seating area is one of the best places for people-watching in Galway's Latin Quarter.
They also have a cosy sit-down restaurant, serving up local oysters, pots of mussels, and fresh fish of every order.
22 Quay Street, Galway City // +353 (0)91 565001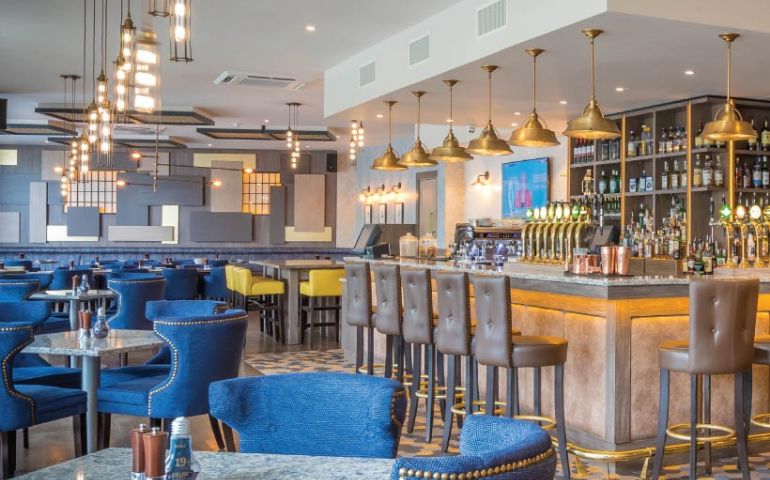 Dillisk on the Docks
The Harbour Hotel recently transformed their bar and restaurant into a haven of charm and elegance, complete with delicious, carefully crafted food: meet Dillisk on the Docks, if you haven't already! Their menu effortlessly blends local Atlantic seafood with family favourites, using only the freshest local and artisan ingredients under the careful design of head chef Patrick Anslow. They serve breakfast, lunch, afternoon tea, and dinner, and also have an extensive bar menu to enjoy. True to their name, you'll find plenty of dillisk on the menu, used in creative and delicious ways.

Harbour Hotel, New Dock Road, Galway City // more here