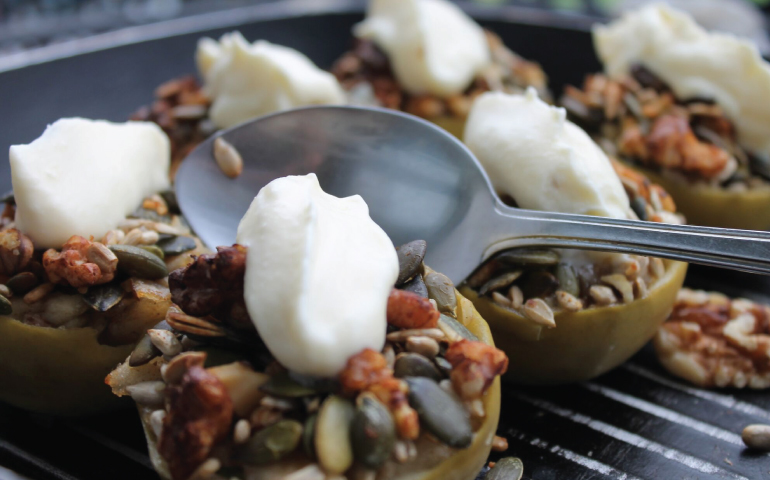 Roast Apple, Thyme, Walnut and Seed Crumble with Honey and Lime Mascarpone
I noticed I had a whole bunch of apples sitting there that I was given and was never going to get through, so I needed to come up with something to get through and use them and below is the, shall I dare say, masterpiece of a recipe that came to mind and now, graces this page. This worked a goddamn treat. A perfect crumble using walnuts and seeds (mainly pumpkin and sunflower) while you get to use the whole apple; you can actually eat this dessert/snack as you would an apple. It's fecking delicious. The lime, mascarpone and thyme really make love to your mouth and taste buds. It's fast and simple. Scooping out the apple and adding it back into the shell while roasting all the ingredients keeps the flavours nice and compact. You can add whatever you want too, lemon, raisins, other spices, it will work beautifully. Give it a bash.
V. SF
Ingredients
– 3 apples
– 50g walnuts
– 50g mixed seeds
– 2 tsp honey
– 1 tsp nutmeg
– Fresh thyme
– 150g Mascarpone
– 1 lime
– 1 tea honey
Method
1.) Preheat the oven to 160c.
2.) Half the apples horizontally. With a dessert spoon, scoop out the flesh as you would an avocado, discard the seeds, chop the flesh in rough chunks.
3.) In a bowl, mix the apple chunks with the honey, nutmeg and some picked thyme.
4.) Place the mix back into the apple shells.
5.) Separately, crush the walnuts with your hands or the back of a spoon. Mix with seeds and sprinkle over the apples, covering the tops.
6.) Place in the oven for 15 minutes.
7.) In a bowl, add the mascarpone, honey, the juice and zest of the lime. Mix with a spoon.
8.) When the apples are cooked, leave to rest for five minutes then place some of the mascarpone mix on top and wolf it down like a hungry beast.
And don't forget, if you manage to make it look pretty, take a snap and share it on the This is Galway Instagram or Facebook page.
---
Sources: Seeds from Evergreen. Mascarpone from Sheridans Cheesemongers.
About the Chef
You wouldn't know by looking at him, but Stephen Byrne likes to eat, a lot. He has cheffed worldwide; Canada, Australia, San Francisco, Dublin and now resides in Galway. Not afraid of the unhealthy appetite, he has a keen interest in simple whole foods, a love for Asian flavours and an awful sweet tooth. With years of experience, he will create weekly recipes of meals he devours regularly, and hopefully inspire people to cook at home and embark on a healthier lifestyle.
He writes on his site: http://therantingbeast.com/