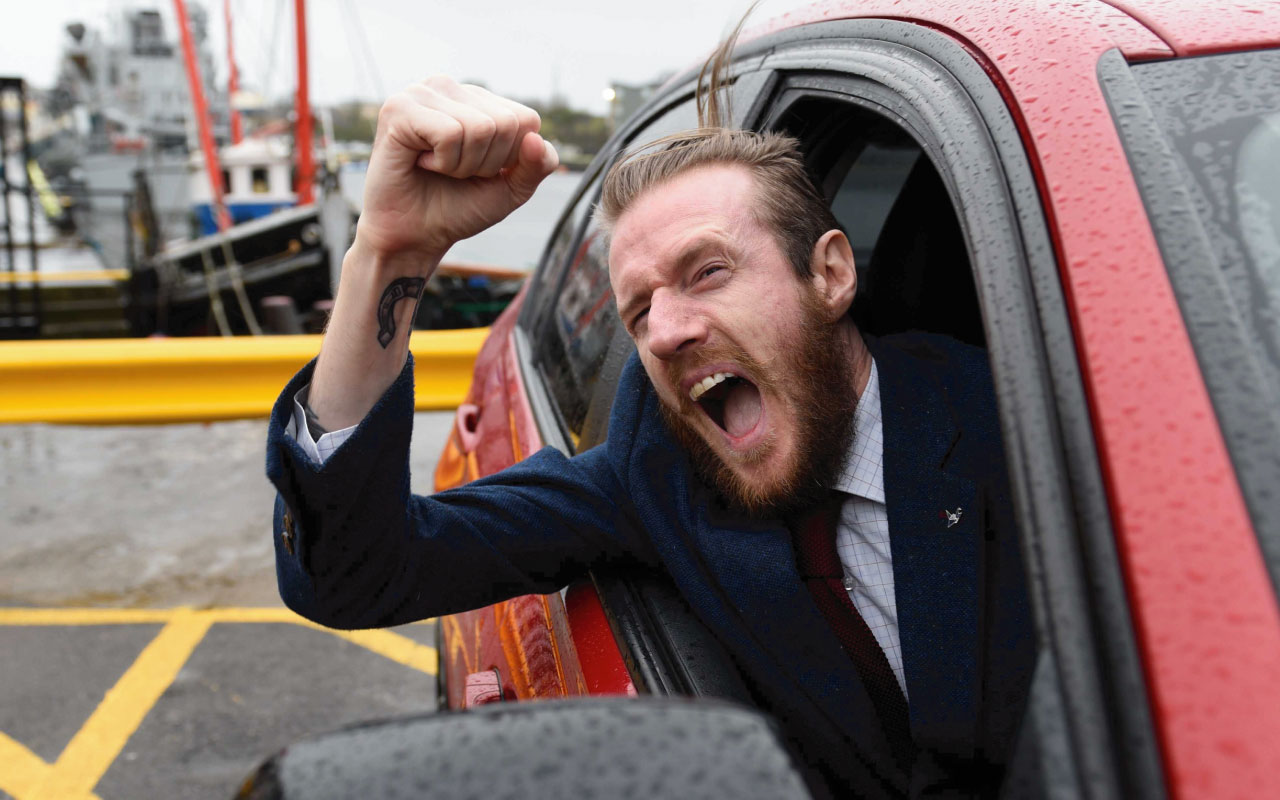 A Questionable Comedian: Galway's Stevo Timothy
"They wouldn't count me as a stand up comedian because I'm not traditional" — We talked to Stevo Timothy and Sinead, also known as Farmer Michael and Kathleen, about their upcoming stand-up gigs, the Galway comedy scene, and secrets of the Irish psyche.
In person, Stevo Timothy couldn't be any more different than the alter ego he's famous for. Stevo the person is laid back and drives a shiny red BMW; Farmer Michael is keyed-up, usually shouting, and – I imagine – more comfortable in a tractor than a beamer.
Walking up to Eyre Square, I met Stevo and his partner Sinead, who is also Farmer Michael's partner Kathleen, parked up outside TK Maxx. After awkwardly waving through the window to get their attention, I hopped in the car and asked if there was anywhere they'd like to go to do the interview.
"No, here's good," Stevo said, and then starting question the sobriety of a particular driver careening by with her head stuck out the window.
If you're not familiar with Farmer Michael and Kathleen, you should be. For two years, they've been taking the piss out of Irish stereotypes, especially from Galway and the west of Ireland. They started with sketch videos on Facebook, which were hugely popular. But they also do sketch comedy, which is what we started off with. Their stand-up routine is set up similarly to their Facebook videos, which makes the transfer from one to the other an easy one.
"It's a fake interview kind of set up, so we sit in two chairs and Kathleen tries to ask me questions – we go through some of the classic sketches, but we do a bit of crowd-work, too," Stevo explains.
The first leg of their UK tour brought them to Liverpool, Manchester, Birmingham, Nottingham. Liverpool sold out in three days, so they announced a second Liverpool date – and that sold out, too. They've only done one gig in England before, at a pub owned by a friend, so the reception is staggering.
"We like to tailor [our show] to different areas," Sinead says – which means if you're seeing them in Liverpool, you can expect to have the piss taken out of you, too.
"Kathleen's always trying to reel me in because I go off on my infamous tangents and rants about anything and everything…" Stevo says, trailing off, possibly about to jump into a rant about tangents.
"I think a good way to describe it is 'totally off the cuff but with a structure'. We know what we're going to talk about," Sinead says. You can expect singing, for sure, and Stevo says that's nearly always off the cuff. And they've got other news: in April, they'll have done Vicar Street. "The sacred temple of Irish comedy," Stevo calls it. "It's where you want to end up. We kind of sometimes take it for granted, but then you sit back and go, 'Oh! We're doing Vicar Street!' After two years of f—ing around, it's kind of strange."
That's especially true for a comedic duo that hasn't enjoyed a particularly warm reception from the Irish comedy scene. When asked how they found Galway's comedy scene in particular, Sinead responded, "We don't really find the Galway comedy scene… at all."
"It's toxic. It's very back-bitey. Horrid, I suppose," Stevo puts it, in his uniquely forthcoming manner. But, I protested, you're the biggest comedy act out of Galway to make it international in at least five years. Surely that earns you some clout around town. Apparently it's not that simple. If the rules of stand-up are changing, the comedy scene isn't ready for it. "If you asked anyone in stand-up in Galway, they wouldn't count me as a Galway comedian, and they wouldn't count me as a stand up comedian because I'm not traditional," Stevo says.
"We both love Galway, we love being from Galway," Sinead says, "but we hate performing here. We avoid performing here. It's a really horrible environment." Except Loughrea – Loughrea gets a pass. "It really depends on where you're playing, too," Sinead says. "Out in the country is usually great."
I asked Stevo if he'd had any particularly bad experiences with stand-up, since we're on the subject of bad experiences.
"Yeah," he says, "but only in smaller venues, practice venues. There was one, we were doing a club in Galway and I do the bit where Michael 'loves the Chinee' – it's the old Irish stereotype that the Irish have no problem with races who keep to themselves. But if they're brash and show-offy, then we hate them. But the "Chinee" are great because they keep to themselves. I said to Kathy onstage like, 'Oh I love the Chinee, Kathleen' but there happened to be a Chinese girl sitting beside us. She loved it, but there were a few Americans down the back who started booing and stuff. Didn't seem to get that I'm parodying the Irish racist."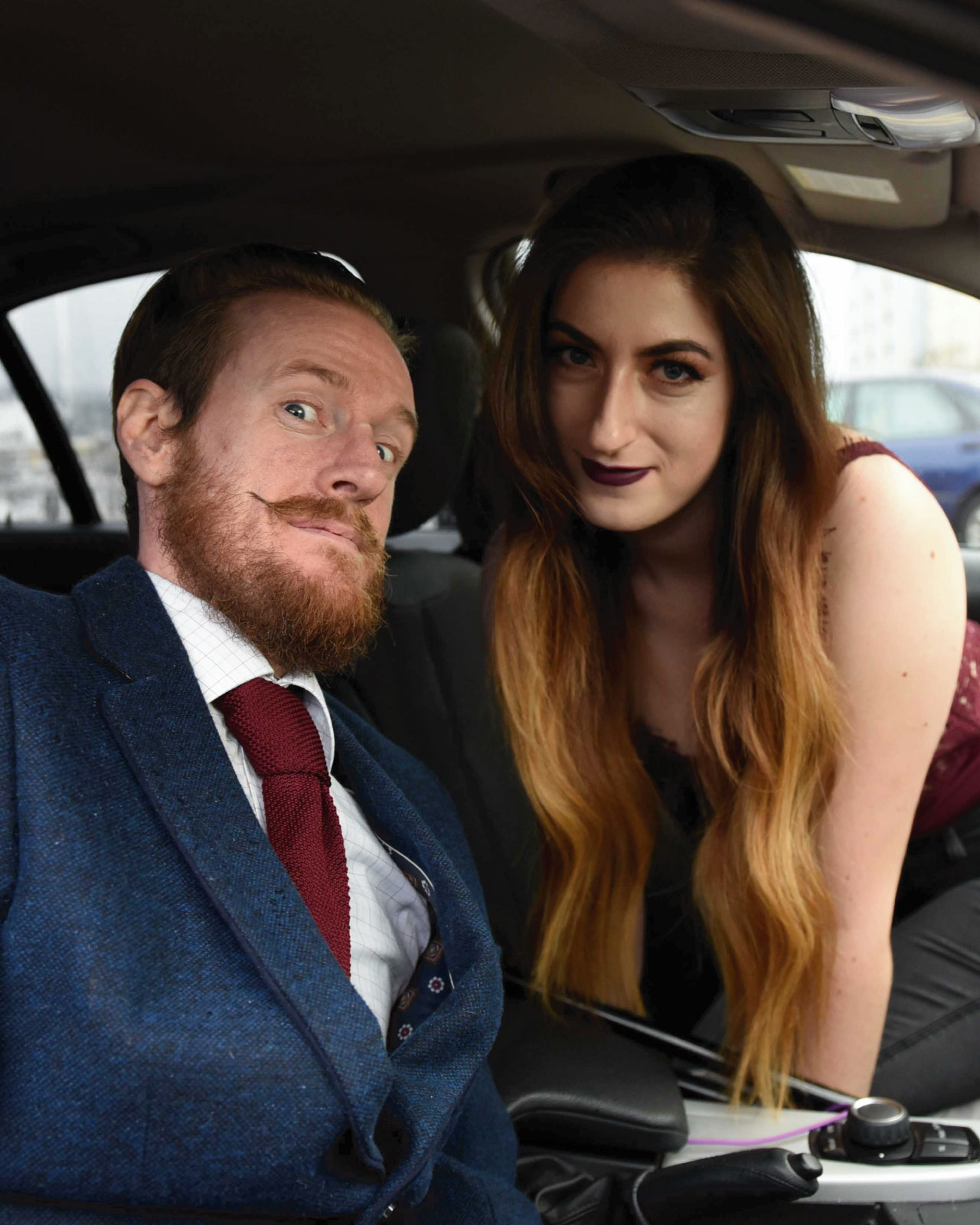 I asked him what was more difficult: uploading that first video to Facebook, where the audience is vast but largely anonymous, or his first stand-up, where the audience is smaller but right in your face. "Probably sitting in my car with my brother doing that first ever video… That was really hard. But stand-up is a different kettle of fish altogether. Before shows I get really, incredibly anxious, but once I get out there, maybe thirty seconds into it, I sing my entrance song and then I'm grand, I'm into it. Just pre-show nerves."

Stevo is bluntly honest like that: he doesn't pretend that any of it comes easily. He's also recently been forthcoming about his use of antidepressants.

"No," he says immediately when I ask him about it, with a smile on his face that lets me know he's joking. "No, no. There's no depression in Ireland – none at all. Just go for a walk, get a dog, go to the gym. You'll be grand." That, of course, is the reaction a lot of people coping with mental health issues face. I asked him if mental health is an important issue for him. "It's not so much an important issue for me," he tells me. "I get a lot of snaps [on Snapchat] and messages from people saying, 'I was in hospital, your videos made my day.' I thought maybe I could relate to them a bit more if I shared that I'm on antidepressants too."

"I think what we're trying to put across," Sinead adds, "is that it's not important, and it shouldn't be important; [taking medication for depression] should just be a normal thing." And I get can definitely get behind that de-stigmatisation.

Finally, I ask Stevo and Kathleen what's next, after the UK tour. "We have the second leg of our tour… Swansea, Cardiff Reading, London, then third leg, Newcastle, Edinburgh," Stevo says. "We're back to Liverpool in October for the Southport Comedy Festival with Jason Byrne, Jason Manford – and they got onto us and said, 'We'd really love to have you on.' Ha!"

"We have a DVD coming out, too," Sinead tells me. "It's a highlight of all our best bits. It's about 40 minutes and it's fourteen euro. Buy it!"

"And we're having a film crew following us in Liverpool," Stevo says, "and then we're doing a documentary about the whole journey, from my accident up to Vicar Street. We'll have a professional film crew doing that."

I ask him if there are any plans for TV appearance in the future. "We hope so, but we hope it'd be British television. Once you're on British television, Irish television will want you," Stevo says, laughing. "We have this thing – 'We hate you, but, oh the English like you? Well the English know comedy, because they used to rule us…' It's the weird Irish psyche of hating the British, but loving what they love. Up the IRA – now let's head to a Chelsea match."

Find more about Stevo Timothy and Farmer Michael on Facebook @sirstevotimothyofficial

Interview by Ian Burke / Words by Caitlin Foley