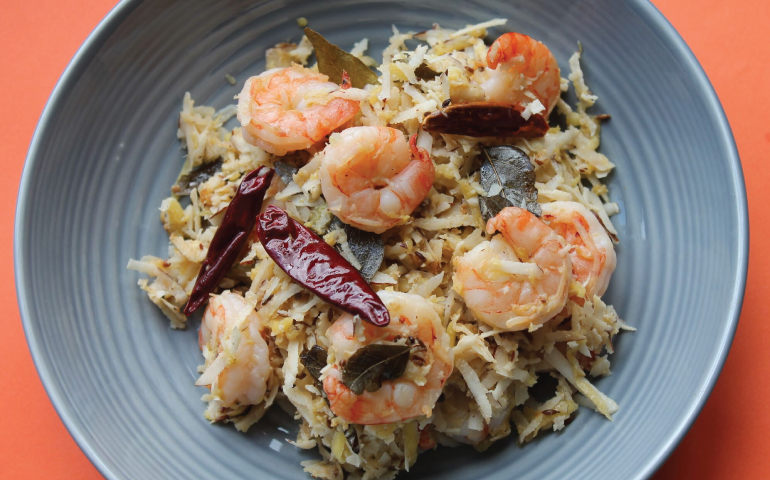 Prawns Indian Style with Mango and Coconut
Just over a week ago my online friend and brilliant poet Linda Ashok asked me did I want a recipe to try from the Andhra Pradesh State of India and as I'm always up to trying new things I gladly accepted it. The recipe was a side dish, a sort of chutney to accompany main dishes. But when I looked at the key ingredients I really wanted to do something with this, create a lunch for myself to see where I could take it. So any excuse to visit the local Asian store, grab some ingredients, some tiger prawns and a fresh coconut (just so I could smash something) and create a dish which I have to say, turned out to be one of the best recipes I have created. Think of Sally in the restaurant with Harry…that was me…I'm fecking Sally. This worked sublime, so fresh and very very easy. The grated coconut and mango work so well together instead of a heavy starch or thin salad. I added 3 chilies and it was just the right temperature for me…mild, so add as many as you like and can take. Give this a bash I swear it is fecking gorgeous.
G.F  D.F.
Ingredients
– 2g cumin seeds
– 2g mustard seeds
– 6 cloves of garlic
– 6-8 curry leaves
– 3-6 dried whole chilies
– 1 coconut
– 1 mango
– 6-10 tiger prawns
– Salt
– Turmeric
– Chili powder
– 1 lime
– Oil of choice.
Method
1.) Drain the juice from the coconut (and drink it), crack it open and cut out the flesh. This is easier than you think and there are plenty of Youtube videos to guide you. I simply tapped it with a hammer. Grate the coconut flesh.
2.) Peel the mango and grate the flesh. Put aside along with the coconut flesh.
3.) In a pan, heat around 2 tablespoons of oil. Add the cumin and mustard seeds. Stir until they start to pop.
4.) Add in the garlic, chilies and curry leaves. Stir and cook for another 3 minutes.
5.) Add the prawns, a pinch of salt and turmeric.
6.) When the prawns are cooked, add the juice of 1 lime to deglaze the pan and bring out the flavours.
7.) Add in the coconut and mango. Cook and stir for 1 minute. Mix well and add into a bowl. Sprinkle a little chili powder on top and munch it the hell down.
And don't forget, if you manage to make it look pretty, take a snap and share it on the This is Galway Instagram or Facebook page.
---
Sources: All ingredients from the Asiatic Manila on Abbeygate Street.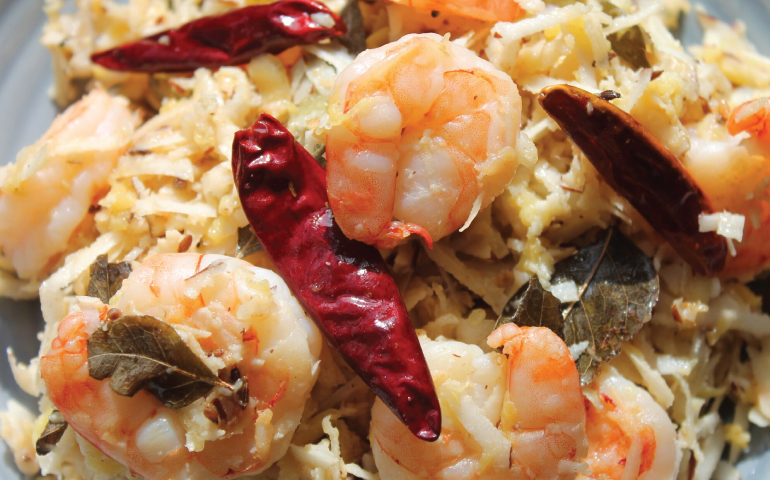 About the Chef
You wouldn't know by looking at him, but Stephen Byrne likes to eat, a lot. He has cheffed worldwide; Canada, Australia, San Francisco, Dublin and now resides in Galway. Not afraid of the unhealthy appetite, he has a keen interest in simple whole foods, a love for Asian flavours and an awful sweet tooth. With years of experience, he will create weekly recipes of meals he devours regularly, and hopefully inspire people to cook at home and embark on a healthier lifestyle.
He writes on his site: http://therantingbeast.com/