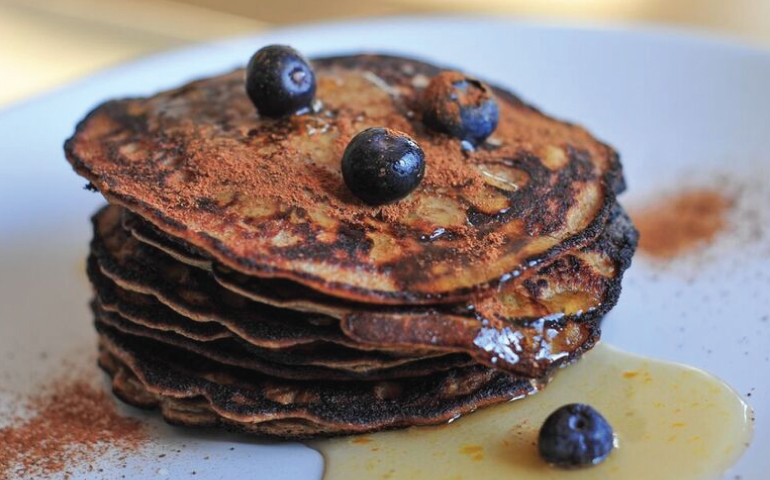 Pancakes Light as Feathers
Best way to break the introduction-ice is with a pancake recipe. There is a pile of pancakes here. I'm going to eat the whole lot easily and with voracity. This recipe has zero flour so are as light as feathers and you can eat as many as you can shove into your mouth. I love my pancakes and with this recipe you get delicious flavour and the Almond butter is an excellent source of protein. If you prefer, you can also omit the egg yolk and just use the whites. Add yogurt, crème fraîche or mascarpone if desired. It's simple and quick. Try them, great for a change at breakfast.
GF. DF.
Ingredients
– 3 Eggs
– 3 Bananas
– 2 Table spoons of smooth almond butter
– 1 tea spoon of cinnamon
– Blueberries
– 2 Table spoons of honey
– 1 Lemon
Method
1.) Place the eggs, bananas, almond butter and cinnamon in a blender or use a hand mixer. Blend until everything is smooth.
2.) In a separate bowl, whisk the honey and lemon together.
3.) Heat your pan, add a dash of oil (I use coconut or rapeseed)
4.) Pour in some mix to create the perfect circle and cook each side for about 20 seconds.
5.) Make as many as you like.
6.) Place on a plate, pour over the honey and lemon, add blueberries and feast. It's as simple as that.
---
Sources: Fruit from the Galway Market. Almond Butter from Evergreen
About the Chef
You wouldn't know by looking at him, but Stephen Byrne likes to eat, a lot. He has cheffed worldwide; Canada, Australia, San Francisco, Dublin and now resides in Galway. Not afraid of the unhealthy appetite, he has a keen interest in simple whole foods, a love for Asian flavours and an awful sweet tooth. With years of experience, he will create weekly recipes of meals he devours regularly, and hopefully inspire people to cook at home and embark on a healthier lifestyle.
He writes on his site http://therantingbeast.com/