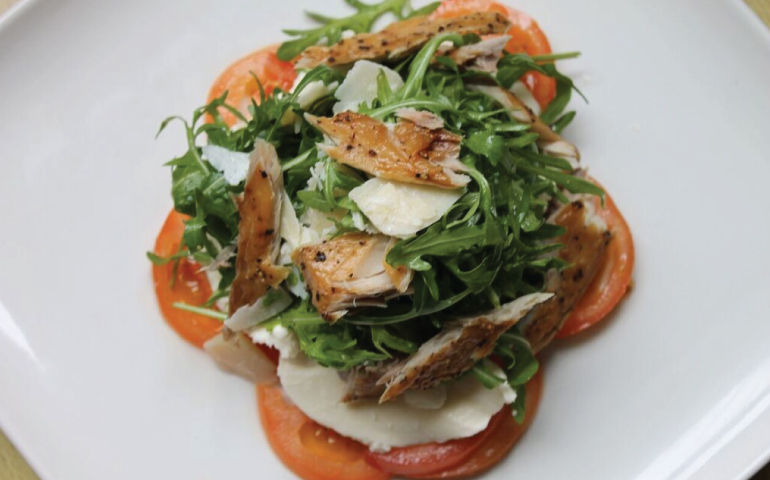 Not Yet Summer Smoked Mackerel Salad
Not Yet Summer Smoked Mackerel Salad – I had a Swiss pal up in the apartment one day. It was sunny, warm, and I told him I'd
make him the fastest lunch possible with a handful of ingredients that will taste so good he will never be the same again. He sat
out on the balcony and I went to the kitchen and whipped up this genuinely simple salad I urge all to try, pretty please. While we
have some great weather, this is perfect. Ok, the photos here are big posing fecker photos, vain-food out to impress, but, if you
are going to try this, realistically, put everything into a bowl and mix it well with your hand, serve, squeeze some lemon and wolf it down and I promise, each ingredient compliments the other and produces one of the best salads you will eat. I'll stand by that
statement. Somewhere out there, is a Swiss man, crying into his Zürcher Geschnetzeltes, wishing to be on my balcony.
GF
– Ingredients
– 2 pieces of smoked mackerel, skinned
– 2 plum tomatoes
– 1 Macroom Mozzarella (or your choice)
– Hand full of washed rocket-Large tablespoon of shaved parmesan cheese
– ¼ lemon
– Sea salt
Method
1.) Half your tomatoes lengthways, then cut each length into three. Slice the mozzarella. Sprinkle both with sea salt.
2.) In a bowl, mix all ingredients together breaking the mackerel with your hands. Mix well and serve onto a plate or bowl.
3.) Squeeze the lemon over the salad and wolf it down.
And don't forget, if you manage to make it look pretty, take a snap and share it on the This is Galway Facebook page.
---
Sources: Veg from Ernies Fruit and Veg. Mozzarella stocked in Supervalu. Parmesan cheese Sheridans Cheesemongers. Mackerel from Deacy's.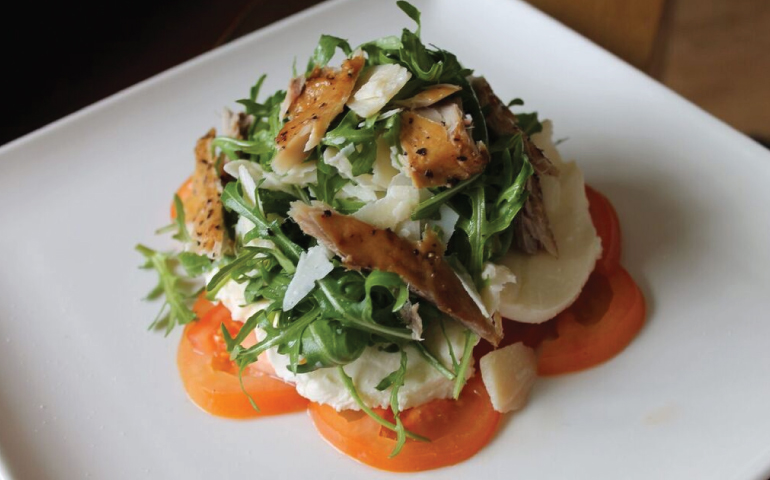 About the Chef
You wouldn't know by looking at him, but Stephen Byrne likes to eat, a lot. He has cheffed worldwide; Canada, Australia, San Francisco, Dublin and now resides in Galway. Not afraid of the unhealthy appetite, he has a keen interest in simple whole foods, a love for Asian flavours and an awful sweet tooth. With years of experience, he will create weekly recipes of meals he devours regularly, and hopefully inspire people to cook at home and embark on a healthier lifestyle.
He writes on his site: http://therantingbeast.com/