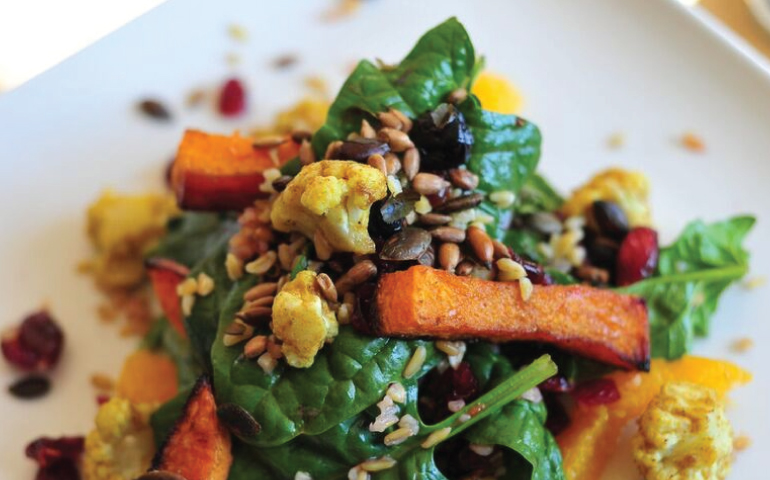 No Such Thing as a Dull Salad
Here's a fun and unusual salad to try, crunchy and soft at the same time, packed full of vitamins and tasty as hell, if hell is tasty. I like salads that combine a mix of substances that are wholesome and healthful which I've tried to achieve here. No heavy dressings (here, simple orange and lemon works wonders) or fatty foods but packed full of flavour and easy to knock up. Add extra protein if you like, my preference would be a nice piece of Turkey, Salmon, or roasted Chickpeas. Stock up on vitamins and beat away ugly colds with these ingredients.
Tip: As with most salad recipes, weights are not important. Think how many you are preparing for, judge with your eyes, never be afraid to add extra or less and if any left over, well there's lunch or a snack for later.
GF. DF.
Ingredients
– 1 Small Butternut Squash
– Hand Full of Baby Spinach
– Toasted Seeds
– 1 Small Cauliflower, trimmed and cut in to small florets
– 50g of grains, Freekeh, Quinoa or Farro
– 100g Dried Cranberries
– 100g Blueberries
– 1 lemon
– 1 orange 

Method
1.) Peel squash, cut in half, takeout seeds, cut into small cubes. In a bowl, toss the cubes in a little olive oil and a salt (sprinkle some cumin if you have any). Place on a baking tray and roast at 180c for about 30-40 minutes until golden brown and soft. Remove and cool.
2.) Using the same mixing bowl, add a little oil (your preference) small tea-spoon of curry powder or cumin, mix with the oil, add the cauliflower florets with a little salt and toss until the florets are fully coated (a little dash of water will help coat better). Place on a baking tray, cover with tinfoil and bake for around 12-15 minutes. Remove and check that the florets have a nice bite to them.
3.) Cook your grain of choice, follow the packet instructions. Brown rice can also be an excellent choice.
4.) Grate the skin of the orange and lemon. Cut out the segments of the orange, set to the side. In a pan, squeeze what is left of the orange and also the juice of the lemon plus the grated rind, minus the pips. Lightly heat the liquid (I like to add a dash of Brandy) and remove from heat, add cranberries and leave to soak. When cool, add blueberries.
5.) Toast the mixed seeds (nice little bags in any health food store) for around 10 minutes, until golden brown. Leave cool
6.) In the same mixing bowl, add a handful of washed baby spinach plus all your ingredients. Your dressing will be the juice in the cranberries and blueberries. Toss with your hands gently, plate and munch.
---
Sources: Fruit and Veg from the Galway Market, seeds & grains in Healthwise Healthfood, Lower Abbeygate Street.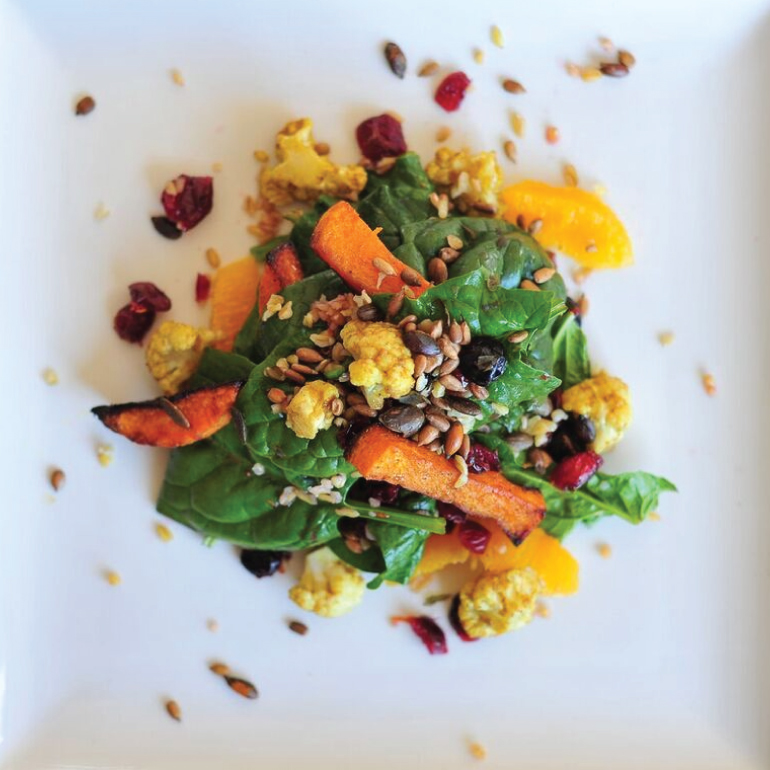 About the Chef
You wouldn't know by looking at him, but Stephen Byrne likes to eat, a lot. He has cheffed worldwide; Canada, Australia, San Francisco, Dublin and now resides in Galway. Not afraid of the unhealthy appetite, he has a keen interest in simple whole foods, a love for Asian flavours and an awful sweet tooth. With years of experience, he will create weekly recipes of meals he devours regularly, and hopefully inspire people to cook at home and embark on a healthier lifestyle.
He writes on his site http://therantingbeast.com/