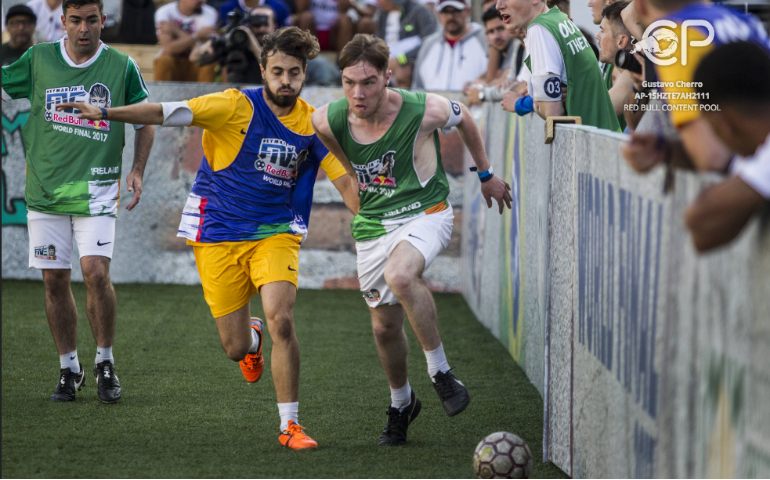 Neymar Jr gives Irish teams a shot at stardom
Ever wondered what it takes to tackle Neymar Jr. at his own game? Fourteen players from Ireland realised their dream in Brazil.
Watch their whole journey here.
This summer, we follow the journey of two Irish football teams as they aim to tackle the world's best players at the Neymar Jr's Five World Final in Brazil – Neymar's signature five-a-side football tournament. Among over 50 competing nations, team Whoyaplayin' (Limerick) and Distillery Elite (Belfast) battled their way to Praia Grande, the home of Neymar.
Getting there was no easy task as Irish teams fended off over 3,600 players during the preliminary stages of the tournament held across Ireland. Proving victorious, Whoyaplayin' and Distillery Elite earned the chance to represent their countries at the World Final in Brazil. Watch as they train, travel and support each other every step of the way.
Neymar Jr's Five is Red Bull's five-a-side football tournament.  From six continents, 53 countries and with over 100,000 players, five-a-side teams battled it out in a 10-minute game with a twist. For every goal scored, the opposing team loses a player which makes it fast, technical, tactical – and unique in the world of football.
Speaking to Red Bull.COM, Irish team captain Niall Smith recalls the once-in-a-lifetime experience 
"Football is everything to me, I live, sleep and breathe football! The opportunity to represent the Republic of Ireland on a global level was a once-in-a-lifetime experience.  It's the type of thing you dream about as a child. Playing football in the hometown of Neymar and watching him play has been an incredible experience"
Crowned champions on the day, team Romania conquered their international counterparts in a testing series of games at the Instituto Projeto. To celebrate their victory, Neymar Jr. gathered some of his closest friends including Manchester City striker Gabriel Jesus and former Liverpool frontman Djibril Cisse to take on the tournament champions. The 2017 champions also won a second trip of a lifetime, this time to visit Neymar Jr in Barcelona where they will meet the Brazilian star and watch him playing at the infamous Camp Nou.